This time of year can be busy for everyone involved in education: for the kids, the parents, acedemic staff, and everyone in between. It's time to get into a new groove after the summer season and jump into that new semester on the right foot. Battling stress at this time of year is a fight you may have to wage on many fronts, and experts and physicians agree that it is always important to focus on physical activity and maintaining satisfactory physical health in the pursuit of positive mental health.
We asked some of our local wellness and fitness experts to suggest a few ways to beat the stress of the season through a wellness routine.
Scott Emmerson, owner of Sandbox Fitness in Oakville, says "People need to metaphorically have the finger on the pulse of their stress and exercise within their boundaries. A harsh, aggressive workout may not necessarily resolve that stress inside us, but when we exercise to rise to the standards we have of ourselves, that's when we truly see the stress reduction." Emmerson believes that the back-to-school season is an ideal time to begin an exercise regime and include fitness within your routine. It feels like it is the beginning of a new season, and – once you get into that flow – you can ensure your wellness routine continues all the way into July. In other words, if you get into the groove now it will help alleviate your stress throughout the school year. 
Dr. Jacqueline Colello, naturopathic doctor at Nex Wellness in Burlington, says "The body is constantly trying to balance itself, and while acute stress can encourage resilience, chronic stress can be incapacitating." This is where naturopathic medicine comes into the picture, approaching the effects of stress on the body from a holistic standpoint. In a meeting with a naturopathic doctor, the impacts of stress on health will be discussed – whether it's more on the physical side or you are experiencing mental and emotional symptoms. A naturopathic doctor will assist you with a variety of patient-centered treatment options to meet individual needs. These can include a combination of clinical nutrition recommendations, nutrient and herbal support, and lifestyle changes. The goal will always be to encourage your body to combat stress, allowing you to feel your best!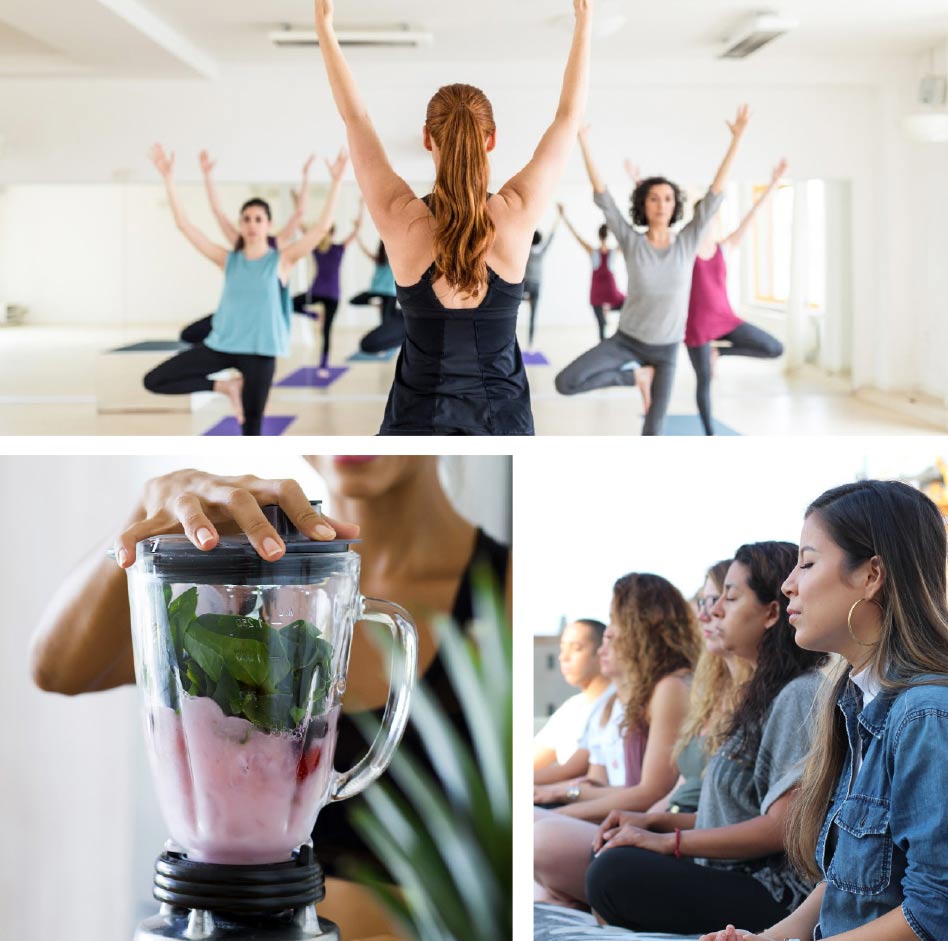 Melinda Walker, owner and instructor at 7th Wave Yoga in Burlington, specializes in yoga for those suffering from trauma, grief, and PTSD. She also teaches yoga to teens and children, so dealing with stress is something she encounters often. Walker believes that this time of year can be hectic for both parents and children/teens, due to a number of factors including a change in routine, new schools, new schedules, less sunlight and the change of season. Those that are leaving home and heading to university or college for the first time may be especially at risk. Conforming to a new busy schedule can leave people forgetting to stretch, to get a breath of fresh air, or to take a break and have something nutritious to eat. This can result in the brain suppressing and ignoring the body's signals, contributing to anxiety and stress.
Luckily, yoga can be used as a tool to help ease the transition. Learning specific breathing exercises can assist with calming when stress rears its head, and it can also help keep you energized when a bout of tiredness hits. Certain yoga poses can help release anxiety, fear and uncertainty from the body so that the feelings don't keep repeating themselves. "Through specific poses, yoga teaches grounding and centering to help you feel safe and centered in any situation, in any place," Walker states. "Through the asanas (poses), breathing, and mindfulness exercises, yoga helps you stay connected to your body and its signals, so that you can stay calm and focused, confident and secure."
Do you have an action plan to alleviate your stress during this hectic season? By incorporating some of these ideas, everyone in your household can head into the new school year with focus, feeling good and with more confidence.
by Heather Peter
Local Links
7th Wave Yoga, Burlington
7thwaveyoga.com
Nex Wellness, Burlington
nexwellness.com
Sandbox Fitness, Oakville
sandbox-fitness.com