It wasn't all that long ago that craft beer took Ontario by storm. In 2015, after much grumbling by craft brewers and beer drinkers alike, the provincial government introduced new measures aimed at making it easier for small local brewers to deliver their products to Ontario's growing population of beer geeks. Since then, Ontario has seen a boom in both the quantity and quality of craft beer. It seems like nearly every region has a renowned brewery, and post-secondary schools have been expanding access to brewing programs.

However, it might be time for craft beer to take a back seat – said no one ever – but, hard cider is also trending in popularity. With fall just around the corner and local farmers' fields lined with apple trees weighed down with fruit, there is no better time of the year to round-up local cideries.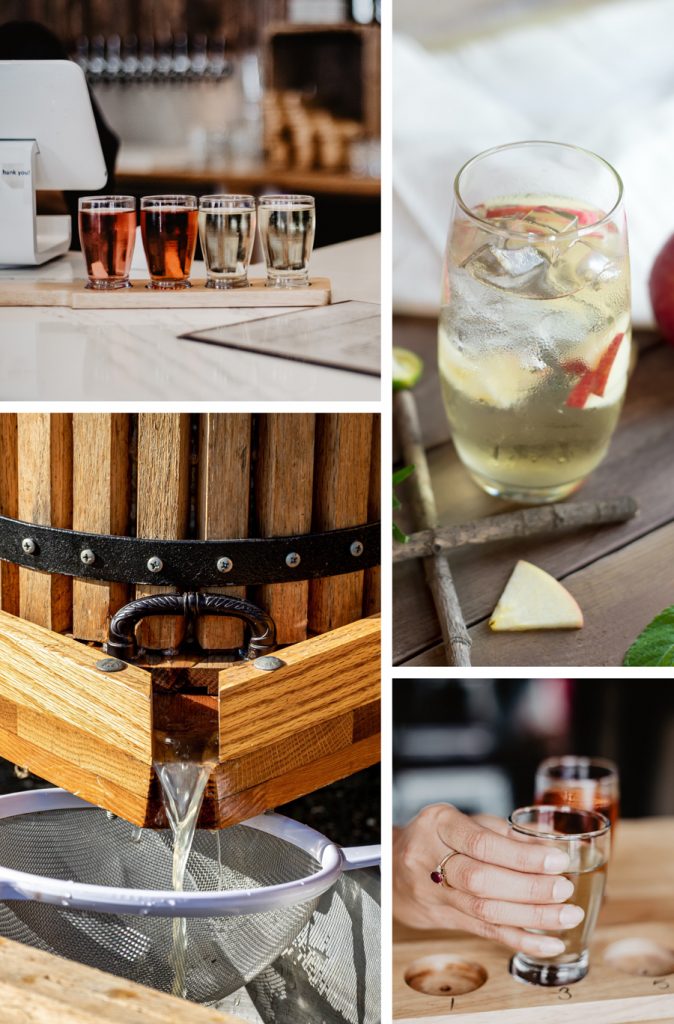 West Avenue Cider House

84 Concession Road 8 East, Freelton | Westavenue.ca

West Avenue Cider is where authenticity and tradition meet big city lights. This small-batch cidery has been awarded Best Cider in Ontario for several years running. Heritage apples are rare in Canada, so West Avenue planted thousands of trees in their orchard to ensure their heritage ciders remain authentic. Using only the best ingredients, coupled with a slow fermentation process, West Avenue releases new ciders every month that are seasonally inspired by their Cider Maker. Try Legend of the Fall, a Spanish-style sour cider, or Autumn, fermented with wild yeast, unfiltered and unpasteurized.

Carlisle Cider Co.

1453 Milburough Town Line, Carlisle | Carlisleciderco.com

A family farm with decades of history, Carlisle Cider Co. has come to be known as one of Ontario's most renowned apple farms and packers. While the third generation has expanded its offering, they have never lost sight of quality, integrity, and community. Carlisle is a small and simple town, and Carlisle Cider Co believes their hard cider should be that way too. They pay homage to their farming roots, dating back to the late 1800s, and keep their line of products narrow (so as to never spread the love too thin). Each cider was inspired by a special place in their little town. Discover all three: Tally Ho Valley (flavour of crisp green apple and fresh grapefruit zest), Chapel on the Twelve (flavour of apple and white apricot blossoms), and Progreston Falls (flavour of ripe bosc pear and vanilla).

Spirit Tree Estate Cidery

1137 Boston Mills Road, Caledon | Spirittreecider.com

A cidery, a bakery, and a farm shop – there isn't much Spirit Tree Estate doesn't offer when it comes to apples. This small, community-focused cidery is located on an environmentally-friendly property in Caledon. After years of running a successful farm market and pick-your-own operation, owners Thomas Wilson and Nicole Judge wanted to create a legacy for their family – a modern cidery that honoured old-world traditions. Today, they create craft ciders made on-site with Ontario apples, pears, and seasonal flavours. Try their Pumpkin Spice Cider, made from pumpkins roasted in their wood-fired oven, or their Apple Cranberry Cider Spritzer for a refreshingly sweet-tart flavour.
You can find many local ciders in the LCBO – but they don't carry everything. Be sure to visit your local cidery to explore all they have to offer (including yummy grub, great views, and wonderful conversation).
By Anneliese Lawton