After experiencing the darkest winter in 80 years (and something called "thundersnow"), this year's garden shoots come with an added relief – and science says there's something to it. Plants and flowers not only make people happy but are proven to improve mood, health, and memory. Thankfully, with our wild and wonky winter behind us, flowers are here to stay (and the beautiful colours they bring with them). While spring blooms are certainly beneficial for our mental health, they're easy to decorate with too, as long as you know how to care for them properly. From pink peonies to flowering cherry blossom trees and vibrant daffodils, making the perfect arrangement (and keeping it alive) can seem daunting. Whether you're a botanist or an unintentional plant killer, these tips and tricks from local floral experts will make your thumb a little bit greener.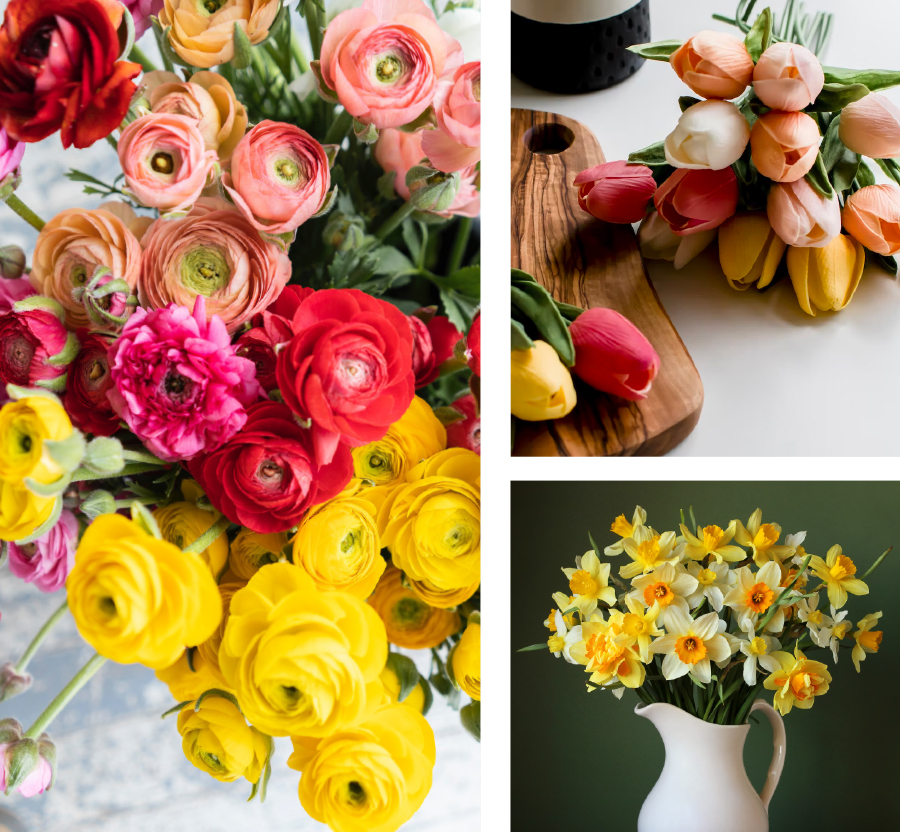 Creating a floral arrangement is easier than one may think – even if you're not a DIY expert. It may take a little creativity, but even if you don't have the creative gene, simply playing with layouts and colours can create something spectacular. Start by gathering flowers in colours that work well together, such as orange and yellows or pinks and purples. You can get creative by mixing textures and shapes, too. Once you have your vase – one suited for the size of your arrangement – you can start assembling.
To extend the life of your flowers, keep these expert recommendations in mind:
Buy flowers that are still closed (this indicates they're younger).
Clean-cut the stems before placing them in water.
Trim any foliage (you don't want foliage below the water line)
Ensure all stems are in the water; there's no need to fill the vase to the top.
Keep your arrangement in a cool spot, away from direct sun.
Change the water every two days.
Remove any dying flowers from the vase.
If you've ever received or purchased an arrangement from a florist, you've likely seen the little powder packets that come with them. Darla Malcolm-Hauraney from The Garden Girls explains, "This little packet of flower food contains a floral preservative that can help hydrate your fresh flowers and make them last longer. Bacteria growth in the vase commonly kills flowers prematurely, and flower food can prevent this by killing bacteria in the water."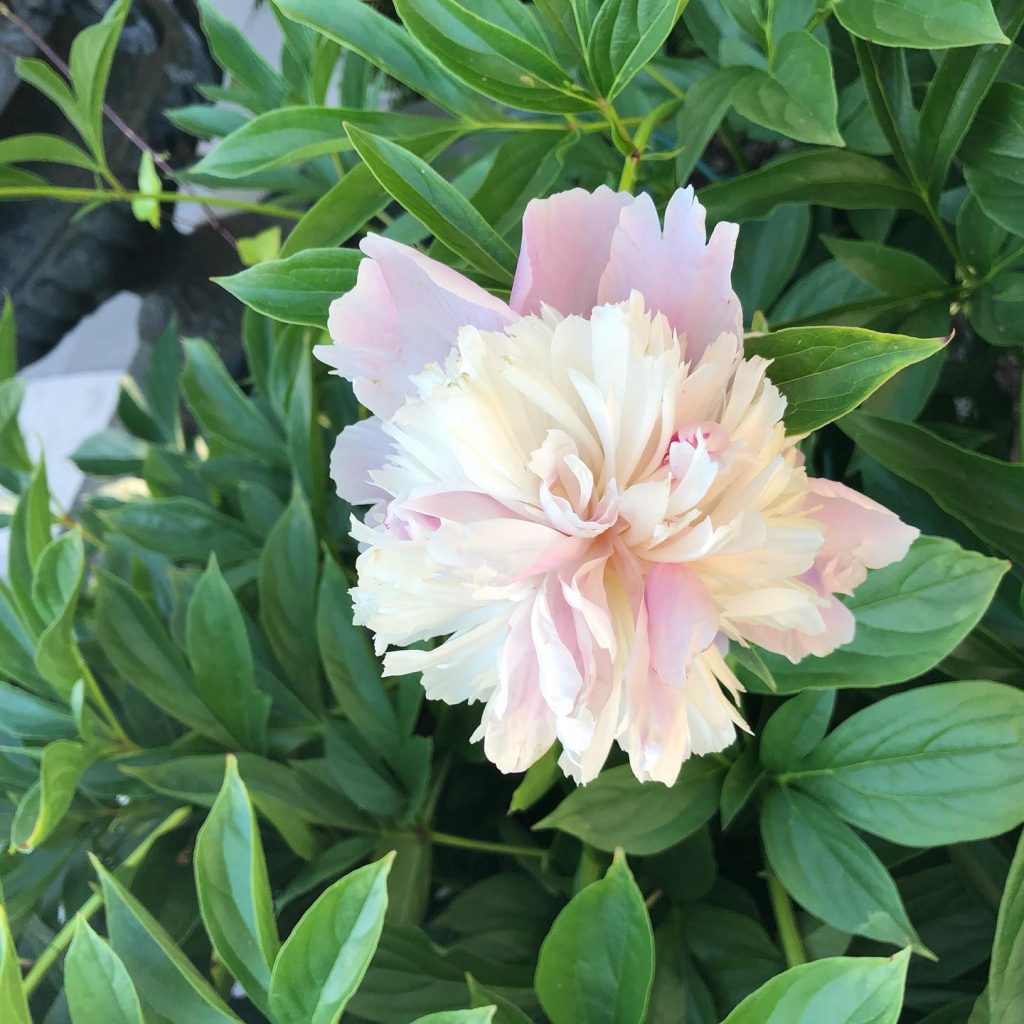 For those who take cuttings from their garden, Darla's recipe for homemade flower food does just the trick.

One quart of water
Two tablespoons of sugar
Half a teaspoon of bleach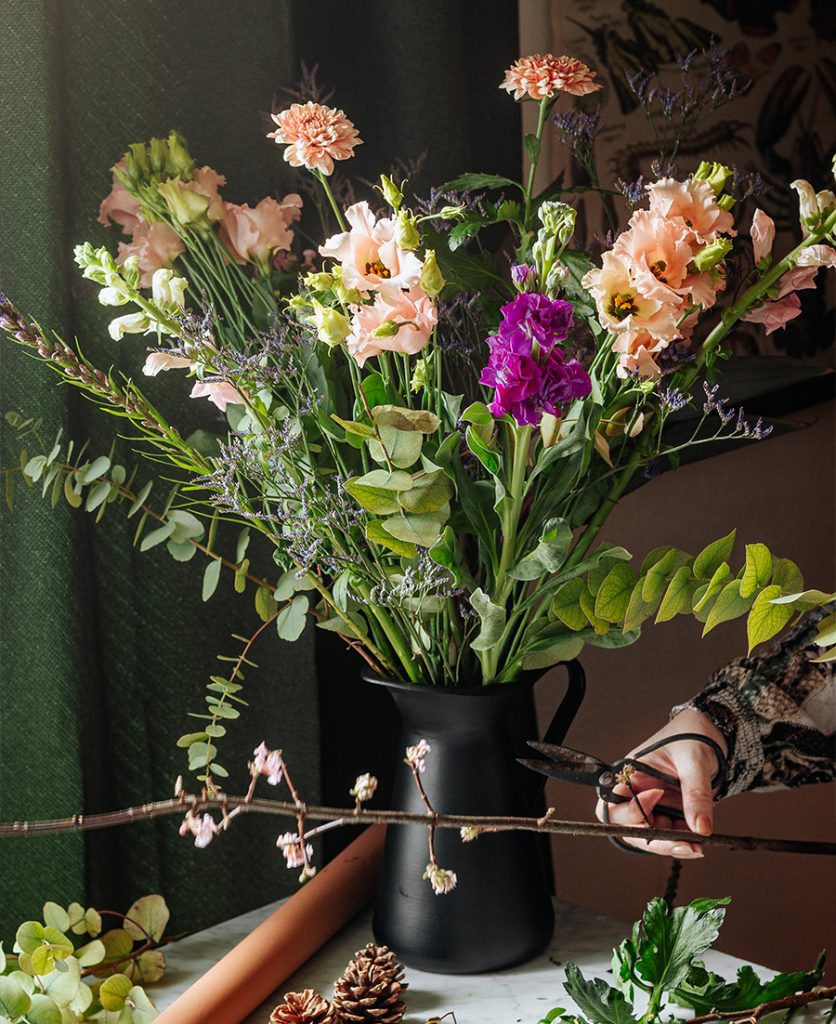 Nothing beats a fresh bouquet of blooms from your own backyard, and according to Darla, the French peony is one of the most sought-after varieties for the garden. Valerie Jansen from Connon Nurseries agrees: "Peonies are very popular as perennial plants in the garden due to how spectacular and showy their blooms can be. Often mixed in perennial borders, the flowers of many peony varieties are fragrant, fluffy, and great for cut flowers!"
Surprisingly, peonies also have many health benefits. The bright and vibrant petals of peonies are known to boost energy and reduce stress, while their sweet aroma can help improve mood.
If you prefer other flowers, The Garden Girls also suggest looking for a longer-lasting flower to bring indoors. Darla recommends Freesias, Hydrangeas, Hypericum, Eryngium (Sea Holly), Sunflowers, Goldenrod, and Zinnias.
The budding of spring is just around the corner! Create your own bouquet from garden clippings, order an arrangement from a talented local florist, or grab a bouquet from the farmer's market. Colour is here to stay! (At least until next winter).
Happy Spring!
by Nicole Lischer
Local Links
The Garden Girls, Halton
Thegardengirls.ca
Campbell & Co. Home, Burlington
Campbellcohome.com
Centro Garden, Burlington
Centrogarden.com
Connon Nurseries, Waterdown
Connon.ca
Fiori, Oakville
Fiorioakville.com
Brant Florist, Burlington
Brantflorist.com
Bulow Garden Centre, Oakville
@bulowgardencentreoakville
Foli, Burlington
Foli.ca