The kitchen is the heart of the home: where the party always ends up, where friends and family often gather to share good food and good stories. Creating a beautiful, timeless, and classic surrounding is essential – and easy to accomplish if you consult the experts. Your kitchen can set the tone for the rest of your home, so choosing the right style, colour, and material all go a long way to creating a beautiful, warm, and inviting space for everyone to enjoy.
"I always say countertops ground any space, and are the foundation of the kitchen, and any room, in fact," says Danielle Blais of Chervin Kitchen and Bath in Oakville. She says quartz definitely "leads the pack" in terms of preferred material, leaving the old favourite granite in its wake. "While granite used to be hugely popular, it is too high maintenance with staining and watermark issues."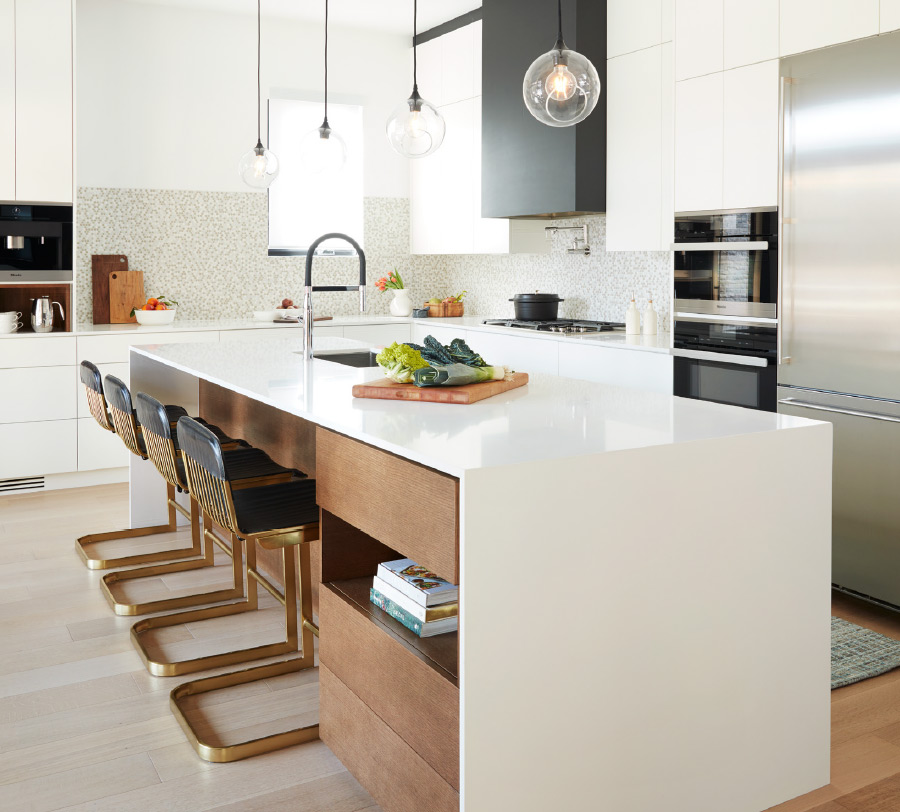 Quartz can be designed to resemble slabs of natural stone, such as granite and marble, which create veins in interesting patterns unique to every piece, allowing homeowners to let their personality and creativity shine. If you're worried about pricing, Danielle says that there are realistic price points for all buyers and budgets.
When it comes to colours, Danielle sees a trend in black and white with gold accents, but it's something that may not appeal to everyone.
"Black is very dramatic and I won't push it on clients if they don't want it," she says.
As for finishes, there are a few to consider: a honed or matte finish has little to no shine and works well with marble, while a leather surface can be applied to granite, marble or quartz. The leather finish has become more popular recently and offers a softer sheen, while retaining a stone's natural colour, and boosting sophistication. It can also help hide water spots and fingerprints if that's a concern.
"We like to ask customers what their style is and what they're looking for when they come in to see us," says Susan Song of Royal Stone Gallery in Burlington. "We also get a feel for the colour scheme in the rest of the home, and flooring and kitchen cabinets, too."
Susan says greys, whites, and neutrals are always a popular and timely choice for countertops, and natural patterning is widely sought after as well, especially in single-slab quartz.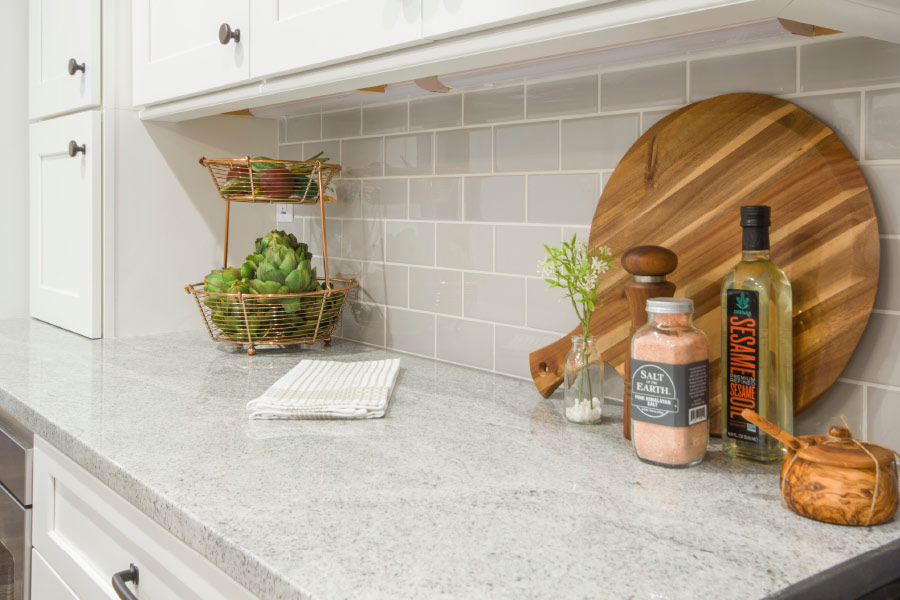 "Quartz is strong and durable, and is very popular with customers." And with good reason.
Introduced as a high-end alternative to granite, quartz is non-porous and doesn't require regular re-sealing treatments like granite, which is a natural rock. While granite once dominated the countertop market, it's porous and can be easily stained and marked by water, wine, and oil, and can even breed dangerous bacteria if not cleaned and cared for properly and regularly.
Quartz, on the other hand, is highly resistant to staining and is one of the most hygienic countertop options for homeowners. It's very strong, durable and low maintenance, making it the perfect choice for homeowners who want to focus on cooking and relaxing instead.
Soft neutral tones are definitely a theme in home décor trends overall, so finding them in the kitchen as well is a natural extension. But for the more adventurous, homeowners can experiment with other tones as well, creating a pop of colour against the neutral beiges, greys, light blues and off-whites that might run throughout the rest of the home.
"Waterfall edges for countertops are also a classic and timeless look," says Danielle, referring to a style that extends past the countertop and down the side to reach the floor. Though they add to the overall cost, they also add overall beauty. She also says full-height backsplashes are very elegant, creating a smooth and seamless look from the counter up to
the cupboards.
Larger slabs of wood, marble, copper, quartz, stainless steel or glass are other viable options and they can help elevate your kitchen from bland to beautiful. Upper cabinets seem to be losing their popularity as well, giving homeowners a lot more wall space to play with.
"A good, attractive and long-lasting kitchen is a big investment," says Danielle, so making decisions about how best to enhance its beauty shouldn't be taken lightly. There are plenty of options to choose from, so take your time, consult the experts and make sure your "heart of the home" reflects your heart's desires as well.
by Allison Dempsey
Local Links
Chervin Kitchen and Bath
Chervin.ca
Royal Stone Gallery
Royalstonegallery.com