Across the globe, through the centuries and seasons, despite low-carb diets and other fleeting food fads, people have turned to bread for sustenance, pleasure and, undeniably, for comfort. From flatbreads and focaccias to sourdoughs made with faithfully-fed starters, the world of bread is home to innumerable variations. Yet, as with most things, fresh is best and breads crafted by hand, based on age-old recipes are the ones worth a spot at your table.
For a taste of the best bread Oakville and Burlington has to offer, forgo pre-packaged options and instead pay a visit to local bakeries where the aroma wafting through the door hits you before you even step inside.
At Oakville's Monastery Bakery, the vast selection of imported groceries, prepared meals and desserts almost steals the show. Navigate your way to the back of the store, though, and a truly impressive room of hot-from-the-oven bread awaits. A literal world of options, from Portuguese sweet bread and marble rye to spelt and honey loaves vie for space in shoppers' baskets. Nearby, Patisserie D'Or is the spot to linger over butter-laden, hand-rolled croissants, fruit danishes and other authentic Gallic goodies. Preservative-free breads such as crisp baguettes and ever-popular cheese loaves are handmade and based on time-tested recipes.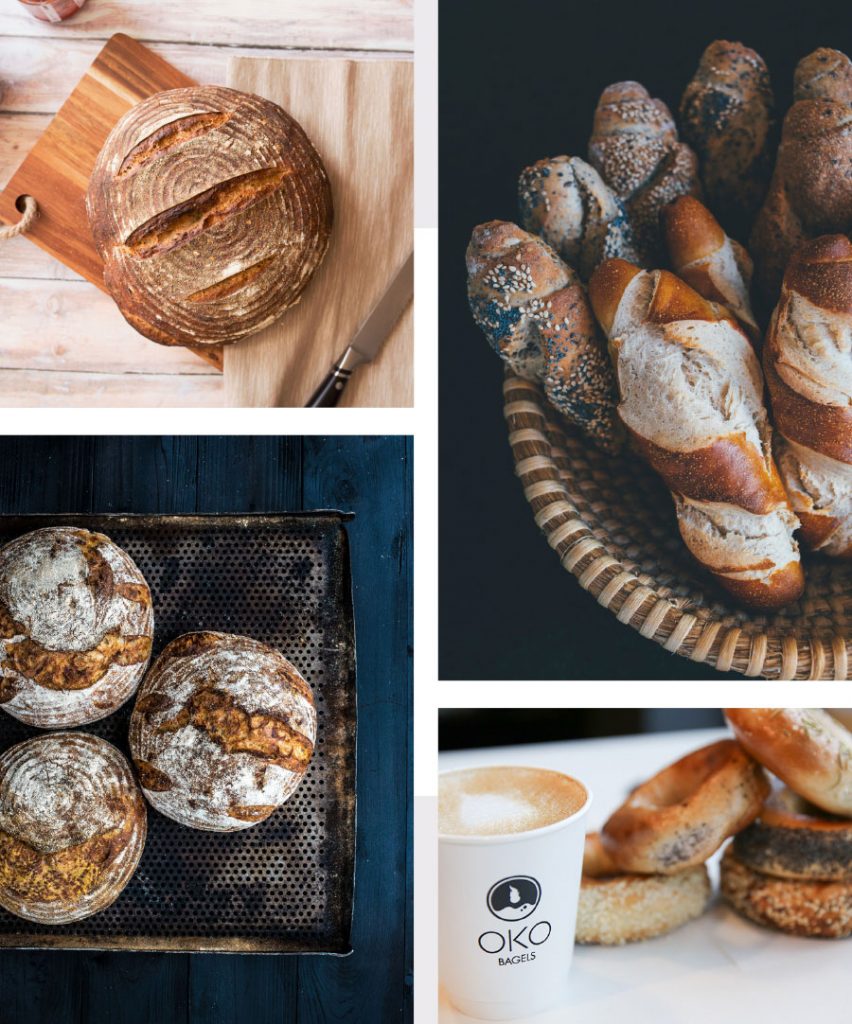 You don't have to go far to find classic, Montreal style bagels. In 2017, OKO Bagels opened its doors in Oakville and recently opened a second store on James Street in Hamilton. Their artisanal bagels have an unmatched taste – after the dough is boiled in signature honey-water, the bagels make their way to the hand-built masonry oven to be wood-fired to perfection. Whether you're into cream-cheese or jam, OKO has handmade condiments for every palette, as well as artisanal sandwiches, soups, salads, and sweets.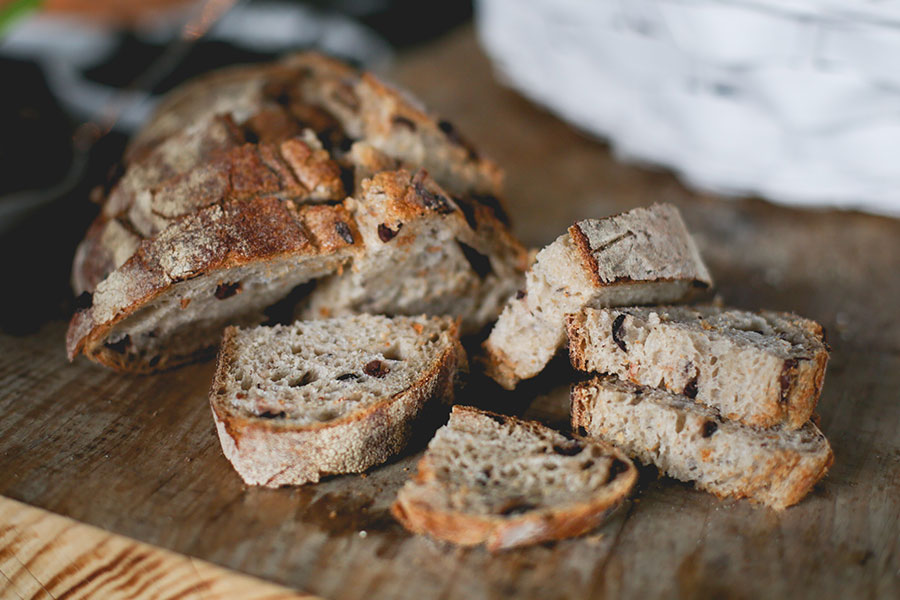 At Aveiro Bakery in Oakville, bakers craft 12 varieties of bread from complex doughs, using traditional recipes and specialized ingredients. "They are made from scratch, in house with love. No shortcuts have been taken. We are about quality not quantity," says co-owner Patricia De Oliveira. Artisanal favourites include sun-dried tomato, muesli and calabrese breads, each one prized for its taste as well as for being, "real food." As Oliveira explains, "we hear time and time again that our breads are not only delicious but also don't give digestive problems to those who are sensitive." Find other healthy alternatives at the Danish Pastry House where valnøddebrød, walnut bread with sunflower seeds, softkernal sourdough rye and more accompany trays
brimming with other traditional Danish breads and treats.
In Burlington, shoppers flock to the Brick Oven Bakery in business since 1982. Traditional spaccatelli buns, 9-grain, sourdough and raisin loaves are all baked on-site every day. At Denninger's Foods of the World, a small army of staff work diligently to create a rotating menu of delicacies. Specialty breads include potato and onion loaves and Asiago cheese and spice bread.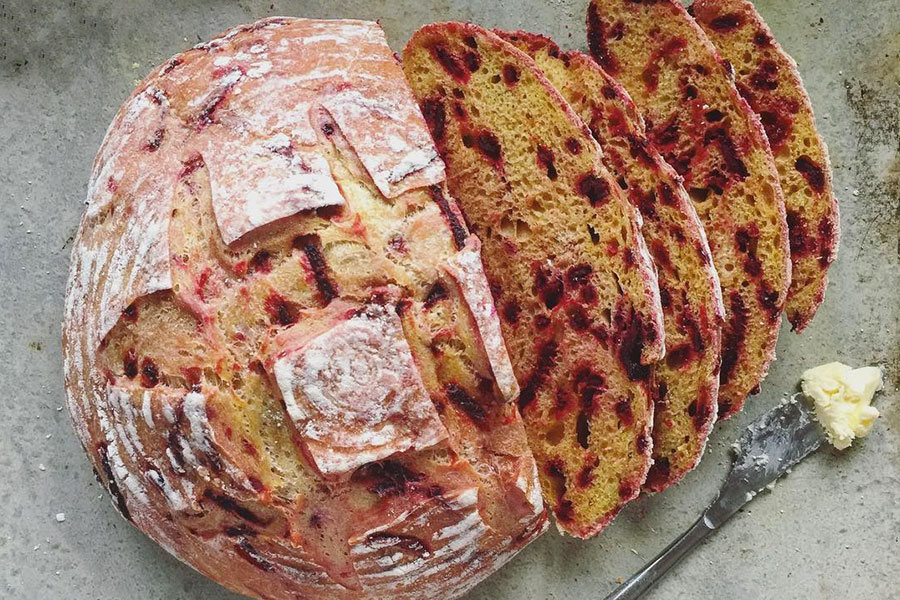 Popular Burlington restaurant, Wundeba, has a secret weapon on their team – their pastry chef, Siana Dombkowski. Graduate of the International Baking Academy in Germany, Siana runs her own boutique bakery, Baking by Siana, along with creating delicious treats at Wundeba. From breads, to bagels and buns, Siana butters, bakes, and boils each item with specialty ingredients and flavour. Her German and Indian influence really shine in her recipes, including a new turmeric sourdough. Her menu also features a potato sourdough, chocolate sourdough, and many other sweet and savoury pastries, cookies, scones, pies, and cakes. Siana really does it all.
Whether you crave buttery, velvety brioche or robust loaves bursting with seeds and grains, artisanal bread is worth seeking out, worth savouring and sharing and worth revisiting again and again.
by Christine Peddie
Local Links
OKO Bagels
OKOBagels.com
Monastery Bakery
Monasterybakery.com
Patisserie D'Or
Patisseriedor.com
Danish Pastry House
Danishpastryhouse.ca
Brick Oven Bakery
Thebrickovenbakery.ca
Denninger's Foods of the World
Denningers.com
Aveiro Bakery
Baking by Siana
Bakingbysiana.ca
Wundeba
Wundeba.ca