Spring is the time of year when Downtown Oakville streets come alive. Floral arrangements line sidewalks in oversized planters and shoppers come out to take in the beautifully crafted window displays. If you're lucky, you may even find an open patio to grab a drink with friends on an exceptionally warm spring afternoon.
Downtown Oakville always will be an Oakville hot-spot. With access to lakefront trails, restaurants, shops, and a bustling employment centre, it may come as no surprise that the Lakeshore streetscape requires a boost to improve functionality.
If you've made your way to the main Lakeshore Road strip recently, you may have noticed that construction has already begun on the Lakeshore Road Reconstruction and Streetscape Project.
The project, which is to be completed in two phases over a two-year period, has closed vehicle access from Navy Street to Thomas Street.  Improvements include new street furniture, a pedestrian crossover at Navy and Church streets, a two-way conversion of Navy Street, bike corrals, free public wifi, and redesign of the town square, among other exciting initiatives.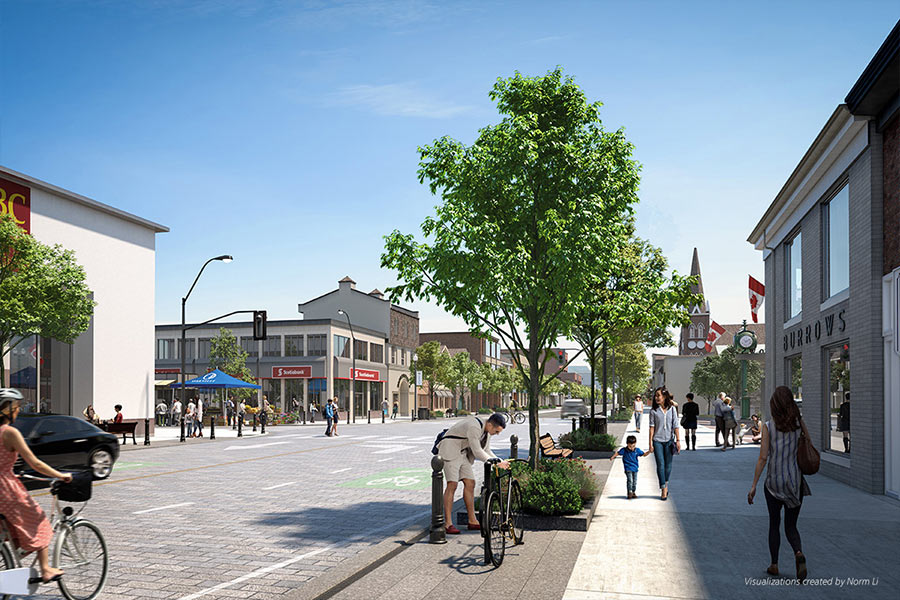 While the outcome of this project will have major benefits for the Downtown core, the two-year construction and disruption is troubling for local businesses and the Downtown Oakville BIA. Downtown Oakville boasts many wonderful events throughout the year, many of which have become family traditions and draw in large crowds. In addition, parking and road disruptions may discourage people from visiting this vibrant part of our community.
In 2017, Town staff were given the go-ahead to work on a plan to soften the economic impact of these two major construction projects. The Mitigation Strategy provided council with an outline of how to support the commercial business district, which may be impacted by the Lakeshore Bridge Reconstruction (complete) and the 2019-2020 Lakeshore Road Streetscape project.
In consultation between the Town of Oakville and the BIA, a lengthy list of mitigation measures have been developed to help keep the Downtown core vibrant throughout the duration of the construction period.
A Project Office has been opened and is located in the former Post Office at 193 Church Street. The office is open Monday to Friday from 8:30 a.m. to noon and by appointment in the afternoon. This location is 'information central' for the reconstruction of Lakeshore Road. Staff are on-hand and ready to provide information and answer any questions.
When it comes to parking, additional spots have been created, plus customers, visitors, and residents who use the Honk Mobile app will receive their first hour of parking free anytime between 9 a.m. and 6 p.m. on weekdays by using promo code DOWNTOWN. Parking on weekends is FREE.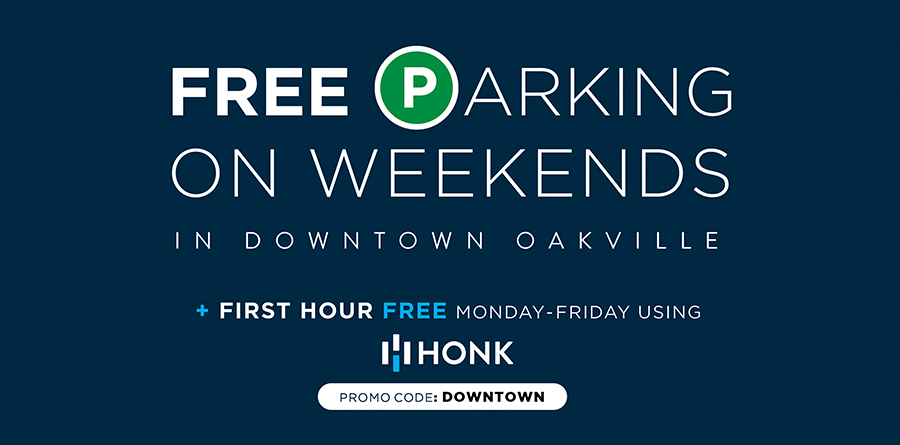 And there are plenty of reasons you'll want to head down there. The Downtown Oakville BIA is very excited to be introducing a brand-new pop-up park for all to enjoy throughout the summer in the heart of Downtown. The pop-up park will be created on George Street and will include unique lounge furniture, bistro tables, greenery, rotating art installations and more! The park will be open throughout the week, free for all to enjoy starting in June and running through to September. Every Thursday evening, the pop-up park will be home to outdoor movies. On Friday evenings, TD Songs of Summer Series will be on, showcasing an artist on stage in the pop-up park from June 14 – Aug 30 (excluding July 19, when you can enjoy Midnight Madness instead) – One Stage, One Sound, Every Friday night!
The pop-up park will also host giant blocks and yoga on Saturdays and family games and activities on Sundays. And of course, the usual themed events will be happening, including Spring Bloom May 11 – 12, Sidewalk Sale June 6 – 9, and Midnight Madness on July 19. The pop-up park will be the perfect gathering place for the community to come together and enjoy all that Downtown has to offer throughout this exciting time of revitalization.
Technicalities and construction aside, the end result of this project is going to be impressive. And while teams are hard at work in the streets and in the stores, they require our support and patience. Don't let this project stop you from enjoying all of the best shopping and dining experiences Downtown Oakville has to offer.
Local Links
Oakville Downtown BIA
oakvilledowntown.com/construction
Town of Oakville
oakville.ca