The holiday season is just around the corner, and with it comes the hustle and bustle of decorating our homes. From festive plates and glittery glassware to cherished family heirlooms, we all have that special something that brings the holidays alive. While we tend to spend most of our time trimming our tree, decking the halls, and hanging stockings with care, the best place to showcase our holiday spirit is outside the home. "Outdoor holiday lighting adds so much to a home," says Don McQueen, president and owner of Christmas Décor in Oakville. "During the holiday season, as the days become shorter and the nights become longer, people go to work and come home in darkness. By adding festive lighting, it can brighten someone's day. Every time I turn onto my street and see my house lit up, it gives me an instant lift."
To get the best curb appeal, Don says there are three key spots you should be decorating:
Always a classic is rooftop lighting. Decorating your roof with greens and reds, or simply a snowy-white glow is a wonderful way to make your home shine. There are a variety of string lights available in both LED and incandescent. LED is the most cost-effective due to its high efficiency. Over the last few years, the trend has strayed from large, colourful bulbs popular in the 90s to mini-lights and hanging icicles. String lights offer twinkle, ambiance, and warmth to a typically cold winter night – an enjoyable sight for anyone passing by.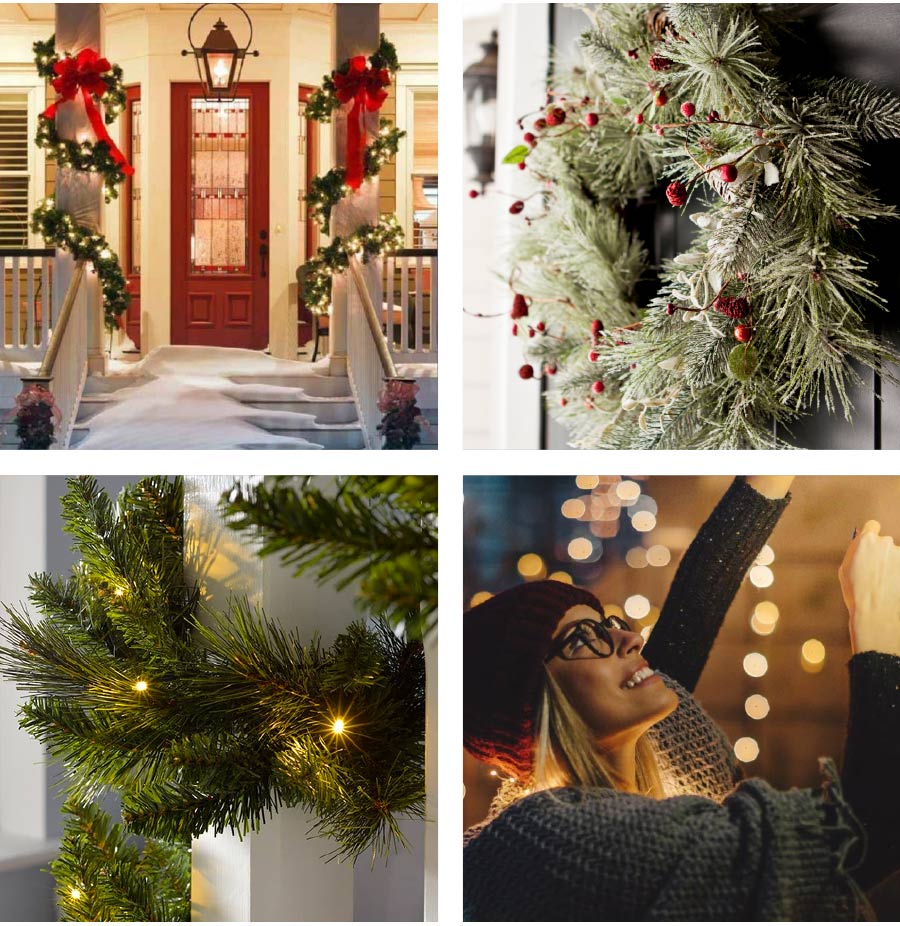 During the day, however, string lights lose their allure. Adding daytime décor to the porch and centre of the home, such as over the front door or garage, extends a warm invitation to visitors. Focus on decorating entrances with garlands and wreaths, or even throw a cozy blanket over a rocking chair. Incorporate festive planters filled with winter blooms, plaid ribbons, rustic wood, and lanterns to tie it all together.
Lastly, decorating your walkway, gardens, and lawn adds focus to the landscape and maintenance of the property. While we can't see your green thumb under the piles of snow, you can bring your lawn to life with animated decorations. Holiday inflatables have become a hot-ticket item as they're easy to use. Pathway lighting along sidewalks and driveways is another bright decorating idea. You can also dazzle with a light show, put on by projector lights and spotlights,many of which work with smartphones.
From a decorating perspective, Don recommends tackling all three focal points to get the most curb appeal.
With the inspiration of Pinterest, it's easy to convince ourselves that we can tackle Griswold-level decorating all on our own. However, there's a good chance you have a memory or two of your father climbing up an old rickety ladder (in a snowstorm) with a giant plastic Santa on his shoulder – DIY isn't always as it seems.
"We're trained to work with heights and trained in ladder safety," says Don. "We have liability insurance and are covered by WSIB. By hiring someone, you remove the danger factor."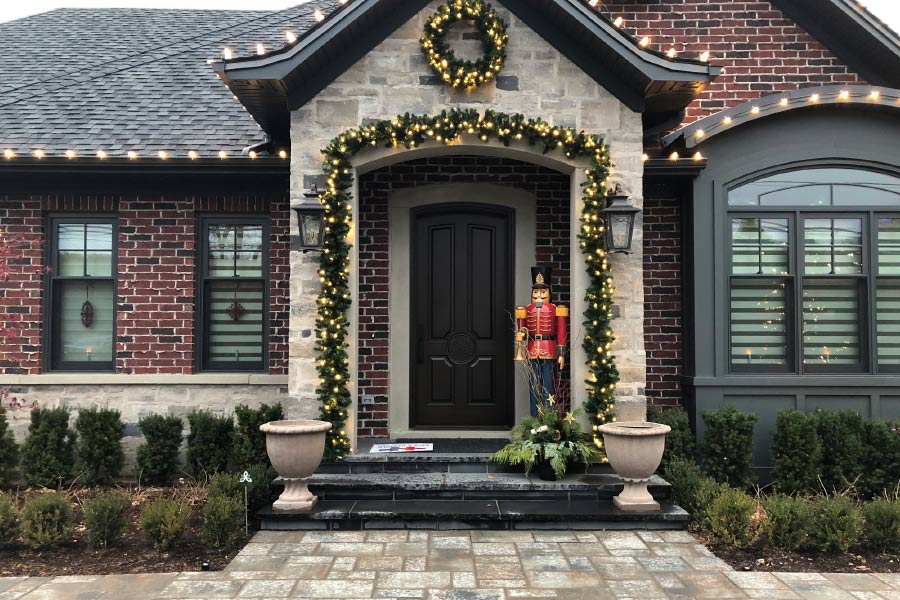 Something else to consider is storage and takedown. Doing it yourself usually entails buying, hanging, taking down, and storing all of the decorations yourself. Jamie Roy, owner and operator of Festive Décor in Burlington, says that by hiring professionals, there is no need for decoration takedown and no need to worry about storage. This means you can take your lights down long before it warms up in the spring. "Your colour and style can be changed from year-to-year as opposed to store-bought lights," adds Jamie. Lighting quality also varies depending on if you use a professional or choose to buy your own. The lights used by the pros are brighter and more durable than what can be found in hardware stores.
Whether you are tackling this year's lighting job on your own or relying on a professional to do it, make sure you leave yourself plenty of time to get the job done. Professional bookings fill up quickly and bad weather can get ahead of DIY plans. Create a true winter wonderland this year!
by Victoria Jones
Local Links
Christmas Décor
Christmasdecor.ca
Festive Décor
Festivedecor.ca
Happy Holiday Décor
Happyholidaydecor.com