Hosting a large family meal or dinner party can be a daunting task. No one wants to serve up roast poultry, and have it coming out looking like something out of National Lampoon's Christmas Vacation. With the cooler weather and shorter evenings upon us, most of us start to think about roasting a meal indoors rather than grilling on the BBQ.  We're here to make sure you prepare a meal that family and guests will be raving about for months to come – until the next one, of course!
Whether you're looking for a more traditional take on a Sunday roast, or something more modern, the first step to the perfect meal is always the source. Find a butcher that you know and trust, either at your favourite grocery store or at one of the many local butchers in town. Your butcher can help with meal suggestions you may not have thought of, will have great tips on how to cook or prepare your meat, and can assist you with creating the exact meal you had in mind.
The first thing Rick Suitor, owner of Ernie's Meat Market in Burlington, suggests when creating a perfect Sunday meal is to make sure
you always use a meat thermometer, to ensure you're getting that perfect result on anything you choose. For a more traditional dinner, Suitor suggests something like a boneless prime rib roast. At Ernie's Meat Market, they use Triple AAA, Alberta Beef, so rest assured you'll get some great flavour out of the meat no matter how it's cooked. A boneless prime rib roast is less work when cooking (since there's no weight or extra size from the bone) and it tends to be a safer bet. His cooking tip: always be sure to let the roast sit afterwards, and don't cover beef or pork.
A more modern option that Suitor has seen selling at the Market recently has been their Stuffed Chicken. Though roast chicken is a classic, the stuffed chickens can have a wide range of flavours and options, such as their Cordon Bleu; stuffed with Havarti Cheese and Black Forest Ham, then breaded. Suitor sees the stuffed chicken as more of a plated option, and it's all about the presentation. He suggests slicing the stuffed chicken and serving it in a pinwheel fashion, for the ultimate eye-catching impression on guests.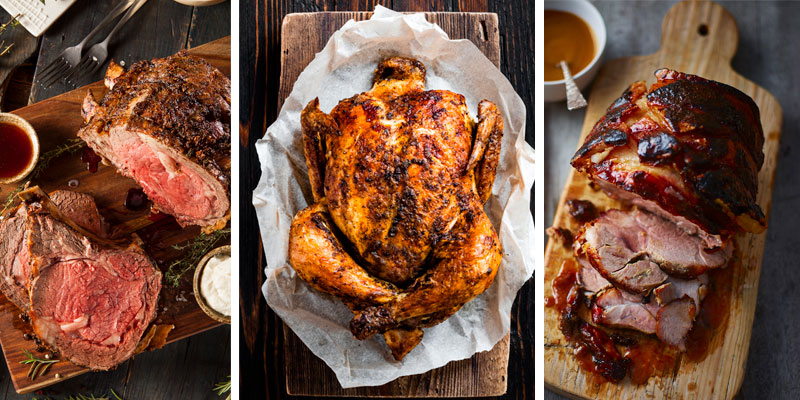 When serving up a more traditional meal, Damian Goriup, Owner and Head Butcher at Florence Meats in Oakville, would also advise a cut like prime rib. Prime rib boasts tender, flavourful meat with good marbling, it's fairly simple to prepare, and can serve a large crowd. Goriup advises you season your roast the night before with coarse salt and pepper, and allow it to reach room temperature prior to cooking.
For a more modern option, Goriup suggests a Beef Tenderloin Roast, because this cut is simple to prepare, does not take as long to cook as a prime rib, and it always comes out tender.  One of the most important considerations to ensure you end up with a flavourful roast, according to Goriup, is to buy local Ontario dry aged beef. Season simply with coarse sea salt and ground pepper, allowing the true flavours of the beef to shine.
So now you're ready to host your own Sunday dinner, and impress your family and guests with some cooking finesse and meat-knowledge. Don't be afraid to try something new, but always remember to ask your butcher for their tips and tricks with specific cuts. It could make a big difference!
Local Links
Florence Meats
2136 Speers Road, Oakville
florencemeats.com
J & G Quality Meats
175 Plains Road East, Aldershot
Ernie's Meat Market
1450 Headon Road, Burlington
erniesmeatmarket.ca
Aslan Market Butcher Shop
5237 Upper Middle Road # 1, Burlington
Cumbraes of Dundas
26 King Street West, Dundas
cumbraes.com
Dietrichs Meat Warehouse
1260 Speers Road, Oakville
dietrichs.ca
Just an Olde Fashioned Butchery
165 Lakeshore Road East, Oakville
By Heather Peter