Heading north for the weekend? We love a good summer afternoon by the lake — especially when there's a great book and a cold drink involved. If you're looking for a hostess gift to offer your favourite FWC (Friend With a Cottage) or simply want to add style and convenience to your own summer home, we have a few ideas.
Here are some local recommendations to help you make the most of your cottage weekend.
Turkish Bath Towels
We love Turkish bath towels because they're soft and beautiful enough to use as a wrap or throw blanket, but absorbent enough to quickly dry you off after a dip in the lake. Keep a few on hand for guests or in the boat for those spontaneous swims. Pure Boutique in downtown Burlington carries some Turkish bath towels as well as home décor, skincare, gorgeous loungewear, and more. You can also find Turkish bath towels at Centro Garden in downtown Burlington, plus great barware and hostess gifts.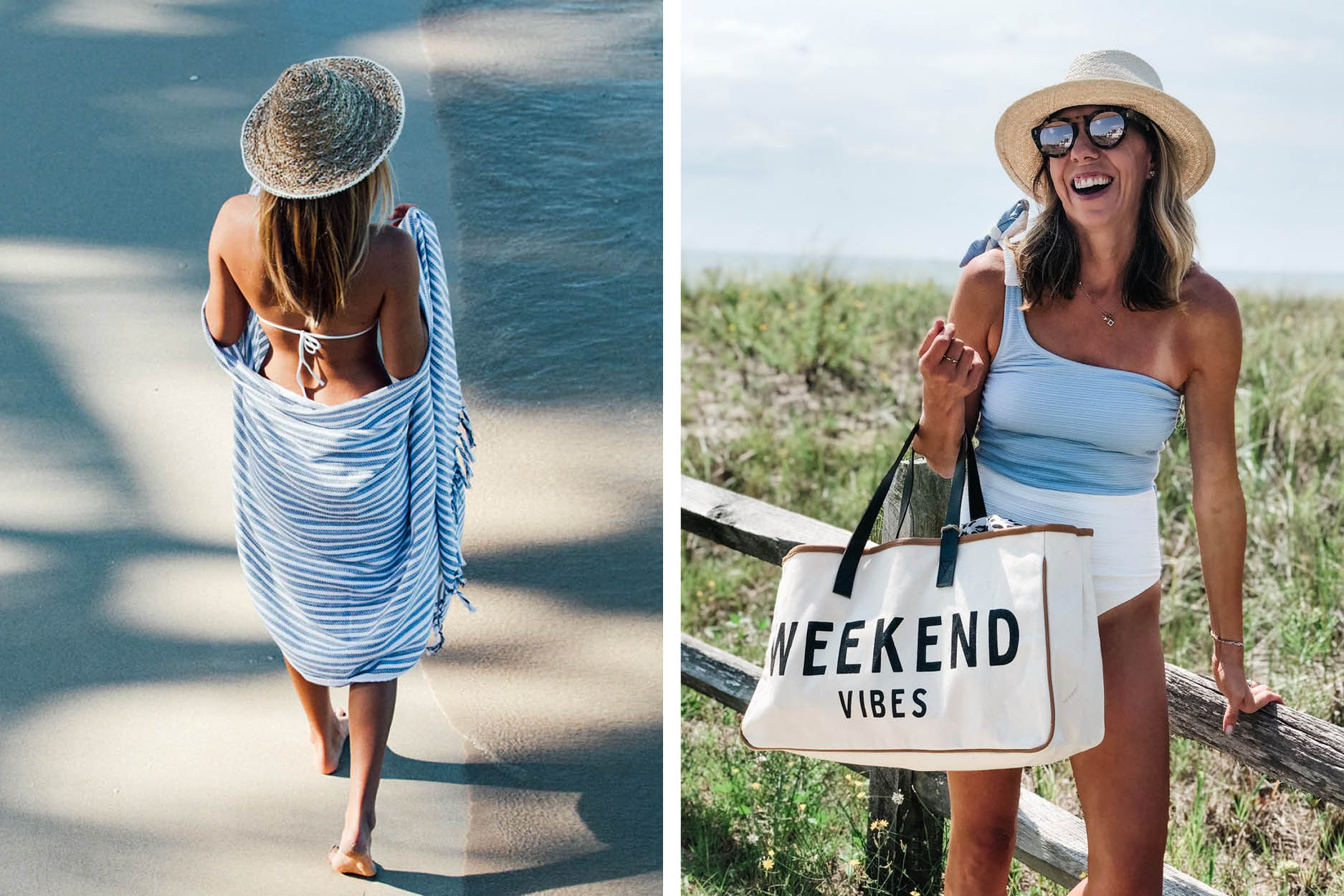 Tote-ally convenient bags
Whether you're heading out to another cottage, going into town for groceries or simply trying to haul all of your stuff to the dock in one trip, a great tote bag is key. We love a straw option because they're light, functional, and easy to clean (just shake off that sand and go). Hue La La in Burlington has a San Fran market basket tote that's perfect for the job. While you're there, check out their amazing collection of drinkware and décor. For a more casual option that you can roll up and toss in your purse or backpack, try a colourful French market bag from Centro.
Bye bye, bugs
Here in Ontario, there's a window of about four minutes between blackfly season and mosquito season — so, it's best to be prepared. Enjoy an evening outdoors without the buzz and bug bites when you use these stunning candles from Housewarmings in Oakville. Their citronella candles are a gorgeous option that keeps the bugs at bay. The boutique also has a wide range of products that would make beautiful hostess gifts, plus high-quality quilts that make any cottage bed feel like a five-star hotel.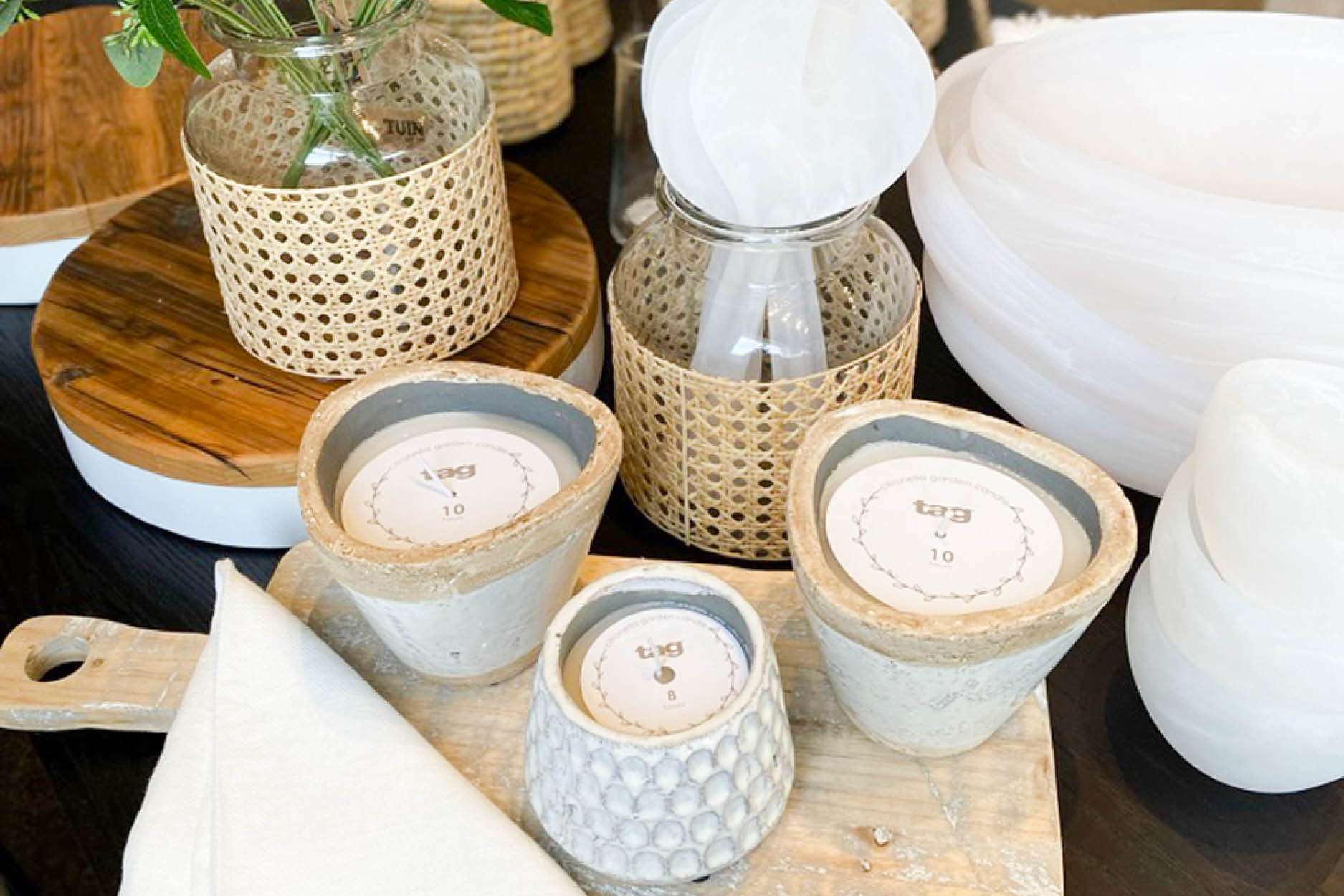 Dockside beats
If your perfect summer afternoon involves lying in the sun with a great playlist drifting over the water, you need an excellent portable speaker. There are plenty of great Bluetooth-enabled options but we love the Sonos Roam from Core 1 in downtown Oakville. Charge it up and enjoy hours of tunes on the dock, in the boat, by the campfire or wherever else you find yourself. And if you don't want to disturb nature (or the neighbours)? Grab some AirPods, too.
Host with the most
If you're having guests, give them the full cottage experience: days in the sun and evenings by candlelight. These Himalayan candles from Lakeside Livin' in Bronte are rustic and elegant at the same time, creating the perfect ambiance for any cabin. Use them on the dinner table or in the living room after dark. Lakeside Livin' also offers amazing nautical themed décor that elevates any space, plus great kitchenware, cozy textiles and other Muskoka musts.
Outdoor accents
Deck out your garden (or garden out your deck) with some large, high-quality outdoor planters from Centro Garden. It's worth investing in some great vessels that can be updated year after year with annuals — or, plant a few perennials and enjoy that low-maintenance décor year after year. You can't go wrong with classic greenery, and a rainbow of flowers creates a daily mood boost (especially if they have a great scent, too). Place them in between loungers or on either side of your front door for a welcoming pop.
Now, where's that cold drink we were talking about?