In Halton, we're lucky to be surrounded by some spectacular scenery, with a gorgeous lake to the south and acres of parkland to the north. Never is that scenery more beautiful than in the fall when the autumn colours become an artist's inspiration.
Conservation Halton has found a creative and fun way to help people celebrate the full beauty of autumn with a program called Fall into Nature. Throughout the entire month of October, Conservation Halton is offering passports to all seven parks where, in addition to hiking, the public can participate in an array of activities and festivities.
Admission for a one-day entry will be valid for all seven parks. Here's what you'll see:
Kelso
The Kelso Conservation Area is best known for its ski hills, but it turns out it's also a great place to visit in the fall. The chairlift takes you up the hills and over farm fields and acres of trees, giving you the best seats in the house to view the autumn colours. October offers the best hiking weather, and Kelso's many trails are excellent, whether you're a novice or a pro.
Kelso boat rentals will still be open, including paddle boats, stand-up paddle boards, and kayaks. This will be the first year for a new event at Kelso called the Hops and Harvest Festival, which runs through October 13 and 14 and will feature breweries, food vendors and artisans.

Mountsberg
Mountsberg is probably best known for its feathered friends, like Jazz and the Barn Owl, who are on display at the Raptors Centre. It is also a great spot for autumn leaf viewing and a prime area for mountain bike novices to test their skills on the trails. You can take a walk down the Sugar Bush or along the Wildlife Walkway trail and see the wetlands or visit the Discovery Centre. The Mountsberg Reservoir also allows you to bring your non-motorized boat to enjoy a view of the park from the water.
Crawford Lake
Crawford Lake is an amazing place to explore year-round with its Iroquoian village where you can learn about local First Nations history. You can also get a great work-out on cross-country ski trails. Surrounding the meromictic lake is a wooden boardwalk where you can walk around the entire lake and learn about the history of Crawford Lake 600 years ago.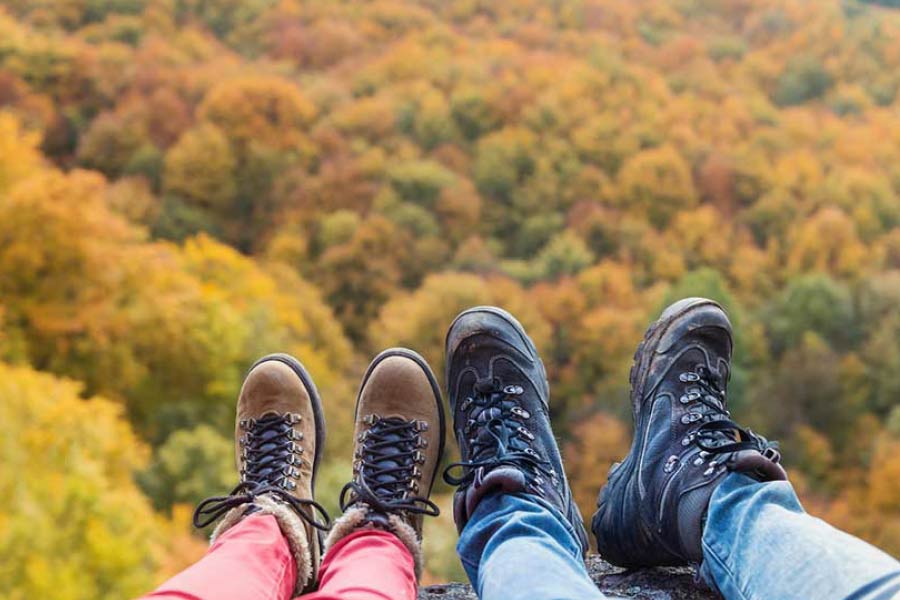 Rattlesnake Point
People come from far and wide to visit Rattlesnake Point in the fall because of the park's great look-out points. Spots like the Buffalo Crag Lookout offer spectacular views of autumn's blaze of colours that will take your breath away.
There are also some great trails and interesting plants to see along the trail, from the Hackberry Tree to the thousand-year-old cedars along the escarpment. Rattlesnake Point is also a good spot to try out your skills in rock climbing.

Hilton Falls
With more than 30 kilometres of trails, it's little wonder that Hilton Falls has become a favourite place for hiking, mountain biking, and cross-country skiing. It also has some wonderful water features like a 10-metre waterfall that cascades over the Niagara Escarpment and mill ruins.
Mount Nemo
Mount Nemo has fewer trails, only five kilometres, but the sites are just as spectacular, especially in the fall. Some of the trails are challenging due to the many roots and rocks, although the upside is that Mount Nemo is also a little quieter than parks like Rattlesnake. Many people who come from out of town appreciate the park for its close location to the highway.
Robert Edmondson
Robert Edmondson Park is referred to by Halton Conservation as their best kept secret. That's because while there's nothing fancy about it, it's still a spectacular park where you can pack a picnic and have a quiet family day in nature. Be sure to bring your camera as you can walk around the boardwalk where the season's fall colours will be reflected in the reservoir.
Now that's something to celebrate.
by Denise Davy
Local Link
Conservation Halton
conservationhalton.ca/fallintonature