For many, a cup of coffee is simply part of a daily routine. But with Oakville's vibrant coffee scene, cafes and coffee shops are becoming more than just a place to perk up. Whether you're looking for a cozy nook to catch up with a friend or simply a warm bevy on a cool day, Oakville has you covered. Here are some of our favourite independent cafes and coffee shops.
Vereda Central Coffee Roasters
Veredacentral.ca | 310 Kerr Street
Vereda Central is a wonderful new addition to bustling Kerr Street. Born from the idea of finding the best possible coffee beans from a variety of Columbian veredas, or small villages, their coffee is personally sourced, and all processes of milling, roasting, and packing are done onsite. They are extremely knowledgeable, friendly and talented baristas. They also offer one of the rarest finds in Oakville – FREE PARKING in the back. Be sure to check them out and enjoy the cozy space the husband and wife team have created.
Kerr Street Café
Kerrstreetcafe.com | 298 Kerr Street Oakville | 289-837-1535
This hip, environmentally conscious café focuses on clean, healthy eating, serving everything from an (outstanding) cup of coffee to a full meal. Start your day with a modern spin on traditional breakfast offerings, with a wonderful selection of loose-leaf teas and excellent coffee, locally roasted by Brothers Coffee Roasters.
Taste of Columbia Fair Trade Coffee Shop
Tasteofcolombia.wordpress.com | 67 Bronte Road
This quaint, South American style café perched on Bronte pier is truly something special. With everything from their coffee to their nibbles, organic and fair-trade, you can feel good about eating here. Enjoy coffee, music, social justice, and equality all under one roof.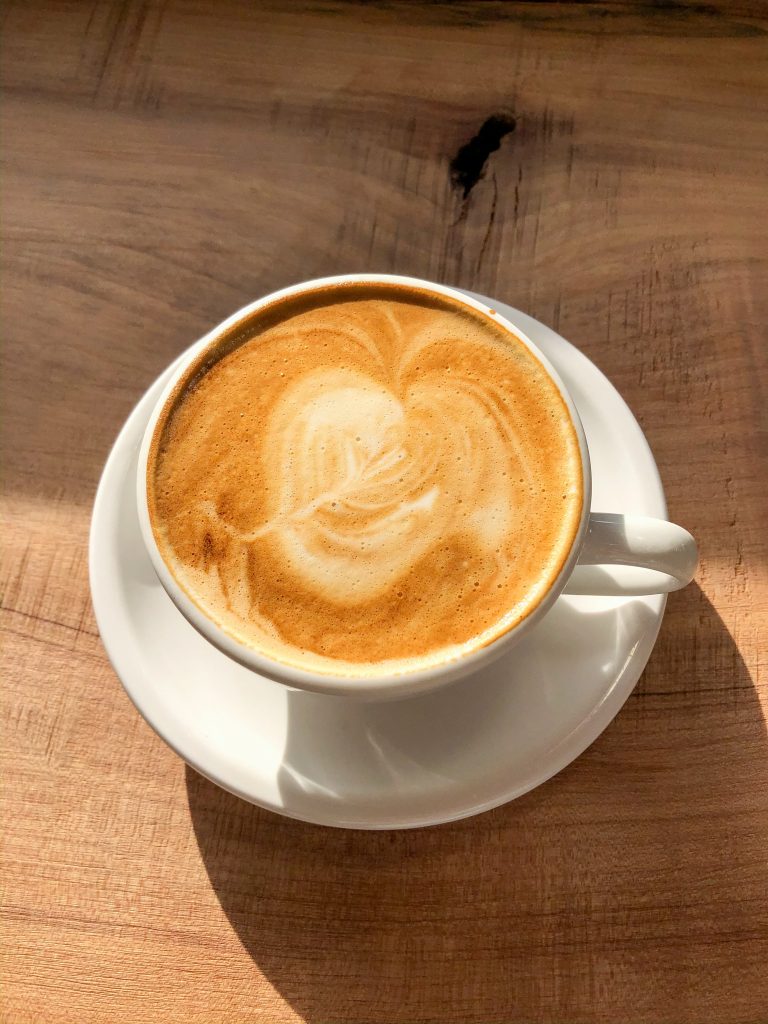 Tribeca Coffee Co
Tribeccacoffeeco.com | 174 Lakeshore Road East
Located in the heart of downtown Oakville, Tribeca Coffee Co. is the perfect little hideaway serving outstanding coffee. Cozy and community-focused, it's a great place to work remotely, play a board game with a friend, or stop for a warm drink after a busy day exploring downtown. The inviting coffee shop specializes in offering an array of different coffee blends, from house batch brewed coffees, to single origin. Looking for a hand pour or Chemex brew? This is the place for you.
Hexagon
Hexagonrestuarant.com | 210 Lakeshore Road, East
This modern, upscale French restaurant, largely known for its unique multi-course dinners, wine pairings, and chic decor, also has a stylish little cafe tucked around the corner. In the summer, their floor to ceiling windows open wide and it makes the perfect spot to enjoy an outdoor coffee and pastry. Inside, you can enjoy Sunday brunch alongside a specialty coffee, such as a black sesame latte, or take it with dessert on a Friday night. We highly recommend the Lavender Latte!
Yellow Door
yellowdoorstudio.com | 114 Thomas Street
Half coffee shop, half nail studio and lounge. Customers are able to get their nails done, all while enjoying Yellow Door's cafe and bar. They offer wines and signature cocktails, but also delectable coffees poured to perfection. The coffee is sourced from De Mello Palheta Coffee Roasters, a local micro roaster that prides themselves on their high-quality ingredients. Bonus: the cafe space is one of the most stylish in town.
Marylebone Café and Creamery
Marylebone.ca | 216 Oak Park Boulevard
Bright, fun, and truly one-of-a-kind, Marylebone Café and Creamery is the ideal spot to come together with family and friends. Their hand-crafted freakshakes, pleasure jars, and baked goods are made with premium ingredients, and each treat includes a special touch. You really have to see it to believe it.
Bean There
106 Reynolds Avenue
A staple in downtown Oakville for nearly a quarter-century. This independent coffee shop is casual, friendly, and inviting. From soup and sandwiches, to hot coffee, lattes, and dessert, this café not only serves up a large selection but brings out all the stops to make you feel right at home.
Croissant Bakery Express
Croissantexpress.ca | 325 Lakeshore Road East
Boasting some of the best croissants this side of Paris. This cozy little café renowned for its croissants offers delicious cups of coffee, tea, lattes, and an assortment of handmade baked goods. All croissants, breads and pastries are individually hand rolled and made with 100% natural butter and finest quality ingredients.
La Dolce Vita Oakville
Ladolcevitaoakville.com | 22 Lakeshore Road West
Although famous for their gelato, La Dolce Vita has a wide assortment of drinks available at their café. Smooth espresso to Italian sodas, to gelato frappes and vegan chocolate mochas . No matter what you opt for, you're in for a treat.
Honourable Mention:
Firebat Coffee Roasters
firebatcoffee.com | 407 Speers Rd. Unit 7 back
Firebat Coffee Roasters is truly a one of a kind. The founders of this roastery, husband and wife team Gustavo and Leena, decided to create a bridge between Canada and El Salvador through coffee. And while they aren't necessarily a café, you can drop in to pick up a bag of beans and sample their coffee. They are especially knowledgeable on the coffee industry, and source all of their beans from small to medium scale producers in El Salvador, including coveted Gold Cup winners that you can't find anywhere else. The result: some of the best coffee you will ever taste. This is a true hidden gem in Oakville.
Didn't see your favourite coffee shop? Submit yours here.