A little bit of sunshine and warm weather is enough to send any Canadian in search of a patio. Eleven-degree weather? We throw on a sweater and we're there. Whether it's biting into a juicy burger or sharing nachos over a beer with some friends, everything seems to taste a bit better on the patio. With patio season here, let's make the most of it from spring through fall. Here's our collection of outdoor hot-spots in Oakville to visit this season.
7 Enoteca
How about pizza on the patio? 7 uses an authentic wood-burning oven. Enjoy a 7 Sangria, exclusive Italian wines and fresh, local food in the heart of Towne Square in Downtown Oakville.
216 Lakeshore Road East, Oakville | the7.ca
Buca Di Bacco
At Buca Di Bacco, their menu is composed of simple, earthy ingredients – the foundation of Italian cooking. While enjoying their dishes and carefully selected vintages, you might just feel like an Italian as they bring you the aromas, tastes, and spirit of Italy.
130 Thomas Street, Oakville | bucadibacco.ca
Borgo Antico
Exquisite Italian food served on their street-side patio in Downtown Oakville. They have a fantastic wine selection and the service is outstanding. What more could you ask for?
266 Lakeshore Rd E, Oakville| borgoantico.ca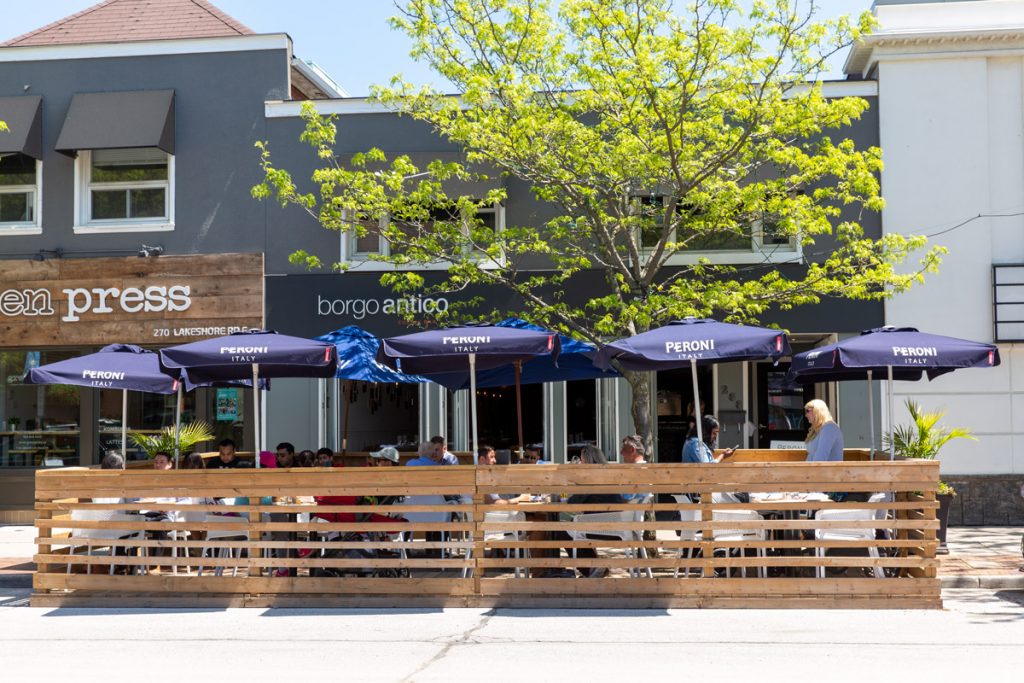 The Boot Social Pizzeria
The Boot Social Pizzeria opened its doors in the fall of 2016. Sister restaurant to the Gingerman Social Eatery, both are located on Kerr St in the heart of the village. The Boot is proud to serve up authentic thin-crust pizzas to patrons accompanied with a fantastic selection of world-class wines and liqueurs.
579 Kerr Street, Oakville | thebootsocialpizzeria.ca
Harpers Landing
Harper's Landing is a popular go-to post-work patio destination, with remarkable architecture and a sizeable terrace surrounded by greenery.
481 Cornwall Road, Oakville | harperslanding.ca
Jac's Bistro
Jac's Bistro is a family-owned and run establishment serving a collaboration of rustic Italian and French Cuisine. From slow cooking to a quick sizzle, there are many options to choose from including their award-winning slow-roasted tomato soup, veal Bolognese, or AAA steak frites. Enjoy your meal street-side in the heart of Kerr Village!
379 Kerr Street, Oakville | jacsbistro.com
Jonathan's and J-Bistro
Located in a beautifully renovated heritage home, Jonathan's is an exceptional fine dining restaurant with a popular and entertaining bistro located in the heart of downtown Oakville. J-Bistro also offers an intimate outdoor patio with doors that open into the main restaurant. Discover their extensive wine-list while enjoying a beautiful summer day.
120 Thomas Street, Oakville | jonathansofoakville.com
Seasons
Owners George and Tammy opened the doors to Seasons Restaurant more than 18 years ago, in its historic Downtown Oakville location. Over the summer months, guests will enjoy a memorable dining experience on their beautiful new patio, as they peruse an extensive wine list and a menu of mouth-watering global cuisine (gazpacho soup, grilled octopus, prosciutto-wrapped chicken, New Zealand lamb chops, and their vegan chickpea channa, just to name a few).
134 Lakeshore Road E., Oakville | seasonsrestaurant.ca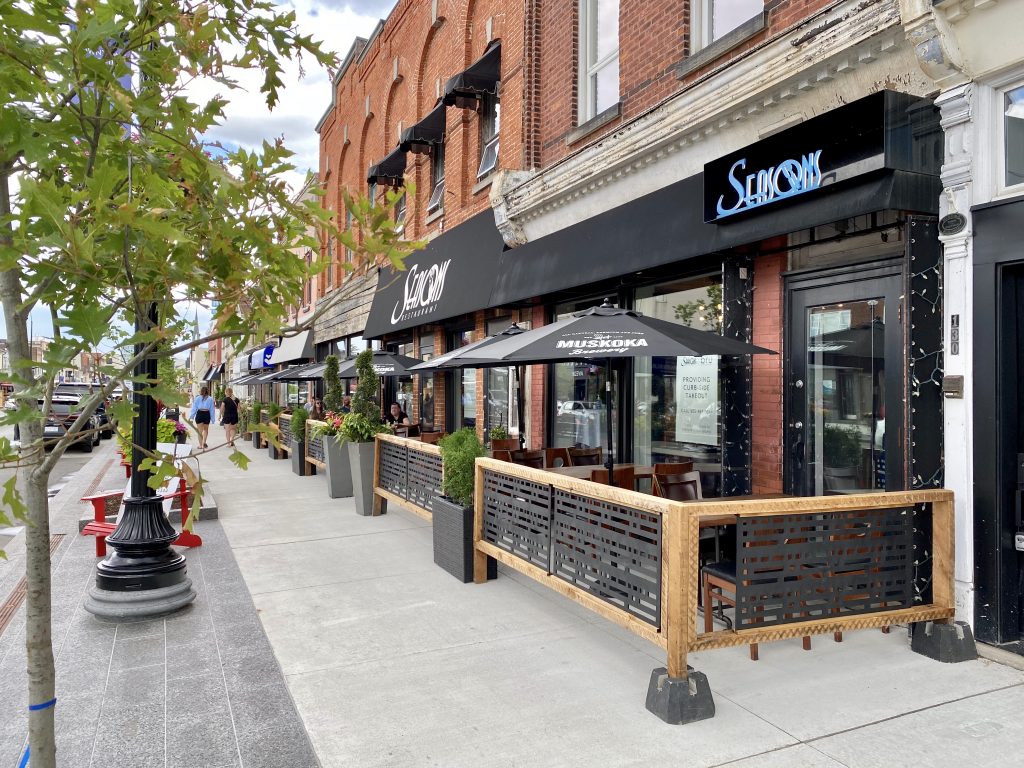 Brü Restaurant
Neighbouring Seasons Restaurant in beautiful Downtown Oakville, Brü offers a warm and laid-back atmosphere on their expansive patio. With a large selection of Ontario Craft Beer (including Muskoka breweries) and an extensive menu of Gourmet In-House Cuisine (ranging from pan-seared scallops and steamed mussels, to coconut peanut ramen noodles, or their original Brü Burger), guests will enjoy a refreshing taste of summer.
142 Lakeshore Road E., Oakville | brurestaurant.ca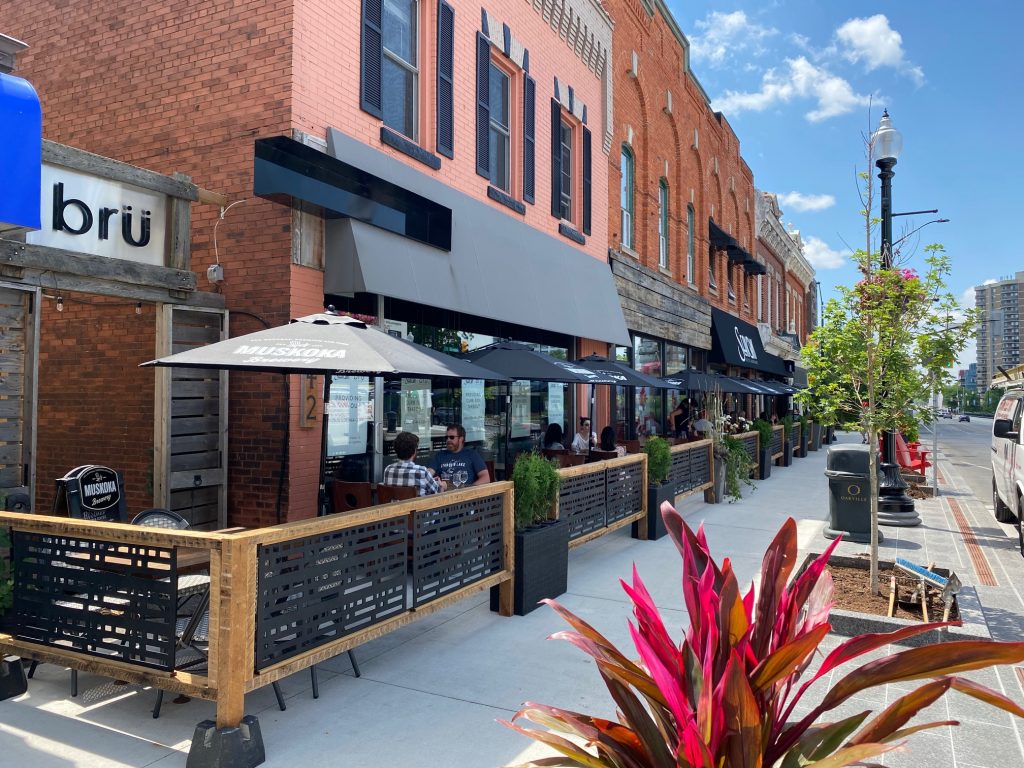 King's Arms
The King's Arms is your one-stop retreat from the daily grind. One of the oldest pubs in Oakville serving-up authentic English pub-style food, their secluded patio makes is a sanctuary to grab a drink with friends.
323 Church Street, Oakville | thekingsarmsoakville.com
The Oakville Pump
Sitting at what used to be The Niblick, The Oakville Pump and Patio – comprised of a small family of restaurants – is one of Oakville's newest restaurants. Their patio is large and lively on the weekends, where visitors come to enjoy live music and great grub. Their menu offers ribs, steaks, salmon, fajitas, beer-battered haddock, sandwiches and wraps, burgers, quesadillas, tacos, pasta, wings and more.
1011 Upper Middle Road East, Oakville | theoakvillepump.com
The Crêpe Kitchen
A go-to for a sweet or savoury brunch. This rustic and quaint hub offers a unique selection of crêpes filled with everything from steak and cheese to chocolate and fruit. Their small, bistro-style patio transports you to France as you enjoy a delectable treat.
88 Dunn Street, Oakville | thecrepekitchen.ca
Paradiso
A marvelous Mediterranean menu and $5 select martinis and wines by the glass. Perfectly situated near the Oakville Centre for the Performing Arts for a before or after-show drink or meal.
125 Lakeshore Road East, Oakville | paradisorestaurant.com
Colossus Greek Taverna
If your mouth is watering for authentic Greek dining, Colossus is the place to go. Located in beautiful downtown Oakville, this restaurant with old-world décor transports you straight to Greece. Enjoy a variety of ouzos, or imported beer, or treat your palate to a glass of wine from a selective award-winning Greek wine list.
221 Lakeshore Rd East, Oakville | colossusgreektaverna.com
Piazza Bistro
A rustic Italian cafe and restaurant serving breakfast, lunch, dinner, and drinks in the heart of Towne Square in Downtown Oakville.
94 George Street, Oakville | piazzabistro.com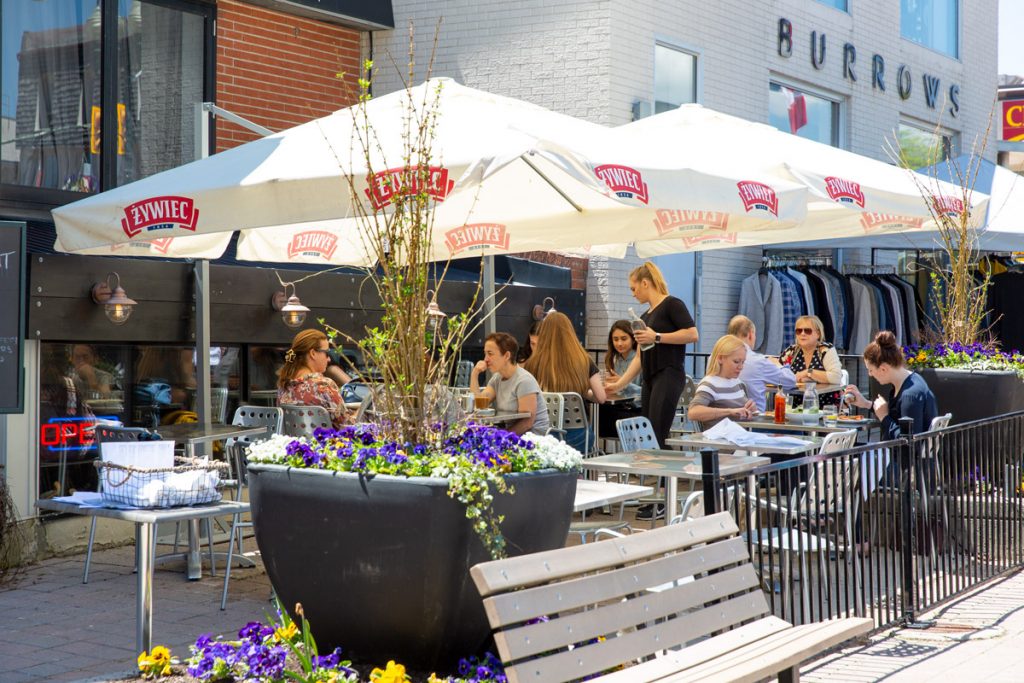 Oliver's Steakhouse
Established in 1969, Oliver's is known as "Oakville's top steakhouse", with their phenomenal fine-dining experience. Along their USDA Prime steak selections (high-quality cuts of steak), guests revel in their fresh seafood and extensive wine list. While their interior dining area is temporarily closed, Oliver's welcomes guests to reserve a table on their brand new patio! Book ahead of time, by either phone (905-845-9391) or email (info@oliversofoakville.com).
134 Lakeshore Road E., Oakville | oliversofoakville.com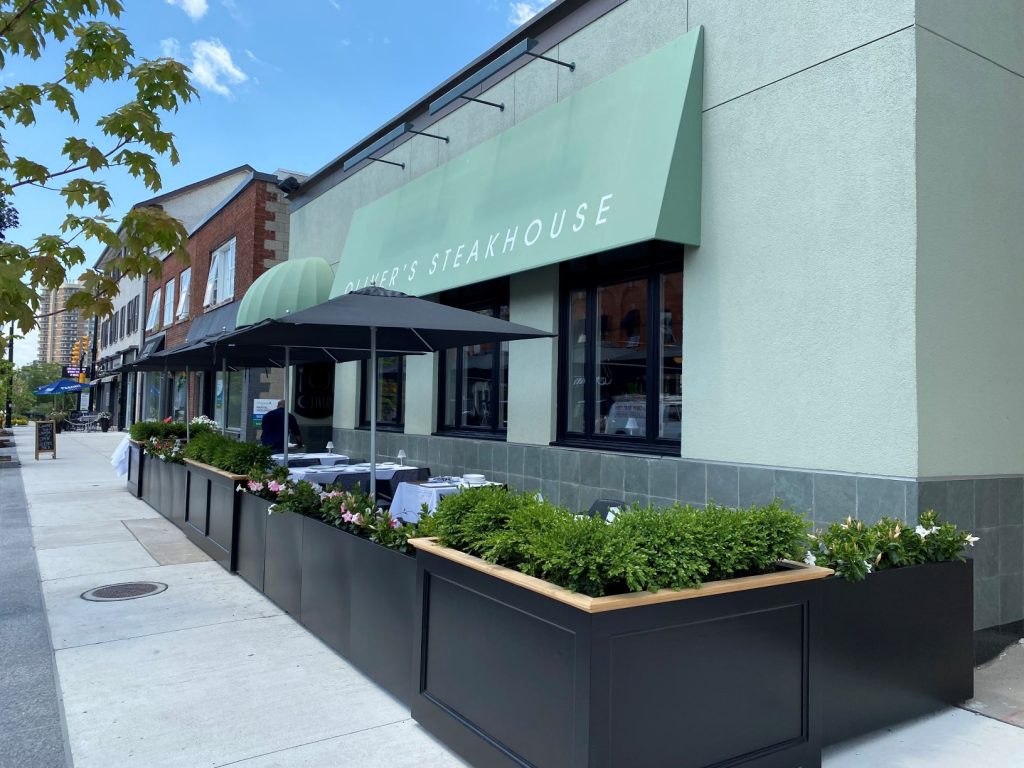 The Pipes and Taps Pub
This Upper-Oakville Scottish Tavern serves pub-grub and beer in an old-fashioned setting. Their quiet patio is the perfect place to grab an ice-cold draught beer and catch up with an old friend.
231 Oak Park Boulevard #101, Oakville | thepipesandtapspub.com
Stoney's Bread Company
An Oakville favourite with some of the best sandwiches in town! This casual eatery serves market-fresh food in a distinct atmosphere featuring pizza, pasta, sandwiches and more. They have been an Oakville favourite since 2004 – and were even featured on You Gotta Eat Here.
325 Kerr Street, Oakville | stoneysbreadcompany.com
Tavolo
Tavolo is an upbeat energetic restaurant serving outstanding Italian thin crust pizza, fresh pasta, seafood, and exciting main course dishes. Exceptional wines are available by the glass and can be enjoyed in their large bar area with a beautiful patio.
1515 Rebecca Street, Oakville | tavolo.ca
Did we miss someone? Let us know! Contact us here.