We've rounded up the best patios in Burlington. These are the perfect places to enjoy summer sips, snacks, and outdoor meals. Make the most of these short summer months by visiting our favourite patios in Burlington.
Spencer's At the Waterfront
1340 Lakeshore Rd., Burlington | spencers.ca
This patio's stunning views of Lake Ontario make it a coveted spot for outdoor dining in Burlington. Their menu boasts sustainably sourced seafood and an elevated take on familiar comfort foods. Be sure to check out their freshly shucked oyster and Prosecco deal on Wednesday evenings!
Isabelle
3 Elizabeth St, Burlington | isabelle.ca
Transport yourself to another place and time on Isabelle's waterfront patio. Their mouthwatering bites of spaghetti pomodoro will have you basking in the sun on the edge of Lake Como, while their charred octopus whisks you away to the Mediterranean Sea. Whatever your destination, Isabelle's coastal inspired dishes are not to be missed.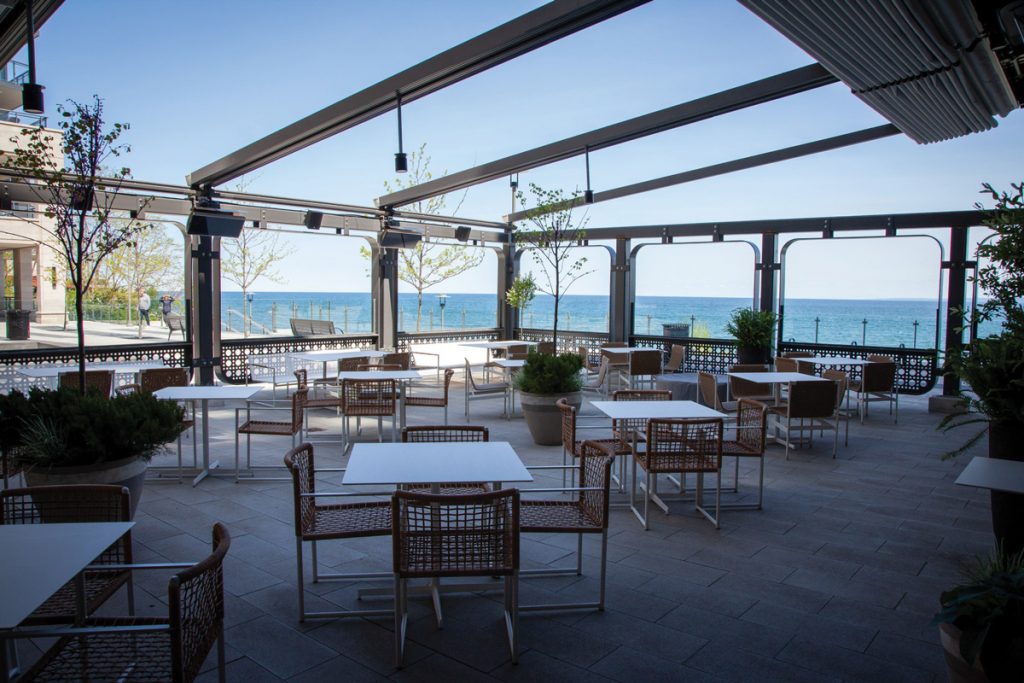 Rayhoon Persian Eatery
420 Pearl St, Burlington | rayhooneatery.com
The patio of Rayhoon Persian Eatery is tucked away from the bustle of Burlington in the heart of historic Village Square. This patio is the perfect place to enjoy an intimate gathering with friends and family, while dining on delicious plates of Persian cuisine.
Paradiso Restaurant
2041 Pine St, Burlington | burlington.paradisorestaurant.com
Paradiso Restaurant is another great patio to explore in Burlington's historic Town Square. Paradiso offers an accessible menu of delicious options inspired by the European Mediterranean.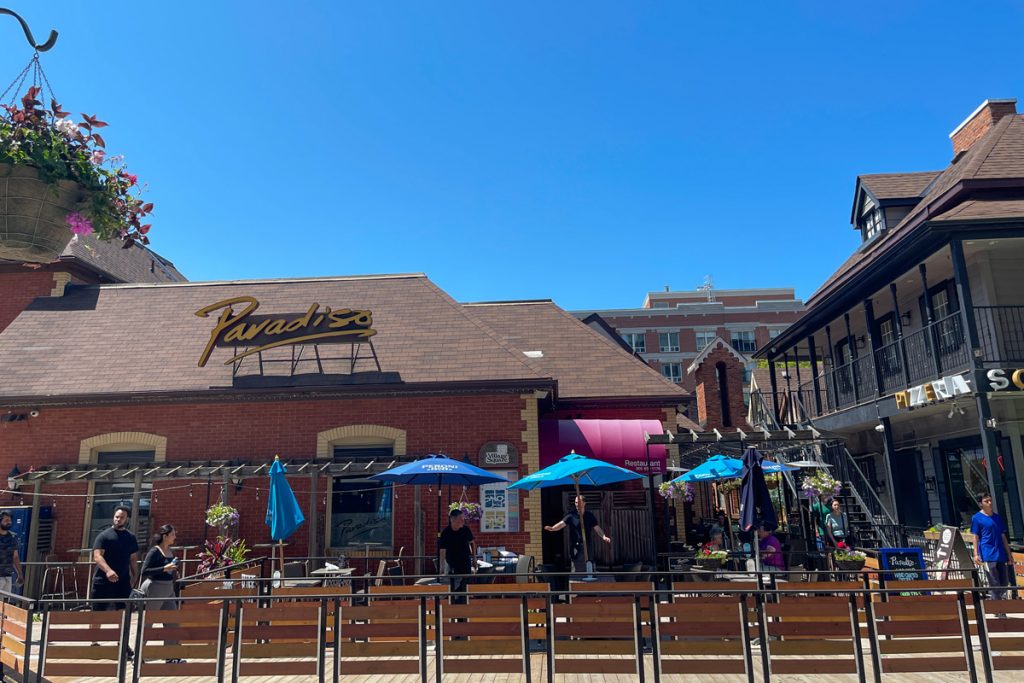 Buvette Restaurant and Wine Bar
417 Elizabeth St, Burlington | buvetteresto.com
Buvette Restaurant and Wine Bar's patio is nestled on the corner of a historic old Victorian building in Village Town Square. If you're looking for a casual fine dining experience with great seafood, steak, and wine options, Buvette's the spot.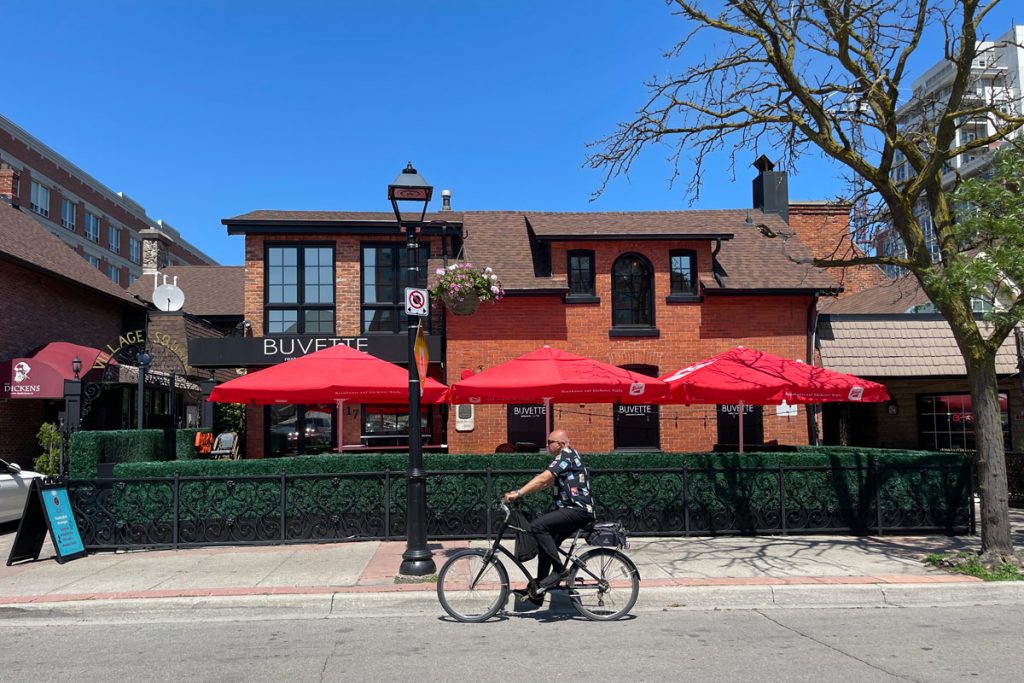 Loondocks Restaurant
5111 New St, Burlington | loondocks.ca
If you're looking to literally elevate your patio dining experience, check out Loondocks Restaurant's rooftop patio. As evidenced by their patio's herb and veggie garden, Loondocks cuisine is primarily made with fresh, local, Canadian ingredients. They also offer an extensive list of old and new world wines, cocktails, and local craft beers.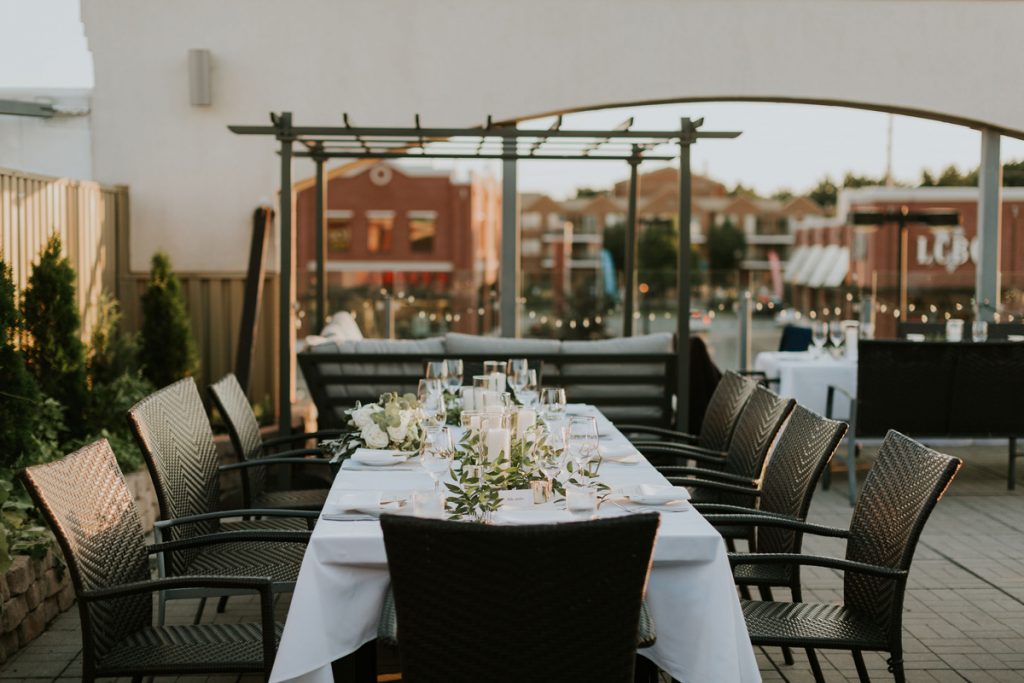 Di Mario's Trattoria
1455 Lakeshore Rd., Burlington | dimarios.ca
Di Mario's Trattoria boasts authentic Italian cuisine in the heart of Downtown Burlington. Witness the bustle of Burlington with a piquant plate of pasta and a glass of fine wine.
Pepperwood Bistro Restaurant
1455 Lakeshore Rd., Burlington | pepperwood.on.ca
Feeling the heat? Take cover under the canopy of trees lining Pepperwood's patio with one of their many ice-cold craft beers on tap. Next, wet your newly restored appetite with one of Pepperwood's bistro and Italian inspired dishes.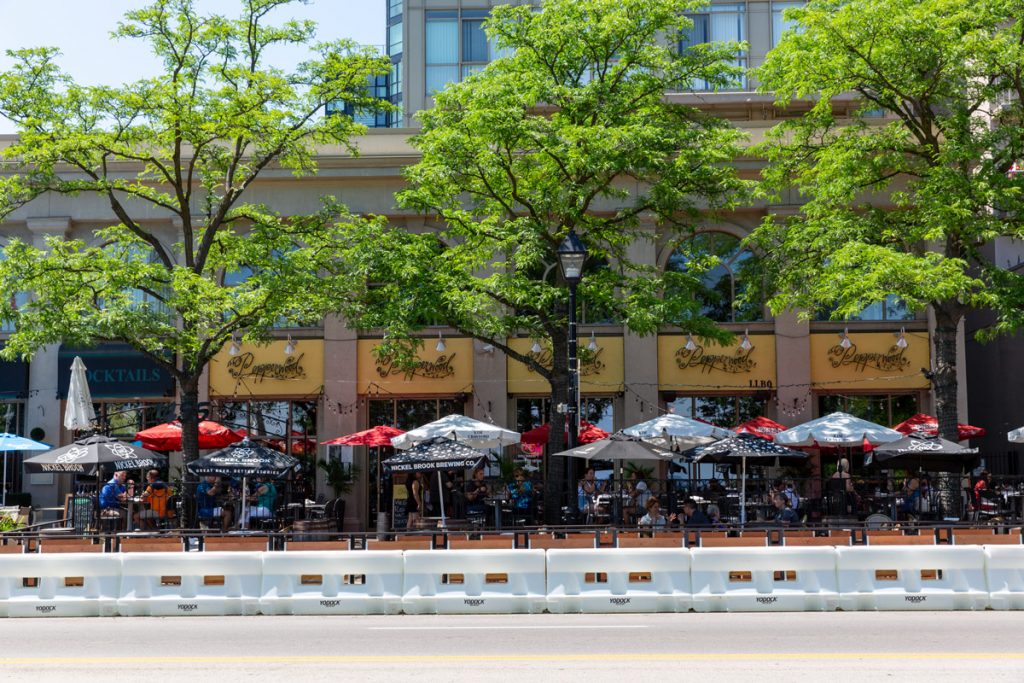 Son of a Peach Pizzeria
2049 Pine St #62, Burlington | heypeachy.com
Nothing tops off a sunny day like pizza and a frothy, cold drink. Soak up the dog days of summer on Son of a Peach's slice of Burlington's historic Town Square.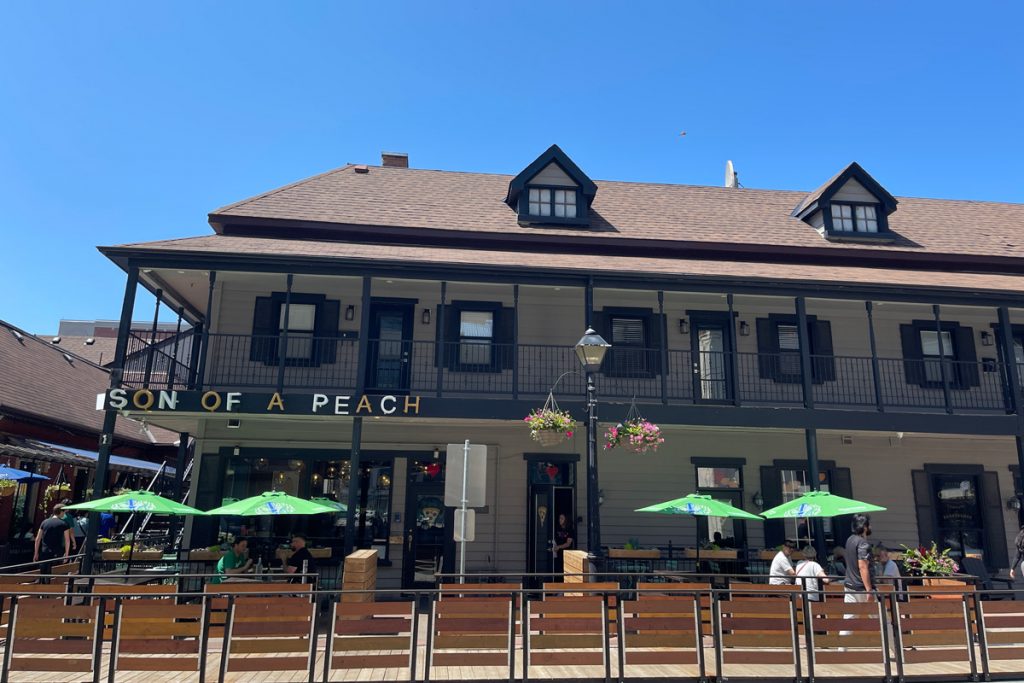 Jacksons Landing
5000 New St, Burlington | thelandinggroup.ca
Harper's little sister restaurant, Jacksons Landing, offers a rooftop patio with a casual yet refined dining experience. They have a range of craft beers, wines, and cocktails to choose from.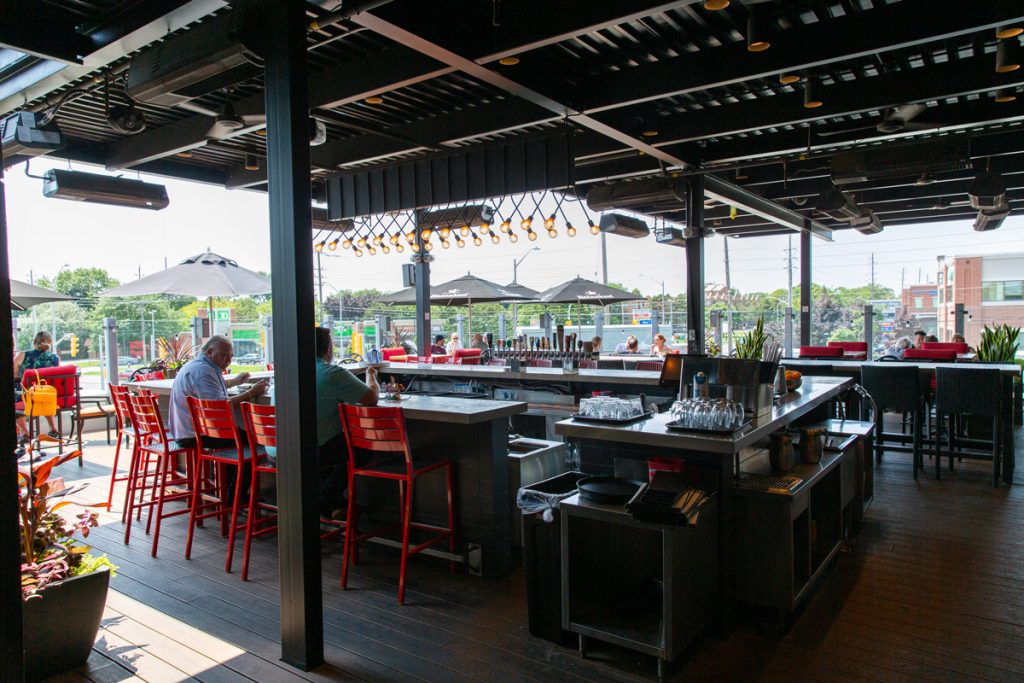 NISI Greek Taverna
1455 Lakeshore Rd., Burlington | nisigreek.ca
Nisi Greek Taverna is the spot for authentic Greek food in Burlington. Their patio sits right on Lakeshore Road with views of the water and pier.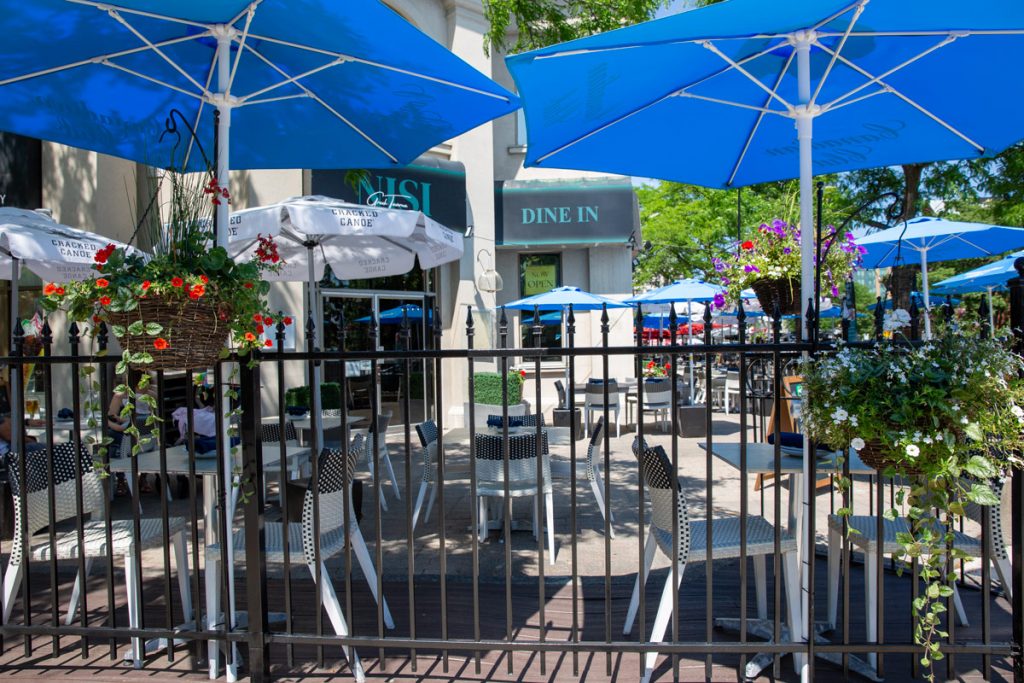 The Queens Head
400 Brant St, Burlington | thequeenshead.ca
As far as historic pubs in Burlington go, The Queens Head is head and shoulders above the rest. For a quaint and casual dining experience, enjoy a pint and pub fare on their street-side patio.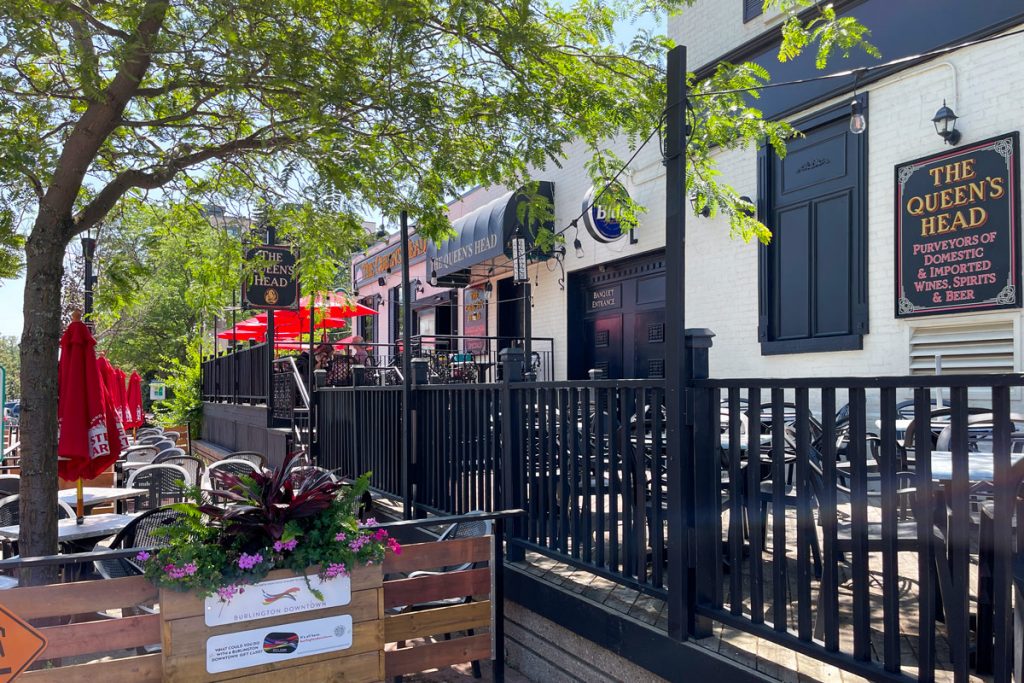 The Poacher
436 Pearl St, Burlington | thepoacher.ca
Looking to traverse the time space continuum this summer? Transport yourself to historic Burlington at The Poacher, Burlington's oldest British pub. Enjoy your favourite pub classics and a rotating assortment of beers on their classic wood-decked patio.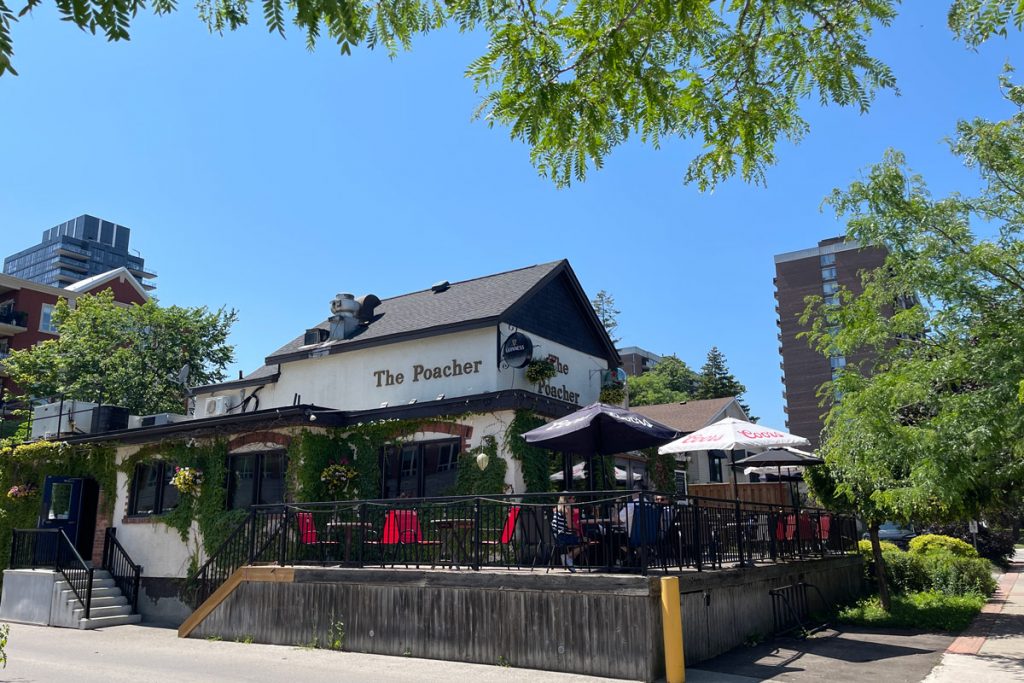 The Dickens
423 Elizabeth St, Burlington | thedickens.ca
Situated in the heart of Burlington's Village Square, The Dickens is nothing short of iconic. Their comfortable patio is the perfect setting to catch up with old friends over a frosty beverage and a burger.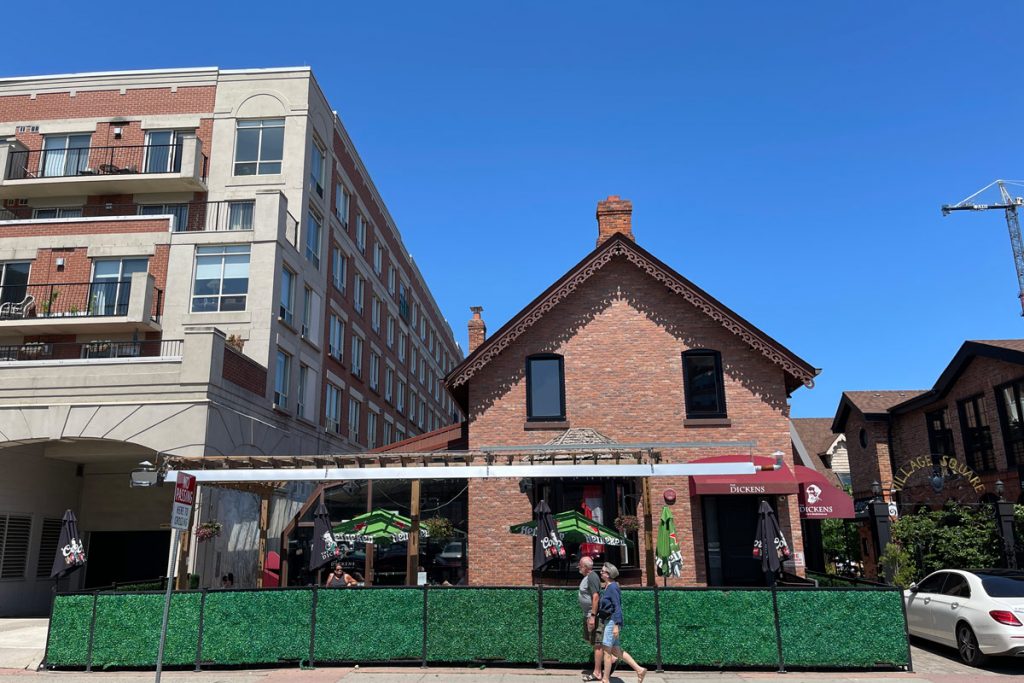 Industria Pizzeria + Bar
1860 Appleby Line, Burlington | industriapizzeria.com
Who knew pizza and bocce ball went together so well? Add in a few cold beverages and it's a recipe for a pretty perfect patio. Industria Pizzeria's patio is a lively spot with great food – check it out!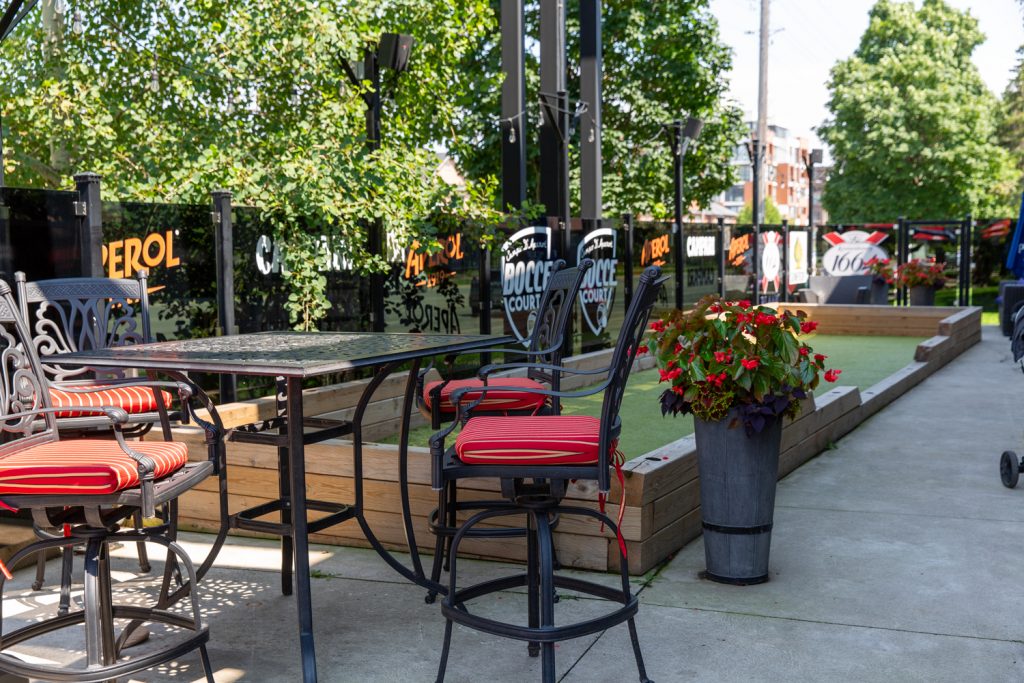 The Martini House
437 Elizabeth St, Burlington | themartinihouse.ca
The Martini House couples fine-dining cuisine with a casual and homey atmosphere. If you're looking for a relaxed, pub-style ambiance with a more refined menu, The Martini House is the spot.