You may not be able to perform cannonballs or run around the deck screaming Marco Polo, but the swim spa may be the next best thing to the backyard swimming pool. It combines a swimming pool's fitness benefits with a hot tub's hydrotherapy. And while the swim spa may be perceived as a backyard luxury item, it is considerably less expensive than putting in an inground pool and can accommodate any size yard.
Swim spas contain a jet system allowing you to swim in place, eliminating the need to do laps in a full-size pool. The movement of the water creates a counter-current to mimic the sensation of swimming in the river or ocean so you can exercise within a much smaller area. The jet system also provides the relaxation and therapy of a hot tub with the ability to adjust the temperature within a few hours. Hydrotherapy delivers deep relaxation to muscles, promotes stress reduction, and helps reduce the symptoms of chronic pain conditions like arthritis and fibromyalgia. With a swim spa, you can improve your physical and mental well-being all in one system.
Not All Swim Spas are Created Equal
If you search "swim spa" on the internet, you will see a long list of options and styles, including their ability to be used year-round. "All-weather pools are designed and built for the Canadian climate. Not all swim spas are," says Aaron Pilon, VP of sales and marketing at Arctic Spas. "Pools must be tested for long durations and consider fluctuating temperatures, not just extreme cold. Not all manufacturers understand the Canadian winter."
It's not unusual in Ontario to see -20 C one week and above zero the next. A pool system not designed and insulated properly will not protect against fluctuating temperatures, causing materials to expand and contract. Over time, this can damage the pool causing costly repairs.
The design and fit of the cover also play a critical role in maintaining the pool temperature in winter and help keep energy costs
down.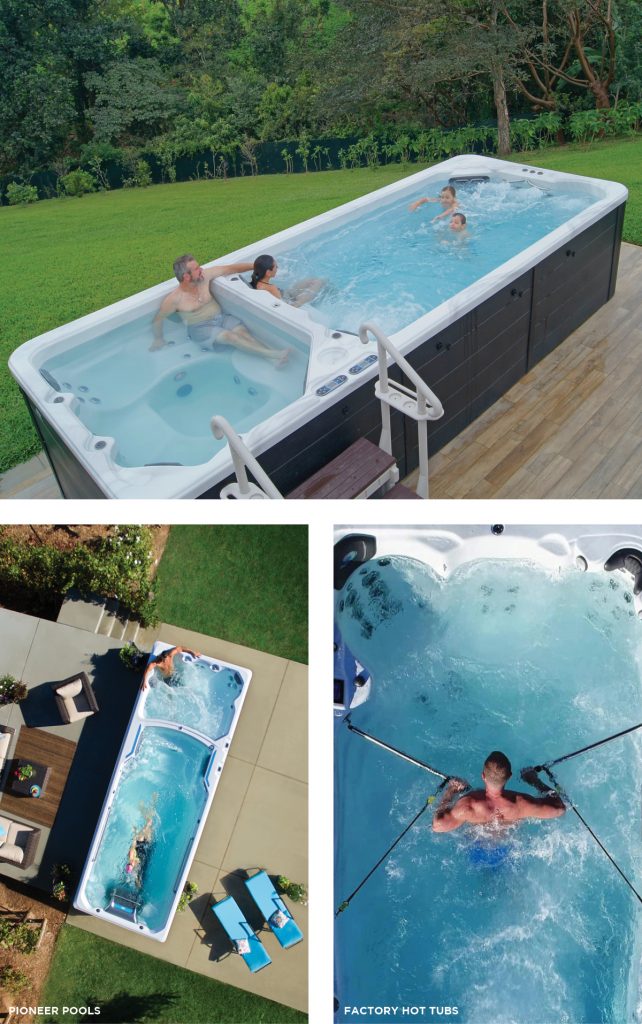 Choosing Your Perfect Spa
Swim spas come in various sizes and styles, but choosing one can be complicated without some helpful guidelines. If you're researching a swim spa for your family, consider these tips:
• Clarify what exercises you can do in the swim spa. Some models can install rowing bars or require a tether to keep you in place while swimming. Also, understand what can be adjusted, such as the resistance of the water current, the jets' water pressure, and the pool's jet arrangement.
• "Be sure to inquire about the pool's construction and how it is designed for the Canadian climate," says Pilon. "A good salesperson will walk you through the design of the pool, not just its features." Also, ask about the heating system and how long you can expect the pool to take when heating to hot tub temperatures.
• Consider pool maintenance and whether there's a self-regulating saltwater option. Traditional chemicals can cost both time and money. Do filters need to be changed, and how often? Ask where the swim spa is made and the manufacturer's warranty, and check Google reviews.
A swim spa may be the perfect addition to your backyard offering unending outdoor family fun, a full-body workout and a therapeutic soak any time of year.
By Julie Achtermeier
Local Links
Arctic Spas, Burlington
arctichottubs.ca
Pioneer Pools, Oakville and Burlington
pioneerfamilypools.ca

Factory Hot Tubs, Oakville
factoryhottubs.ca
International Pool & Spa, Oakville
interpools.com
Leisure Industries, Oakville
leisureindustries.ca