The garage is often the last unorganized frontier in the family home… the place where boxes, sports gear, discarded hamster cages, gardening and lawn equipment, bicycles, and various other odds and ends are tossed. Let's be honest, if you're actually able to store a vehicle in the garage – you're way ahead of the game. For those who use this space for storage, there are endless ways to keep your goodies in the garage while keeping enough room for the car – and we're here to help!
For most busy homes, space is at a premium. "The garage is often a dumping ground, so the first thing you want to do is get everything out and off the floor," says Linda Fiore Ceolin of Garage Living. "Ideally, you want nothing on the floor, to make it easier to get around and to keep clean and walk without tripping."
She suggests that the flooring be looked after first. If the flooring is cracked or worn, it should be fixed or replaced to match the garage interior, ensuring a cohesive look.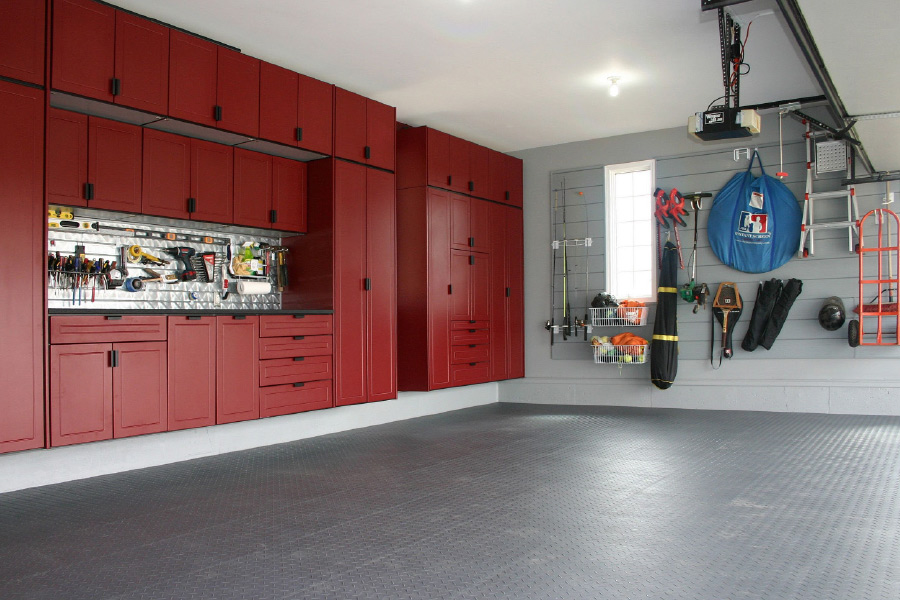 Garage Living provides a wide range of storage options to help with organization and keep items either out of sight or displayed neatly on the walls. "We offer everything needed to get organized, including storage bins to purge what needs to go first," she says.
When it comes to storage equipment, slatwalls seem to be the go-to. The grooved panels make it easy to hang sports equipment, ladders, and gardening tools. Custom cabinetry is great for storing items in designated bins, like tools, nuts and bolts, or even paint. "Cupboards can be treated as a pantry, where you can hide items from view if you choose," explains Linda.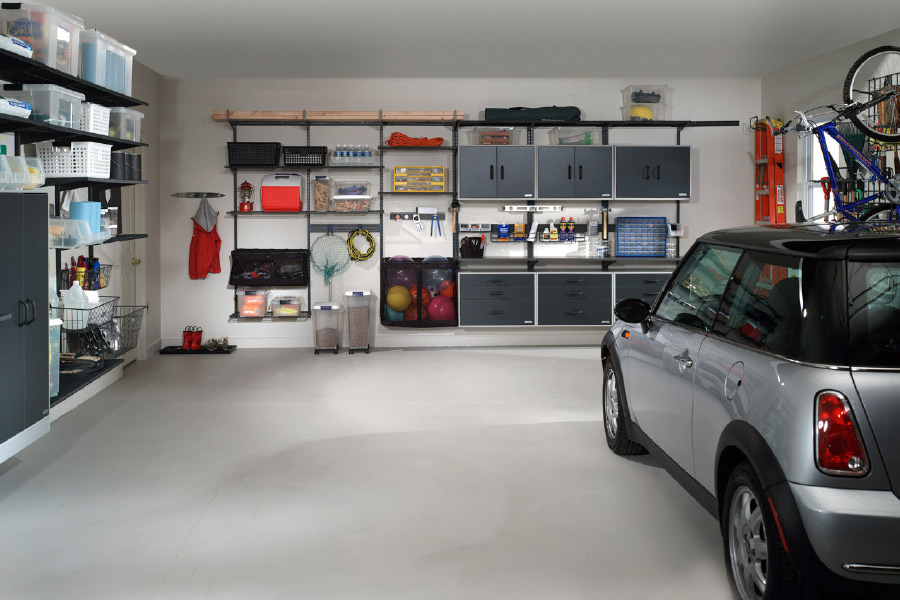 The ceiling is another popular option for storage opportunities. "The ultimate goal is to keep things neat, clean and dry so you can actually park your car and sweep or shovel out water, slush, and leaves." she says. Building custom shelving can create loft-storage, giving you extra square footage to store items such as seasonal furniture and decorations.
The slat wall system is definitely the most popular and efficient way to get the garage space neat and organized, says Austin Macaulay of Burlington Closet and Garage.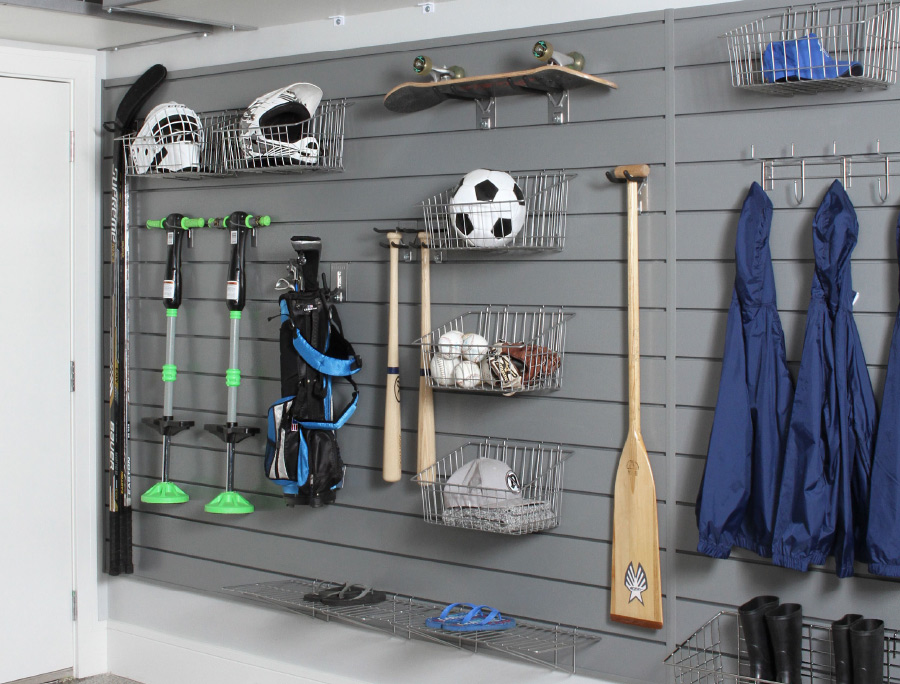 "We provide an all PVC, Canadian-designed and made-in-Canada slat system that comes in four colours," he says. "It's appealing to the eye with heavy-duty hooks that lock in and hold 75 pounds per square foot of space."
Austin also suggests wire baskets and shelving for gardening tools, and hooks on the walls and ceiling to accommodate bikes, kayaks, and paddle boards.
He says, "If you utilize the back wall and the ceiling, that can help free up a lot of space you may not have realized you had." There are even motorized lifts available to make reaching items stored on the ceiling easier to access. And the slat system can be installed by professionals, or by yourself: "It goes up like siding, with a very clean look and you can't see the screws."
Although getting organized is a great feeling when you're all done, if you're feeling overwhelmed by the entire process, Linda suggests tackling it a section at a time.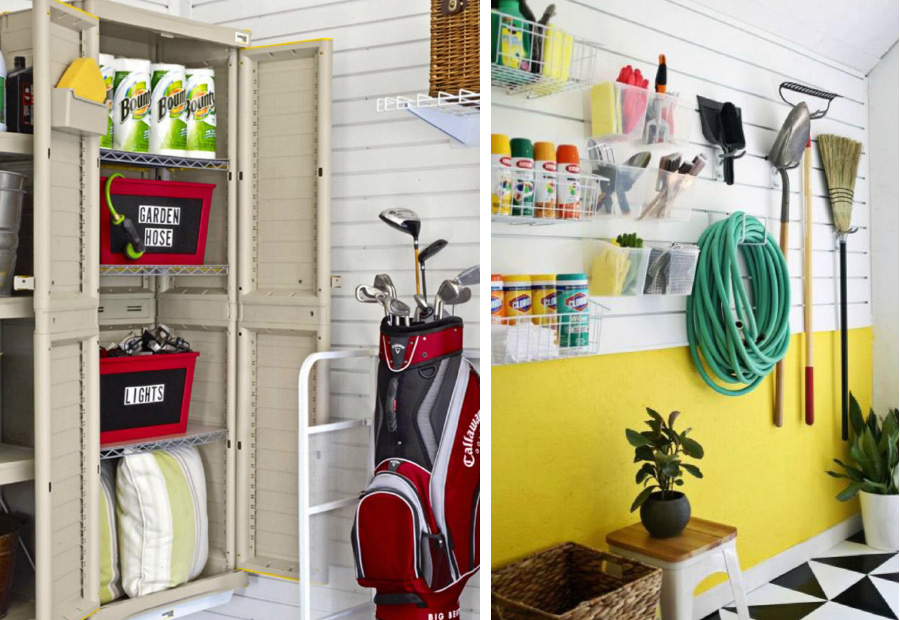 "The garage is usually the last place in the home to get organized, but you can always do it in steps if you choose, bits at a time," she says. And if you're worried that your space is unable to be organized at all, she also has advice for that: "No space is too small!"
With the right organization tools, some planning and maybe a bit of purging, your garage can hold everything it needs to, including your vehicle.
by Allison Dempsey
Local Links
Garage Living
Garageliving.com
Burlington Closet and Garage
Burlingtonclosetandgarage.ca
Closet Envy
Closetenvy.ca
Closets Plus
Closetsplus.ca
California Closets
Californiaclosets.ca