Today, Oakville Harbour at Sixteen Mile Creek and Bronte Harbour at Bronte Creek are known for their picturesque vistas of pleasure boats bobbing at their moorings. Oakville Harbour's merchant history of grain-carrying schooners and Bronte's story of intrepid fishing fleets are well known, but Oakville's position as a centre for the design and construction of leading racing yachts is now all but forgotten. What is even more amazing is that this phenomenon happened here not once, but twice, decades apart.
In the 1870s yacht racing on the Great Lakes had become an increasingly popular pastime. Cecil G. Marlatt, the wealthy owner of the Oakville tannery and a keen sailor, commissioned local shipbuilder Captain James Andrew to build the Aggie. Launched in 1887, Aggie was named for C.G. Marlatt's wife and became the most successful boat in Royal Canadian Yacht Club (RCYC) history with 83 victories, including beating designs from yacht design luminaries such as Fife, Watson, and Payne.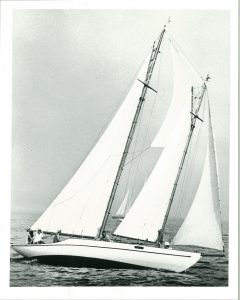 Sadly, the Aggie was driven ashore in a gale and wrecked at the Burlington lighthouse in 1945. Elements of the Aggie were saved, however, and her barometer, for example, was given to the Oakville Museum by the Marlatt family. C.G. Marlatt was very active in sailing on the Great Lakes and served as Commodore of RCYC. After his death in 1928, the club instituted a trophy dedicated to him and the Aggie as a memorial. The Oakville Museum holds a miniature 'keeper' trophy of the 1938 Marlatt championship, won by the renowned yacht Patricia. 
Andrews would go on to build boats, often to a more famous designer's plan, that would beat the best vessels any of the rival American clubs could field. These were skippered by Aemilius Jarvis who was a capable and confident sailor from a young age. He navigated Lake Ontario from Hamilton to Niagara-on-the-Lake to Whitby and back, solo in a dingy at the age of twelve. Jarvis was a consummate tactician and considered the greatest freshwater skipper of his time. 
The Andrews / Jarvis combination first found fame in a match between the sloop Canada and Vencedor of the Lincoln Park Yacht Club in 1896. The US vs. Canada contest would henceforth be known as Canada's Cup and it continues to this day. After losing in the Beaver in 1899, Jarvis was to reclaim the cup against Cadillac in 1901, three wins to one, sailing Invader – another Andrews-built boat.
Decades after the retirement of James Andrews, cutting edge yacht building would return to Oakville. Erich Bruckmann, working out of his shop near Speers and Third Line, built the Cuthbertson and Cassian designed  Red Jacket, the world's first balsa-core composite racing yacht. Lighter and faster than its competitors, the Red Jacket became the first Canadian boat to win the famed Southern Ocean Racing Conference (SORC) in 1969.
Bruckmann was a founder of C & C Yachts and his Oakville plant became the C & C custom shop, turning out Canada's Cup winners Evergreen, Manitou, and Magistri 82, which rivaled and surpassed the marks set by the Andrews yard of old.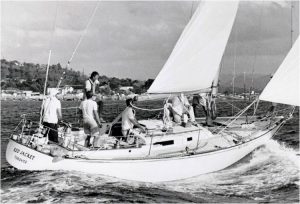 Today, there are still C & C Yachts in the town's harbours, less famous than Evergreen, perhaps, but they still win races. 
However, it's not all fiberglass and space-age composites down there. In a prominent mooring at the Oakville Club, you can find Anitra, the oldest wooden schooner on the Great Lakes. Designed by Montye Macrae and launched in 1926, Anitra carries gear from the Aggie, and the mainmast from Canada's Cup winner Seneca. She also has a racing pedigree of her own with some 100 pennants and four championships, including the 1939 Edward Prince of Wales Cup. She is regularly sailed by her current owners Jamie Macrae and Jane Hawkrigg. Next time you're down at the lakeshore, you might be lucky to see Anitra flying under full canvas.
If you're looking to get involved in club sailing, the Oakville Club, Oakville Yacht Squadron (OYS), and Bronte Yacht Club all have sailing memberships. Some clubs offer inexpensive crew memberships which are a great way to see if racing is right for you.  OYS has several popular kids' camps and a borrow-a-boat program.  Oakville's National One Design Sailing Academy offers fully-accredited sailing instruction.
Even if you never intend to set foot on deck, Oakville and Bronte harbours are still great places to spend an afternoon. Both harbours have great shopping and dining nearby, plenty of walkable shoreline, and a plethora of beautiful boats to admire.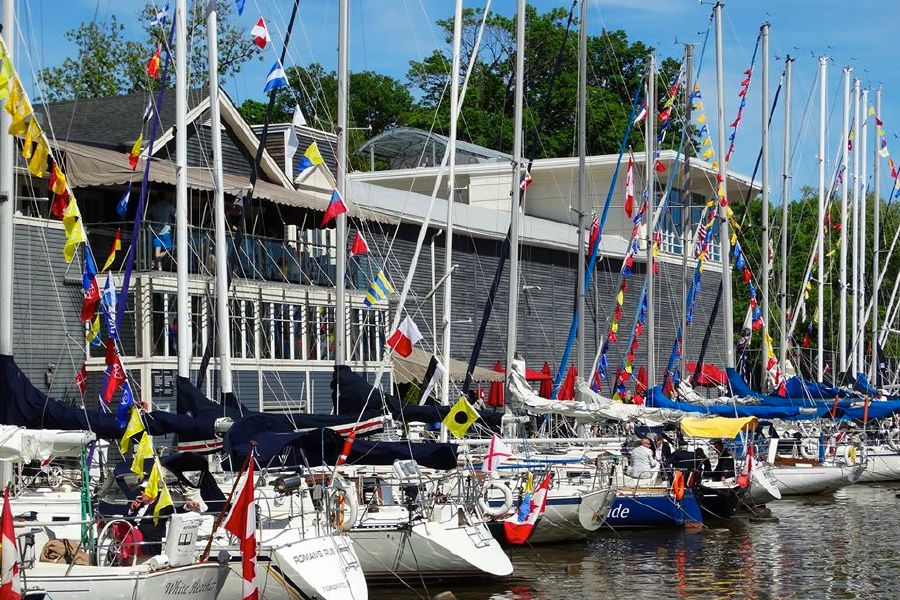 By: Julian Kingston