The impact that COVID-19 has had on all of our lives is staggering, and for the hundreds of thousands of small businesses that are the lifeblood of the Canadian economy, these last few months have been especially challenging. From a sudden complete lockdown in March to a gradual reopening with new mandatory safety measures in place, our community's shops, restaurants, personal care services, independent grocery stores, and so many more have had to quickly pivot to stay afloat.
Whether they've amped up their digital presence to offer online shopping, created spaces for safe and effective curbside pickup, or fearlessly opened a business despite the pandemic, these survivors are incredible examples of tenacity and persistence.
Ontario's Business Improvement Associations (BIAs) have been doing the best they can during this crisis to maintain the thriving, competitive, and safe business areas that attract shoppers, diners, tourists, and new businesses.
We asked our local BIAs to share some of their COVID strategies and shed some light on particularly creative businesses. There are many! Here are just a few of their stories.
Doug Sams, executive director of the Kerr Village BIA, says more than 25 Kerr Village businesses have taken advantage of the Digital Main Street platform. Through a $2,500 grant administered by the Ontario BIA Association, small businesses receive funding to adopt new technologies and embrace digital marketing.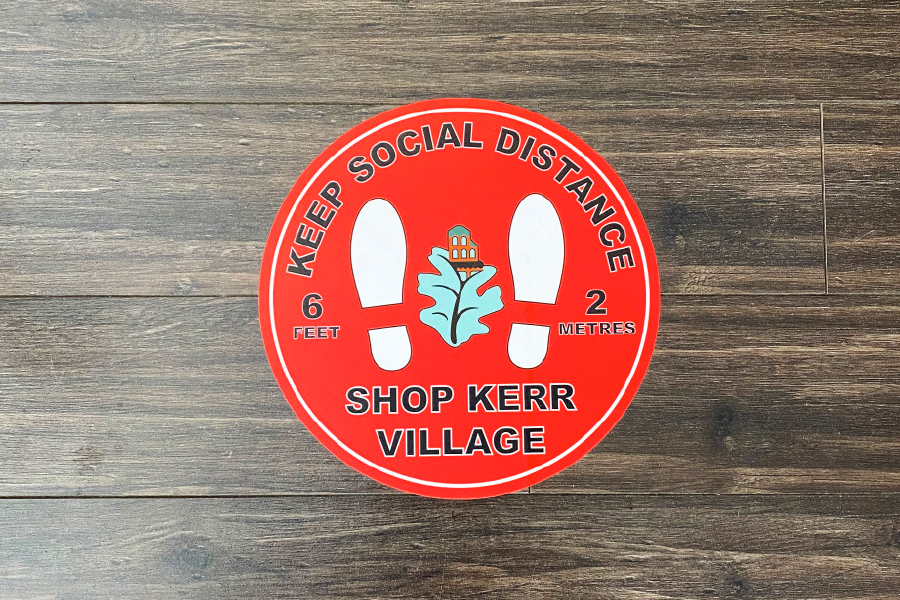 "Businesses like Farmhouse Artisan Cheese and Claude's Vacuum Shop have enhanced their digital presence dramatically by making use of this opportunity," Sams says. "We know that lives are lived online, and the pandemic merely exaggerated the need for a strong digital brand."
Also in Kerr Village is Sandwich Society – an authentic Tuscan-style sandwich shop that has thrived over the last few months. Owner Lynn Foster says, "We've been finding our packed picnic lunches are on fire! We're even getting orders for backyard weddings, with charcuterie for one or a boxed lunch for each guest." Like many small businesses, Lynn feels the mandate to work-from-home has provided residents an opportunity to discover and experience local gems. 
Maureen Healey, Executive Director of the Bronte Village BIA, tells us that several entrepreneurs have hustled and used technology to remain sustainable.
Rose Luxton, owner of Lakeside Livin', took advantage of the Digital Main Street grant last year to add to her website – it advanced her 5-year business plan by 2-years. Because of her website upgrades, she has continued to sell her products online during COVID. But, that's not all – Rose updated her window displays even while her doors were closed, and even posted messages of encouragement for passersby. 
At The Flavour Fox, located across the street from Rose's home decor store, business owner, Rano Dandybaeva, learned to navigate gelato sales during a lockdown. In just a few days, Rano added e-commerce to her website which enabled curbside pick-up for takeout gelato cakes and bulk gelato orders. Now open under new protocols, Rano has hired summer students – but in a different role – line control. With support from her staff, Rano can continue to serve her popular gelato all summer long both in-store and online. 
These stories of success are to be celebrated – and even more so, there's a certain homage that must be paid to new business owners who continued their plans to open despite the circumstances. 
Goldwyn & Sons, a high-end barbershop, only opened in Bronte in early March before being forced to close due to COVID. As they did not have time to establish a loyal client base, Goldwyn & Sons have partnered with business neighbours to offer joint promotions as businesses re-open.
Then there's The Wine Bar, an adorable new wine bar and small-plate eatery, also in Bronte. Owners Devon Masciangelo and Andrew Rytwinski postponed their opening from May to just before Canada Day, and also
took advantage of the Town of Oakville's bylaw for extended patios. Wine Bar's neighbour, Ecofillosophy (also a new business), offered some of their sidewalk space to extend the patio as well. Ecofillosophy is an eco-friendly shop that allows shoppers to refill containers with products such as soaps, and they will be opening in a few days! 
Andrea Dodd, representing the Aldershot BIA, says she's been greatly impressed by the number of businesses that have embraced digital technology. "We're seeing many shops and services that were previously reluctant to even have a Facebook page or an Instagram account jump on board," she says.
Like Sandwich Society, The Platter Company has seen an uptake in business. With orders for their gourmet frozen foods and fresh gourmet platters booming, The Platter Company is moving to expand their business to include a market: specialty oils and vinegar, mustards, dips and spreads, jams, olives, artisan crackers, and caterer's cheese – all available for purchase at their Plains Road location in Aldershot. 
The Downtown Oakville BIA has utilized social media to help local businesses reach the community through Instagram live takeovers and even hosted their annual sidewalk sale online. However, over the last few weeks shops and restaurants have been allowed to re-open under safety guidelines, and the downtown core is bustling with foot traffic once again.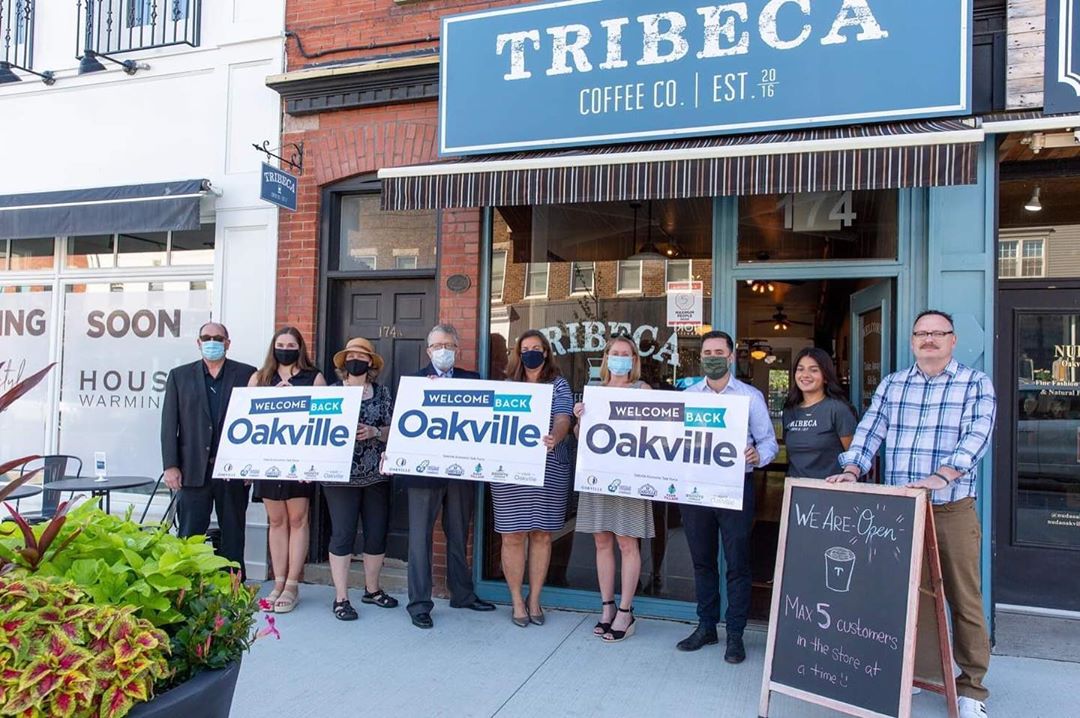 While many popular events such as Midnight Madness and Songs of Summer have been canceled for the 2020 season, the BIA still plans to drive traffic to the core while making visitors feel safe. This begins with the hiring of the BIA's Beautification Coordinator, Erec!
Marketing Manager, Milan Bowie, says "We're happy to announce we received funding through the Canada Summer Jobs Program to hire a Beautification Coordinator to help maintain the cleanliness of Downtown Oakville this summer. Erec will be picking up litter, tending to weeds, and reporting larger issues like illegal dumping, graffiti, overflowing garbage bins, etc. to the Town of Oakville and Halton Region. Erec will also be sanitizing high-touch surfaces throughout Downtown Oakville to help maintain cleanliness for visitors." With this in mind, visitors can feel safe hitting a local patio for a bite to eat or even stopping by a local boutique for some shopping. Milan adds that from 7 p.m. to 9 p.m. on Saturdays for the next 10 weeks, jazz music will be played in Town Square to add ambiance for patio diners. 
In Burlington, the Burlington Downtown Business Association (BDBA) has been actively assisting its members in navigating the changes in COVID safety procedures. Manager of Marketing and Events, Samantha Statham, says the BDBA has hired a consultant to assist restaurants one-on-one to ensure measures are taken into consideration to keep patrons and staff safe against COVID-19, including: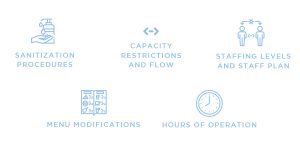 Samantha adds that many businesses, not just restaurants, have had to adapt to support their client base and maintain operations. "Where possible, businesses have been moving their events online – such as online performances, or at-home fitness and dance classes (F45, danceScape,
BellyUp Belly Dance, & more). They've been so creative to still offer their services online. Similarly, our 8th year of Fit in the Core presented by Lisa-Marie Winnin of Winning and Associates Private Wealth Management will be coming online this summer!" 
A few businesses in Downtown Burlington have stepped up
to support the community with COVID recovery.  From the beginning, fashion designer Joseph Tassoni pivoted his business to produce locally sourced, reusable face masks, and gloves (non-medical grade) for the community. Five dollars from every purchase is donated to Joseph Brant Hospital.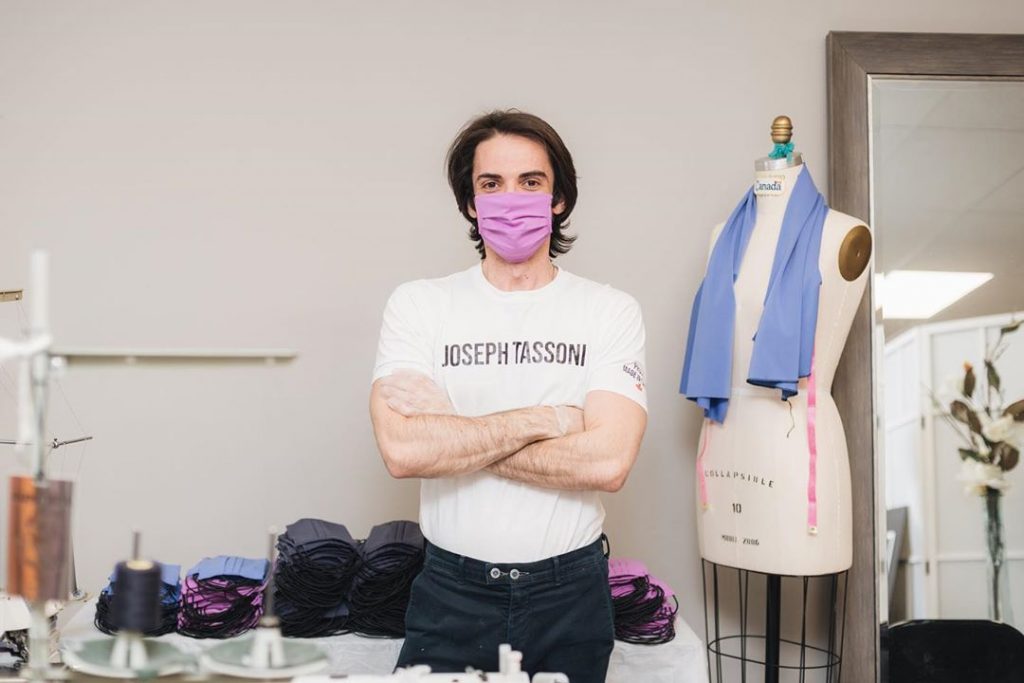 Mirella's Ladies Boutique has also been selling masks with proceeds going to the Burlington Food Bank. To date, sales from the masks have fed 20 Burlington families in need.
Then, there are the businesses helping businesses. Both
Black Robot and Branded Burlington are two downtown print firms assisting other downtown businesses with signage and floor decals to notify patrons of various safety measures in place.
With Ontario in Phase 2 of re-opening – a gradual, staggered approach – we're all learning how to re-incorporate ourselves back into society. As a customer, patience is critical. Small businesses, restaurants, and shops are learning to navigate changing guidelines – and they're doing so with one thing in mind: our safety. Over the last few months, we've learned that times aren't always certain – but one thing that is certain, is our love of local business. So, thank you to the BIAs, thank you to our local businesses, and thank you to the customers who continue to support our community. We're all in this together.
By: Kristy Elik & Anneliese Lawton