By Jenny Ratcliffe-Wright
Ontario has such a rich cultural diversity that international food trends are bound to flourish. Ramen and pho are on the hot list and although they may have similarities, they actually have many differences.
Ramen is a Japanese soup that consists of chewy noodles served in a hearty meat broth, often flavoured with soy sauce or miso and garnished with toppings of various sorts. Many regions in Japan have their own ramen or variation thereof, but there are some basic types to get you started.
Pho (pronounced fuh), on the other hand, is a Vietnamese noodle dish that uses rice noodles instead of wheat, with a broth that is lighter and more aromatic. This is achieved by using whole spices such as cinnamon, peppercorns, and star anise, rather than ground ones which could make the broth heavier. It also contains sliced beef, and is predominantly a breakfast dish, although many street-side restaurants in Vietnam serve it all day.
Ramen is known for its noodles that are fairly chewy and a rich bone broth that is achieved by slow-cooking pork and chicken creating a thick, rich liquid. The noodles are wheat-based with water and salt with the addition of kansui, a baking soda-like ingredient that leaves the noodles firm to the bite and stops them from disintegrating in the broth.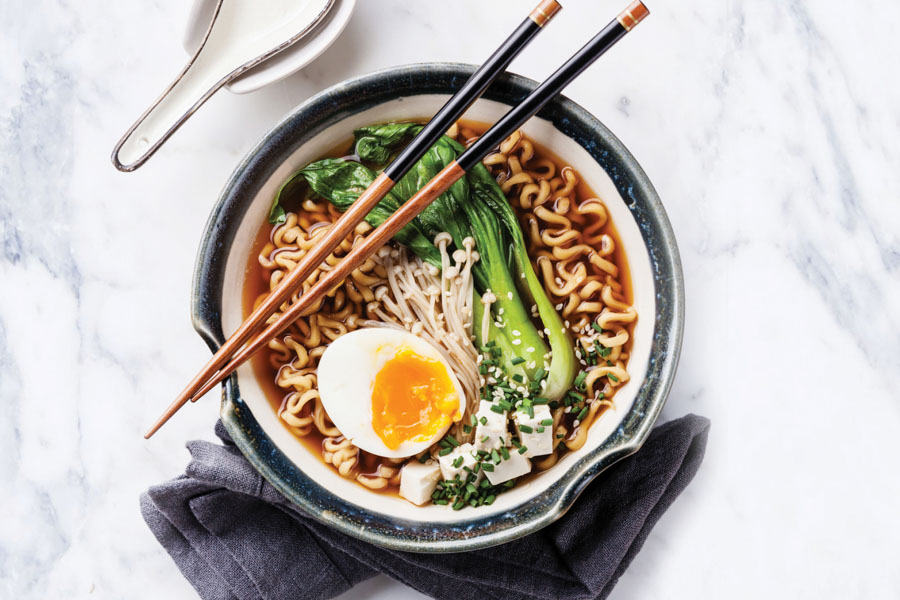 Ramen, although Japanese, is believed to have been introduced to Japan by Chinese immigrants in the 1900s, the broth being the Japanese addition to the dish. By the Second World War, it was a thriving part of Japanese culture. It is interesting to note that there are more ramen shops per square mile in Japan than pizza shops in the US.
Ramen is classified into 4 types, according to the broth. It can be likened to choosing the base for your pizza.
Tonkotsu broth is cooked for longer so it is thicker. Shio broth is flavoured only with salt while Shoyu is flavoured with soy sauce so it has a darker colour. Finally, miso ramen uses miso, a fermented soya bean paste to give it a depth of flavour.
Once your base is decided, just like a pizza, one chooses toppings. The traditional variants are nori, scallions, a soft-boiled egg, bean sprouts, bamboo shoots, shitake mushrooms, corn, or sliced pork. There are many non-traditional fusion variants. Ivan Orkin from Ivan Ramen in New York City is famous for his non-ramen fusion styles, with one of his signature dishes being fried tofu with mushroom chili and yellow mustard; a fusion of Japanese cuisine and American junk food.
For the ramen aficionados, there is gourmet ramen. Head to Tokyo to Tsuta, a little restaurant that caused a big stir in 2015 when it was the first noodle shop to be awarded a Michelin star. Tsuta's trademark dish is Shoyu Soba: soy sauce ramen with chicken and seafood broth with sliced pork and black truffle oil, delivering a true umami experience.
Kenzo Ramen, with branches in Oakville and Hamilton, has fresh noodles made in-house and has an endless number of ramen to try. The Tan Tan Men consists of toasted sesame and chili oil ramen topped with marinated ground pork, corn, baby bokchoy, and scallions.
Ramen Houzz in southeast Oakville has many options from basic ramen to stirred ramen and finally its own house specialties, with beef, chicken, seafood, and vegetarian options, including all the toppings you could possibly want.
Pho, Vietnam's favourite dish, was invented under French colonialism in the late 19th Century. Before the arrival of the French, cows were used as work animals, not food, but during the French occupation, a lot of beef was consumed and the bones and tougher cuts of meat were a by-product, which were quickly put to use in broth and pho.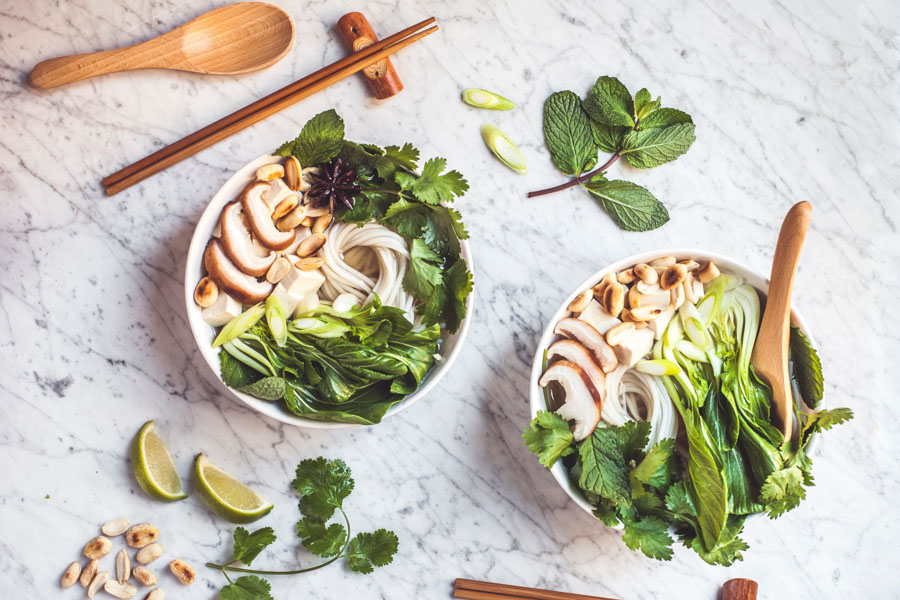 There are two distinct types of pho: Pho Bac from northern Vietnam with its simpler flavour, minimal garnish, and thin slices of beef. Pho Nam from the south is more complex and contains many more garnishes like fresh lime, basil, and bean sprouts. Siracha can also be added for some heat.
Apart from the north and south versions, pho is split into three groups: beef (pho bo), chicken (pho ga), and vegetable (pho chay), although many less authentic styles do occur. The final decision to be made is the topping or garnish which can vary from mint, cilantro, and basil to jalapeno and bean sprout.
Pho Mama in Oakville has a wide range of classic Vietnamese dishes as well as pho options. There is a make-your-own option where you select your beef and rice noodle soup (pho) and pick your toppings, from rare beef to stewed tripe for the more adventurous.
Pho Vuho in Oakville has so many dishes that the novice would struggle with where to start. Perhaps start with something simpler like pho tai ga, a rice noodle soup with medium-rare beef and chicken, and plan to end with the spicy pho bo sate, a rice noodle soup with satay beef.
With the differences between pho and ramen completely understood, the only choice now is which one you would prefer for your dinner tonight.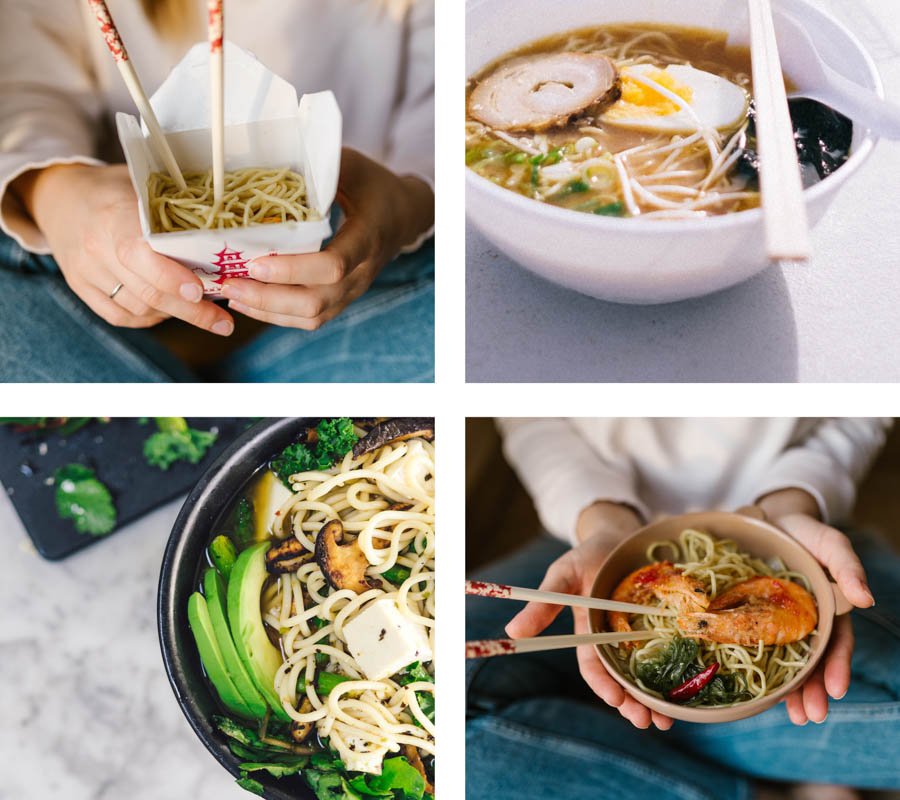 Local Links
Kenzo Ramen
1122 Dorval Dr, Oakville
Ramen Houzz
511 Maple Grove Dr, Oakville
Pho Mama
515 Dundas St West, Oakville
Pho Vuh
360 Dundas St East, Oakville
Mikado Japanese Restaurant
415 Elizabeth St, Burlington
Bento Box
2405 Fairview St, Burlington
Ichiban Sushi House
3315 Fairview St, Burlington
Ben Thanh
2080 Appleby Line, Burlington