There are two kinds of people in the summer: people with a pool and people who look to befriend people with a pool… Due to the high demand for pool installations and a multi-year waitlist (thanks, pandemic), you may be the latter. But fear not. Whether you have a pool, are waiting on a pool, or have nothing more than a garden hose – there are tons of ways to play in the water all summer long.
If you have a pool…
Can we come over? Kidding. Kind of.
If you have a pool, the chances are you at least have a pool noodle or two. But there are so many other… dare we say "#trending" ways you can lounge this summer. Like, the Instagram-worthy giant ride-on swan and flamingo, available at Pioneer Family Pools. Want to put your baby in a swan, too? You can do it; Leisure Industries in 
Oakville carries an infant size. Or, if you like to be more active in the pool, there are basketball nets, dive rings, and goggles available at both locations. Pool toys and accessories from inflatables, games, and even drink holders, are the perfect way to splash the day away.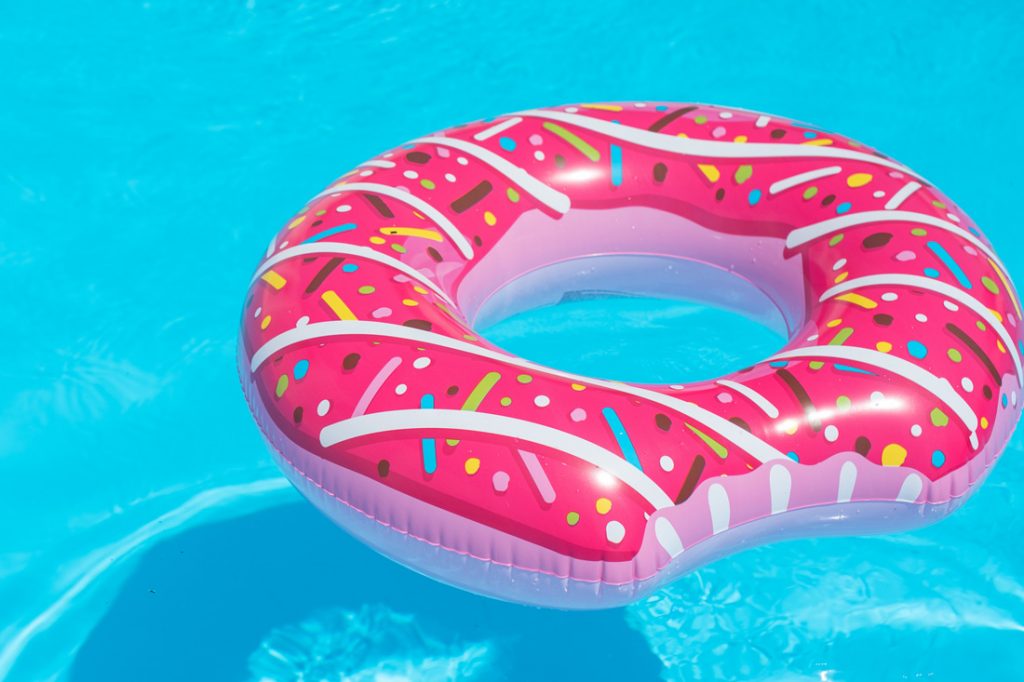 If you don't have a pool…
But you have some unused space in the yard, you can actually install an above-ground pool fairly easily.

Resin or steel pools are ultra-durable, long-lasting, and easy to assemble (and importantly, NOT permanent). They come in different sizes, heights, and shapes, and usually come as a kit including jets and skimmers. The great thing is you can set up these pools and leave them up – or if you happen to move or want to relocate the pool, you can simply disassemble it. These pools are available at places like Pioneer Pools, Leisure Industries, and Jameson Pool – all located in Oakville or Burlington.
Even easier, you can purchase a quick set ring pool at your local Home Hardware. These pools usually cost anywhere from $90-$150. They're larger than a traditional inflatable pool, are semi-inflatable, and above ground. Ring pools still require maintenance such as chlorine checks and they require a pump, but overall, they are more affordable and easier to maintain.
Really tight on space? Chickadee Kids Co. has adorable and colourful kids-sized inflatable pools. Perfect to get your feet wet, or for the kids to splash around.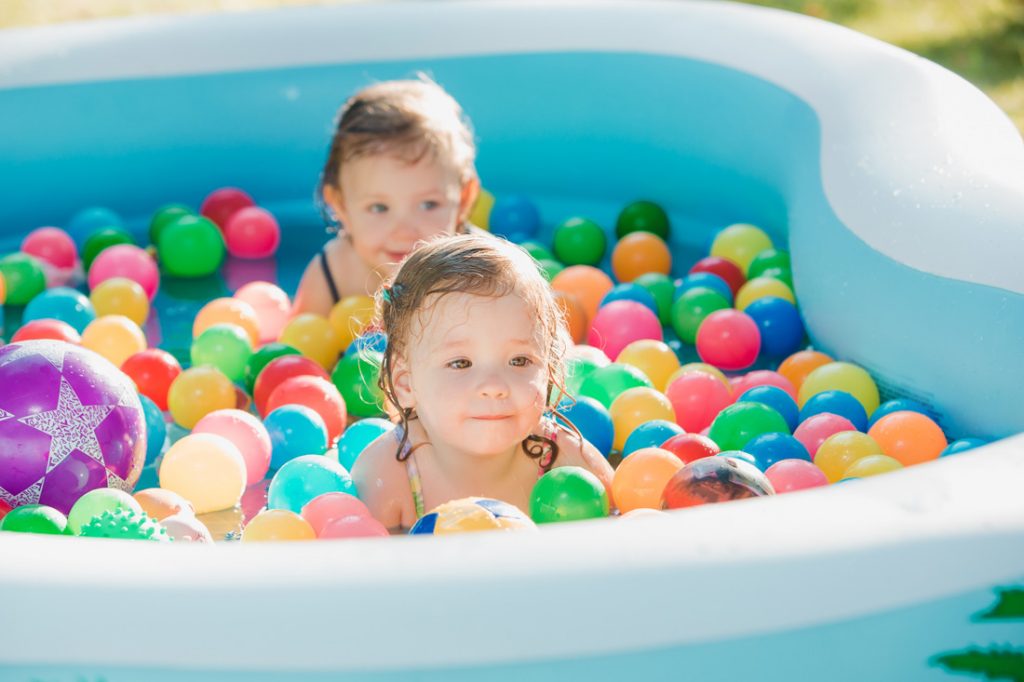 If you don't have room for a pool…
There are still tons of fun ways to splash in your yard! My Giant Games, located in Burlington, has an outdoor mud kitchen the kids will love! Mud, leaves, sand, play toys…no matter what your kids like to play with, this kitchen can accommodate it. Kids can make stove-top mud pies, or whip up a grass soup. You can also provide easy access to water through a hose!
Chickadee Kids Co. also has a new take on the traditional sprinkler – large, inflatable, perfect-for-all ages sprinklers! Run through water sprayed by a giant unicorn or dinosaur, or splash on a donut sprinkler mat.
Ready for a water balloon fight? Grab reusable ones from The Refillery Market. These water balloons are a great addition to the summer! They are handmade in Hamilton Ontario from baby blanket yarn which is super absorbent! Just dunk the balloon in water and it will absorb up to 20 times its weight. Next, throw it at an unexpected victim and wait for the SPLASH (you also don't have to worry about picking up tiny bits of balloon after all the fun).
Now, with all these options for wet and wild fun – do you really need a friend with a pool?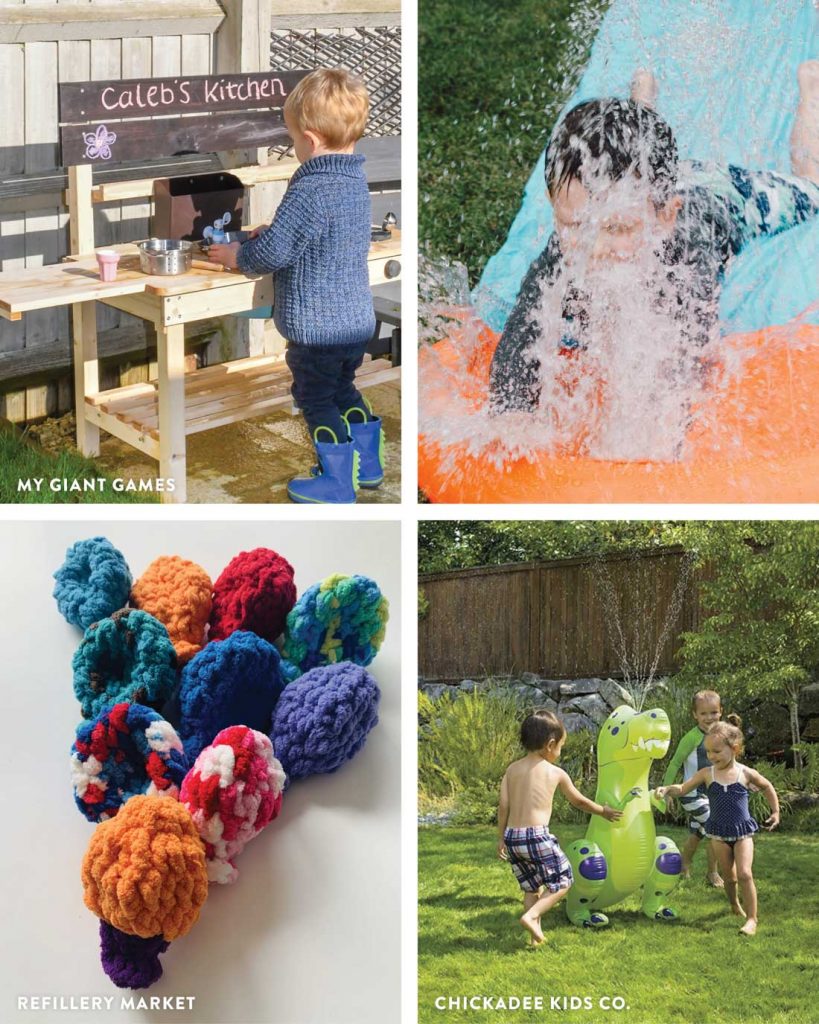 Local Links
Pioneer Family Pools – pioneerfamilypools.ca
Chickadee Kids Co – chickadeekidsco.com
Leisure Industries – leisureindustries.ca
Jameson Pool – jamesonpool.com
My Giant Games – mygiantgames.com
Home Hardware – homehardware.ca
Refillery Market – refillerymarket.ca