Whether you're fueling up for the day, enjoying a mimosa brunch with your BFFs, or nursing a hangover from the night before, here is our 2022 list of the best breakfast & brunch spots in Oakville!
For indoor dining, patio, take-out or delivery, #SupportLocal and enjoy a sweet or savoury breakfast that is sure to delight your tastebuds and cure your cravings.
Ps. Check out our separate articles for the best brunch spots in Bronte & Burlington!
Kerr Street Cafe
This hip, environmentally conscious café focuses on clean, healthy eating, serving everything from an (outstanding) cup of coffee to a full meal. Start your day with a modern spin on traditional breakfast offerings, with a wonderful selection of loose-leaf teas and excellent coffee, locally roasted by Brothers Coffee Roasters.
kerrstreetcafe.com | 298 Kerr Street Oakville | (289) 837-1535
Dine-In & Take-Out | Open Daily (8am-4pm)
View the menu online and call to place a take-out order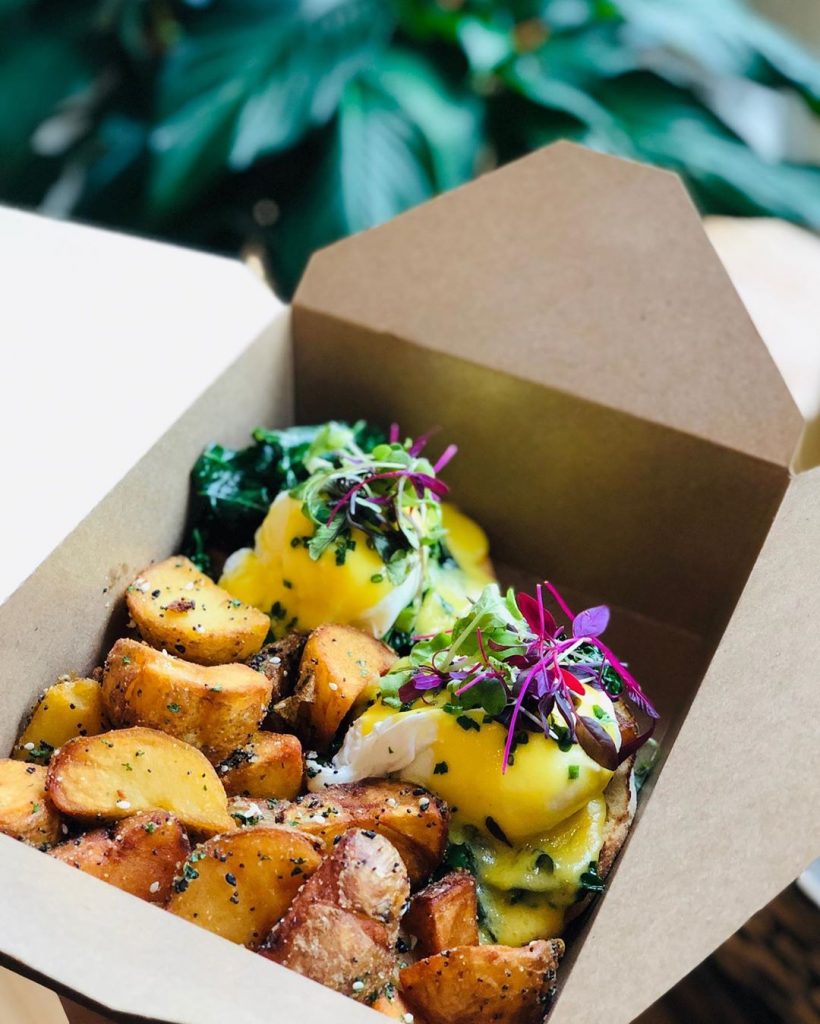 Hexagon
For a taste of the poshest eggs benny in town, featuring tender duck confit atop an elegant pain au lait, reserve a table at Hexagon and put on your Sunday best. Inspired by the finest French culinary traditions, Hexagon's offerings, from banana pain perdu to deceptively simple mushrooms on toast, will leave you inspired and satiated, body and soul.
hexagonrestuarant.com | 210 Lakeshore Road East | (905) 844-1286
Dine-In/Patio/Take-Out | Seasonal brunch served Saturday and Sunday (11am-3pm)
For take-out orders and dine-in reservations, visit: https://www.exploretock.com/hexagonrestaurant/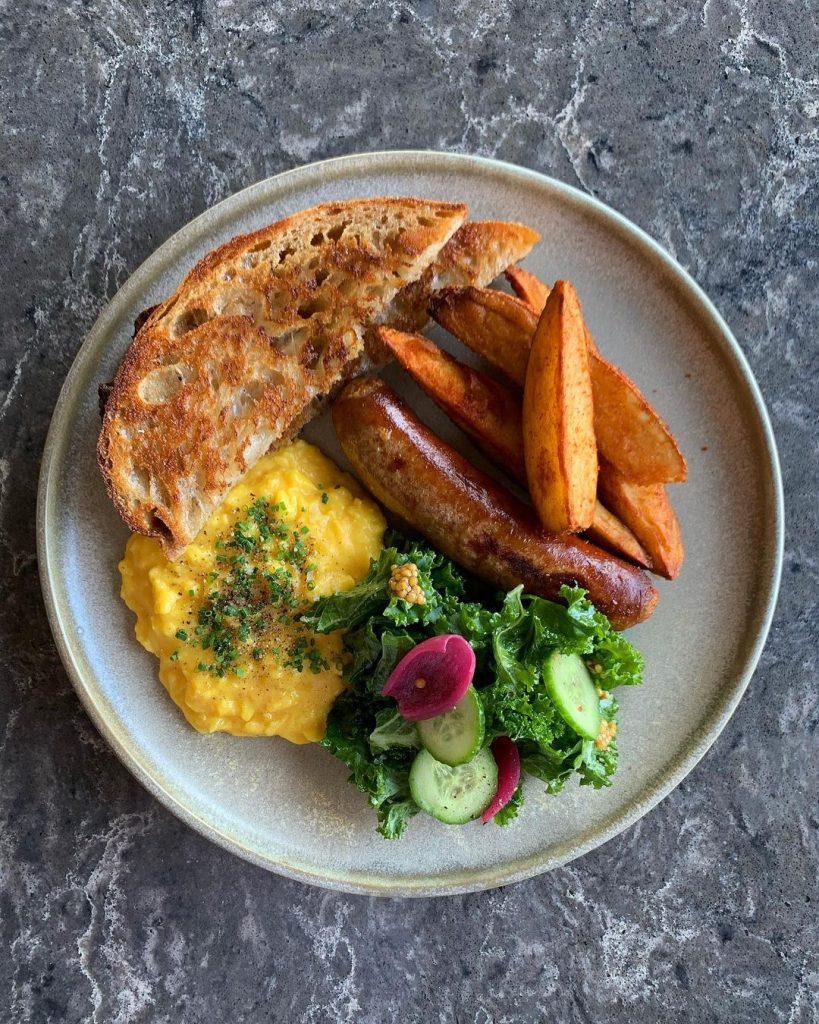 The Crêpe Kitchen
Holy crêpe, there are 40 types of savoury and sweet options on the menu! Whether you're a fan of cheese, chicken or chorizo, dulche de leche, maple syrup or everything that goes into making a good S'more, there's something for you here. Plus, French onion soup, sandwiches and signature French press coffee round out the menu.
thecrepekitchen.ca | 88 Dunn St, Oakville | 905-849-4999
Dine-In/Patio/Take-Out | Tuesday to Sunday (9:30am-3pm)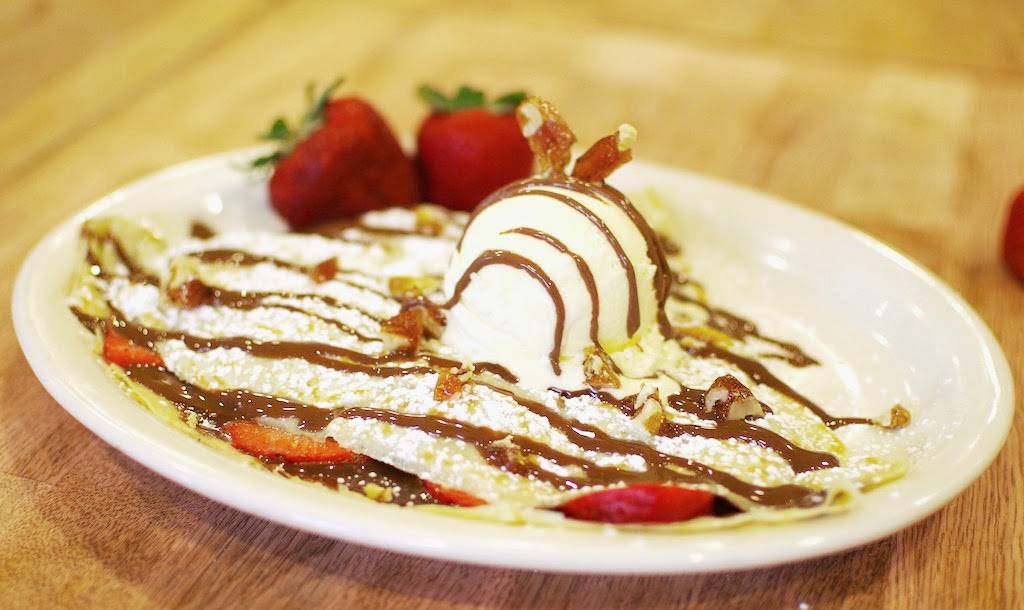 Lettuce Love Cafe
Good healthy food is what's on the menu every day. Everything served is completely 100% gluten-free, plant-based and created from organic, local, farm-to-table, sustainable, fair-trade ingredients. After enjoying pancakes, a classic breakfast, or one of the signature Bowls, your tummy will feel super clean (and full).
lettucelovecafe.com | 326 Kerr St. | (905) 339-2046
Dine-In/Take-Out | Weekend Brunch (10am-2pm)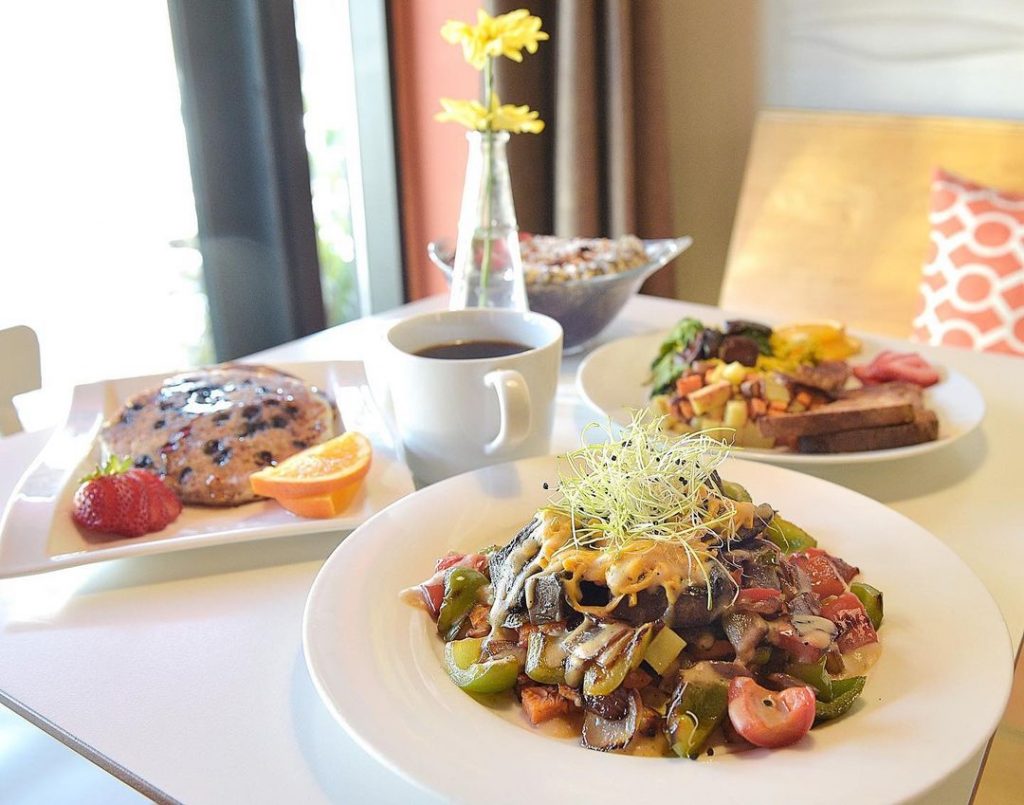 Narenj
New to Kerr Village, Narenj is a must-try brunch spot! Enjoy a calming ambiance (including their own in-house botanical garden) as you feast on their unique and gourmet dishes, inspired by Mediterranean and Persian flavours (including Brisket Braided Cheese Shakshouka).
narenjoakville.com | 131 Kerr Street, Oakville | (647) 770-1186
Dine-In/Take-Out | Walk-In Only (no reservations) | Monday – Sunday (8am-8pm)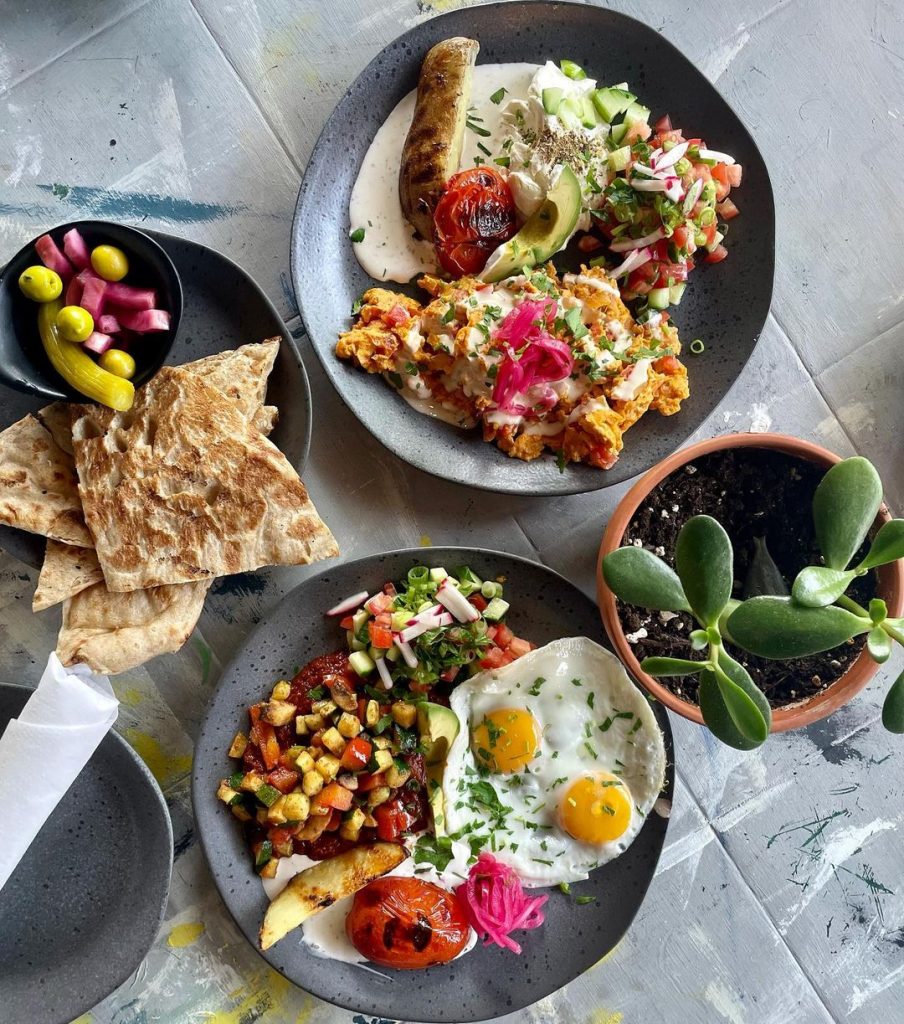 Community Restaurant
Housed in a chic, bright space, the recently-opened Community is a welcome addition to the Kerr Village strip. Globally-inspired, vegan dishes, such as cashew butter pancakes and crab cakes crafted from hearts of palm, make for a light brunch that won't weigh you down for whatever else the weekend has in store.
communityresto.com | 343 Kerr Street, Oakville | (905) 582-3581
Dine-In/Patio/Take-Out/Delivery | Weekend brunch served Friday through Sunday (11:30am-4pm)
Call or order online for take-out/delivery (view the menu here)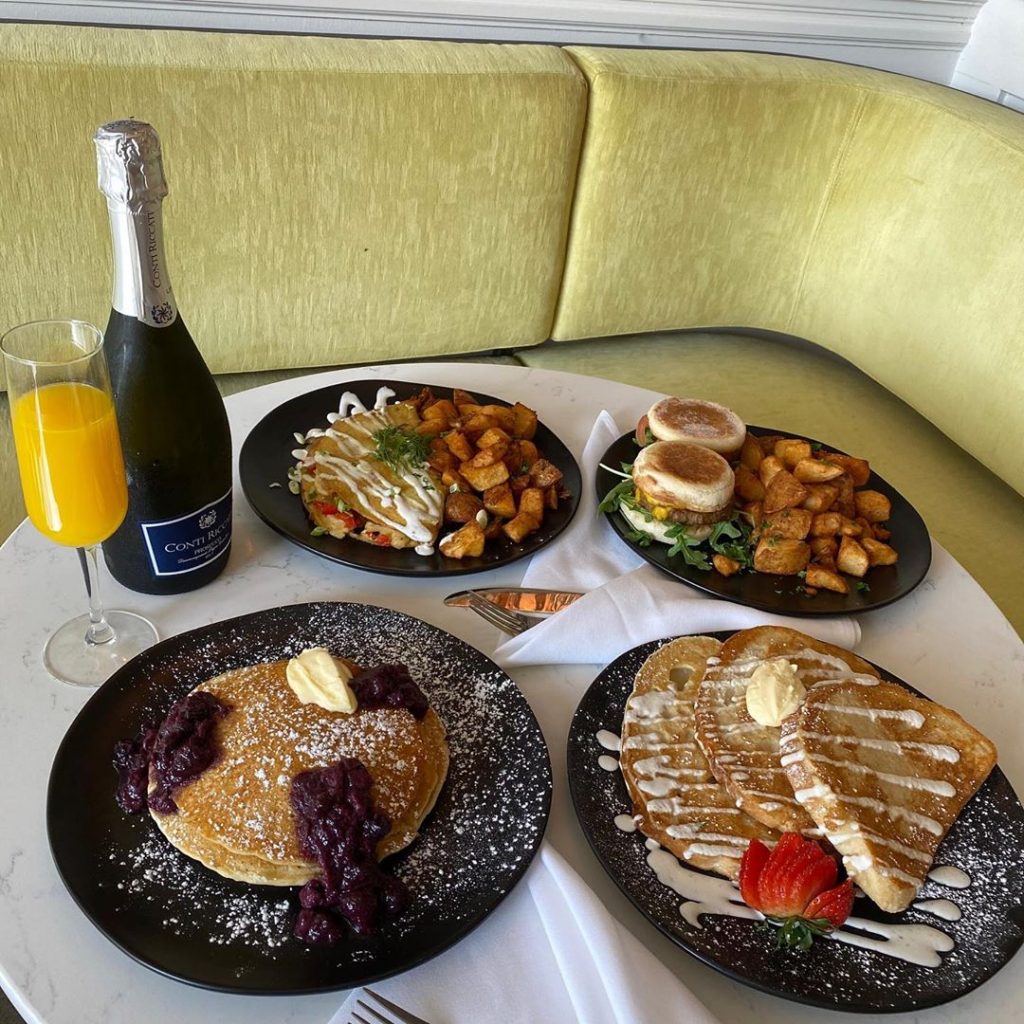 Harpers Landing
Brightly lit, lots of windows and an extensive brunch menu that features a line up of "Oakville Benedicts", salads and share plates. Had a rough night? Order The Landing Cure (Absolut vodka Caesar, lobster tail, pizza slice, jalapeño Havarti, bacon, fresh vegetables and house pickle).
harperslanding.ca | 481 Cornwall Rd, Oakville | 905-338-0707
Dine-In/Patio/Take-Out/Delivery | Weekend Brunch (11am-3pm)
For dine-in reservations, book online through OpenTable.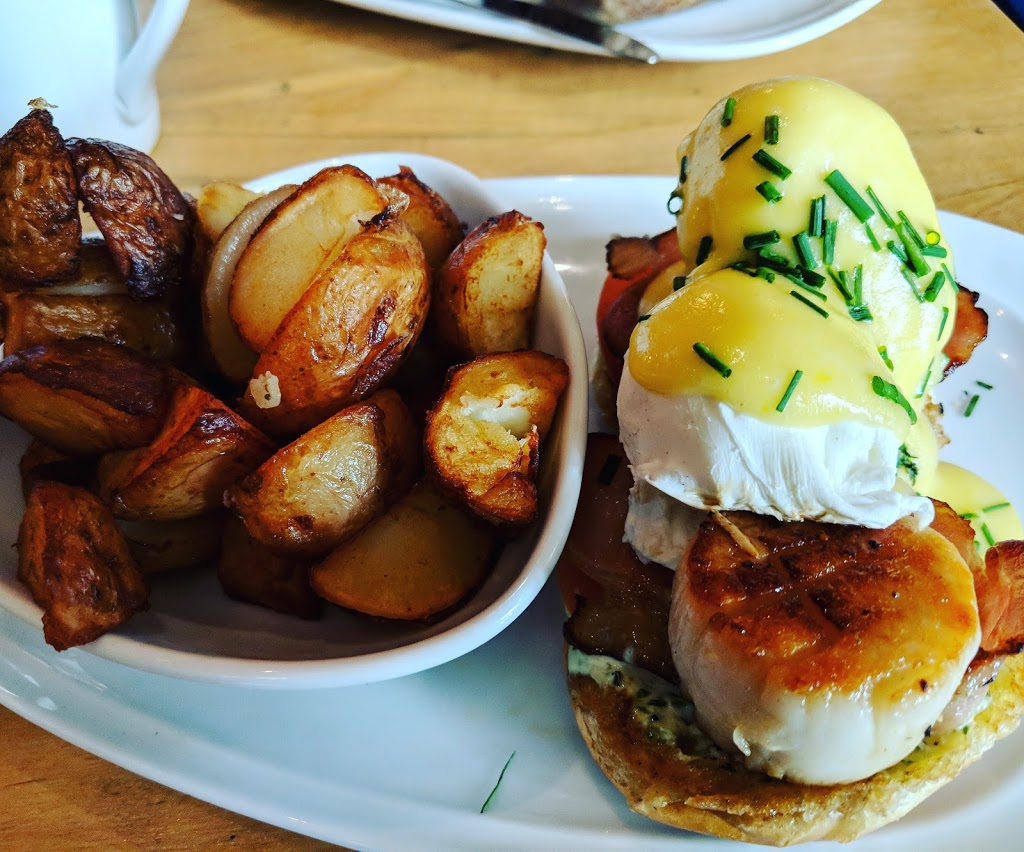 Symposium Café Restaurant & Lounge
This longstanding breakfast place has been serving Oakville for more than 20 years. Nobody will go hungry here: the kitchen is open from 8am-12am, 364 days a year. All the classics are here: bacon and eggs, French toast and waffles and a few gourmet options. How about a Caeser? Only $4 every day (from 11am – 4pm).
symposiumcafe.com | 1500 Upper Middle Rd W, Oakville | 905-847-2200
Dine-In/Patio/Pick-Up/Delivery | Early Bird – Monday to Friday 8am-11am | Full service breakfast and brunch (served daily until 4pm)
View menu online and click here to order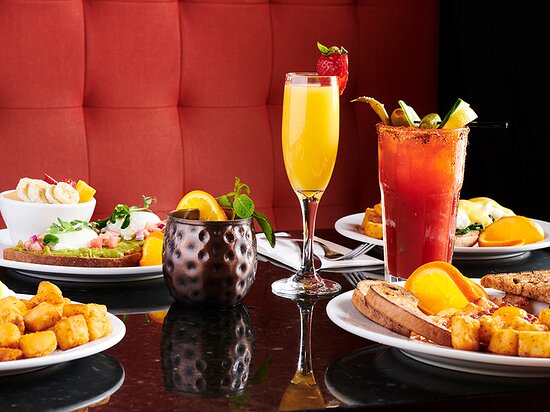 Stoney's Bread Company
Break bread with fellow brunch revellers at this Kerr St establishment, and enjoy a brunch menu. Fresh, local ingredients make up selections including crêpes, omelettes, frittatas and French toast. You know a good joint when it's featured on You Gotta Eat Here!
stoneysbreadcompany.com | 325 Kerr St, Oakville | 905-849-3627
Dine-In/Patio/Take-Out/Delivery | Monday to Saturday (11am-8pm)
Browns Social House
Oakville is home to Ontario's first Browns Social House. Enjoy a succinct selection that includes avocado toast, waffles, Eggs Benny, fried egg sandwich and corned beef hash. Eggs used are notably 100% cage-free and the hollandaise sauce is made in house.
brownssocialhouse.com | 2525 Hampshire Gate #2b| 905-829-2727
Dine-In/Patio/Take-Out/Delivery | Brunch served Saturday, Sunday & Holidays (10am-2pm)
View the menu online and call to order for take-out.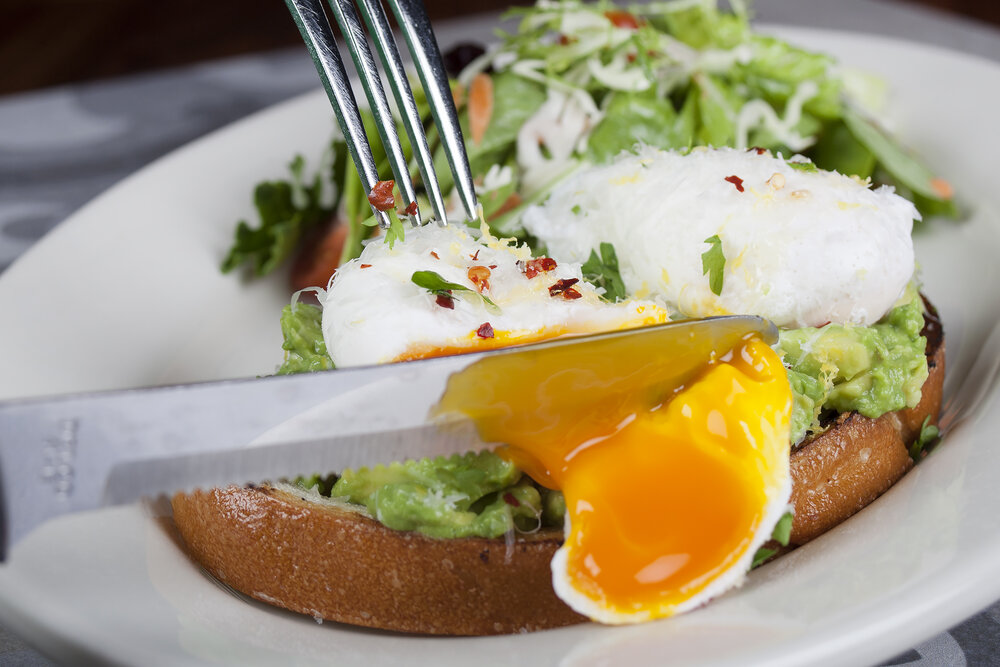 Sunnyside Grill
Sunnyside serves the highest quality grade AA large eggs, a blend of pork and beef in the Sunnyside sausages and premium grade bacon to go with your waffles, pancakes, oats or breakfast burger.
337 Lakeshore Rd E. | 905-844-2665
2501 Prince Michael Dr., Unit #3| 905-257-5126
Dine-In/Take-Out/Delivery | All-day breakfast served seven days a week (7am-3pm) at both locations in Oakville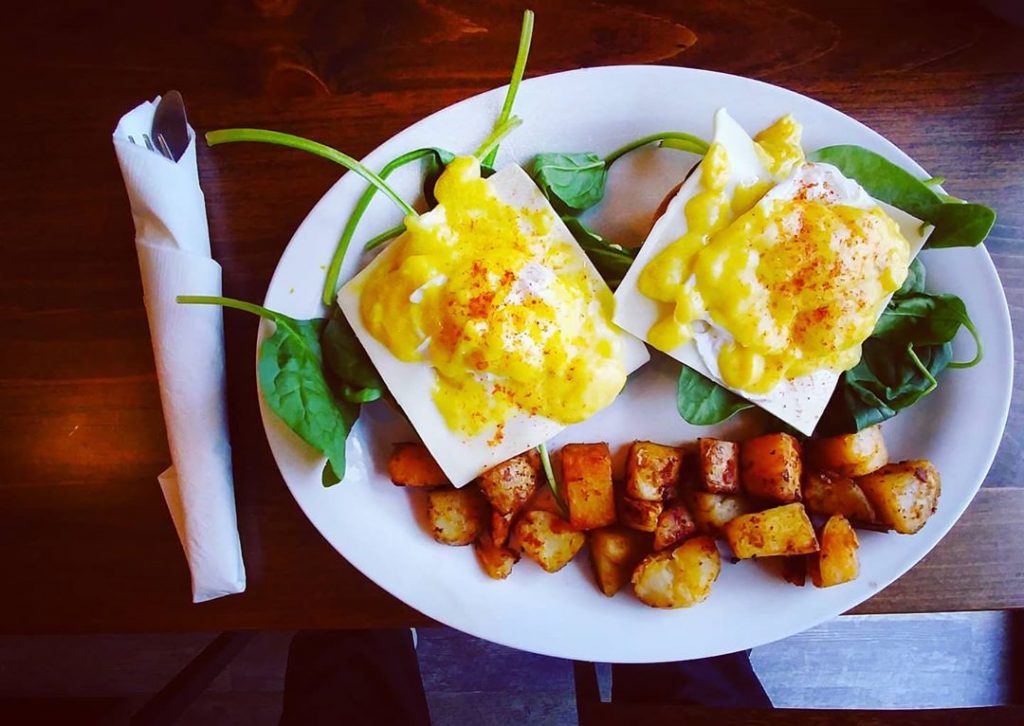 Mo's Family Restaurant
Mo knows how to feed a crowd: over 10 types of omelets, breakfast wraps, eggs Benedict or steak and eggs. If you're REALLY hungry, ask about the "breakfast challenge".
mosfamily.ca | 467 Speers Rd, Oakville | 905-844-7485
Dine-In/Patio/Take-Out | All-day breakfast served Monday – Thursday (6am-8pm), Friday (6am-9pm), Saturday (7am-9pm) and Sunday (7am-8pm)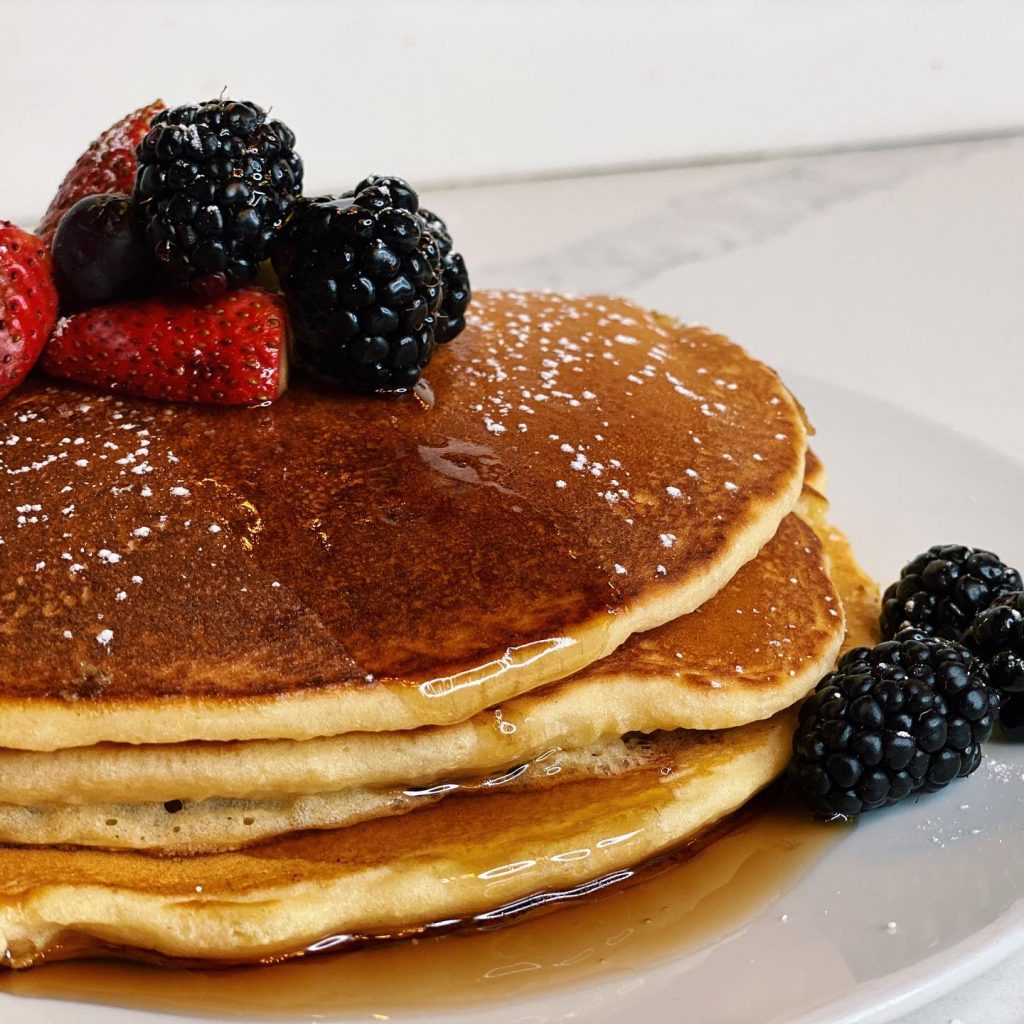 Croissant Express
Boasting the best croissants this side of Paris, with a focus on traditional baking, using quality ingredients to provide customers with exceptional croissants and pastries. All croissants, breads and pastries are individually hand rolled and made with 100% natural butter and finest quality ingredients. The delicious baked goods are freshly made twice a day, every day and anything that is still available at the end of the day is collected, frozen and donated to the Food Bank.
croissantexpress.ca | 325 Lakeshore Rd E, Oakville | 905-845-2267
Dine-In/Patio/Take-Out | Every day (8am-3pm)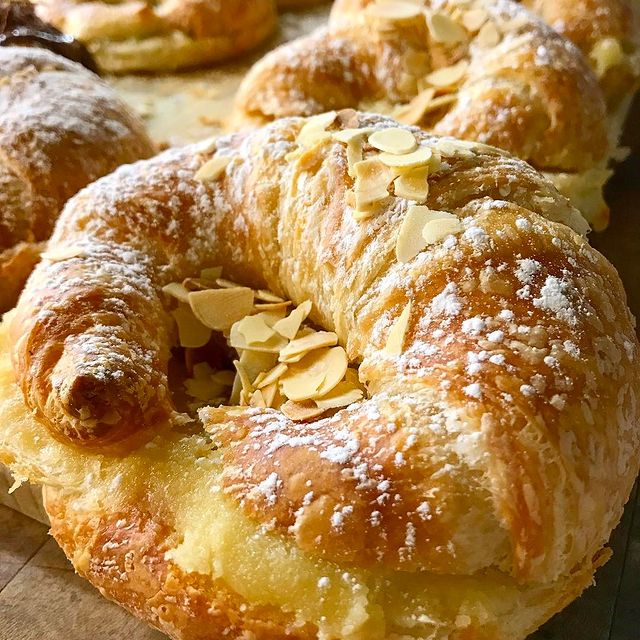 Tria Café and Bakery
This female owned and operated café combines Middle Eastern dishes with modern International cuisine. Think vegetarian options, quinoa-based muesli, quiches, sandwiches and burritos.
triacafeandbakery.com | 2525 Old Bronte Rd, Oakville | 905-617-0041
Dine-In/Take-Out/Delivery | All-day breakfast served Monday to Friday (8:30am – 5:30pm)
Click here to view their menu and place an online order.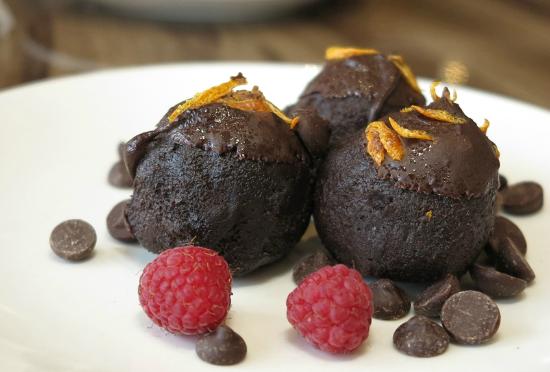 Ben & Florentine
Oakville's own location mimics great food and service like all B&F locations with emphasis on generous portions and healthy food. Fruit smoothies, fresh juice, home fries and specialty coffees at the foot of Kerr Street on Lakeshore.
benandflorentine.com | 146 Lakeshore Rd W, Oakville | 905-338-6333
Dine-In/Take-Out | Every day (7:30am-3pm)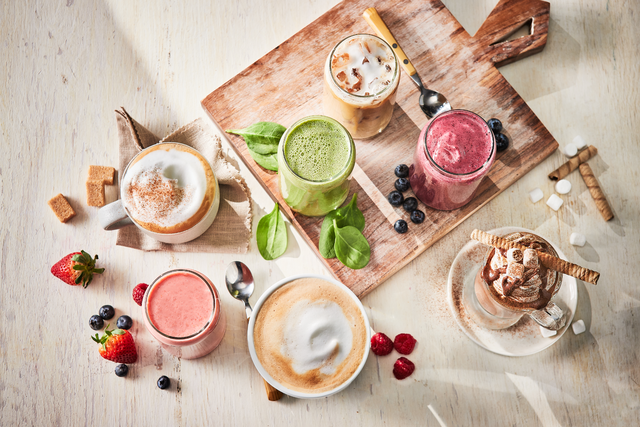 Sunny Morning Breakfast & Lunch
Serving traditional breakfast & lunch. Everything is made from scratch and using only fresh ingredients – sourced locally whenever possible. Generous portions and are prepared with care and pride. Recently opened in East Oakville, on Upper Middle Drive, just west of Ford Drive. They have been in business for almost 5 months, and have already built a loyal following in the community.
sunnymorning.ca | Ironoak Way, Unit #2 (Oakwoods Centre) | 905-337-0045
Dine-In/Patio/Take-Out/Delivery | All-day breakfast served everyday (7am-3pm)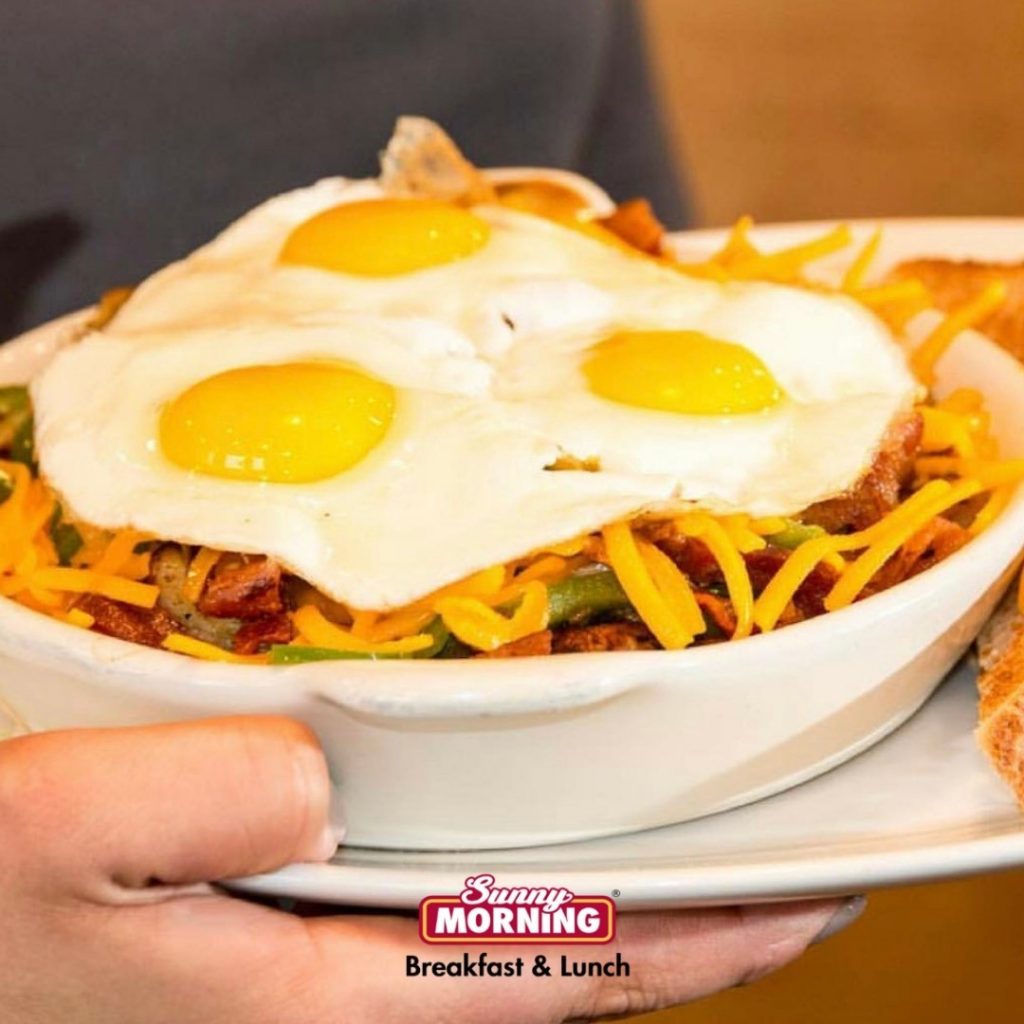 Sunset Grill
Traditional breakfast as it's meant to be, served to hungry diners for more than 30 years! No need to rush, you can get your fix of sausage, bacon, eggs, fruit and hash browns and more, all day. An added bonus: unlimited coffee refills, and great prices.
361 Cornwall Rd. Unit E101| 905-844-2988
266 Hays Blvd | 289-725-9700
Dine-In/Take-Out/Delivery | All-day breakfast served Monday to Friday (6:30am-3pm) and Saturday & Sunday (7am-3:30pm) at both Oakville locations.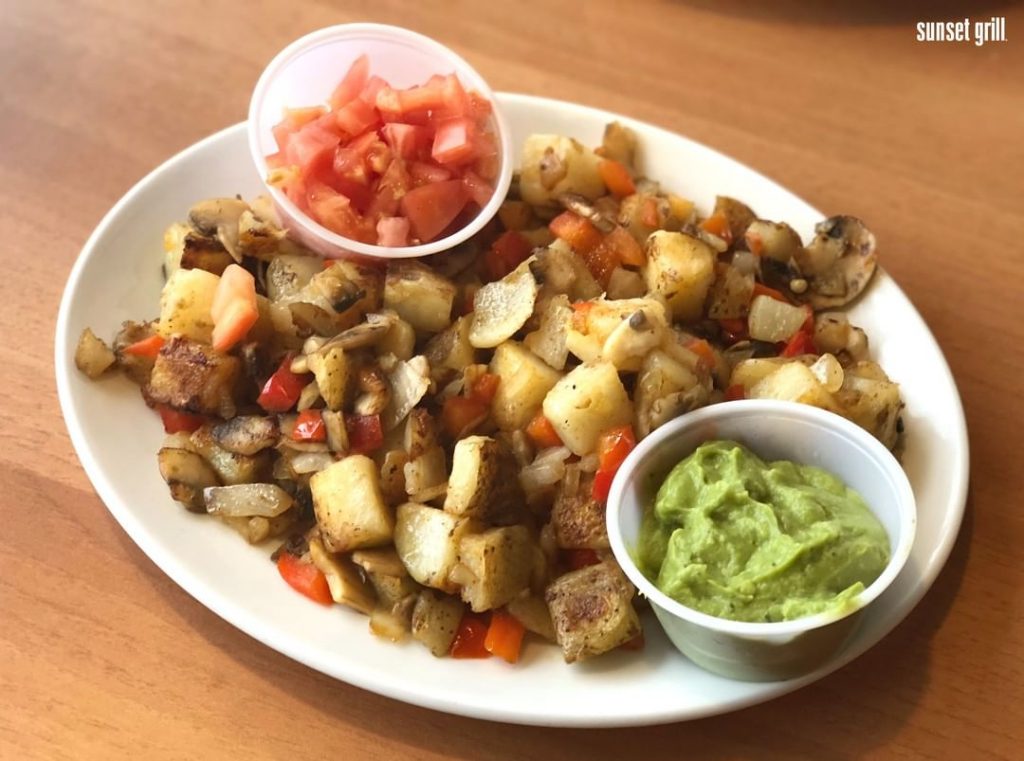 Eggsmart
A Canadian success story built on breakfast, offering "sensible breakfasts to help kick start your day" – and free Wifi! Try the Signature Breakfast, huevos rancheros, a tasty Scrambler, waffles, pancakes or French toast. The Baja Bennie has caught our eye.
eggsmart.ca | 280 North Service Rd W, Oakville | 647-956-4786
Dine-In/Take-Out/Delivery | All-day breakfast served everyday 7am-3pm (Early Bird Special – Monday to Friday 7am-10am).
Aroma Espresso Bar
A full morning regimen served, including breakfast sandwiches, hearty oats, classic bacon eggs and Shakshuka: two eggs sunny side up in warm tomato and red pepper stew, with tahini and freshly baked bread. Would it be too early for one of their "spiked" signature drinks? Nah.
aroma.ca | 321 Lakeshore Road East, Oakville | 905-582-0302
Dine-In/Patio/Take-Out/Delivery | Monday to Friday (9:30am-5pm) and Saturday & Sunday (8:30am-6pm)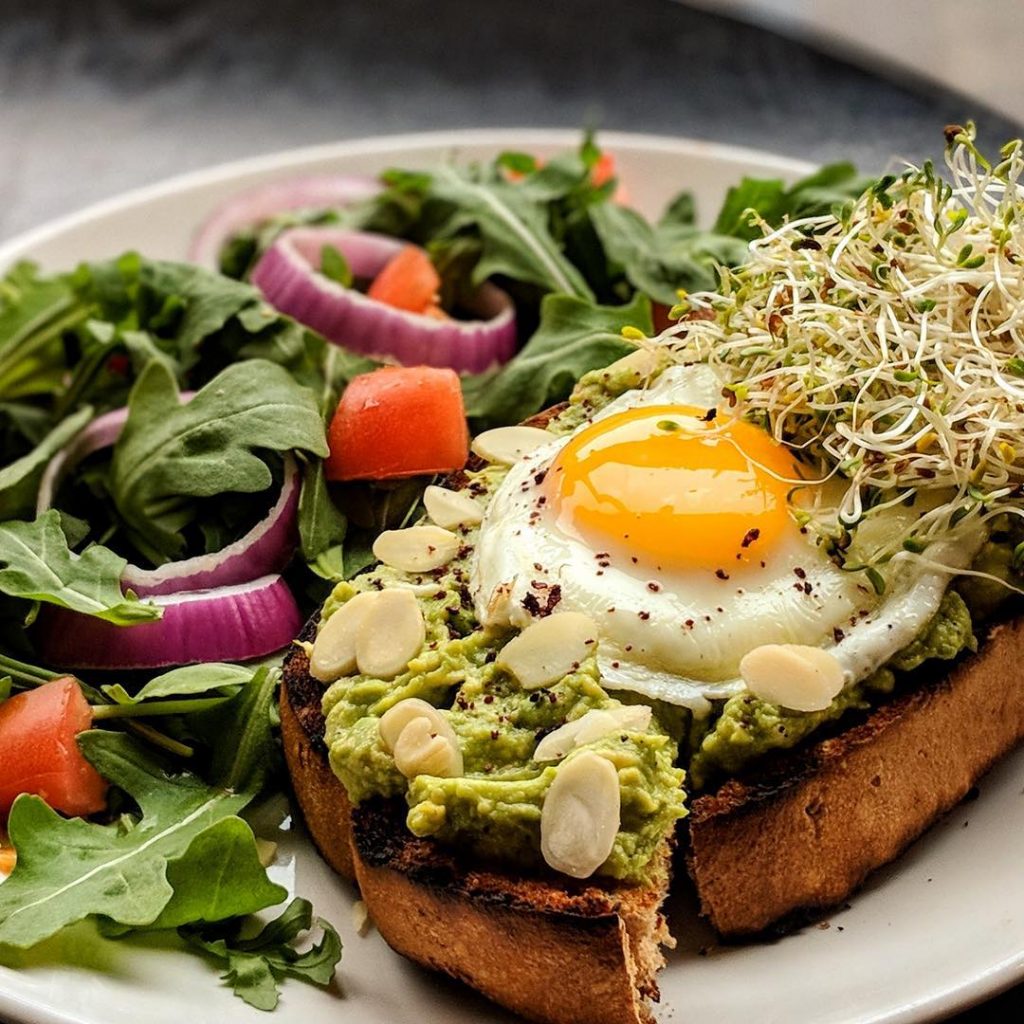 Fifties' Diner
Some good old retro fun when your tummy's rumbling. This is a family-run diner that offers delicious home-style food amidst 1950s decor. Breakfast starts every morning at 7am.
fiftiesdiner.ca | 649 Fourth Line, Oakville | 905-849-0308
Dine-In/Take-Out/Delivery | Breakfast served at 7am Tuesday – Saturday and 8am on Sunday (closed on Mondays).
PÜR & SIMPLE
PÜR meets SIMPLE. Newly opened in Oakville, this new breakfast (and lunch) locale warmly welcomes you to try something from their mouth-watering menu that pairs craveable breakfast items with nutritious and gluten-friendly delights! Gourmet yet affordable, you'll find everything from bright smoothie bowls to sweet waffles and savoury benedicts — all made with love.
purandsimple.com | 350 Dundas Street E. | 289-725-1024
Dine-In/Patio/Take-Out/Delivery | Breakfast/brunch every day from 8am-2pm.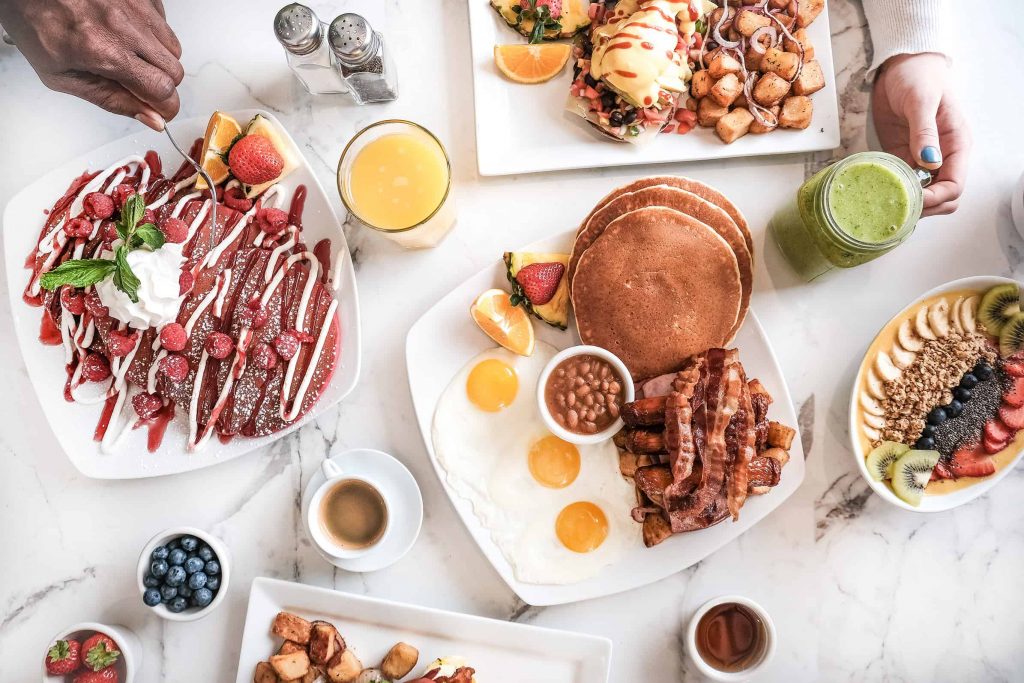 ---
Don't see your favourite Brunch spot?
Contact us and we'll add it to our list!