Whether you're fueling up for the day, enjoying a mimosa brunch with your BFFs, or nursing a hangover from the night before, here is our 2022 list of the best breakfast & brunch spots in Waterdown Village!
For indoor dining, patio, take-out or delivery, #SupportLocal and enjoy a sweet or savoury breakfast that is sure to delight your tastebuds and cure your cravings.
Ps. Check out our separate articles for the best brunch spots in Oakville & Burlington!
Symposium Café
Looking to enjoy some brunch treats and patio drinks with your bffs? Look no further than Symposium Café. With 145 indoor seats and 50 seats on our beautiful outdoor patio, plus a kitchen that's open from 8am-12am, 364 days a year. All the classics are here: bacon and eggs, French toast and waffles and a few gourmet options. How about a Caesar? Only $4 every day (from 11am – 4pm).
symposiumcafe.com | 64 Hamilton St N, Waterdown | 289-895-7860
Dine-In/Patio/Pick-Up/Delivery | Early Bird – Monday to Friday 8am-11am | Full service breakfast and brunch (served daily until 4pm)
View menu online and click here to order.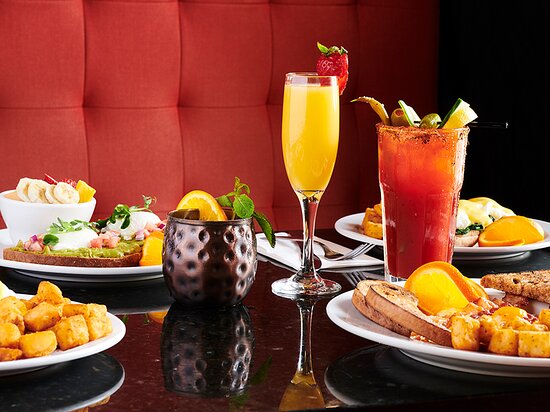 Stacked Pancake & Breakfast House
Stacked Pancakes House is the local hotspot for pancakes, waffles and French toast. Enjoy your stacks the traditional way (sweetened with syrup and with eggs and bacon on the side) or try one of their specialty stacks (like the Banana Rocky Road pancakes – topped with bananas, chocolate chips, sweet cream and nutella). But for those who are craving something a little more savoury, you can enjoy all the breakfast classics, including: Sausage/Bacon and Eggs, Breakfast Wrap, and a variety of Eggs Benedict and omelettes.
stackedpancakehouse.ca | 16 Clappison Ave, Waterdown | 905-689-2200 
Dine-In/Take-Out/Delivery | Monday – Sunday 7am-3pm
Call to reserve a table. Click here to view the menu and order online.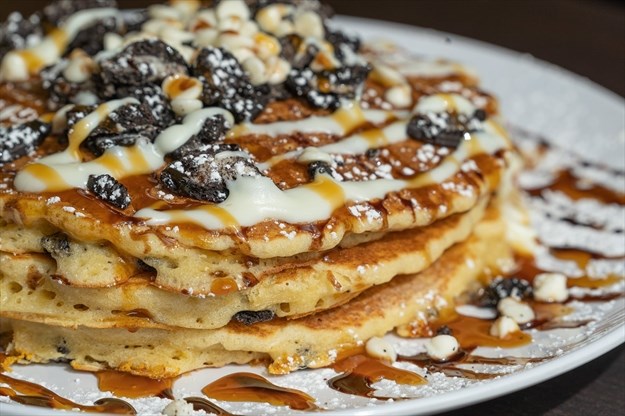 Sunset Grill
Traditional breakfast as it's meant to be, served to hungry diners for more than 30 years! No need to rush, you can get your fix of sausage, bacon, eggs, fruit and hash browns and more, all day. An added bonus: unlimited coffee refills, and great prices.
sunsetgrill.ca | 80 Dundas St E, Waterdown | 905-690-3000
Dine-In/Take-Out/Delivery | Monday – Sunday 8am-3pm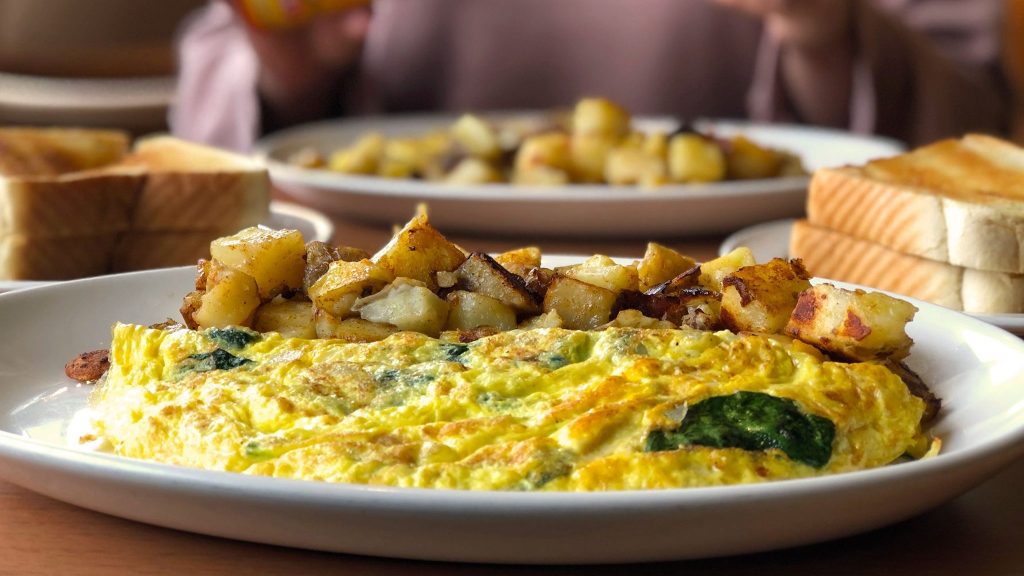 Jitterbug Cafe
Known for their homestyle breakfast and lunch, there is something for everyone at Jitterbug Café. Pancakes and waffles, gooey buttertarts, gourmet sandwiches, daily soups, and coffee that's always served with a smile.
jitterbugcafeandcatering.com | 35 Main St N, Waterdown | 905-690-7670
Dine-In/Patio/Pick-Up | Monday – Friday 7:30am-5pm & Saturday 8am-2pm
The Copper Kettle
This quaint and spacious coffeehouse is known for their amazing coffee and their famous farm-fresh apple fritters. With lots of comfortable seating and tables available, it's a great coffeehouse to catch up with friends over brunch – enjoy a fritter or choose from their selection of gourmet breakfast sandwiches, salads and soups!
copperkettlecafe.ca | 312 Dundas St E #4, Waterdown | 905-690-3696
Dine-In/Patio/Take-Out | Monday – Friday 7am-7pm & Saturday – Sunday 8am-6pm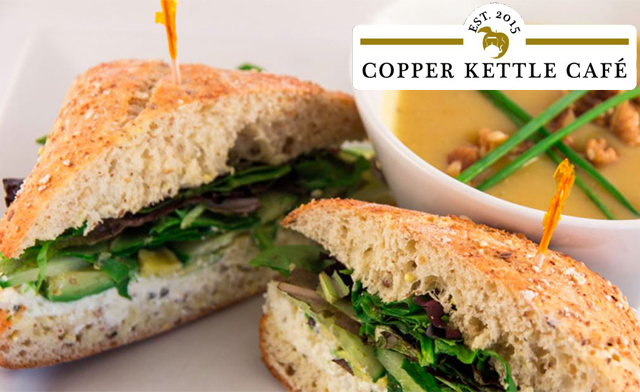 ---
Don't see your favourite Brunch spot?
Contact us and we'll add it to our list!