If you're afraid of heights, skip ahead a couple of pages. For those who find heights thrilling, this is for you! From rock climbing to sky diving and ziplining, our region has all kinds of activities that take fun to new heights. Grab your bucket list and check off these adventures of a lifetime.
Rock Climbing
We may not have the Rocky Mountains in our backyard, but Halton region does have some pretty stellar indoor rock-climbing facilities that offer several types of climbing for all experience and age levels.
Climbers Rock, Burlington (https://www.climbersrock.com)
This indoor climbing gym offers three types of climbing: bouldering (climbing on short walls without ropes and harnesses), Top Rope (climbing tall walls with a rope and harness as security), and Lead for experienced climbers who provide their own ropes and grigris. Climbers Rock offers youth programs as well as a summer camp.
Gravity Climbing Gym, Hamilton (https://www.gravityclimbinggym.com/)
This indoor climbing gym offers climbs for adults and kids starting at age five. This facility offers 57 separately roped climbs. The tallest routes are 50' high. They also have a huge 100' long bouldering area.
Both indoor climbing gyms offer day passes as well as membership options.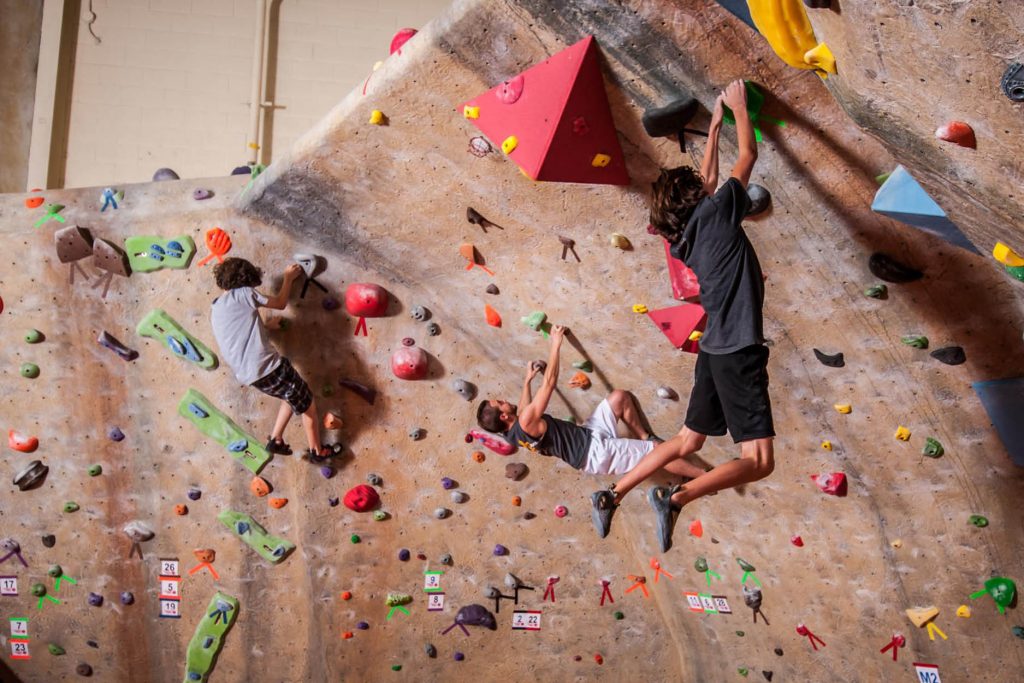 Kids Adventures
Treetop Trekking Hamilton – https://treetoptrekking.com/park/hamilton/
Kids will love tapping into their inner Tarzan at this adventure park high in the sky. Treetop Trekking offers various adventure courses for all ages and abilities.
Their Treewalk Village is for kids of all ages and allows them to climb from tree house to tree house through tall hammocks, nets, and wood bridges, then descend to the ground on slides.
The Discovery Kids Course for ages 5+ lets kids test their balance on wood bridges, balance logs, net walkways, and mini zip lines all suspended three to five feet above the ground.
The Zipline and Aerial Game Trek for ages 9+ offers the opportunity to swing from tree to tree on a suspended bridge, swinging log, cable traverse, or zipline. Participants are outfitted with a harness and helmet as they climb and zip through the forest canopy.
Hot Air Ballooning
Whether you're looking for a romantic adventure in the sky, or just want to soar above the trees, a hot air balloon ride might be for you.
Skyward Balloons, Kitchener/Waterloo – https://skywardballoons.com
Skyward Balloons offers riders a bird's eye view of the gorgeous Kitchener-Waterloo landscape while floating at 500 – 3,000 feet over forests, ponds, and lakes. Enjoy a sparkling beverage celebration upon your landing, a ballooning tradition. Skyward Balloons offers individual rides as well as romantic rides for couples; many a proposal has happened in these balloons!
Skydiving
If sky diving is on your bucket list, check out these locations for your sky-high adventure.
Skydive Swoop, Dundas – https://www.skydiveswoop.ca
This skydive school offers a learn-to-skydive program as well as a tandem skydive. The tandem jump provides first-time skydivers and bucket-listers with the adrenaline rush of a lifetime. In a tandem jump, both the student and instructor are attached to the same parachute system, meaning training is minimal and done on the same day as your jump. If you become addicted and want to jump on your own, Skydive Swoop offers a Progressive Free Fall Course where you can learn to skydive independently.
If you want to get the feeling of falling from the sky without actually jumping from a plane, IFly World, Oakville (https://iflyworld.ca) offers indoor sky diving where you can enjoy the adrenaline-pumping experience of a freefall without a parachute; just you in a wind tunnel flying on a cushion of air.
With so many exciting options to choose from, is this YOUR summer to fly high?