Joseph Malin, a Jewish immigrant, opened the first known fish and chip shop in London in the 1860s. While the origin of the tasty duo dates back to the 15th century – the first recipe appeared in a 1781 cookbook.
Around the 1960s, when art, music, TV, and the film industry took off, so did the consumption of fish and chips – a mainstay that suddenly became cool and trendy. Fast forward to 2022, Culinary Tourism shares that fish and chip shops are thriving again with a new resurgence of popularity in Ontario.
Some say the coating should be thin and light and shatter into crispy shards when you bite into it – like the consistency of tempura batter. Others argue that the coating should be thick and puffy with a combination of crispness and a touch of chewiness. This is a discussion that elicits much fervour after a pint or two. Some insist that the batter should be dry, while others are emphatic that it isn't worth eating if it isn't seeping a bit of oil.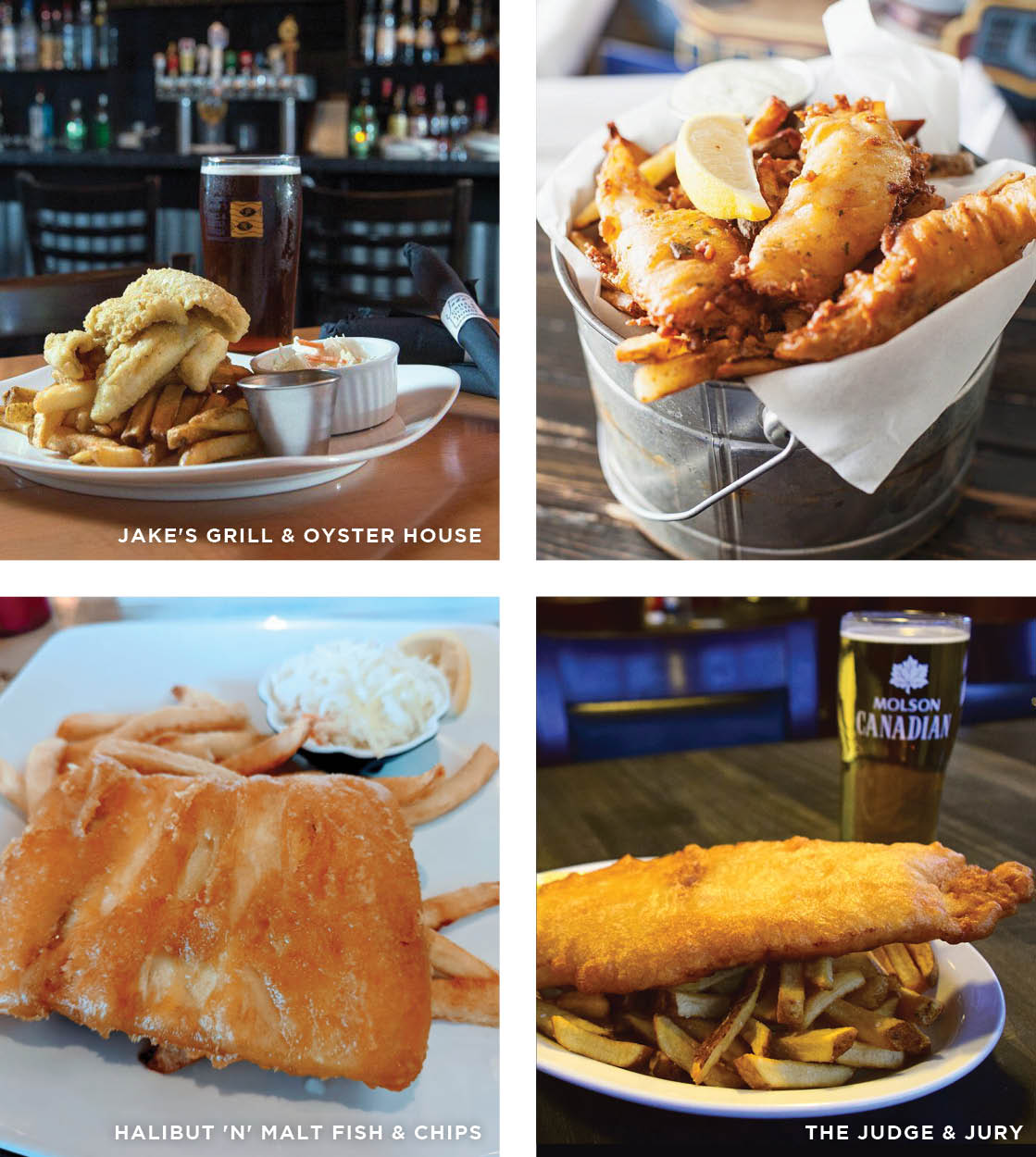 Use chilled beer and flour before coating the fish to achieve the perfect batter. The optimum heat of the oil should be between 350ºF and 375ºF. If the oil is too hot, the crust will burn, and if the oil isn't hot enough, you'll end up with a soggy, greasy coating.
Does it sound like too much can go wrong? We recommend that you leave it to the professionals.
We have compiled a list of the freshest, tastiest, crispiest, and most enjoyed fish and chip shops in Oakville and Burlington.
Burlington
Thistle Fish and Chips
3455 Fairview Street | 905-637-8333
Family-owned and operated for almost 30 years, the MacLennan family prides itself on offering authentic British cuisine. The fish is a generous portion in your choice of haddock or halibut. The sides choices are mushy peas, pickled beets, or coleslaw with an unsparing serving of fries.
Jake's Grill & Oyster House
950 Walker's Line | 905-639-4084
Dining at Jake's has been a tradition of many for 35 years. It's one of the longest-standing restaurants in Burlington. Owner, Jamie Myers, built it in 1985 and then remodeled it in 1998. The fish is fresh, with a unique option of snapper with British Columbia origins, at only $2 more than their beer-battered haddock; it's worth a try. The Jake's Grill & Oyster House is open seven days a week.
The Judge & Jury
1222 Walker's Line | 905-319-1655
Since 1998, several pubs have come and gone in the city of Burlington, but this one has been a local hotspot for years. Listening to their customers' needs is probably one reason this restaurant thrives. Open seven days a week; Mondays have been designated gluten-free. The beer-battered haddock with golden fries, coleslaw, and house tartar sauce is $18.
Halibut 'N' Malt Fish & Chips
1250 Brant Street | 905-336-0023
Tripadvisor ranks this little gem #65 out of 321 restaurants in Burlington. They pride themselves on the freshness of their fish. Offering a light and crispy choice of halibut, cod, pollock, or haddock with a side of freshly cut fries and coleslaw for a price to meet every budget at $13.99 to $18.99.
Halibut House
Two locations in Burlington plus one in Oakville
This shop keeps its customers well informed of sourcing information for their fish – Pacific King Cod, premium Atlantic Haddock loin, and Alaskan Halibut. They also include calorie counts beside every dish on the menu, but don't look – it'll spoil your meal. Fish and chip prices are reasonable at $13.95 to $15.95. They also have a food truck to meet your catering needs.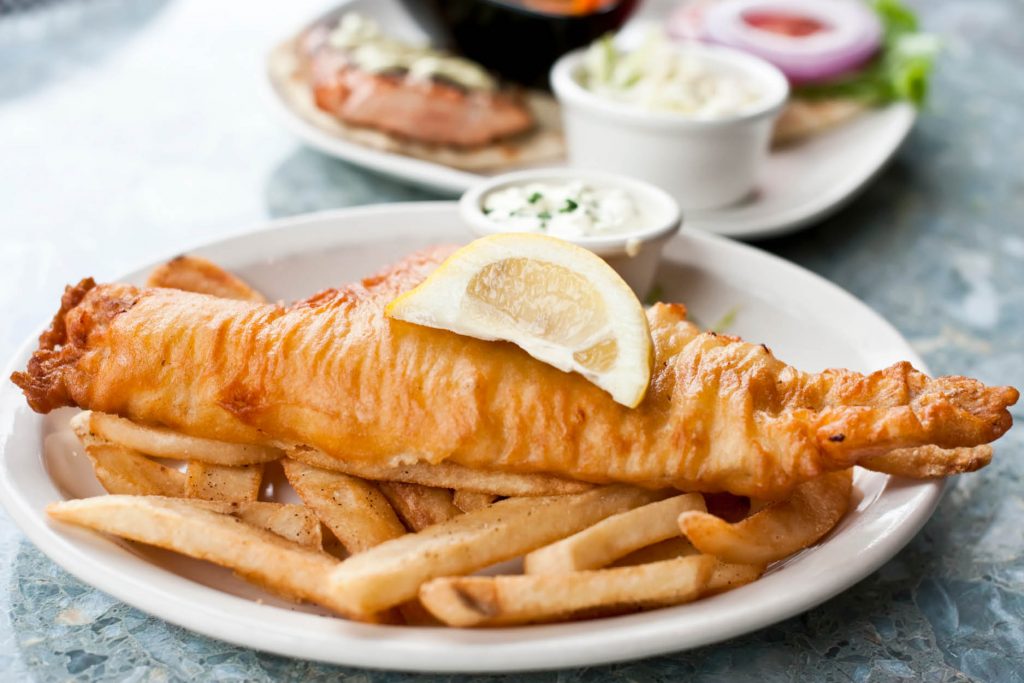 Oakville
English Bay Fish & Chips
511 Maple Grove Drive | 905-337-3378
This Oakville treasure offers reasonably priced haddock, cod, or halibut meals from $13.99 to $16.99. Breadcrumb coating is also available for those who haven't yet committed to the traditional crispiness of the beer batter. Enjoy a side of salad, mushy peas, baked potato, or rice pilaf.
Bronte Fish & Chips
2313 Lakeshore Road West | 905-827-1644
A family-run business operating for 50 years, and Oakville Reader's Choice Gold Winner in 2021 for Best Fish & Chips, "We specialize in classic, British-style battered fish and fresh-cut chips."
Everything is homemade, even their signature cherry cheesecake. The haddock, cod, and halibut are cut fresh daily. To show their appreciation to their customers, they extend fish and chip specials every Tuesday to Thursday. Check their website for details.
Mo's Family Restaurant
467 Speers Road | 905-844-7485
Moe Thiyagarajah is known for serving the community for 20 years with his home cooking and his charitable nature. Recently Moe has partnered with Oakville Meals on Wheels. Mo's offers additional options with their battered fish of potatoes or rice, and seasonal vegetables in place of the standard coleslaw and fries. He is beloved by the community with a dedicated customer following on facebook.