When it comes to home renovations, natural stone is a popular choice. It doesn't matter if you're replacing those old linoleum floors with gorgeous granite tiles or turning your bathroom into a marble palace. Something about natural stone feels timeless, elegant, and like a good investment in your home. There are also some spectacular artificial stone options to expand your options even further. Here's how to choose which products to use in different parts of your home — no matter what you end up going with, we're sure it will look amazing.
In The Kitchen
There are a lot of opportunities to add natural or artificial stone products in your kitchen: on the floor, on the counter, in a beautiful backsplash, or even as an accent wall.
Let's start with flooring — you want to look for something durable and low maintenance (especially if you have kids or pets). However, it's important to be realistic about what 'low maintenance' truly means. "Stone is a natural, porous product," explains Natasha Altena of Eden Tile-It in Burlington. "No matter the application, stone is going to require some level of maintenance."
Granite and marble countertops are classic, but they aren't the only option. An artificial product like quartz may provide a similar look and is incredibly durable. Quartz is scratch-resistant, bacteria-resistant, and difficult to damage, but it's not heat-proof. It doesn't require sealing, but it may discolour somewhat over time. Granite requires a bit more maintenance — ideally, you should seal it every year, but it withstands heat well. It's not as strong as quartz, but it's still pretty tough and looks great. And what about marble? It has a stunning aesthetic and is great for bakers because it remains cool, but it won't withstand heat like granite will (meaning, you can place a hot pan on granite but not marble). Marble also stains more easily than other stones because it's more porous.
You can use just about anything as a backsplash. This might be where you want to splurge on marble if you choose a more costeffective product for your floors and countertops. Altena notes that while marble is one of the softest types of stone, it performs well once sealed. "Marble stands up to the job as a backsplash option — it tends to come in lighter colours and less busy patterning, which seems to be trending still in the industry."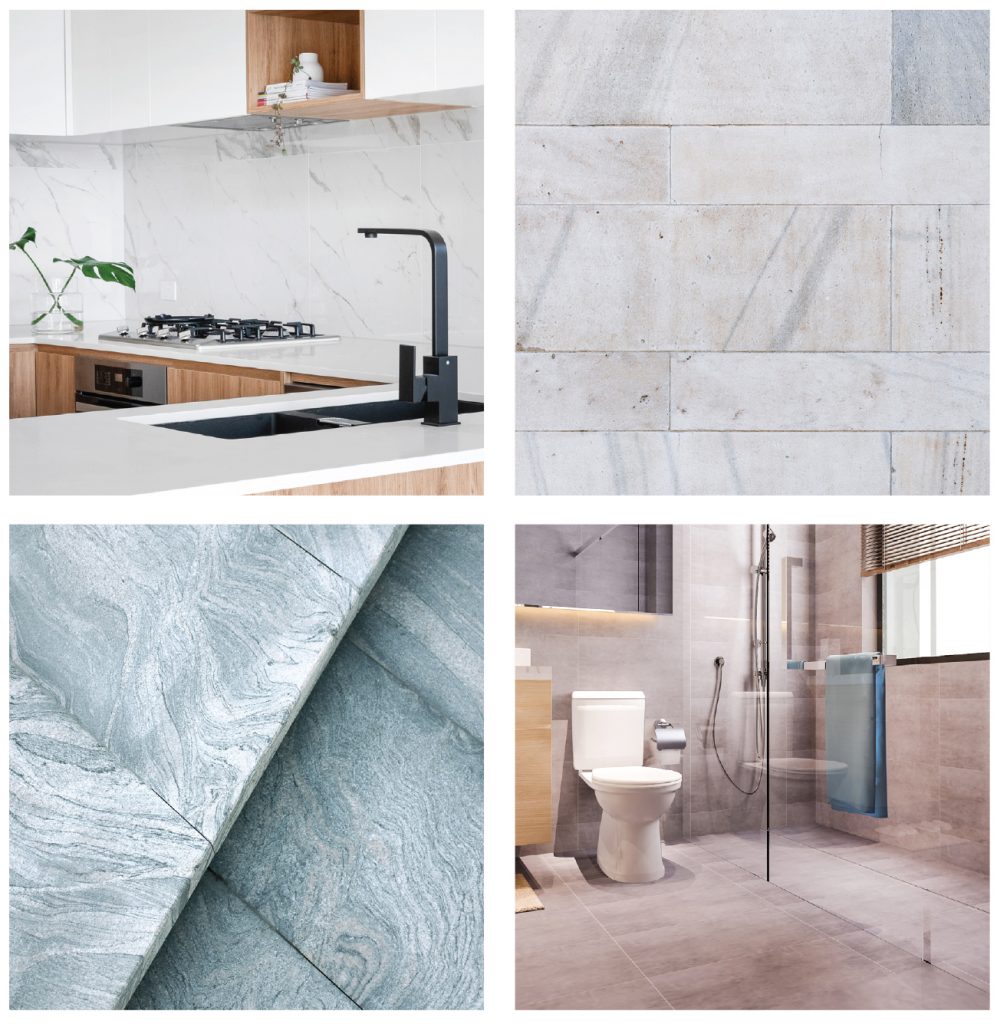 In The Bathroom
Consider porcelain or ceramic tiles if you want something practical and budget-friendly for your bathroom floor. They come in various colours, patterns, and shapes, and you can choose ones with a higher friction rating to avoid slips. Porcelain tiles are often the same colour through multiple layers, so it's easier to hide chips if they happen (the same can't always be said for ceramic tile, however, beautiful they are).
"For a shower, marble tile and slabs are still popular, although porcelain tile and slabs have come a long way," Altena says. "It would definitely be less maintenance and more affordable to check out what is available in porcelain options for showers over natural stone, as they can look identical after a proper installation."
Everywhere Else
If you're looking for stone tiles for your foyer, hallway, fireplace, or another spot in your house, consider the room's function, the look you're after, and the budget you're working with. You may want to go with a natural stone like granite, limestone, travertine, slate or marble. Look at different finish options — honed or polished, for example — and take samples home to see what looks best in the space and lighting you're working with. There are several stores in Oakville and Burlington with some beautiful options!
by Erin Pepler
Local Links
Eden Tile-It, Burlington
tileit.ca
Tile Giant, Burlington
tilegiantcanada.com
The Flooring Gallery, Burlington
eurostandardinc.com
Deco Tile, Oakville
decotile.com
Speers Flooring, Oakville
speersflooring.com