If you've been looking for that "secret ingredient" in a recipe handed down by previous generations – try cinnamon. It's the one spice you're likely to find in everyone's pantry and a key ingredient used in dishes worldwide. From desserts to savoury dishes (even ones with meat), it's hard to find another spice with this type of versatility… and one with such a unique history.
Once considered more valuable than gold, cinnamon was a highly valued spice in ancient trade. Ancient Egyptians were the first to use cinnamon in cooking but also viewed it as a prestigious gift for pharaohs and used the spice during embalming rituals.
Sourced from the Cinnamomum tree (a variety of evergreen), native to Sri Lanka and south India, cinnamon is most often used these days in cooking and baking. The world's insatiable demand for cinnamon has resulted in different varieties of the spice being grown in countries including Myanmar, Indonesia, China, Vietnam, and some countries in the West Indies and South America. Workers score and peel the outer bark of the trees with a few simple tools during harvest. Large pieces of bark are peeled, dried, and ground into powder, while smaller twigs and shoots dry into familiar curled sticks.
There's no doubt this spice packs a powerful punch. Sprinkling it in desserts, seasonal drinks, and even main dishes, our culinary community uses it well. We've rolled our way through Oakville and Burlington to discover some of the best cinnamon-inspired dishes – check them out:
Cinnaholic
259 Lakeshore Road East, Oakville
cinnaholic.com
All hail the cinnamon roll. With over 20 flavours of frosting and a variety of toppings, Cinnaholic delivers the optimal cinnamon experience. Design your own roll, or choose from Cinnaholic's suggested combinations – like the S'mores Cookie Roll, with gooey chocolate chip cookie rolled in graham cracker crumbs and topped with marshmallow, or the Candied Almond Roll, topped with marshmallows, pretzels, and homemade candied almonds.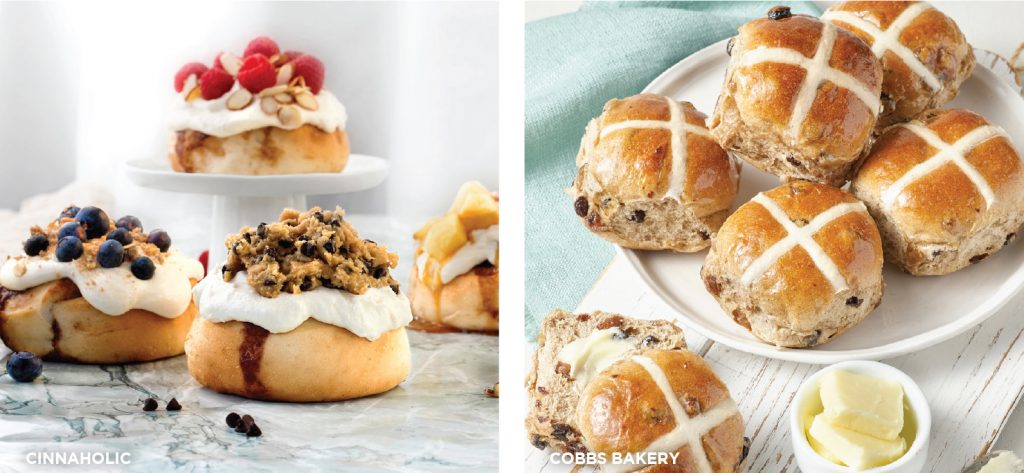 Cobbs Bakery
Multiple Locations In Burlington And Oakville
cobbsbread.com
Cinnamon is the star in two of Cobbs' best-selling baked goods. Their Cinnamon Scone is filled with generous cinnamon flakes and topped with cinnamon sugar; warmed up, it's a great treat with your morning coffee. And their Classic Cinnamon Bun is a must-have with your Sunday breakfast. Unwind the spirals of sticky dough to reveal an ooey gooey cinnamon sugar-glazed centre!
Kelly's Bake Shoppe
401 Brant Street, Burlington
kellysxo.com
Plant-based and dusted with cinnamon, Kelly's Bake Shoppe makes a must-try old-fashioned snickerdoodle cookie. Their Morning Glory Muffin with sweet potato, carrots, cranberries, and a cinnamon cream cheese filling also makes a great morning treat.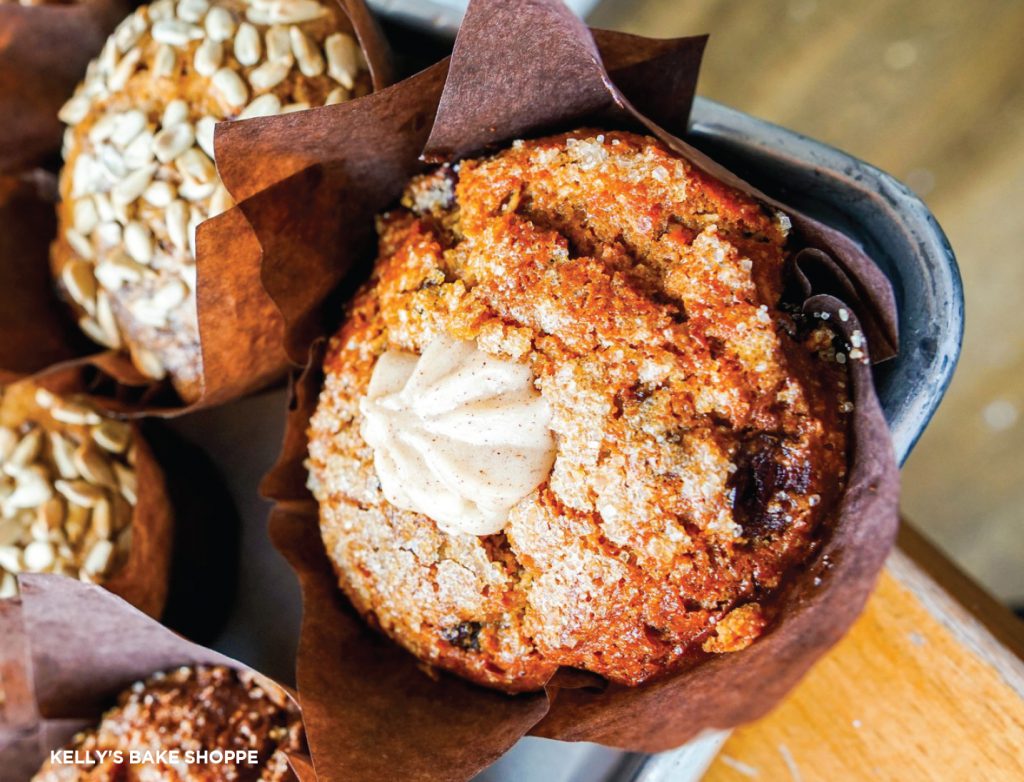 Pur & Simple
1940 Appleby Line Unit 22, Burlington & 350 Dundas Street East, Oakville
pursimple.com
Another cinnamon twist on a breakfast classic! Pur & Simple's Carole's Cinna- Cakes are cinnamon swirl pancakes topped with icing glaze, caramel, and whipped cream. Pair with a mimosa or freshly brewed coffee for breakfast or brunch.
Coop Wicked Chicken
370 Brant Street, Burlington
thecoopwickedchicken.com
While famous for its fried chicken, The Coop has cinnamon all figured out – and their Cinnamon funnel cake isn't exactly what it seems. Consisting of fries topped with cinnamon sugar and accompanied by vanilla ice cream, have it for lunch or dessert – all of the components are there.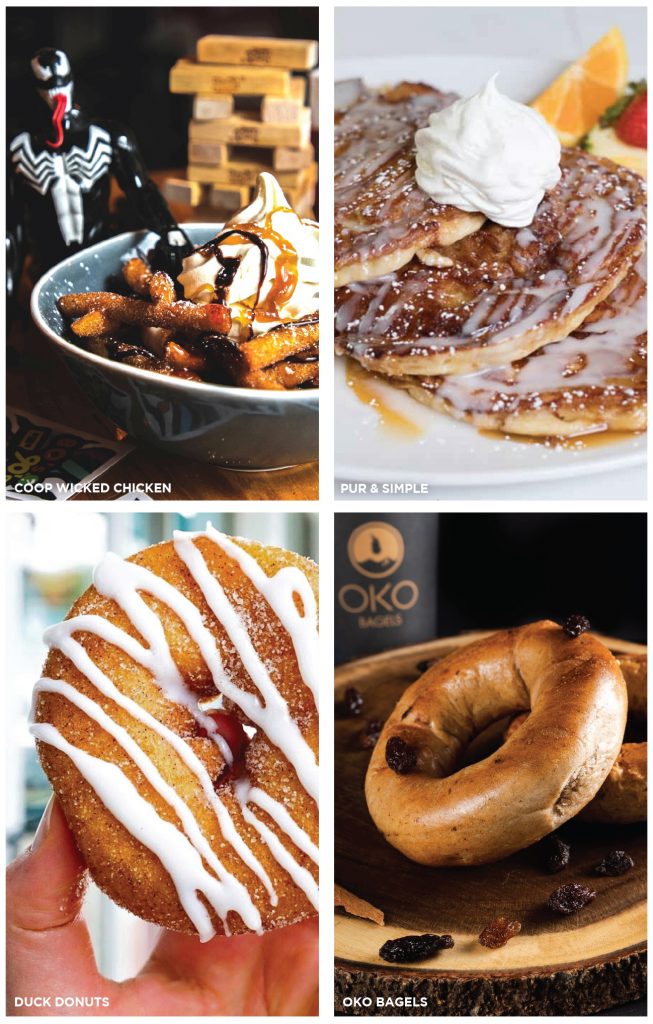 Oko Bagels
499 Cornwall Road, Oakville
okobagels.com
Oakville's hot spot for Montreal-style wood-fired bagels handcrafts a perfect cinnamon sugar bagel. Pair with a wide selection of flavoured cream cheese (Canadian Maple makes a good match) or other toppings like Nutella or peanut butter.
Duck Donuts
5010 Pinedale Avenue Unit 1001a, Burlington
duckdonuts.com
Cinnamon bun or donut? You don't have to choose! Burlington's newest donut establishment, Duck Donuts, serves a Cinnamon Bun Donut made with cinnamon sugar and vanilla icing. The best part: it's made fresh on-site, just for you.
Cinnamon… it really is everywhere. Inspired by her Nonna, our editor mixes a little into her ricotta cheese when she makes lasagna or ravioli. It's a basic ingredient in a traditional Greek moussaka. And for me, I sprinkle a light dusting on top of my coffee grounds. My guests always ask, "What do you put in your coffee?".
My secret ingredient? Cinnamon. How do you use cinnamon? Why not share your recipes with us on Instagram @looklocal.ca ?
by Lisa Evans