Kerr Village may be Oakville's best kept secret! This charming, yet eclectic, slice of Oakville is unlike any other part of town. Its one-of-a-kind character blends old, new, trendy and traditional to create a welcoming vibe for everyone.
The bustling and revitalized Kerr Street has become a favourite destination for residents and out-of-town visitors to stroll, shop local, grab a java to-go or savour a leisurely meal at a popular restaurant. A truly diverse community, its local businesses represent 39 different cultures, offering a selection of shops and restaurants to suit a wide variety of tastes and backgrounds.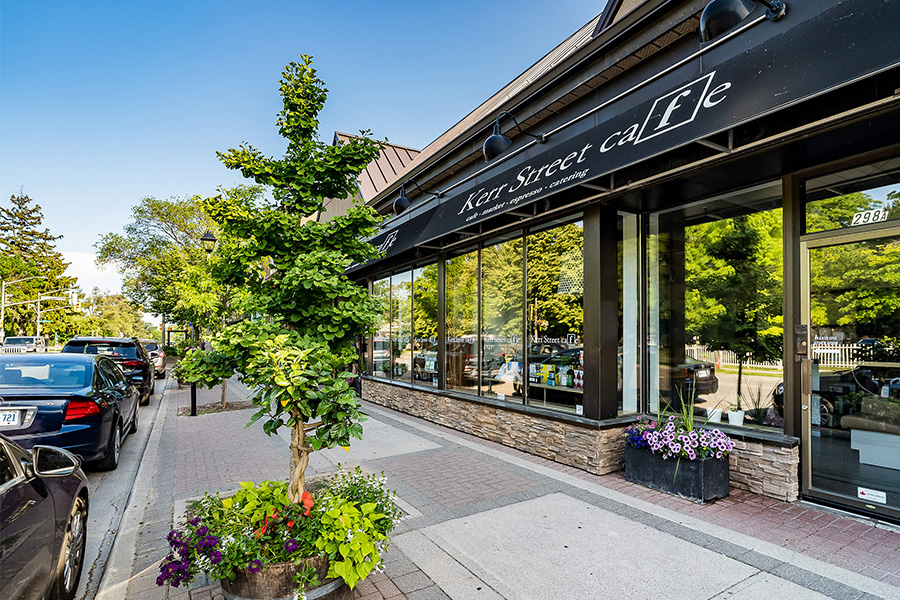 Enjoy the best of fall in Kerr Village
As the leaves change colour and the air turns crisp, it's an ideal time to enjoy a day or evening outside. And, Kerr Village is a perfect setting. Here, you can take in the urban street vibe, then head for a walk in nature. After all, Kerr Street is only a stone's throw from Lake Ontario. After shopping and grabbing a bite, you can continue south, by foot, to Tannery Park where wooded trails and a boardwalk along Lake Ontario await. If you're up for a longer stroll, continue east across the bridge on Lakeshore Road to downtown Oakville or, alternatively, turn west for a scenic walk toward Coronation Park. For an activity with less exertion (or if the weather isn't quite so cooperative), consider a movie at the independently owned theatre, Film.ca, located a short distance from Kerr Street.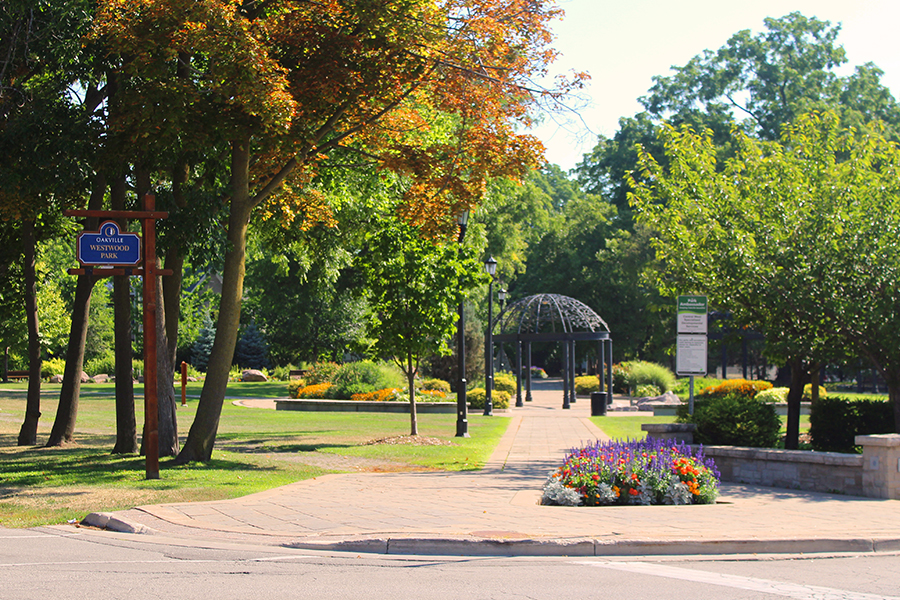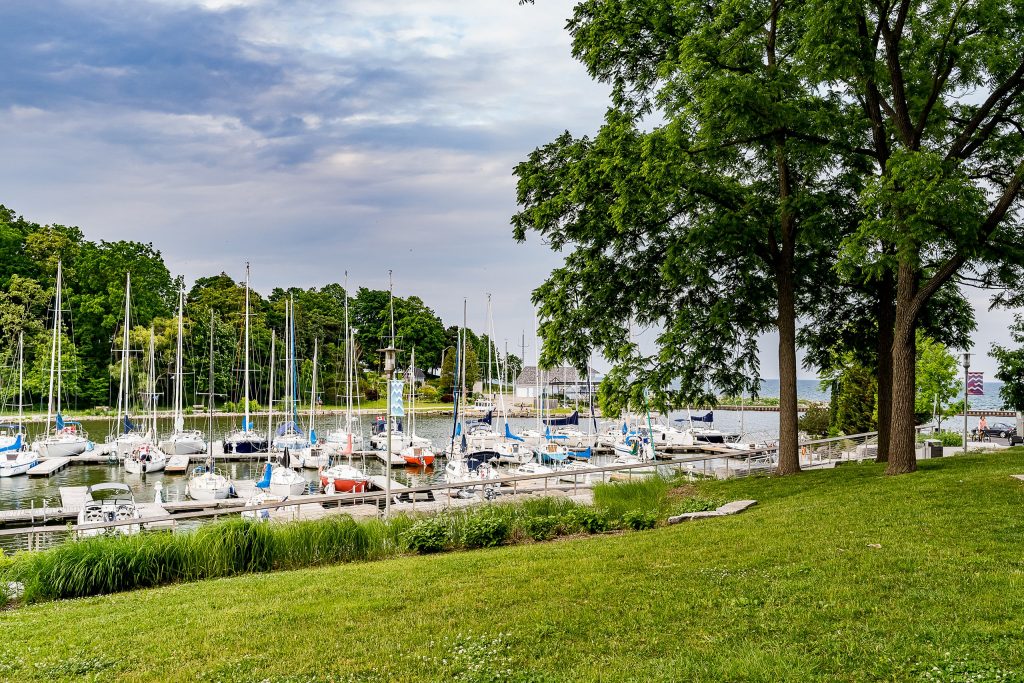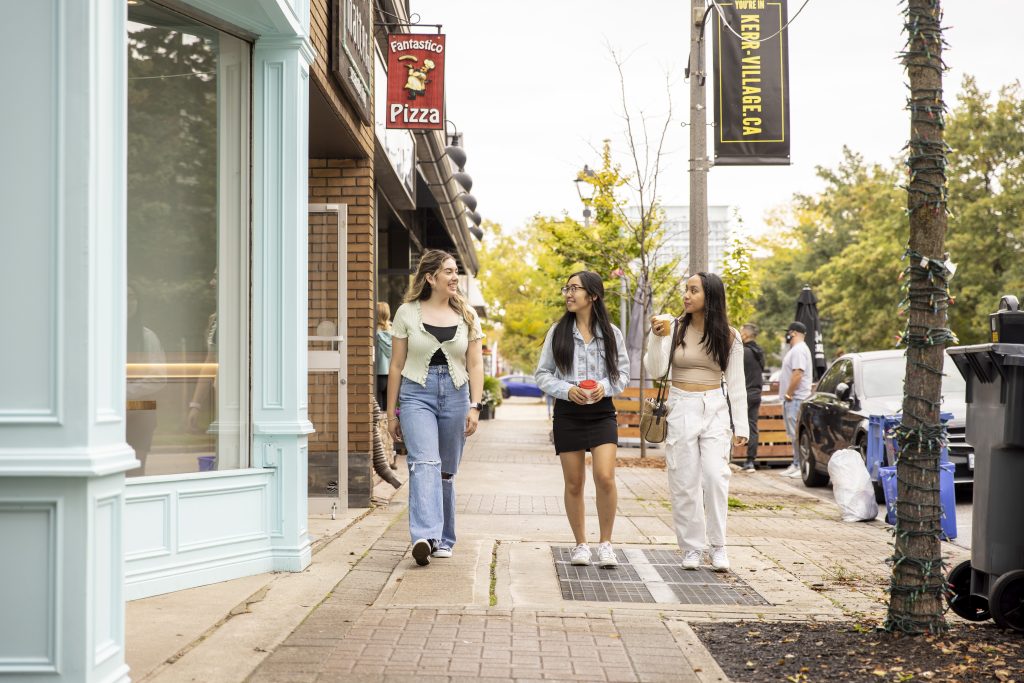 Celebrate the 4th Annual KerrFest Kids in September
Families with young children won't want to miss the 4th Annual KerrFest Kids on Sunday, September 10 in Westwood Park (at the corner of Kerr Street and Bond Street) from noon until 6 p.m. Admission is free!
Bring the whole family to this outdoor celebration packed with live kid-friendly music, exciting hands-on activities and mouth-watering food. The entertainment line-up includes two on-stage performances of the Wiggles characters, Dorothy the dinosaur and Wags the dog at 1:45 and 3:30 p.m.
For a smashing good time, catch a performance of CRASH Rhythm at 12:30 p.m. This alternative and engaging approach to music education and exploration uses bucket drumming to tie together teamwork, creativity and fun while learning about music, composition, rhythm and drumming.
At 2:30 p.m., kids can explore more musical beats with Mystic Drumz. Its interactive performance showcases eclectic percussion instruments sourced from around the globe, linking geography to sounds, rhythms to science and laughter to learning. The closing performance (4:30 to 6 p.m.) is by teen band, Leave Those Kids Alone. The Fan Vote Winner of CBC Music Searchlight 2022 features five talented teenagers from Windsor and Detroit playing original songs, along with classic rock favourites.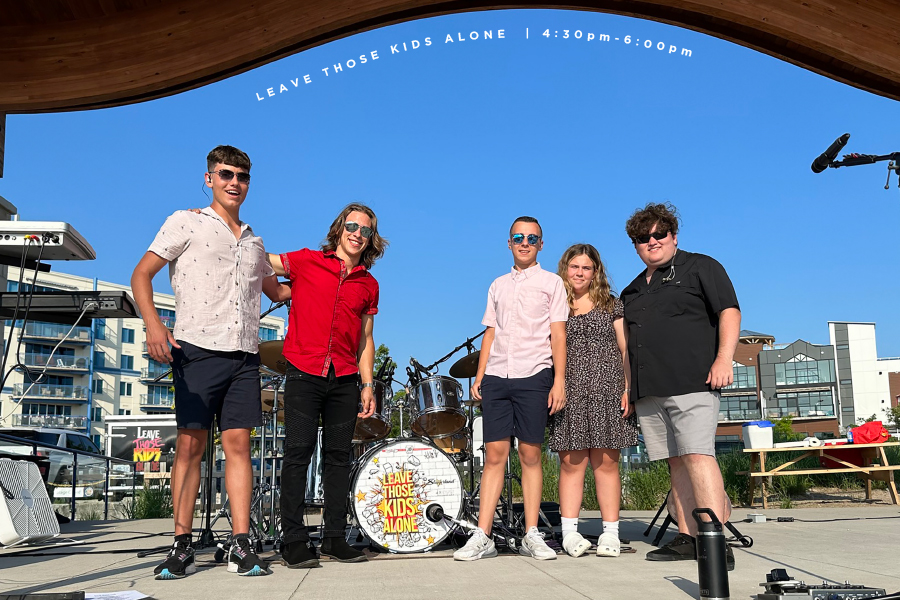 Plenty of munchies and refreshments will be on offer throughout the day with food vendors that include The Mermaid, Boffo's, Sandwich Society, Zesty Pita and La Dolce Vita. Look out for ballooning clowns, a superhero and a roaming social media photo booth.
Admission to the 4th Annual KerrFest Kids is FREE! The schedule is subject to change, so be sure to check before heading out.
New Shops in Kerr Village
Kerr Village makes supporting local easy, thanks to its incredible selection of businesses run by passionate founders. This fall, be sure to visit some of the newer additions!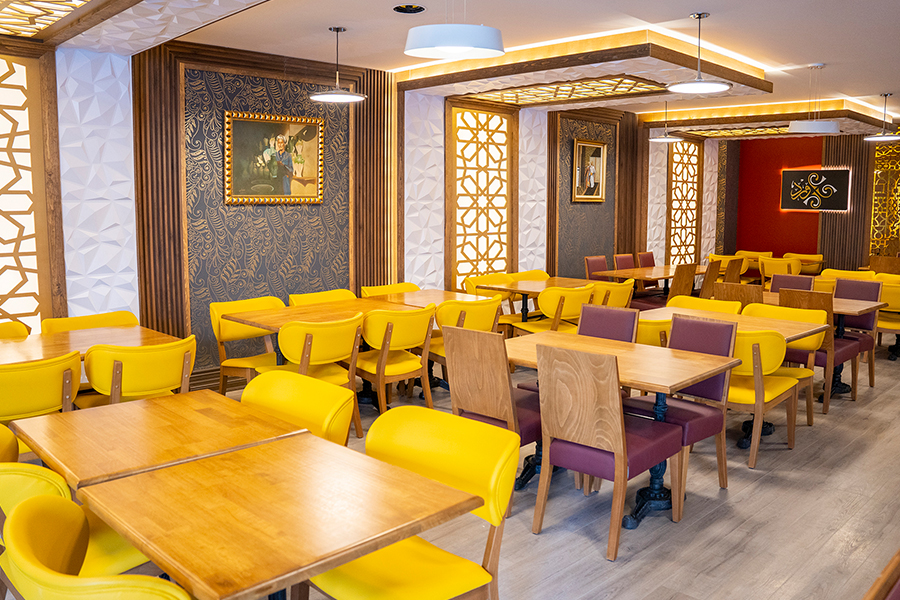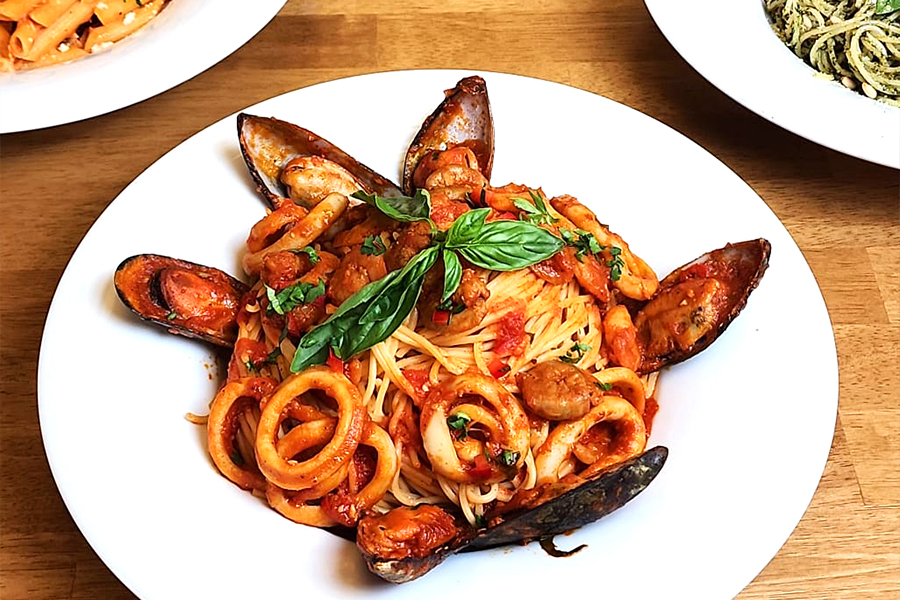 Wared Restaurant
438 Kerr Street
wared.ca
This Middle Eastern restaurant serves authentic flavours from the rich culinary traditions of the region. Its mission is to provide a memorable dining experience that captures the essence of Middle Eastern culture using fresh ingredients, skilled craftsmanship and impeccable service.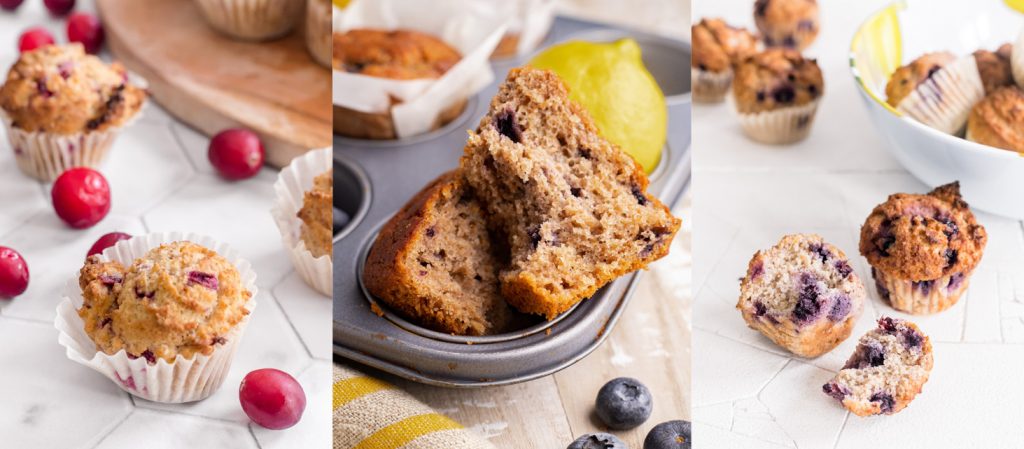 Mary's Muffins
326 Kerr Street
marysmuffins.com
Enjoy delicious freshly baked muffins, including vegan, gluten-free and keto! Founder Mary's mission is to nourish your family with healthy, handcrafted muffins. Order fresh or flash frozen to save for later. They offer local delivery and pickup, as well as catering.
Country Road of Canada
119 Kerr Street
country-road-of-canada-inc.business.site
Visit this clothing boutique for a selection of luxury European brands from England, Ireland, France and Scotland for men and women, representing Saint James, France; Irelands Eye, Dublin; Armorlux knit, France; Lochcarron kilts and tartans, Scotland, and more.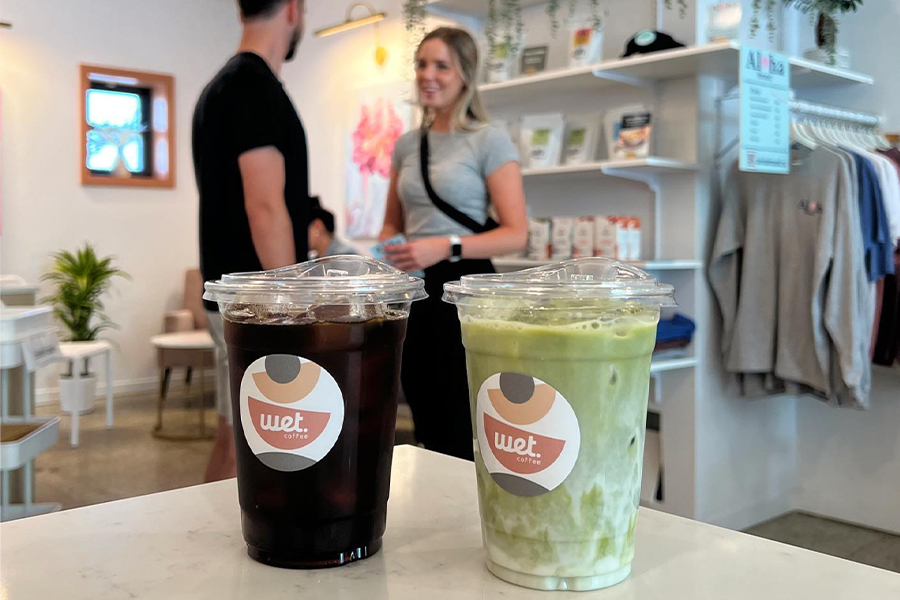 Wet Coffee
111 Kerr Street
wetcoffeecommunity.com
Enjoy coffee and community with an artfully crafted beverage and delicious bite. Sit in the interior that's modern, yet comfy, with a retro vibe, or sip your java on the patio. Coffee travelers for larger groups are also available to order.
Anna Cakes
46 Lakeshore Road West
cakebyanna.ca
Choose from a variety of cakes, cookies, cupcakes, pastries, and more! There are gluten-free options, too. Cakes and baked goods can be made to order, but only a limited number of orders are taken per week. Breakfast is also available.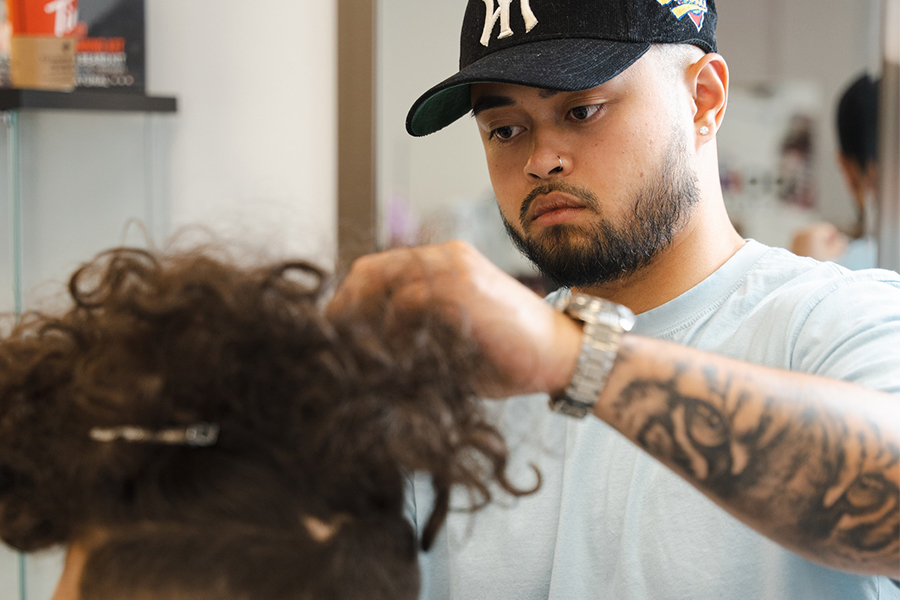 Top Tier Company
143 Kerr Street
toptiercompany.ca
This team of skilled and passionate barbers is dedicated to creating the haircut that stands out, tailored to your unique style and preferences in a hip barbershop with a friendly atmosphere.
My Back Shed
131 Kerr Street
mybackshed.com
This is the destination for enthusiasts of French Country, antiques, jewelry, hand painted furniture and shabby chic home decor. Step into the "as-is" room for a unique flea market experience. Custom furniture painting and upholstery also available.
by Danielle Leonard