Using fresh ingredients is always best, especially those you've proudly cultivated yourself. Creating your own DIY herb gardens is a great way to liven up your cooking, impress friends and family, and keep your recipes unique and healthy.
Herbs are not only perfect for cooking but also as deodorizers, insect repellants, natural antibiotics and even pollinators for bees. Many contain plenty of health properties and vitamins. "Basil is definitely the most popular herb grown and used," says Jennifer Klassen, manager at Centro Garden in Burlington. "There are lots of different varieties and flavours available, and it can be used in lots of different recipes." Mint is the easiest to grow, she adds, as it's hardy and vigorous (and garnishes a great Mojito).
If nothing else, cultivating a personal herb garden will do wonders for your experimentation in the culinary arts. "Always check with your nursery staff when you make your purchase to get the best advice and tips for care, such as planting, transplanting   watering and sun exposure," she says, as the trained professionals will know best about all the different aspects to help grow your garden. But, what's her biggest piece of advice? "Herbs are meant to be used! The more often you use them, the healthier the plants will be and the longer they'll last."
Other tried-and-true tips include transplanting outdoors at least two weeks after the danger of frost has passed, and ensuring the removal of flower stalks from the mature growth when they appear. But, leaving some flower stalks on herbs like basil blossoms will attract bees and butterflies.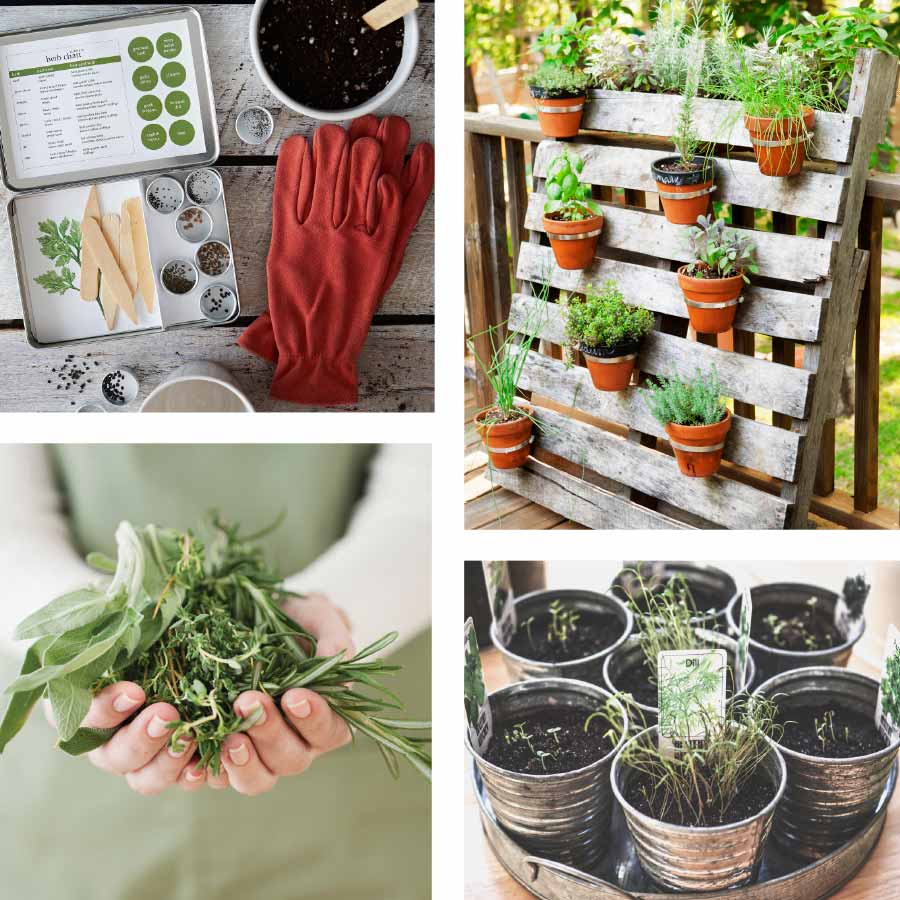 Lemon Balm, a member of the mint family, has a lovely aroma. It can reduce inflammation, prevent infection and relieve an upset stomach, while oregano can help with fungal infections and muscle aches and pains. Parsley is antibacterial and can help with bad breath, while it's also great in dishes such as pesto and salad dressings. Sage eases fever, stomach issues and can treat mouth and throat infections. Mint can clear sinus congestion and headaches, while rosemary, a wonderful ingredient in many meat dishes, also helps repel mosquitoes and other outdoor pests. There are just so many different uses for popular and easy-to-grow herbs. "Don't forget about your pets," suggests Nursery Supervisor Adele Bakhous at Sheridan Nurseries in Oakville. "Catnip and cat grass are great herbs that your pets will especially enjoy."
Bakhous suggests using organic fertilizer with good drainage to avoid root rot, and to let the soil dry a bit before watering.  Also, most herbs thrive in bright, sunny areas. "Remember to pinch them, not cut them, and they'll last a lot longer." Herbs can be grouped together in a pleasing arrangement or be planted separately, depending on their individual growth needs.
Many herbs can successfully be grown from seed, but gardeners can also do well with clippings. If you have them growing indoors during the cold months, you can transplant them outside in the warmth and sun. Bakhous suggests planting around the BBQ so you can easily use them while preparing your favourite grilled meat and veggies.
All herbs have varying germination and hardiness levels, require different spacings and different harvest periods. Check with your nursery when you purchase them to get the best advice about care and watering tips. Whether you're using your herbs to cook, to decorate or to make your home smell beautiful, herbs are a perfect addition to any garden, big or small, indoors or out. 
by Allison Dempsey

Local Links
Centro Garden, Burlington
centrogarden.com
Sheridan Nurseries, Oakville
sheridannurseries.com
Holland Park Garden Gallery,  Burlington
hollandpark.com
Cudmore's, Oakville
cudmores.ca