There are simple, holistic ways to elevate your mood, broaden your creativity and spark your imagination. One way is to visit an art gallery, a perfect, quiet place to explore, reflect and engage – alone, with friends, or even as a family.
Even if you don't personally wield a paintbrush, hold a camera or fire pottery in a kiln, you still belong in an art gallery. Places like Art Gallery of Burlington (AGB) and the Oakville Galleries welcome everyone. "We have so many different kinds of people that come in here: families, seniors, kids, and really it's a place of community," says Danielle Gibbons, Marketing, Membership & Events Co-ordinator for the AGB. "Art galleries in general have been shown to lower anxiety and alleviate depression, contribute to longevity, and exploring culture and creativity is all very good for your mental health." Admission is free, so there's no reason not to visit. "We really want to make this a space that's open and accessible to everyone which I think we really do with our open studios… you can come in, work on a project, and explore the gallery," she says.
The Oakville Galleries is a non-profit contemporary art museum with two locations: inside the Oakville Public Library and at Gairloch Gardens. "The thing that always strikes me with contemporary art is that it sparks a conversation," says Victoria Borg, Communications Co-ordinator for Oakville Galleries. Even though it might be hard to understand what was visible through the artist's eye, it opens up a dialogue, and Borg says that's the point: to ask questions. "A gallery is a place for reflection and discovery," she adds. Staff are always available to give tours or answer any questions. Borg enjoys seeing each new show go up. "For me, working here, it's exciting to see a new show go up and how the space can be transformed by the different artworks that are being shown."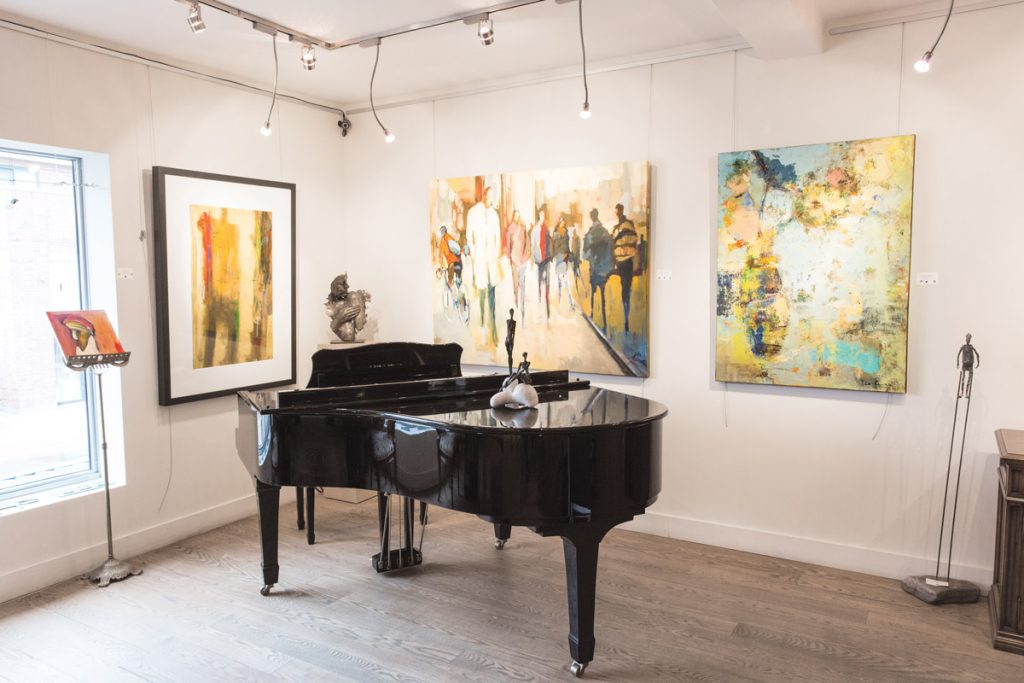 Oakville Galleries runs education programs for adults, kids and the broader community – including parties. They offer summer camps for ages six to 14, March Break Camps, PA Day activities and family workshops. In addition to its camps and classes for all ages, AGB offers Saturday Sessions each month – a fun and affordable way for families to create an art project based on a current exhibition, for a small cost of about $10 for a family of four. "We also offer art therapy programs," notes Gibbons. These programs are open to individuals who have Alzheimer's, those who are on the Autism spectrum, or with anxiety disorders. "We focus a lot of our programs on using art as a form of therapy to enrich their lives. We give them another way to communicate with the world."
To mark Canada's 150th, AGB will be offering some community projects for the public to come and work on during open studio sessions. "It's a way to get the community involved in an actual exhibition at the gallery," says Gibbons. On a bigger scale, quilt artists from across the country will be submitting a quilt square which will be sewn together at the gallery and displayed in an exhibition. The squares are based around the theme of what it means to be Canadian, focusing on the region of where the artist is from. "It will be a nice look at the country through fibre art."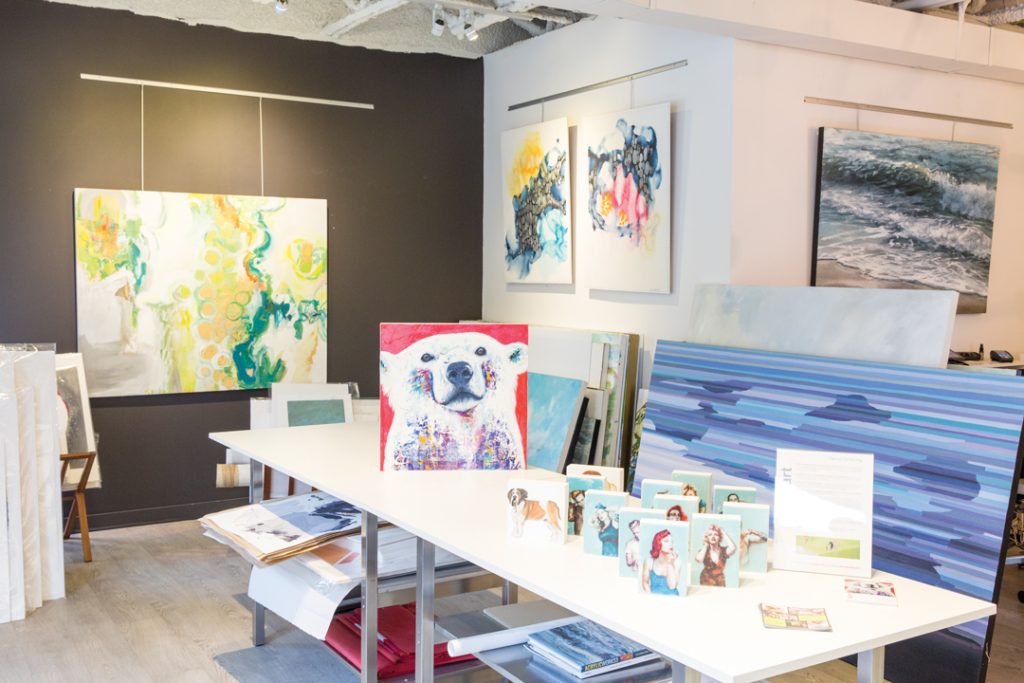 Galleries on a more intimately sized scale are equally impressive, including those such as the Towne Square Art Gallery and Native Art Gallery in downtown Oakville. This modern space comprises two floors of stunning art from established and emerging Canadian and international artists. The gallery presents an impressive variety of subject matter, on many forms of media, including oil, acrylic, encaustic, and pastel on canvas, wood and paper as well as sculpture.  What strikes the owner of both galleries, Joanna Tomal, most about the native work, she says is the message, especially the sculptures. "When I touch a sculpture, I can almost feel the legends, the history and the hardship."
Oakville's In2art Gallery is another relaxed space where both experienced and new collectors can discover great contemporary art for their home. The owners personally select pieces from over 50 artists across Canada and the subject matter is incredibly diverse.  As one of the owners, Susan Hoeltken explains, "Our shared years of experience as artists and gallery curators is the added value as we help guide the client to the right piece.  We love to talk about art and the creative process."
Drop in for an impromptu visit to an art gallery near you, or sign up for a class. You never know: it could evolve into a whole new hobby or at the very least something to display proudly in your home. 
by Becky Dumais
Local Links
Art Gallery of Burlington
artgalleryofburlington.com
Oakville Galleries
oakvillegalleries.com
in2art, Oakville
in2artgallery.ca
Towne Square Gallery, Oakville
townesquaregallery.com
Trias Gallery, Bronte
triasgallery.com
Art Space, Oakville
artspaceoakville.com
Burlington Artist Gallery
burlingtonartistgallery.com