by Becky Dumais
Whether you approach on land, by car, bus, bike or foot – or on the water under power or sail – you'll find the Village of Bronte a great spot to visit this summer. Founded in 1834 and established as a small fishing village, today its bloom-filled streets and lakeside location make it an idyllic place to spend the day.
The culinary scene in Bronte is especially notable, with many well-known, long-established restaurants, and a few that have just recently opened. You can have a lavish meal at Cucci, or enjoy more casual, local food creations at the many pubs and grills. Bronte is also a patio destination, with many restaurants allowing diners to eat al fresco. The Firehall, Cucci, Thai Senses, Plank Restobar, Zara's by the Lake, El Spero, Denningers, Taste Marketeria or the newly opened Harbourside Artisan Kitchen & Bar all have great patios. Perhaps the most impressive, Yolanda's Spuntino Casa recently completed renovations to their spectacular terrace overlooking the harbour, complete with a retractable roof!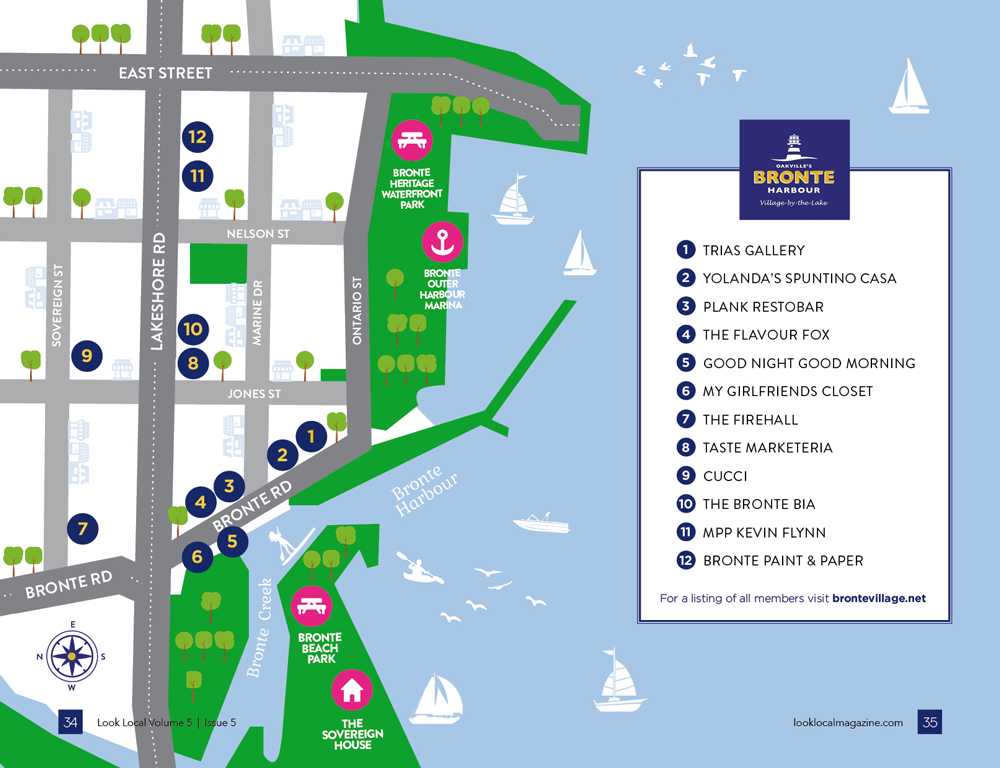 For salty snacks, Sammy's Old Fashion Chip Wagon continues to offer the best hand cut fries, hot dogs, fish and chips, burgers and milkshakes, and has become a local institution in Bronte. If it's more of an ice cream fix that you crave, treat yourself to a gelato, dessert and coffee at the newly opened Flavour Fox (formerly Cool Licks D-Lite).   
Of course, there's more to Bronte Village than food. You can explore a wide variety of unique and mostly owner operated boutiques and stores. Stop in at Trias Gallery, Bronte's only art gallery, and browse the current exhibit by a local artist, or pamper yourself with a massage or facial at one of Bronte's spas. Dogs love exploring Bronte, too! Make sure you drop in to Tail Blazers, a new raw and holistic pet food store. For those seeking unique fashion finds, Bronte boasts several clothing stores worth visiting, including Lana's, Good Night Good Morning, Born 2 Shop, My Girlfriend's Closet for one of a kind consignment finds and Nina Duong Haute Couture for custom wedding gowns.
Park benches are fine, but a Muskoka chair really says 'summer'. The At Home in Bronte, Perspectives & Reflections public art exhibit is part of Canada's 150 celebrations. More than 65 Muskoka chairs are placed throughout Bronte Heritage Park and on the pier. Each chair was painted by a local family, artist, business or charity to collectively create a vibrant display of personal stories, shared history, cultural milestones, and national pride. The exhibit runs from now until September 5.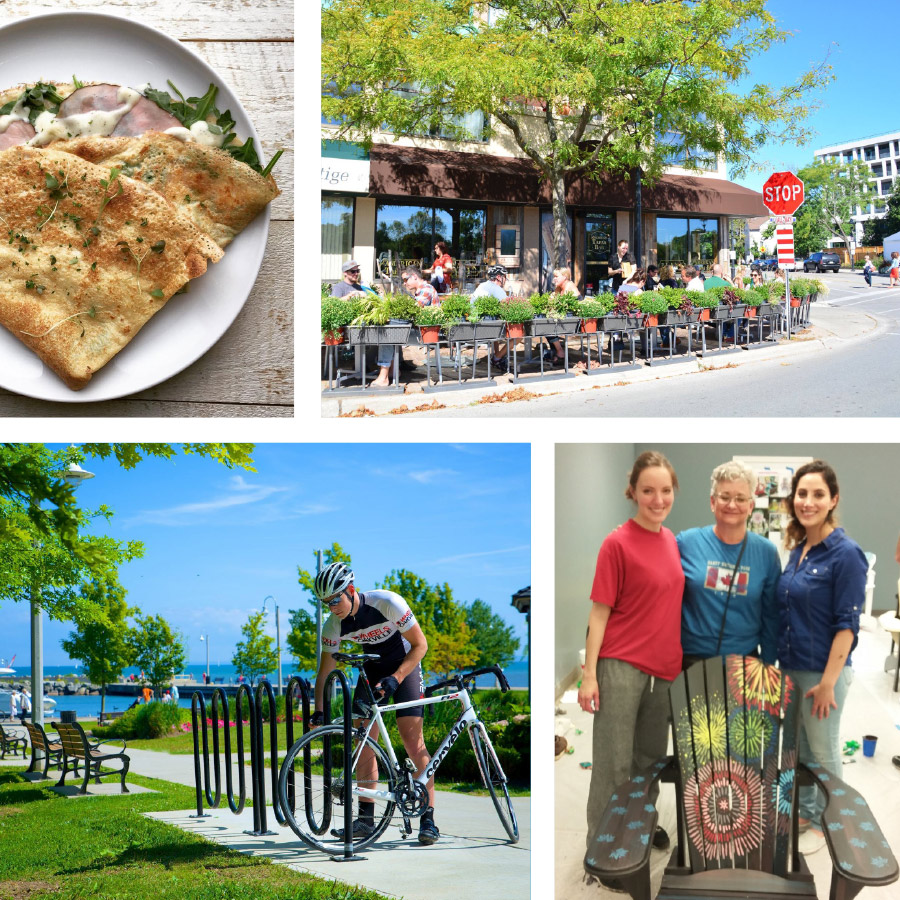 For those who'd like to embrace a bit of the area's early angling heritage, why not take a trophy fishing charter or simply enjoy a pleasure cruise? Climb aboard Boomer's Sporting Adventures and depart for a day on the lake, fishing for a trophy salmon or trout. All charter boats are professionally crewed, well appointed and fully equipped with everything you'll need for a day of sport fishing. For an excursion sans rod and reel, you can book a private crewed yacht for any occasion and cruise to a variety of destinations between Hamilton and Toronto. 1D Sailing also rents Hydrobikes, SUP boards and itBikes, which are a great way to explore Bronte Harbour and the natural beauty of Bronte Creek.   
The Bronte Heritage Trail walking tour is a new feature launching this summer. By downloading the Bronte BIA app, you'll be able to access historical information from e-beacons located throughout the area. The map will show the locations of the beacons where you'll be able to read or listen to unique stories and discover facts about this treasured village.
The project was funded by the Government of Canada and the Bronte BIA with support from the Town of Oakville and Boomers Sporting Adventures as part of Canada's 150th celebrations. As you traverse the trail, or once you've completed your outdoor escapade, share your experience using #BronteHeritageTrail.
---
Art in the Park, August 7, 2017
The Oakville Art Society's 52nd annual event will feature more than 175 artists and artisans and a licensed food court, hosted by Yolanda's Spuntino Casa. This event is one of the most popular and best-run art shows in southern Ontario!
10am – 5pm
artintheparkoakville.com
---
Local Links
Bronte Village
brontevillage.net
Bronte Village
boomerssportingadventures.com
1D Sailing
1dsailing.com