We know walking boosts your physical health, but there are other positive aspects of walking to consider as well. From igniting a creative spark to improving overall mental well-being, there's a lot to the power of walking; not to be confused with actual power walking, which this author enjoys with great gusto and a set of Nordic walking sticks (to the dismay of her teenagers).
We're here to walk you through the unique benefits of taking a hike, and hopefully inspire you to get out there… Nordic poles are optional.
The physical perks are plentiful
From boosting immunity to weight management, the physical benefits of walking are undeniable. As a weight-bearing exercise, walking helps strengthen bones and tone muscles. And let's not forget the biggies—improved circulation and blood pressure regulation, and a lowered risk of heart disease.
"Walking, especially for those intimidated by exercise programs, is a low barrier to entry form of exercise," says Caroline Thong, a physical therapist at Athlete's Care.  
Caroline often prescribes walking to patients recovering from various injuries. "When injuries occur we might assume exercise is off limits in order to heal. However, the opposite is generally true. If possible, and approved by your doctor, walking is a way to maintain your health and fitness by improving blood flow, especially to the area of injury."
Since low-impact walking is easy on the joints and can be done at any pace, and with the aid of mobility devices, it's accessible to all ages and abilities.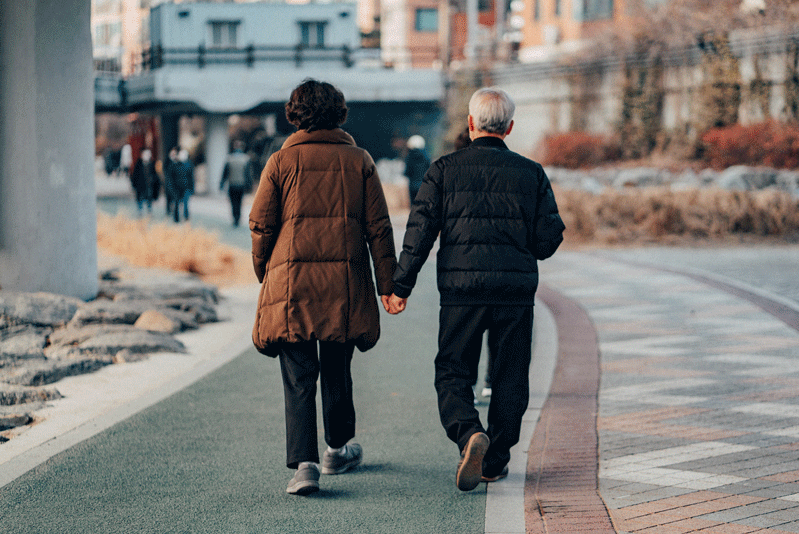 The mental magic
Walking isn't just good for your body; it's an effective mood booster and stress reliever.
Research has shown that walking can enhance creativity and problem-solving abilities. This phenomenon is referred to as "creative walking" and is attributed to the combination of physical activity and exposure to the outdoors, which can stimulate the brain in unique ways.
Have you heard of "Walk and Talk" therapy? In this innovative approach, therapists and patients meet for their sessions while taking a walk – on a hiking trail or a paved path.
Astrid Tsai, psychotherapist at Clearview Psychotherapy says, "Walk and talk therapy offers a unique alternative to traditional seated face-to-face therapy in an office. The spaciousness of nature coupled with an invigorating walk in the fresh air naturally enhances one's mood and promotes clarity in thinking. Coupled with therapeutic conversation in serene natural surroundings, this approach has been shown to reduce stress, anxiety and depression, and even boost self-esteem."
The rhythm of walking triggers the release of endorphins, which are those happy hormones capable of alleviating stress. I often remind myself of this when faced with the struggle to lace up. Life tends to get busy, making it a challenge to carve out time for a walk, even when it's something I know is beneficial for my well-being.
Nonetheless, once I'm in motion, I notice myself smiling and breathing easier. Never have I returned from a walk thinking, "I should have stayed home," except for that one time when a sudden torrential rainstorm caught me off guard. Pro tip: Check your weather app before venturing out.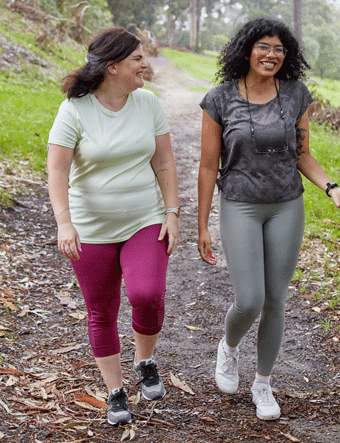 Fall Hiking in Oakville & Burlington

Whether you're a seasoned hiker or just looking for a leisurely walk, we are blessed with an abundance of beautiful trails and walking paths in and around Oakville and Burlington.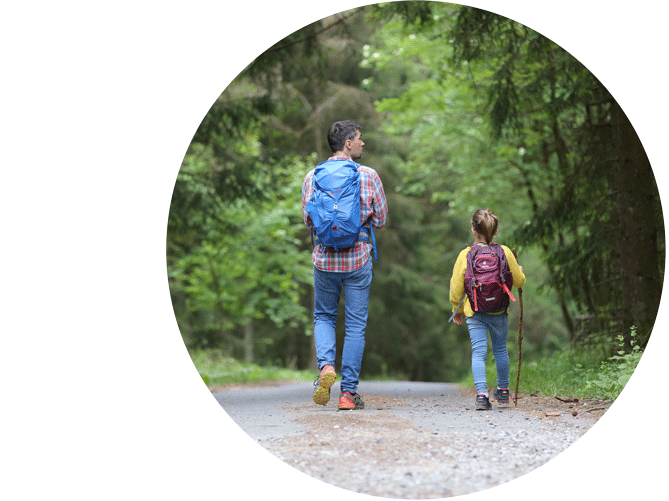 Bronte Creek Provincial Park offers easy trails with views of the creek.
In the centre of Oakville is the 16 Mile Creek Trail network, winding through a stunning natural setting, accessible through Lions Valley Park.
If you want a bit of a challenge, the trails at Mount Nemo lead to breathtaking views of the Escarpment and surrounding areas.
If you prefer smooth surfaces, try one of the walkways along Lake Ontario.

For help locating the best hiking trails near you, have a look at
AllTrails.com or download its free app for maps, reviews, directions and helpful trail details.
Some Oakville and Burlington community centres have accessible indoor tracks where you can walk year-round for a small membership fee.
Whether you're enjoying a brisk hike on the Escarpment or taking a leisurely walk on Brant Street Pier, walking is your ticket to a healthier body and a calmer mind.