With Halloween creeping up on us, let's unmask some ghoulishly great ways to celebrate.

Take a ghost tour
You don't have to wait for Halloween night to get your ghostly thrills. There are some eerie locations around Oakville and Burlington that are screaming out for you to visit – if you dare.
Erchless Estate is rumoured to be the most haunted house in Oakville, with employees claiming to have seen ghostly figures walking the museum grounds. And if that's not spine-tingling enough, visit Dingle Park after dark, where you might catch a glimpse of the ghost who is said to reside there.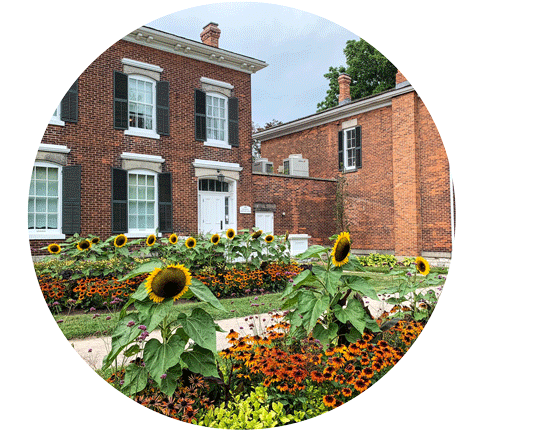 If you happen to be in downtown Burlington on the night of a full moon, pay a visit to the statue of the soldier at the cenotaph at City Hall. Legend has it that he descends from his pedestal to wander under the full moon's light.
If that's too scary for you, same ghoul, same. I'm team "playful pumpkins" over "ghostly figures" every time.
Pumpkins After Dark in Milton is a family-friendly way to conjure up some Halloween spirit. Also, check your neighbourhood Facebook groups for "Haunted Houses" near you. Several homes in Oakville and Burlington boast Halloween activities and decor that are eerie-sistible.

Get this party startled!
A costume swap isn't just budget-friendly; it's also eco-friendly. Invite friends to bring their gently used costumes, and let the trading begin. Combining elements from various costumes can result in a unique look. Think Fairy-Ogre, Manchester United-Monkey, Space-Kitten, or Flamingo-Werewolf – guaranteed to stand out in any Halloween parade.
Consider hosting an "Upstairs Downstairs Party" to make it easier for parents of young children to socialize. Parents can bob for apples upstairs while their little ones enjoy treats and games downstairs, under the watchful eye of a few teens hired by 'mummies' (and daddies).
Organize a scary movie marathon (Author's Note: At the first sign of a clown, I'm out of there faster than you can say, "It.") Serve up terrifying treats like Halloweenies and petrified popcorn and you'll be the ghostess with the mostess. Remind guests to BYOB (Bring Your Own Boos).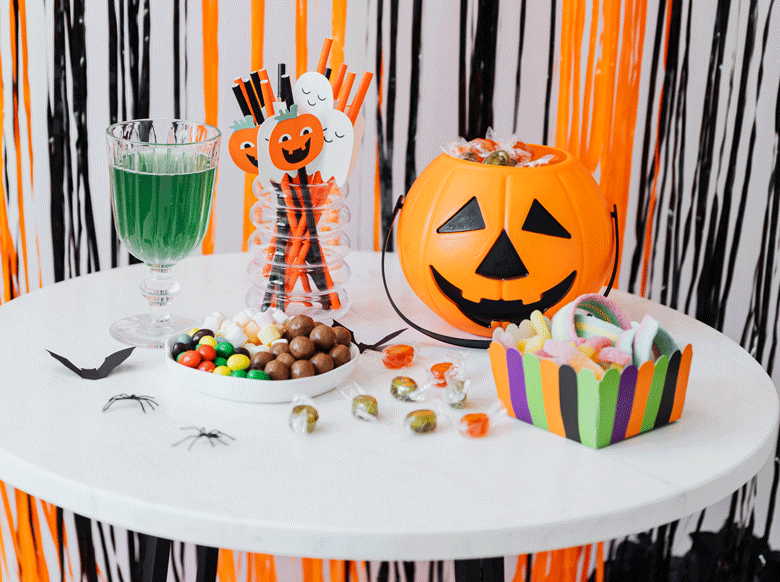 Trick or treat yourself
Many local shops and restaurants welcome young trick-or-treaters with candy-filled bowls. It's a great opportunity to support local businesses while collecting some sweet treats.
Instead of going the usual candy bowl route, add a dash of creativity to the Halloween mix! Set up a "Witches' Cauldron" using some dry ice for an extra eerie effect, or create a "Mummy's Tomb" brimming with treats. And hats off to my ingenious neighbours who send treats down a PVC pipe from an upper window – we applaud your wicked engineering.
Welcome trick-or-treaters with glowing jack-o-lanterns, a Halloween music playlist on a loop, festive lights or some creepy cobwebs to set the mood. Let your imagination run wild, but within reason. I had to remind my spouse not to jump out in his vampire costume to scare unsuspecting trick-or-treaters. While it may sound amusing in theory, the bone-chilling scream from our neighbour (and her young child) haunted me for months. She gave us resting-witch face until Christmas.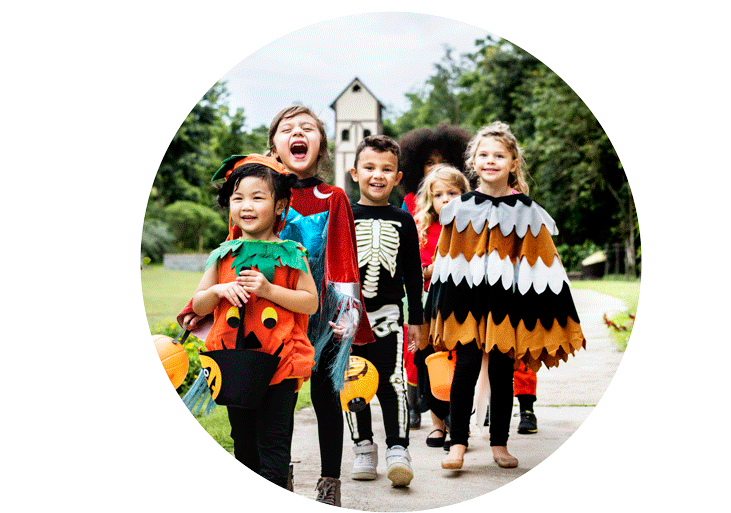 Keep celebrations inclusive and safe
Some children may have dietary restrictions, while others may have sensory sensitivities. Consider offering a mix of treats and non-food items (stickers, bubbles, fidget toys, glowsticks, slime) to accommodate all trick-or-treaters.
If your children are old enough to venture out on their own, be sure to review safety rules and common courtesies. Remind them to take only a few treats from unsupervised bowls left out on doorsteps and to respect property – only monsters and ghouls stomp over flower beds.
There you have it, a how-to guide for a Halloween that's frightfully fun for all ages! Whether you're swapping costumes, exploring haunted houses, or simply enjoying the treats, have a safe and scary Halloween, everyone!
by Lisa Thornbury