Jewellery is art in wearable form and it is very personal: we're each drawn to different styles and colours. It might also be the reason you've tucked an old piece away, not knowing what to do with it. Working with a local custom designer results in something uniquely yours – even if it's repurposed from an old or worn out piece. We asked some local designers what they're currently creating for clients.
It's a Ring Thing
Custom designed engagement and every day rings are keeping jewellers busy in their studios. Sonali Singla of Luxe Jewellery in Burlington says 90 per cent of the custom work she does is rings, particularly halo engagement rings – a style that "makes the diamond look bigger, giving you a big look without the price tag." She frequently does vintage styles with mill grain and intricate detailing, and notes that the gold preference is in 14K white. "Yellow gold is a very rare request in the market currently," Singla says. In addition to diamonds and sapphires, they're using emeralds as well as mossanite  and morganite. "They're diamond alternatives which have taken off recently, because they're more price friendly."
Most customers are asking Amer Mazzawi of Classic Jewellery in Burlington to create white gold diamond engagement rings, or matching wedding bands. "The most popular designs are halo rings which feature a square or cushion cut centre diamond, with a split or  a thin shank set with small round diamonds," he says. He notes that another trend is a solitaire oval cut diamond on a very thin shank and small round accent diamonds on the shank. "On the other hand, some customers are asking for an alternative to diamond rings by looking at colour gemstones, like blue sapphires or morganite."
Burlington designer Mariel Pagliai says her customers fall into two groups: those looking for a fashion piece and others who want a piece created to highlight a key moment in their life. "It's a mixture of feelings, memories and love. Those pieces transcend through time," she says. "What the hands say is often louder than words." Regarding stones, she says birthstones are very popular, as people feel a connection with the piece. "For high-end pieces, such as platinum and white gold, diamonds are preferred." Pagliai is well known for her custom fingerprint pieces and creates wedding bands with a loved one's fingerprint on them.
Custom work at Avalon Fine Jewellery in Oakville can be anything from resetting old rings – perhaps engagement rings that have been passed down or inherited – to original pieces that are created from scratch after sketching out a client's ideas. "We can sit down and make them exactly what they're looking for," says Terry Paunkoff.  His creations are usually based around customers' requests for 14K
or 18K white or yellow gold, and platinum. "White gold has been dominant in the last 10-15 years, but I believe yellow gold is making a comeback. It's not 50-50 yet but it's getting closer," he says. Paunkoff says he likes to observe what a person's overall fashion style is, as this gives clues to what the desired piece should look like.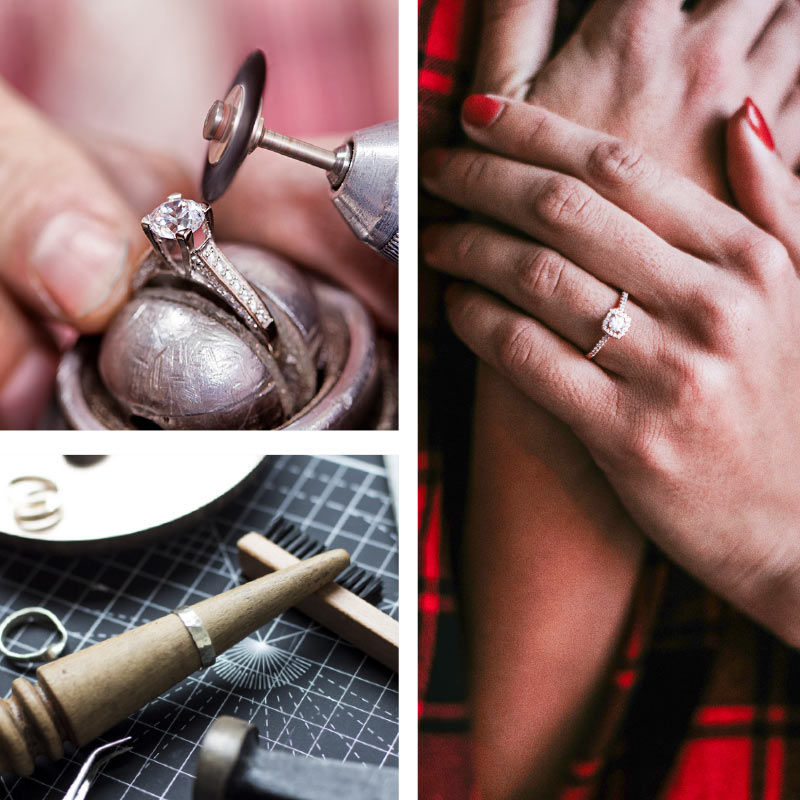 A Jewel Renewal
Reworking or repurposing older pieces gives them new life. Mazzawi says customers who bring in old broken jewellery that was inherited usually want to use it to create something new. "In most cases, we were able to create cocktail right-hand rings, because most of the time they provide me with several different size diamonds or gemstones that make it challenging to create a balanced yet pleasing design." Repurposing doesn't necessarily mean something antique – even something purchased 30 years ago may have lost its luster. "Jewellery before the 2000's was predominately yellow gold, and now most clients want white gold," notes Singla. "Before, it used to be very heavy and chunky. Now, we see sleek, dainty styles are trending. They're usually bringing in rings, and turning them into a new style of ring, or a pendant."
No matter the style, something old or something new, the end goal is always a beautiful, personal piece to be worn and enjoyed.
by Becky Dumais
Local Links
Mariani Jewellers, Oakville
marianijewellers.com
Mariel Pagliai, Burlington
marielpagliai.com
Avalon Fine Jewellery, Oakville
avalonfinejewellery.com
Classic Jewellery, Burlington
classicjewellery.ca
Luxe Jewellery, Burlington
luxejewellery.ca