There are so many well-documented benefits to bicycling, it really is a mystery why we're not all out there right now pedaling to our heart's content — and for our health. Aside from increased cardiovascular fitness, muscle strength and flexibility, cycling also leads to improved joint mobility and decreased stress levels. It's affordable, easy and most of all, fun. Plus, there are plenty of local organizations available to help you get going, whether you're looking for a social network for day trips and fun outings, longer rides or even more serious competitions. In other words, ready, set, PEDAL.
Whether you're based in Oakville, Burlington, Milton or the outskirts, there are many different clubs and organizations that offer different events, including casual weekly rides, competitions and even incredible charity events that give back to the community and those in need.
The Oakville Cycling Club is a non-competitive, recreational club that offers a friendly environment for recreational road riding, training, touring and cyclocross. An Ontario Cycling Association (OCA) member Club, it offers a wide selection of rides throughout the western GTA, including Oakville, Burlington, Milton, Halton Hills and beyond.
The OCA offers various levels of involvement. As a rider you can stay independent and participate in the many regional and weekly events that are hosted throughout the year. BMX specific riders can join a local track and participate in weekly events.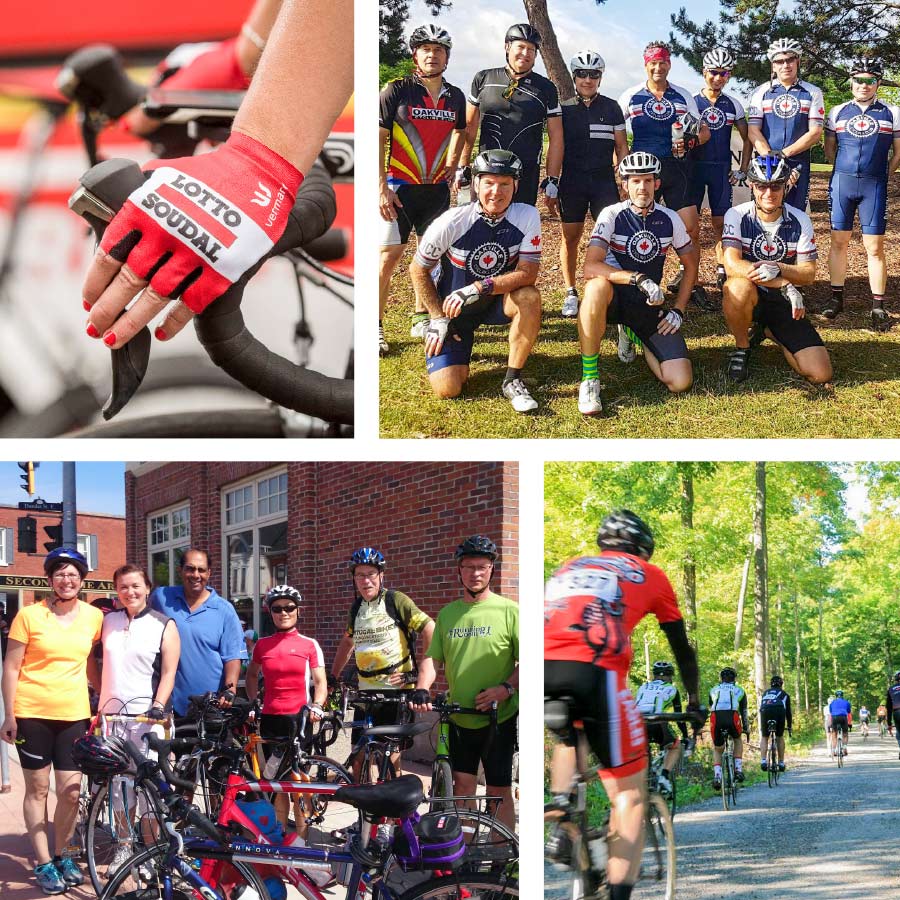 The Halton Outdoor Club understands that riding with others is both more enjoyable and safer than riding alone. The Club provides two cycling programs: road cycling and trail cycling. Road cyclists travel on secondary scenic roads while trail cyclists look for trails dedicated to non-vehicular traffic. Most road rides are concentrated in the Halton region while most of the trail rides take place a little farther away, such as in Hamilton, Niagara or Brantford. "We have two cycling groups doing different outings, either with weekend rides or entire weekend excursions," says club manager Bonnie Quinn. "We've been to Holland and the Montreal area, among other places."
Helmets are mandatory on all rides, traffic regulations are followed and they ride single file, rather than in a tight pack. Cyclists are encouraged to know how to fix a flat tire and to bring the equipment required in making simple repairs.
The Share the Road Cycling Coalition is a provincial cycling advocacy organization dedicated to building a bicycle-friendly Ontario. They work in partnership with municipal, provincial and federal governments, the business community, road safety organizations and other non-profits to enhance access for bicyclists on roads and trails, improve safety for all bicyclists, and educate citizens on the value and importance of safe bicycling for healthy lifestyles and healthy communities. Share the Road began in memory of OPP Sergeant Greg Stobbart, the husband of founder Eleanor McMahon, who was killed in a cycling tragedy in June 2006.
Share the Road works to engineer legislative change in Ontario, unite cycling organizations from across the province and work with and on behalf of municipalities to enhance their ability to make their communities more bicycle-friendly.
So, if you're looking for an awesome, life-affirming exercise that provides more health benefits than you imagine, plus social interaction and a wonderful way to give back to those in need, cycling opportunities in our area are plentiful and provide you with all that and so much more.
"When the spirits are low, when the day appears dark, when work becomes monotonous, when hope hardly seems worth having, just mount a bicycle and go out for a spin down the road, without thought on anything but the ride you are taking."  ~ Arthur Conan Doyle
Upcoming Events
May 20

Women's Ride Day
ontariocycling.org
June 10

Tour de Grand
Where: Duncan McIntosh Arena, Churchill Park
200 Christopher Drive, Cambridge
cambridgetourdegrand.com
June 24

Wheels Benefitting
the Darling Home for Kids
Where: Mattamy National Cycling Centre, 2015 Pan Am Blvd., Milton
ridewithwheels.ca
June 24

Tour de Guelph
Where: University of Guelph W.F. Mitchell Athletics Centre
aimee@puthon.com
July 15

Tour de Norfolk
Where: Norfolk County, located in Southern Ontario on the north shore of Lake Erie.
letourdenorfolk.com
by Allison Dempsey