It may be hard to believe, but summer is finally on its way, bringing with it plenty of sunshine and heat — at least we hope! And while that weather forecast pretty much describes the perfect kind of summer season we all crave during the cold, endless winter months, no one, not even the most die-hard among us, wants to spend all day sizzling in the blazing summer sunshine.
Fortunately, there are many different ways to seek shelter, with a variety of styles sure to fit every budget and personal taste. Whether your backyard is big or small, and no matter your personal style, there are lots of different ways to find respite from the sun — and the rain — while still making the most of those all-too-fleeting summer months.
The first option of course is a stand-alone shade umbrella. "There is a huge selection of styles and sizes to choose from, and umbrellas are super cost-effective," says Preston Lacroix, outdoor sales consultant at Oakville Home Leisure. "As for popular colours, we're looking at lots of neutrals and beiges this year, with red as a popular accent."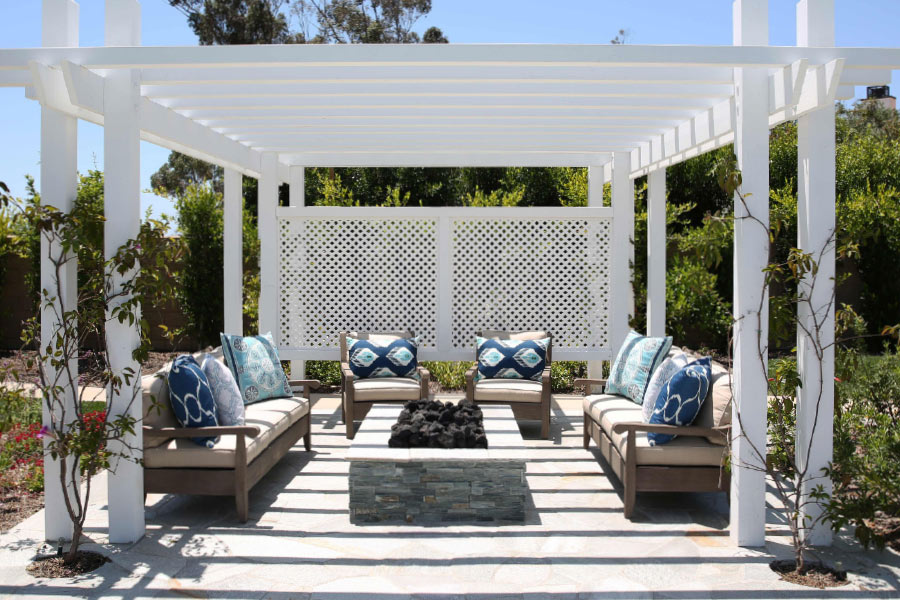 Pergolas — open-air structures, usually with plants growing beside or over them — are becoming increasingly common as they provide an added element of peacefulness and privacy to any backyard space. They can either be integrated into a deck or placed in a quiet area of the backyard. Pergolas have the bonus of adding natural vegetation and colour to your garden, and there are plenty of easy-to-assemble kits available.
Gazebos are another great option for year-round backyard enjoyment. Whether you choose an open gazebo or a hot tub enclosure, both are sure to provide endless family entertainment. Gazebos offer abundant potential for customization, making them a perfect fit for both a home backyard or a cottage setting.
Then there are full structures such as cabanas and pool houses, which can bring a whole new level of luxury to your landscape. A pool house can be customized into an elaborate and multi-functional outdoor room, and offers much more than storage — it can be equipped with a lounge area, bar equipment and ample seating, as well as a place to safely house your entertainment centre. A cabana brings all the luxuries of indoors outside, including furniture, pillows and carpets, fridge and bar, and even a washroom, so you can make your open-air experience as comfortable as possible.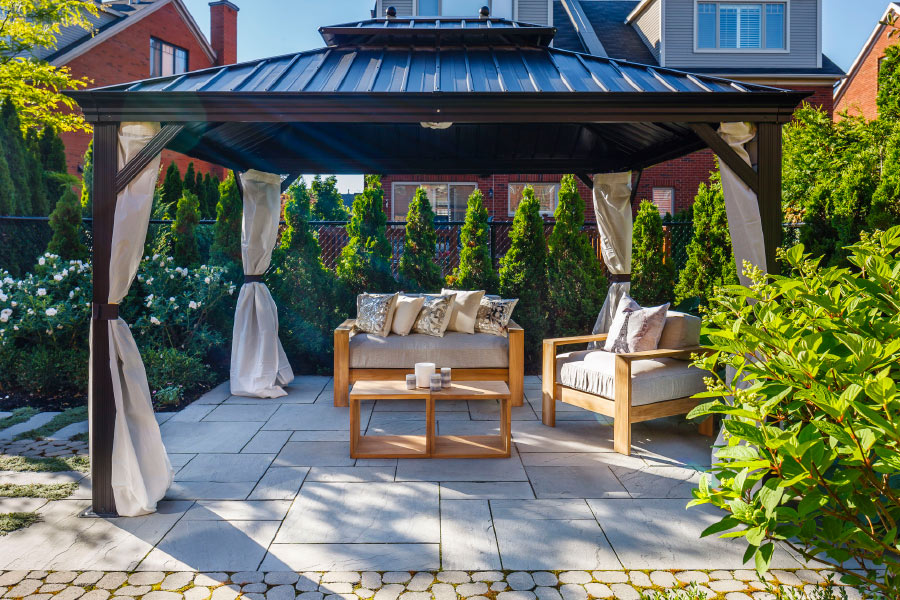 But maybe a simpler retractable awning is more your style. There are a wide range of styles of retractable awnings, as well as a complete line of retractable window awnings and fixed canopies. Not just for heat, though — awnings are practical even in cooler temperatures, offering protection from wind, dust, rain, snow, and noise. Throughout the fall and winter months, there are numerous advantages to be found with an outdoor awning.
With all of these options, how do you decide which one is best for you? Are you seeking only summer protection? Or something that provides relief year-round? A fully enclosed structure for sun and snow? Are you more interested in something aesthetically pleasing, or do you just want relief from the elements? These are all practical concerns to take into consideration as you move forward with any type of renovation, major or minor.
The good news? Most of these structures can be erected anywhere on your property to provide a sheltered area for anyone looking to take full advantage of the outdoors. No matter which option you choose, you will be able to keep your yard attractive, fun and fit for entertaining, or just the perfect place to enjoy a little time alone no matter the weather.
by Allison Dempsey
Local Links
Oakville Home Leisure, Oakville
oakvillehomeleisure.com
Backyard Retreat, Oakville
backyardretreat.ca
Hauser, Burlington
hauserstores.com
Sun Country Leisure, Burlington
suncountryleisure.com