Thanks to technology, many people can−and do−work remotely. As a result, coworking spaces are flourishing. Responding to the demand, ACE Coworking opened its doors in January in downtown Oakville and the company is already attracting a diverse group of members who work out of the shared space.
Central to ACE Coworking's philosophy is creating a vibrant community. "We're much more than just a place to work," says Founder and Community Director, Nancy Fornasiero. "ACE Coworking is a place to collaborate, network and be inspired by other entrepreneurs and business owners."
The open concept workspace features large wooden desks, a quiet zone to work in peace, a relaxed and stylish lounge area, exposed brick walls, and colourful artwork by local artists. The space also boasts a rooftop patio for informal meetings or to catch some sun during lunch.
Members have access to a 12-person boardroom and smaller meeting rooms. ACE Coworking meeting rooms can be rented to non-members from $30 per hour. The workspace also offers a variety of professional development seminars, a book club, weekly yoga and regular social events.
Katie Pringle of Marigold PR is a member and says ACE Coworking offered the right culture for her company's growing team. "The downtown location was also a selling point," says Pringle. "Nancy believes in innovation and collaboration. She has curated an incredible collection of companies."
"We happened to be looking for a new space when Ace Coworking was under construction, and as designers we could see Nancy's vision," says member, Roger Brenninkmeyer of Riverstone Branding. "Being in a space with people who have the same mindset is important."
Setting up camp at your local coffee shop can be a good cure for the work-at-home blues, but it's not a long-term solution. It can be difficult to meet new people and build your professional network. "Our members span many fields, from creatives to the tech space to financial services," says Fornasiero. "The cross-pollination of industries makes for a richer community."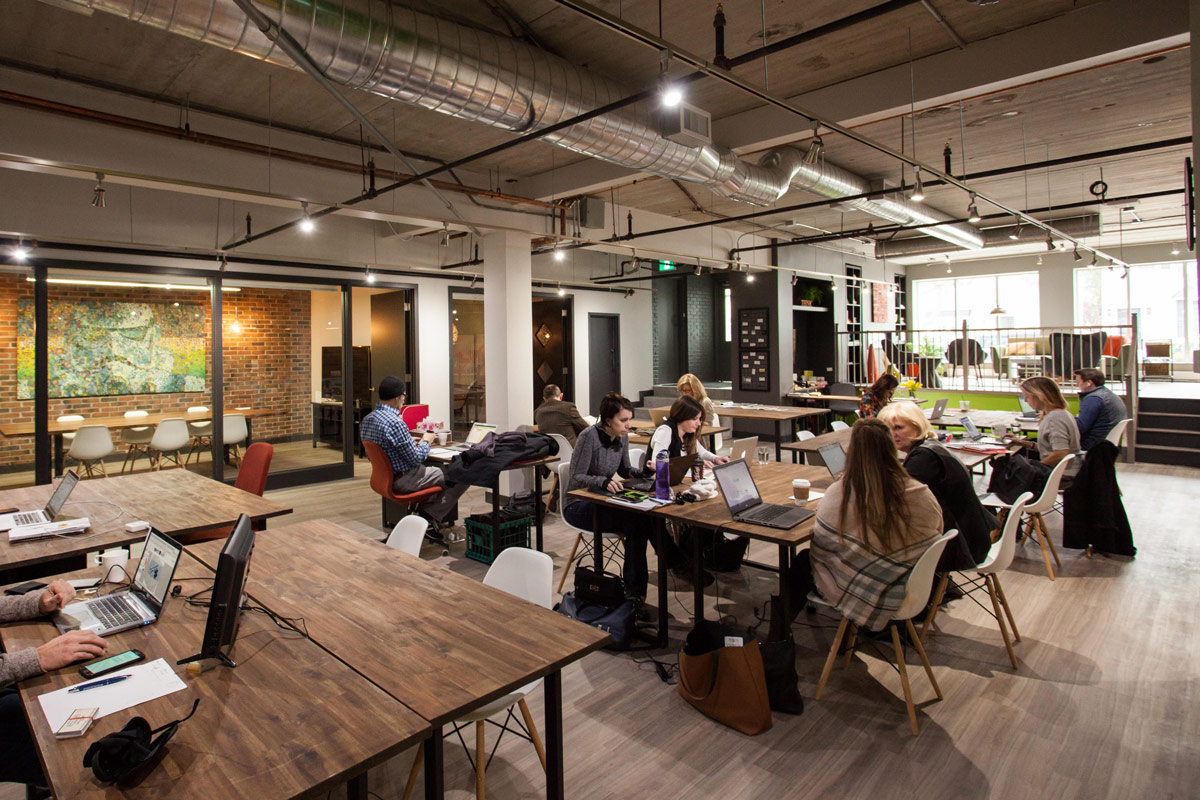 Unlike your local cafe, ACE Coworking's facility is available to members 24/7. Fornasiero says she's happy for anyone interested in coworking to drop by for a tour and take advantage of a free day pass.
ACE Coworking offers day passes for $25 a day, a flexible month-to-month "hot desk" membership, or community membership. Community members can make use of ACE Coworking's business mailing address, receive membership rates on conference rooms, and attend ACE events. Members receive free Wi-Fi, complimentary coffee and tea, as well as printing and photocopying access for monthly members.
ACE Coworking also offers reciprocal memberships with coworking spaces in other major centres. ACE Coworking is an official partner of Haltech, Halton's Regional Innovation Centre.
For more information, visit acecoworking.ca or drop by their space at 295 Robinson Street in Downtown Oakville.