Every season has its flavour and aromas. For autumn, cinnamon and pumpkin spice come to mind, while peppermint seems to appear in every cookie and latte come Christmas. There's often that campfire smell rolling off the grill in the summer and spring, too, has its trademark treats. Spring always coincides with the renewal of life and the Christian festival of Easter. Over the centuries, a particular Easter treat has earned its rightful place as spring's flavour of the season. Sweet and dense, lightly spiced with sweet ginger, cinnamon, mace or nutmeg, allspice, and/or cardamom, maybe even a little vanilla, hot cross buns are the spring treat.
These doughy, raisin-studded delights were brought to life by a 12th-century monk on Good Friday, in honour of the upcoming Easter holiday and quickly gained in popularity. Over time, legends and superstitions have formed around the buns – making them not only a delicious treat but also a traditional staple.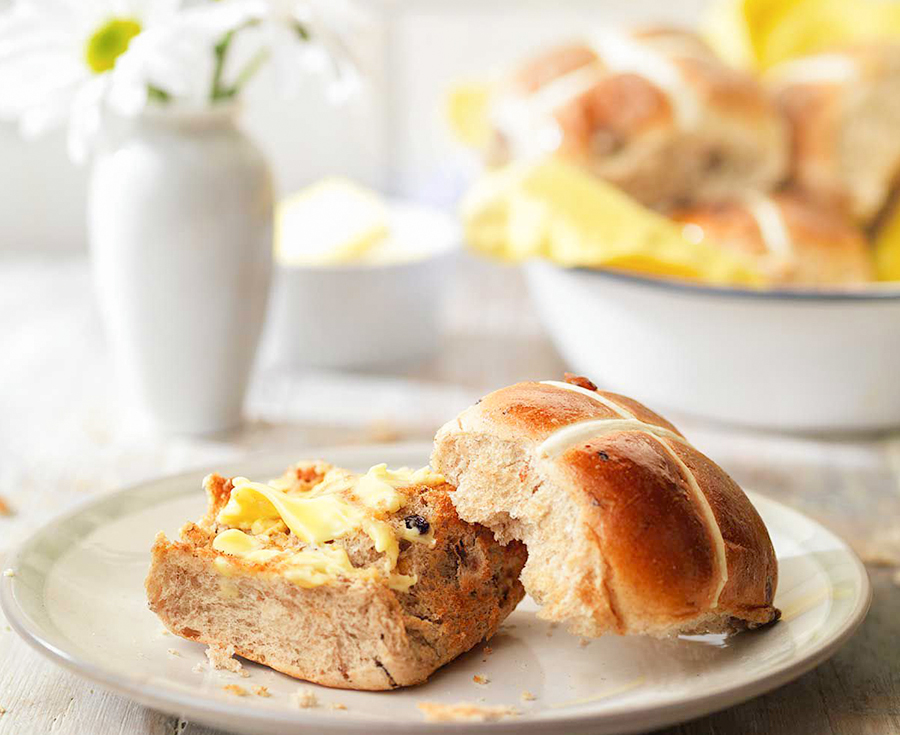 For one, legend has it that if you hang a hot cross bun from your kitchen rafters on Good Friday, the bread will remain fresh and mould-free throughout the entire year. It is also supposed to protect your home from evil spirits.
In the 16th century, the popularity of the buns really took off when Queen Elizabeth I passed a law limiting the sale of sweet buns to funerals, Christmas, and Good Friday. The English were deeply suspicious that the buns carried magical powers, and the Queen did not want them to be abused. As a way to get around the law, more and more people began to bake them at home.
Another fun legend – those who share a hot cross bun are supposed to enjoy a strong friendship and bond for the next year. So, grab the ones you love, a hot cross bun, and bite in together!
As Easter approaches you will be able to find hot cross buns at many of our grocery stores, bakeries and deli's. Here are a few places worth trying:
COBS Bread Bakery, Oakville & Burlington
Whole Foods Market, Oakville
Hot Oven Bakery, Oakville
Monastery Bakery, Oakville
Black Forest Pastry Shop, Oakville
Ola Bakery, Oakville
Cakes Sweets & Treats, Burlington
British Pride Bakery, Burlington
Clarke's Home Style Bakery, Burlington
Turtle Doves Bakery, Burlington
Denninger's Foods of the World, Oakville & Burlington
Longo's, Oakville & Burlington