Vibrant and versatile. Bright and beautiful. Functional and fabulous. These aren't exactly the words that come to mind when I think of my basement – how about you?
An unfinished basement is a place that tends to collect clutter. You know, those baby items you just can't get rid of, those furniture pieces you plan on refinishing, or my personal favourite, those sealed boxes you – read: spouse – moved from your condo to your townhouse to your forever home. Ah, the basement. Whether it's the land of forgotten toys or a time capsule of the 80's, this space tends to hurt for an overhaul.
When it comes to a basement renovation, the goal is to take the dark and dreary and remodel it into a functional, cozy, multi-purpose space. Determining what you need? It all starts with a wish list. What do you have and what elements do you hope to include? For some families, this means an extra bathroom or maybe a guest bedroom. For others, it could be remodeling a basement laundry space into a dream laundry room, adding a wet bar for entertaining, or maybe even a media room, bringing the theatre experience home for movie fanatics.
Cynthia Boyer, the in-house designer at The Basement Store in Oakville, says she finds wish-lists vary throughout the year. On the lead-up to Christmas, there is a focus on increasing space for entertaining: this means warming basements with a cozy fireplace, adding a bar, media room, or games room with a pool table. In the spring, demands tend to focus on adding more functional space such as bedrooms and bathrooms. The goal is to make-up for what is missing in the remainder of the house, making it an extension of your home.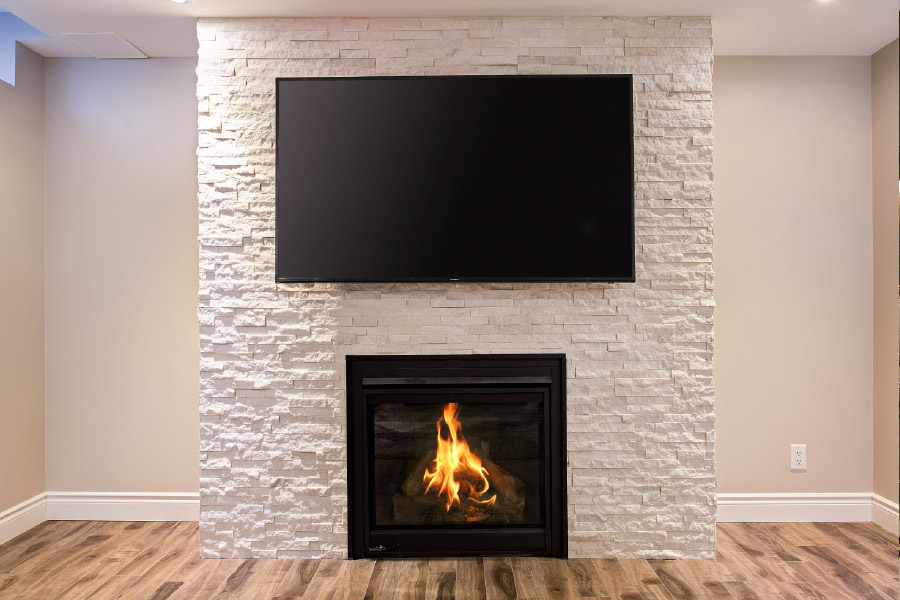 When asked about current basement design trends, Angela Hansen, Designer at Opal Bath & Design in Burlington, says many people are including the luxury of heated flooring for comfort in basement bathrooms and creating the illusion of more space with the use of floating vanities and reflective surfaces. It's also not uncommon for saunas and steam rooms to be included within a basement bathroom renovation.
Twenty nineteen trends are bringing open-concept to the basement, in order to maximize square-footage while adding the perception of additional light and space. Family-friendly multi-tasking spaces are also at the top of many wish lists, allowing separate "grown-up" space and "kid" space. These spaces tend to include a playroom, library, and TV area. If you want to add a walk-out, pre-reno is the time to do it – and yes, it can be done!
While a wish list all seems well and good on paper, it's not always easy to make your vision come to life – that's why it's important to hire a qualified contractor.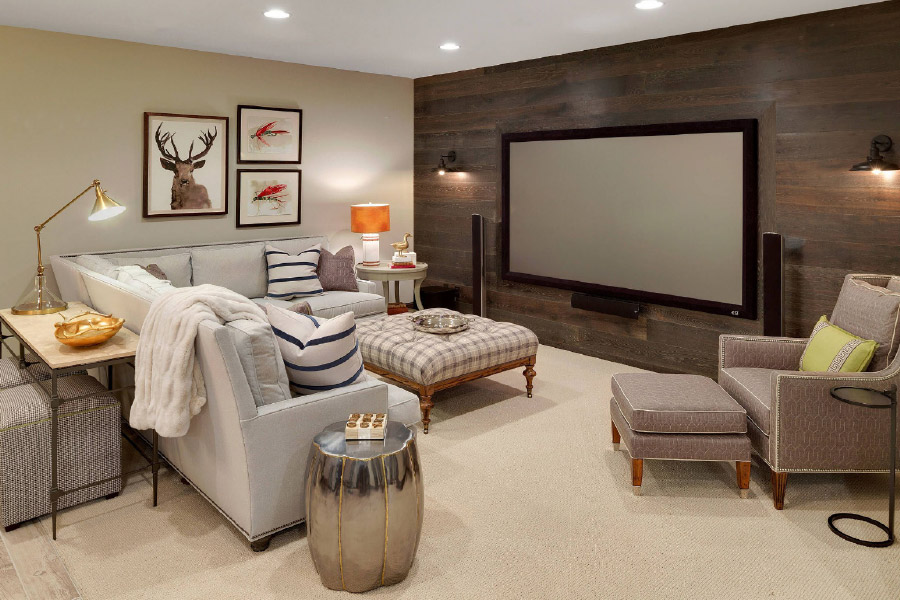 First, begin by moving your possessions offsite to get a clear idea of the space you're working with. Be aware that drywall, mudding, and sanding can get fairly messy – so you'll want to keep your hunny's unopened (and well-travelled) boxes safe…. This is the perfect opportunity to take advantage of flexible storage options. Places such as Ultrastor in Burlington can help!
Next, you'll want to confirm your basement is free of dampness and water. Any evidence of mould or seeping water can mean there are problems with your waterproofing. It's important to be sealed and dry before any drywall or flooring goes down. By hiring a professional such as Bosco Home Services, you can address any concerns and potentially save a costly repair in the future.
A basement reno is also the perfect time to think about other upgrades to your home such as the furnace and HVAC system. Do you want to include home audio systems and automation? It's best to install those before walls go up. Also, if you have future plans for main floor renovations such as kitchen and bathrooms, you may want to tackle those first. Before you close in the basement, all of these elements can be installed or roughed in.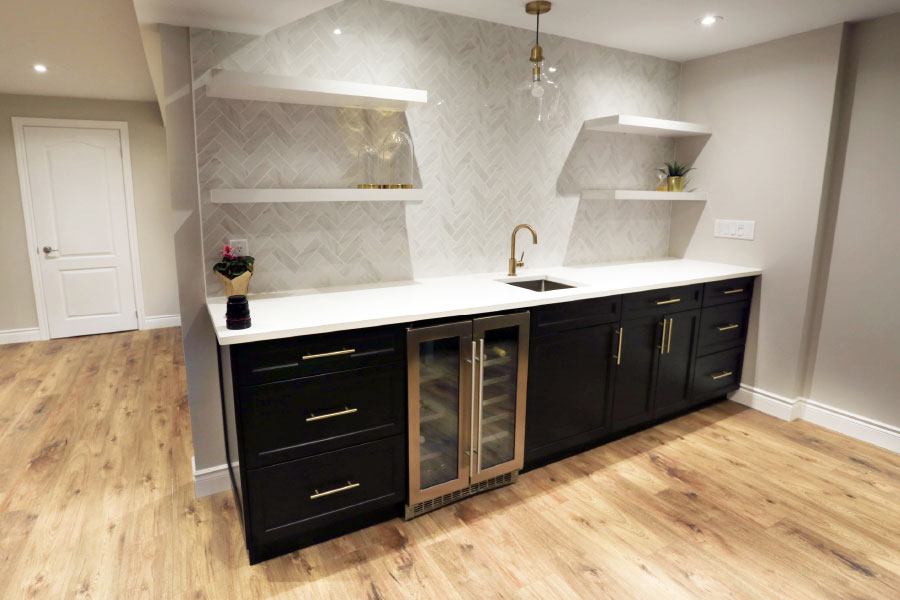 Other practical considerations to make your basement comfortable, warm, and dry are the addition of spray foam insulation and subfloors with a raised moisture barrier. Luxury vinyl plank flooring, with a wide range of colours and wood grains, is now a very popular choice; it's a highly durable and cost-effective solution for a busy family. Inspired Flooring in Burlington has a fantastic selection to choose from.
Whatever your wish list entails, if it is a full-scale finishing of a basement or an update to the shag carpeting, there are many ways to expand your home below ground. It all starts with a vision.
by  Deborah Richmond
Local Links
The Basement Store, Oakville
Basementstore.ca
Opal Bath & Design, Burlington
Opalbaths.com
Bosco Home Services
Mybosco.com
Ultrastor, Burlington
Ultrastor.ca