These days you don't need to go outside to get yourself a breath of fresh air. Prevalent in Japan for years, living walls quickly picked up popularity in Canada starting around 2010. Commonly found in shopping malls, office spaces, and now, even in homes, these green fixtures of art and vitality are an eco-friendly design trend that brings the outdoors inside.
Accurately named, a living wall – or green wall – is a self-sufficient vertical garden that attaches to the exterior or interior wall of a building. Not to be confused with ivy walls, living walls are installed and fastened directly to the wall. The plants receive water and nutrients from the structure they're grown in rather than ivy which grows directly from the ground. Besides the numerous benefits, living walls are easy to care for, especially with the support of local companies who specialize in the installation and plant selection.
"They're excellent for both residential and commercial applications," says Christopher Curtis of Living Wall Concepts in Oakville. "They provide so many mental and physical benefits, especially in places like schools, dentist and doctor offices, nursing homes and hospices. They're like living artwork."
Lighting is a vital component for the ongoing success of these installations, and Curtis suggests contacting a company like Living Wall Concepts that is well-versed in the process to help you choose plants and set up a maintenance schedule.
"Our system uses no hard water lines or pumps, so it's a little bit easier," he says. The size of the living wall can vary greatly, from two by two feet to 10 feet by 20 feet. Some plants that work well include Pothos, Peace Lilies, Janet Craigs, and Dracaenas.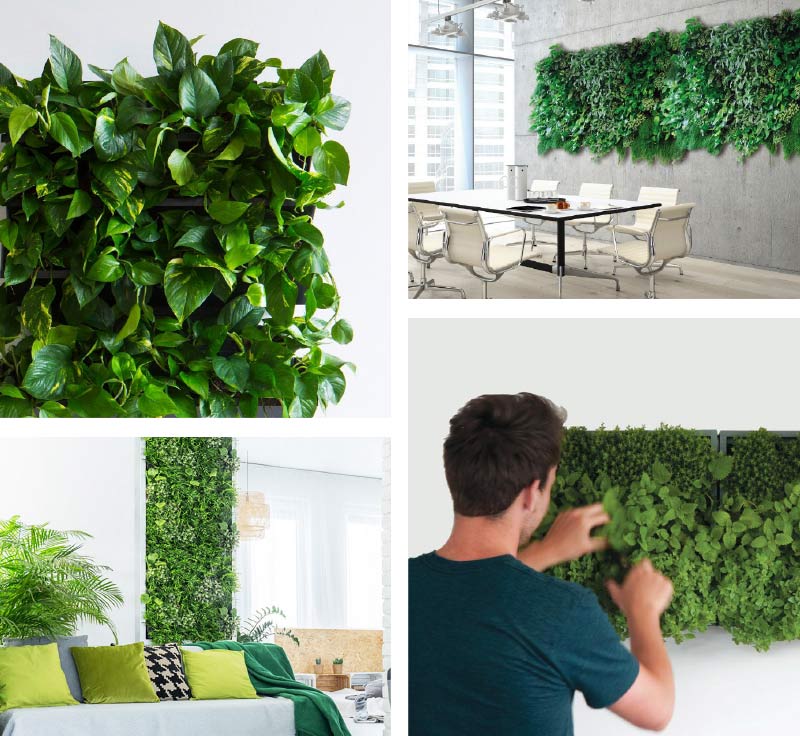 With a living wall, air purification and air quality are unparalleled, says Amanda Matfin of Greenteriors of Burlington. She adds space isn't an issue. Even apartments can handle smaller versions of the walls with as few as 10 plants.
"Herb walls are also a great idea, perfect for foodies who want fresh herbs year-round and through the harsh Canadian climate," she says. "The key ingredient is proper care, and that's something we as a company can do for the owner."
There are a number of professional buildings that can benefit from installations, she says, including restaurants, which are a popular place for living walls to enhance guests' experiences.
Aside from being aesthetically pleasing, living walls offer numerous health benefits.
"In places of care, like hospitals, living walls can greatly reduce anxiety, stress, and depression, and are proven to enhance and speed up healing," Amanda says. "There's lots of room for creativity." Amanda has seen the walls used as interior design additions, and acoustic or sound absorption trappings in high-traffic areas. Any chance to go natural and get rid of plastic, she stresses, is a good step forward.
Before any installation takes place, a consultation is needed to determine what space is available, the level of commitment and other requirements a customer may have. Then, you will need to find the best and most appropriate living wall system to ensure both aesthetics and top functionality are equally addressed, followed by irrigation and lighting needs, plant selection and desired maintenance. Finally, trained installation professionals will install your living wall system filled with specific plant species.
The key to success with any living wall is maintenance, says both Curtis and Matfin. Based on the species of plants selected for your living wall, it will require weekly, bi-weekly or monthly attention to ensure the plants thrive. Plants should also be monitored to ensure there are no damaging pests and that both the irrigation and fertilizer systems are working properly.
Beyond residential spaces, living walls can provide huge benefits to a work environment. When you consider just how much time you spend at your place of business, living walls can brighten even the dullest interior and improve employee retention by creating a positive and stimulating workplace. Research has found that blood pressure levels are lower when plants are present and they can also help combat fatigue, throat irritation, dry and itchy eyes, difficulty concentrating, dizziness, and irritability.
If you need any further incentive to bring a living wall into your life, consider these proven benefits: plants are shown to increase productivity, enhance test grades, reduce stress and anxiety, improve air quality, provide humidity regulation, and improve the general quality of life. People surrounded by living walls have been found to have improved mental and physical health, feel more content and relaxed, and are more creative in general.
This is a design worth getting behind. Breathe deeply, relax and enjoy your own little pocket of greenery.
by Allison Dempsey
Local Links
Living Wall Concepts
livingwallconcepts.com
Greenteriors
greenteriors.ca