On December 5th, Farm Boy, Ontario's fastest growing fresh food retailer announced that its popular fresh-market shopping experience has open in Burlington, Ontario. Located at 3061 Walkers Line, the new 23,938 square foot store is expected to create 120 jobs this year.

True to Farm Boy roots, the Burlington location will deliver local shoppers a world-class food experience with exceptional customer service and abundant selections of the freshest foods. In addition to plentiful farm fresh produce, the new store will showcase butcher quality meats, artisanal cheese, fresh baked treats and fresh dairy. Customers can also look forward to finding Farm Boy private label specialty products, locally made foods and organic and plant-based options.  

"Providing a world-class, fresh shopping experience is the heart and soul of our business," says Jeff York, Farm Boy co-CEO. "We've recently opened a new store in the nearby city of Oakville and have received multiple requests to expand in Burlington as well. We look forward to meeting our newest customers in Alton Village and will work hard to earn their business."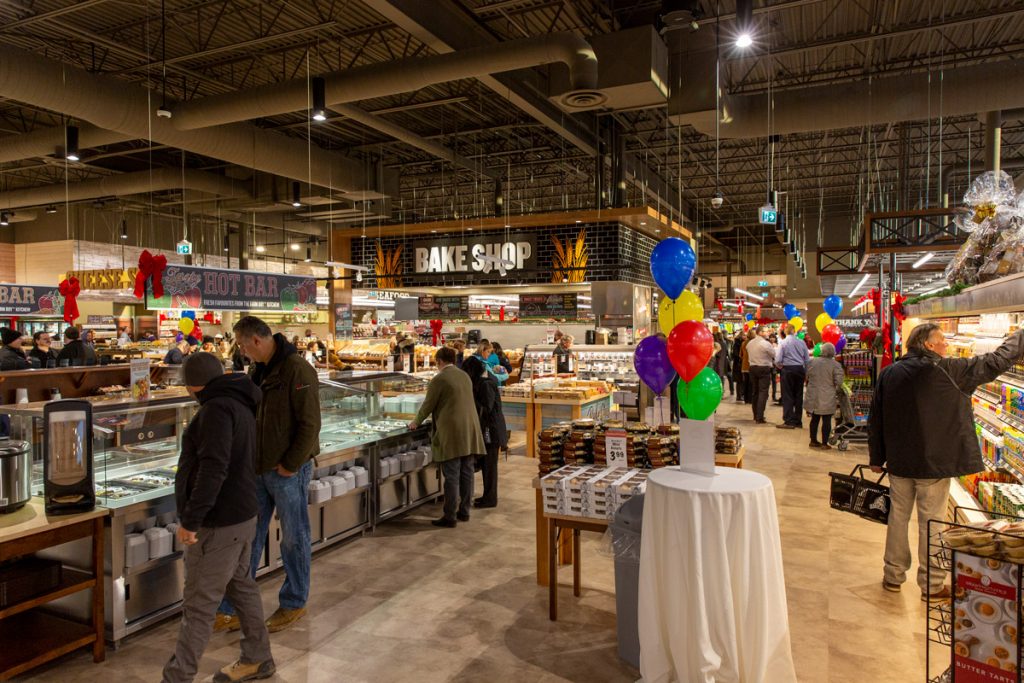 Burlingtonians and local workers looking to eat well on the run can expect fresh, made-to-order hot meals at the in-store grilling station that serves breakfast, lunch and dinner with daily features. All meals are available to take home or enjoy hot in the comfortably designed, Wi-Fi-enabled seating areas.

Farm Boy will celebrate its latest opening on Thursday, December 5, 2019 at 8:00 a.m. with local dignitaries including Burlington Mayor, Marianne Meed Ward, with a new ritual for the retailer: a cowbell ringing.  On Saturday, the festivities will continue with family-favourite activities such as face painting and special guest appearances, including Lulu the cow from 10:00 a.m. to 2:00 p.m.

Fast Facts:

Farm Boy carries hundreds of products made in Ontario including fresh produce, butcher quality meats, artisan cheese, fresh dairy and baked goods, sustainable seafood and fresh prepared foods
All Farm Boy stores feature Farm Boy Kitchens with wholesome, fresh salad bars and hot bars featuring premium lean proteins and Farm Boy chef-inspired favourites
Farm Boy stores carry many gluten-free, organic and natural food choices
Farm Boy makes many of their own products from scratch without preservatives or chemicals including fresh soups, handmade sausages, burgers and kebabs, ready to cook prepared meats
Farm Boy carries its own line of private label products with over 60 products (800 skus) in stores including popular frozen entrees, sides and sweet treats
Local suppliers have been a key feature of Farm Boy stores since 1981 and there are hundreds of local supplier products in store
Farm Boy Walkers Line is located in Alton Village in Burlington at the northeast corner of Dundas & Walkers Line. It will join the existing LCBO, Shoppers Drug Mart and Starbucks already established at this location.
About Farm Boy:
Ontario-based Farm Boy is well known for their unique fresh-market shopping experience. With legions of loyal customers, Farm Boy has grown from a small produce stand that began in Cornwall in 1981 to a 29-store household name throughout Ontario. With stores set to open in Burlington in late 2019 and St. Catharines in early 2020, the company has plans to continue its fresh market expansion in coming years.
For more information visit: farmboy.ca