As the holiday season approaches and temperatures begin to drop, many of us look forward to the comfort of a traditional home-cooked holiday meal – steaming golden turkey, with mash, gravy, and of course the family stuffing recipe. Many families have holiday recipes passed down for generations, creating special legacies and remembering those gone before.
Variations on timeless classics can shake things up a bit. In a new trend, we see creative cooks heading to the barbecue to make their turkey. A barbeque can cook a turkey to perfection (be sure to use a meat thermometer) and has the bonus of leaving the indoor oven free for other dishes. Try Florence Meats on Speers Road in Oakville for your holiday fare, from the turkey to ham, and the wide selection of sausages for stuffing. Dietrich's Meat and Denninger's are other great options. Or, you could consider farm-to-table fare by ordering straight from Hayter's Farm. Harry Hayter added turkeys to their product selection in 1948, and they have been supplying birds ever since. Hayter's is the only turkey farm in Canada that raises birds and processes them on-site, and their turkeys are free-range and raised without hormones.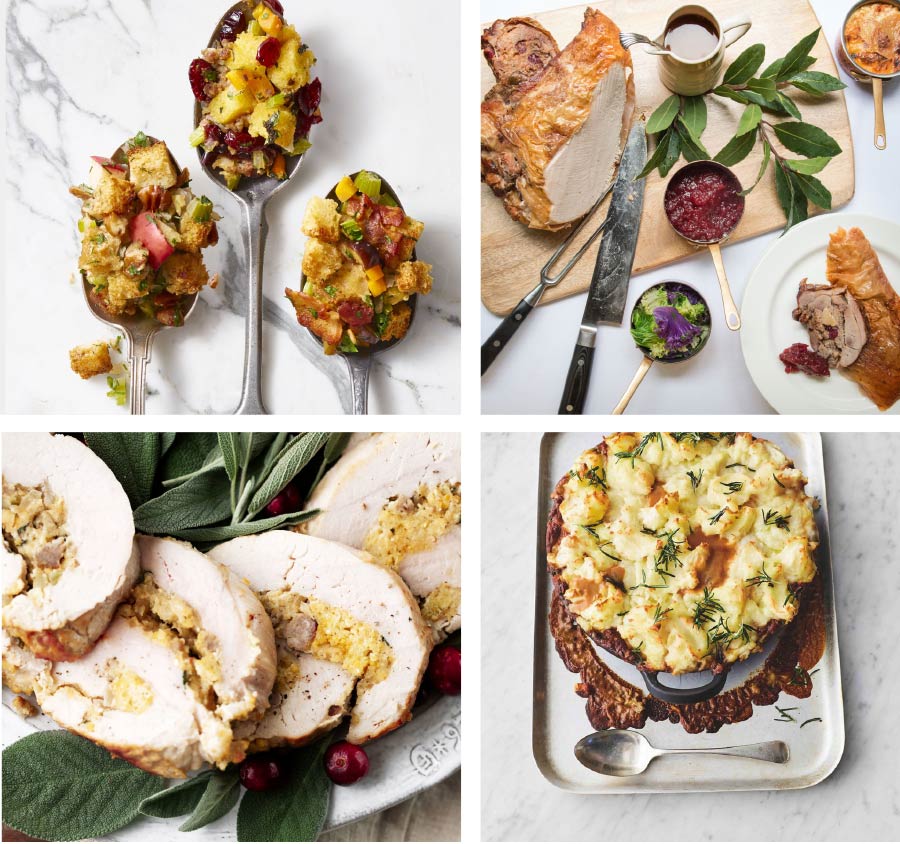 A turducken has also recently been gaining popularity. It is a deboned chicken stuffed into a deboned duck, stuffed into a deboned turkey. It's super easy to cook and carve, and looks visually impressive. There are also variations within the turducken theme from bacon-wrapped to stuffed with chorizo, or chicken and apple.
Turkey stuffing can vary greatly, usually with a base of bread, but flavoured with anything from chestnuts, sausage meat, caramelized onion, cranberry, apples, or mushrooms. Many people skip the turkey altogether and just enjoy stuffing as a main dish. A bacon-wrapped sage and sausage stuffing can be beautifully presented as a terrine and served with all the regular sides. The stuffing can be served in individual muffin cups, making for easy service. Cranberry and sage stuffing muffins look impressive and have the bonus of being crispy on top. Cornbread stuffing with sausage and fennel is another innovative option or even tortilla chip chorizo stuffing for a Tex-Mex version.
However, plant-based and vegetarian solutions are where the real innovation in the holiday meal comes about. The meal solutions are so delicious, even the most committed meat-eater will be salivating.
A vegan or vegetarian gravy can be made simply and slathered all over vegan mashed potatoes. Jamie Oliver has a wonderful gravy recipe using onion, carrot, celery, porcini mushroom, herbs, tomato paste, and vegetable stock amongst other things. This version is healthier and more flavourful than the traditional counterpart. An even simpler solution combines blended mashed potato, almond milk and dried porcini mushroom. Or, you could try something a bit more exotic with a base of coconut milk, dark soy, and garlic.
If your goal is a plant-based holiday meal, the ideas are endless. A fun idea is to stuff mini pumpkins with anything from vegan chili to roasted eggplant and serve them with their lids on for a huge visual appeal. Jumbo pasta shells can be filled with a lentil ragout and drizzled with rich tomato sauce and Parmesan, or a cheese alternative. There is even the option of a butternut "turducken" stuffed with eggplant and zucchini. Visually appealing, healthy, and cutting edge culinary cool.
Tofurky has become popular as a plant-based turkey option and will soak up all the delicious sauces and gravies.
There are so many options available that even the pickiest family member can be catered for – and there is so much fun to be had experimenting with new things in the kitchen. Dig in and happy eating!
by Jenny Ratcliffe-Wright
Local Links
Florence Meats, Oakville
Florencemeats.com
Dietrich's Meat, Oakville
Dietrichs.ca
Denninger's, Burlington & Oakville
Denningers.com
Hayter's Farm, Dashwood
Haytersfarm.com
Deboer's Poultry, Burlington
Deboersfarm.com
Organic Garage, Oakville
Organicgarage.com
Whole Foods Market, Oakville
Wholefoodsmarket.com