Barbecue (BBQ) sauce and hot sauce are a staple in Canadian summer cooking.  With shelves lined with endless rows of bottles to choose from, it is difficult to know what to choose.  From sweet and mild to hot and fiery, there is certainly no excuse to skip the sauce.
BBQ sauce is used as a marinade, for basting, topping, or as a condiment on various proteins or vegetables. It is thought to have originated in the southern states of the USA by settlers as early as the 17th century, and years later, recipes began to appear for a South Carolina Mustard Sauce (which came with German settlers).  The mustard sauce had a base of vinegar, salt, and mustard, but by the 19th century, sugar was added along with numerous other ingredients including Worcestershire sauce.
The first commercially known and bottled BBQ sauce came from the Georgia Barbecue Sauce Company in 1909, but it was 
Heinz in 1940 that really introduced the first mass-produced BBQ sauce.  In 1960, Kraft began to produce their Original BBQ Sauce which soon became the market leader.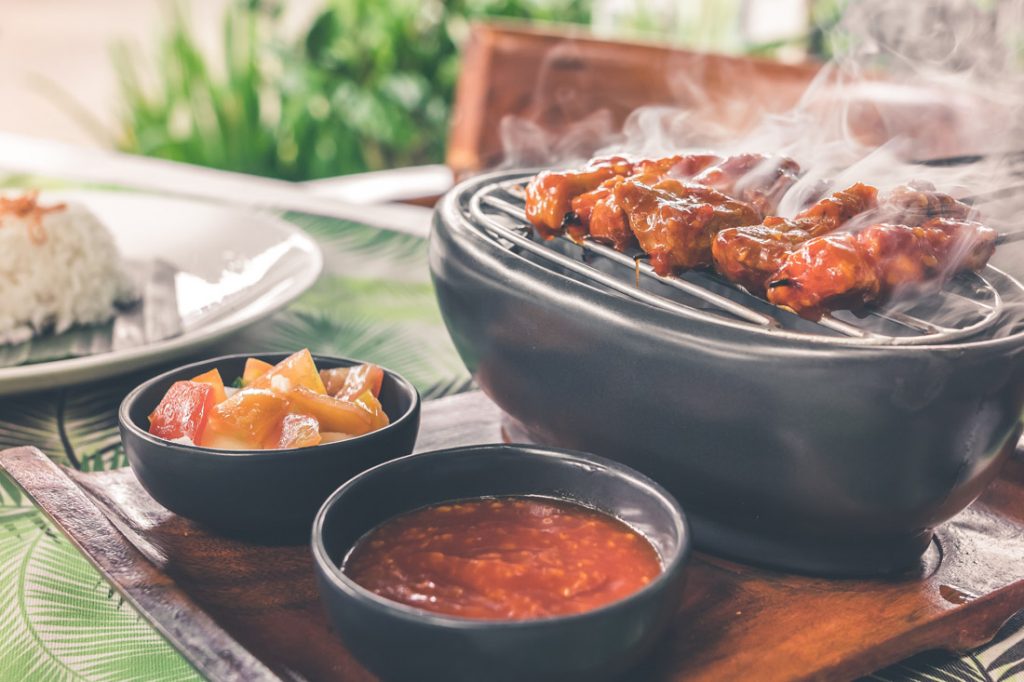 Hot sauce is a condiment made with a base of chili peppers and a million options of other ingredients. Both chili peppers and hot sauces can be traced back to 6,000 years ago in Mexico, and Central and South America. 
In the 16th century, the chili pepper plant was brought back to Spain and Portugal and it flourished in their local cuisine. While the first commercial hot sauce can be traced back to Massachusetts in 1807, it wasn't until 1868 that Tabasco, the first commercially produced and recognized brand, was launched.  Today, Tabasco is the 13th best-selling hot sauce in the USA.
Locally, there are many BBQ and hot sauce producers. 
Wicked Gourmet, created in 1998 by Barbara and Ellis Burrows, was crafted with one sole purpose: to bring a range of delicious gourmet products directly to the consumer.  Their corporate philosophy is simple, "You don't know how good our product is until you taste it!" 
Barbara and Ellis have a variety of products with different levels of heat, such as mild (apricot ginger); spicy/tangy (smoky BBQ); and hot (Fiery Jerk or Stupid Hot – which needs little more said about it). One of their best-selling sauces is their Rib Sticking Rib and Chicken sauce.  
Wicked Gourmet also produces rubs, condiments, dips, oils, and vinegar.
Barbecues Galore, with stores both in Oakville and Burlington, has a huge range of artisanal BBQ sauces and hot sauces – many with names that will make you giggle.  When asking store manager, Jeffery Wiersma, for sauce selection advice, his answer was, "That's like choosing my favourite child!"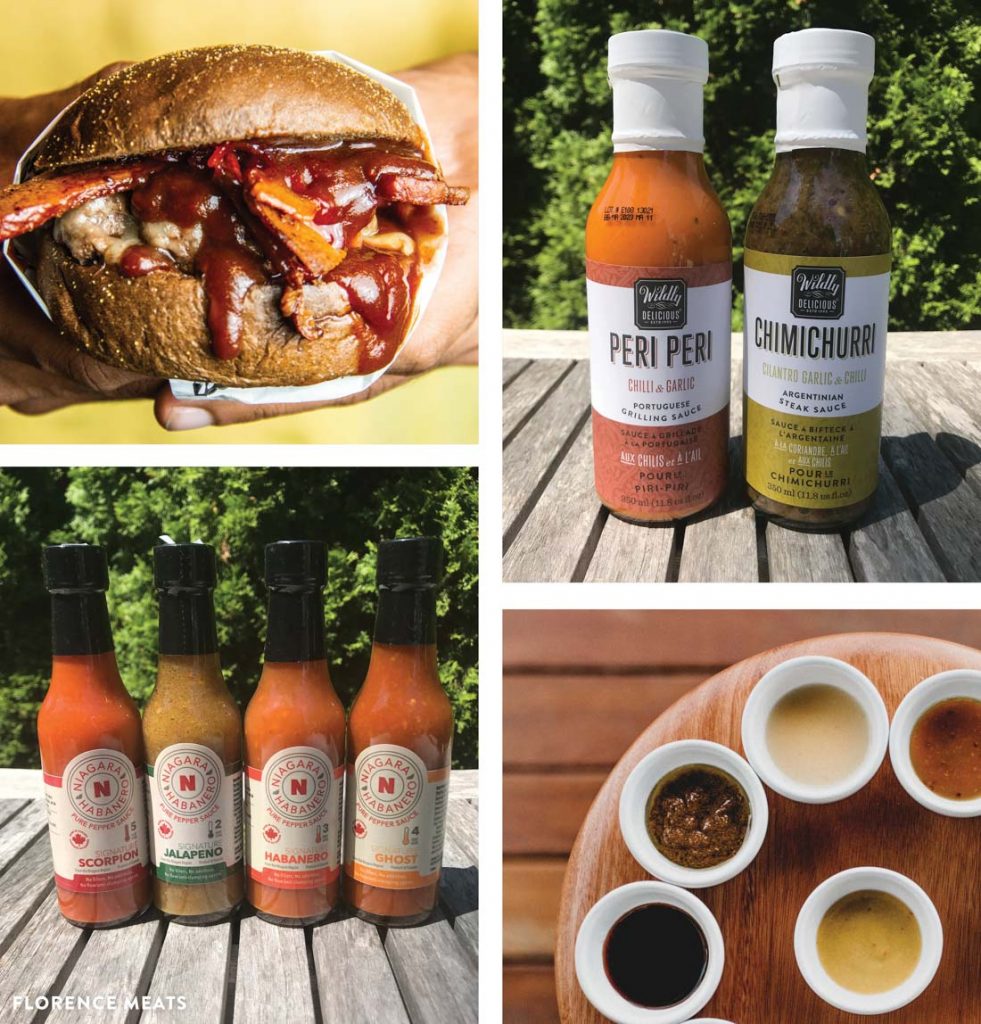 One of their best-sellers is Blue's Hog, which produces both mainstream flavours like Smoky Mountain or more gourmet variants such as Raspberry Chipotle.  There's also Kosmos Q which has an excellent sauce called Sweet Smoke – but their super popular one (available in a half-gallon) is called Competition Barbecue and it's not to be missed.
Dawson's Hot Sauce is based in Hamilton and all their products can be ordered online.  They have a hot sauce that is rated 10/10 in heat called XXX Ghost Pepper Mash…if you're brave enough to try it. Or they have milder sauces for the calmer palates.
Florence Meats on Speers Road in Oakville has a large range of sauces. Wildly Delicious, founded over 25 years ago by a Toronto husband and wife team, has a Peri-Peri Chili and Garlic Portuguese Grilling Sauce. Both are excellent as a sauce or marinade to make the most perfect and authentic Portuguese chicken. Their Chimichurri Cilantro Chili Argentinian Steak Sauce, crammed full of herbs and lemon, is also a winner and is particularly good on flank steak.
Philippens, located in Kitchener, is new on the shelves at Florence and is a small-batch product that uses naturally smoked and locally sourced ingredients. The Smoked Hot Sauce is a favourite, especially on pork back ribs.
Niagara Habanero sauces hail from Niagara but are inspired by Trinidad.  They produce pure pepper sauces in five different flavours, each with their own heat intensity, with Signature Scorpion being the hottest at a 5 out of 5. They are a perfect accompaniment to eggs, nachos, and meat.  
Wine Pairings for BBQ and HOT Sauces
It is generally best to choose something with full flavour to pair with these sauces, to combat the strong flavours of either smoky BBQ or fiery hot sauce.  On the other hand, with the days so hot and humid, we tend to look for lighter wines, so something in the middle might suit.  
On the light side, try the Chateau des Charmes Brut Sparkling from Niagara ($25.95). It is made from the classic Champagne varieties: Chardonnay and Pinot Noir and is delightfully fresh, served super-chilled. 
One of my favourite go-to white blends from Prince Edward County is the Norman Hardie wine, Calcaire.  It is an unusual yet genius blend of Chardonnay, Pinot Gris, Riesling, Sauvignon Blanc and Gewürztraminer. It is a great patio wine served on
its own or goes with almost any food because of its 
fruity flavours – $23.20 from  LCBO or the farm directly (they conveniently deliver to your door).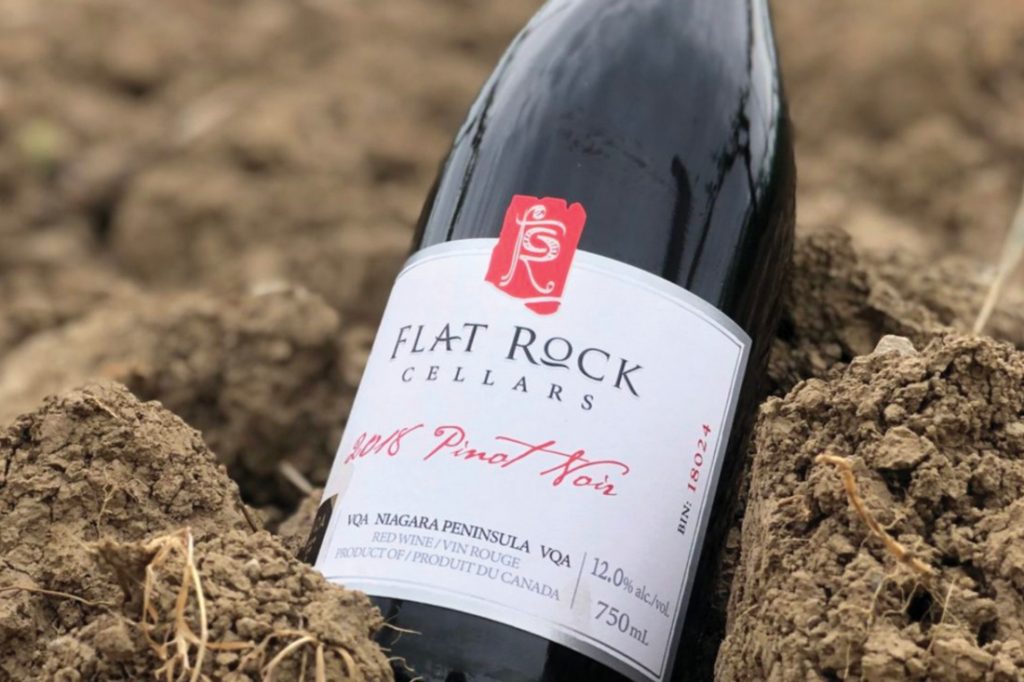 Another great and versatile wine is the Flat Rock Unplugged Unoaked Chardonnay ($17.95).  It will please those who don't like their Chardonnay oaky and is fresh, zesty, and easy to pair with BBQ food.
For a deliciously light summer red, try the medium-bodied 13th Street Burger Blend Gamay Pinot Noir ($14.95). This wine is best if served slightly chilled. 
It is fruity enough to combat most sauces and not too heavy for a hot evening. Now all that is left is to chill the wine, fire-up the BBQ and enjoy the summer.  
Local Links
Wicked Gourmet – wickedgourmet.ca
BBQs Galore – barbequesgalore.ca
Florence Meats – florencemeats.com
13th Street Winery – 13thstreetwinery.com
Flat Rock Cellars – flatrockcellars.com
Norman Hardie – normanhardie.com
Chateau des Charmes – chateaudescharmes.com