There is nothing quite like the tempting aromas that waft from a French patisserie or bakery: fresh butter, flaky croissants, and tempting baked goods. When traveling in France – an ideal hub for foodies – it is important to know your bakery terminology (especially if you're looking for a crispy croissant). A boulangerie is a bakery that sells bread, while a patisserie is a bakery that sells pastries.
In some countries, using the word patisserie in the name of an establishment is a legally controlled title reserved for bakeries that employ a licensed pastry chef. A pastry chef has to have completed a lengthy training process, including an apprenticeship and a written exam.
The history of pastry making is often disputed. Many people claim it started with the 13th Century baker, Régnaut-Barbon, who rolled sweet patisseries similar to waffles called oublies.  Puff pastry or millefeuille was created in 1540 by Popelini. Others say the sweet treats came from Italy with Queen Marie de Medici, who introduced ice cream and macarons to France after marrying King Henri IV in 1600.  
But it was in 1686 when French café culture really started with the opening of the now-famous Le Procope, the first Parisian café that served coffee, chocolate, and ice cream. In the early 1800s, Marie-Antoine Carême popularized the millefeuille, the multilayered pastry filled with cream and custard and croquembouche, a caramel-enrobed tower of cream eclairs, now popular at weddings.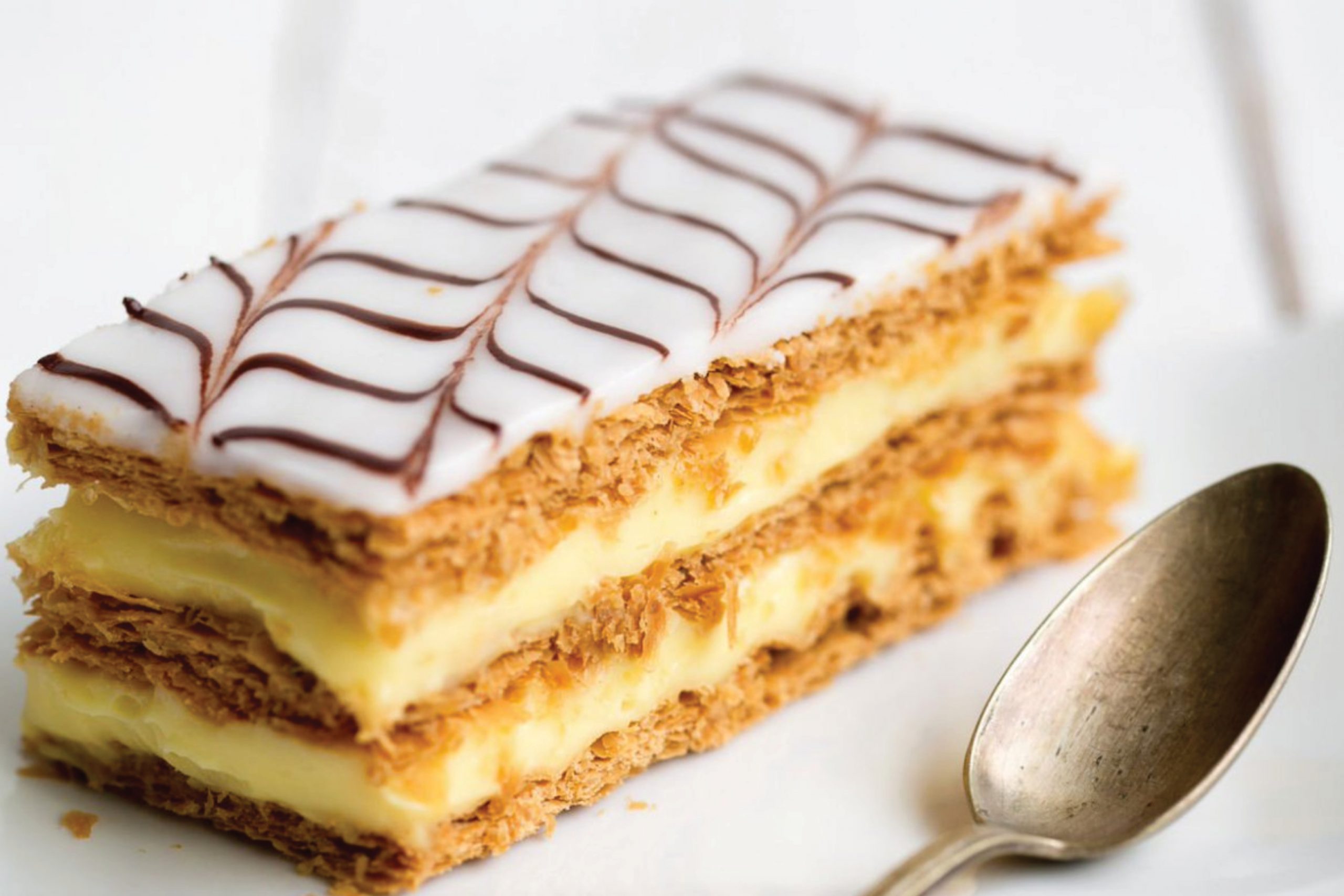 When visiting Paris, it's worth stopping by various signature patisseries to try their specialties. 
Arnaud Delmontel is famous for its pain au chocolat, the traditional flaky pastry with a block of bittersweet chocolate rolled into its centre. The chocolate eclairs at Yann Couvreur are worth trying for a less traditional approach to patisserie.
For a French sensation without leaving our borders, try Patisserie D'or in Glen Abbey in Oakville. Their French pastry chef is always creating exotic cakes and pastries. Their croissants are light and flaky and come in a variety of excellent flavours including plain, chocolate, and almond, and their raisin danishes (pain au raisin) are amazing too. There is a wide selection of macarons, tarts, and French desserts. And at Christmas, they have a specialty millefeuille. It is worth visiting their Instagram page to see what is new and enticing.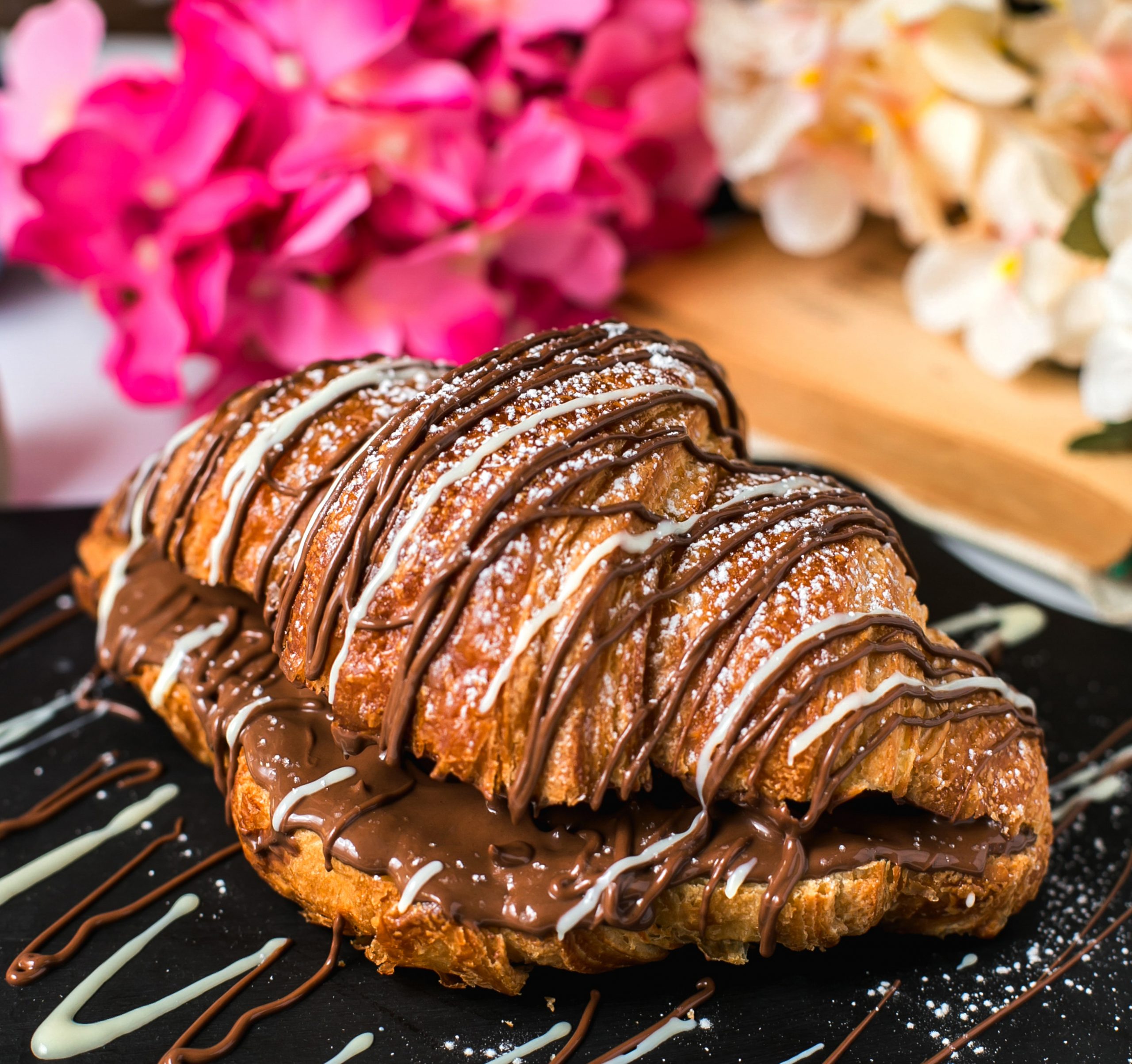 Tradition de France on Lakeshore Road in Oakville has a heritage of French bakers and pastry chefs dating back to 1922. There is always a lineup outside this bakery – proof of its popularity and quality. Their range is extensive and inviting like Le Saint-Honoré in Paris. Try their vanilla puffs or éclairs with interesting flavours from peanut butter, raspberry chocolate, or Nutella. Or try the strawberry vanilla millefeuille which they are famous for. They also make a nostalgic swan cake, symbolic of the chef's father. When the chef's grandfather owned the bakery, it was his father's favourite cake and was always served on Sunday. This choux pastry is filled with vanilla cream in the shape of a swan.  
Maison Delice on Kerr Street in Oakville offers bespoke baking for special occasions. They have an Eid cookie collection, and even did a special range of cookies in the shape of maple leaves and pyramids for a Canadian-Egyptian wedding. Try the savoury quiches filled with chicken and mushroom and made with puff pastry. The dramatic Saint Honoré cake is comprised of millefeuille and eclairs together in this signature cake, filled with cream and decorated with spun sugar.
Croissant Express Bakery on Lakeshore Road in downtown Oakville specializes, as the name suggests, in croissants. Choose between plain, almond, or chocolate, or indulge in one of many deliciously prepared meals. Don't forget to pair your baked treats with a Nutella frappe on a hot day. They also produce cookies for special occasions. On Canada Day, they had a wide selection of patriotic cookies, and they baked dad-friendly cookies for Father's Day. 
Saving Thyme in Burlington produces delicious French pastries thanks to Chef Alexandra's expertise. She is famous for exquisite quiches with a creamy custard in a traditional pâte brisée, and delicious traditional fillings such as leek and Gruyere. She also makes macarons, croissants, choux pastry and tarts, and artisanal French bread such as brioche.
So – if a trip to France is not on the cards this year, don't despair!  There are plenty of excellent options nearby to offer you armchair travel and exquisite indulgence.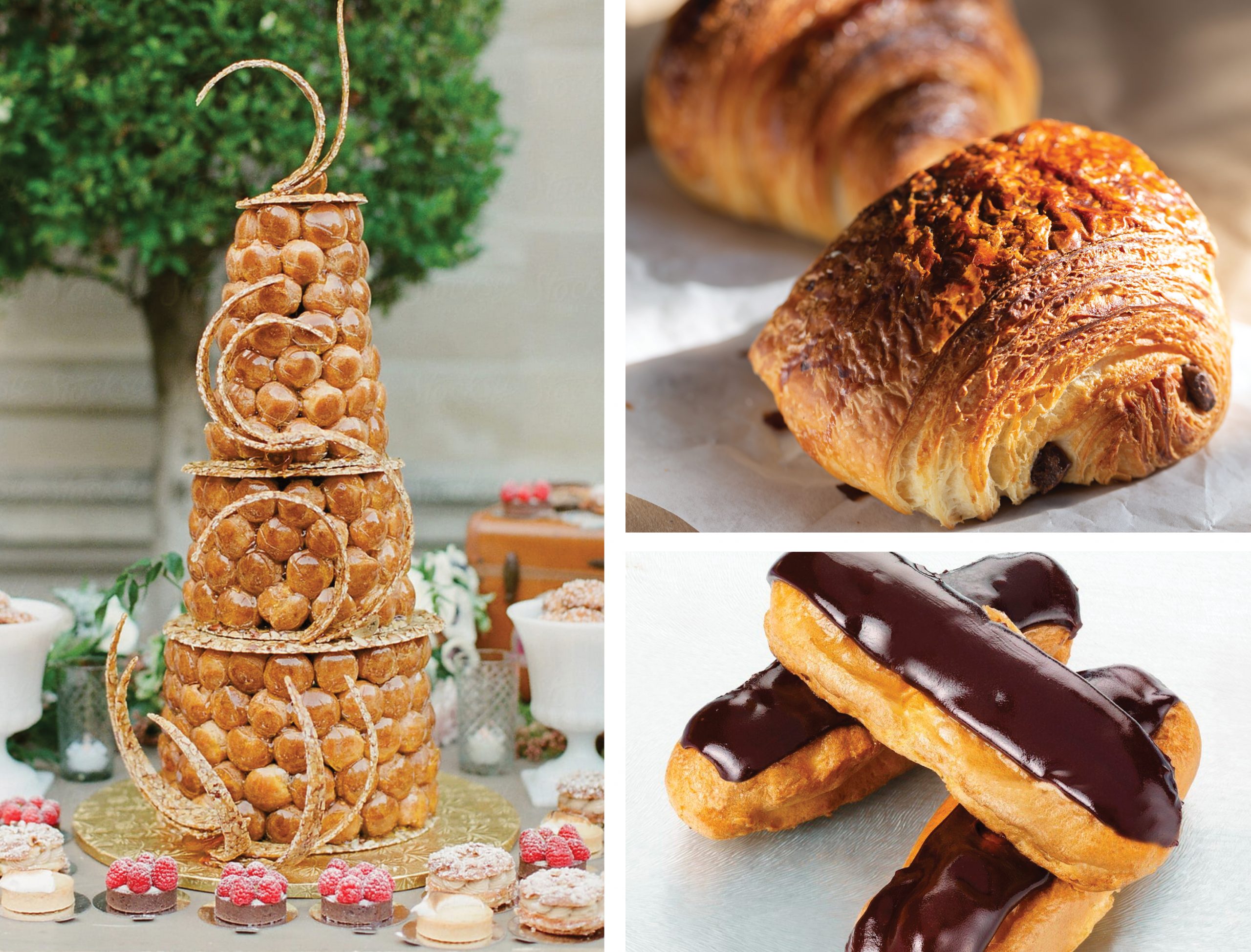 Local Links

Patisserie D'Or, Oakville || patisseriedor.com


Tradition de France, Oakville || @TraditionDeFranceOntario
Maison Delice, Oakville || @maisondelice
Croissant Express, Oakville || @CroissantExpressBakery
Saving Thyme, Burlington || Savingthyme.ca