It doesn't always take a full-scale renovation to breathe new life into your home. Sometimes, all you need is a single wall and a vision. A feature wall can add style and character to any space, and creating one doesn't have to break the bank. Just choose a focal point and run with it! This design feature works particularly well in living and dining rooms, but you can add a feature wall to a bedroom, a bathroom, or even an entryway. 
Creating a feature wall in your home can be as simple as using a complementary shade of paint to create contrast, but you won't regret going the extra mile. Whether you DIY or hire a pro, here are five ideas to inspire you.
Wallpaper
Once considered a relic of decades past, wallpaper has come a long way in recent years. There are beautiful, high-quality wallpaper options available in a variety of styles and colour palettes. Go for a bold floral or tropical foliage pattern, something subtle and elegant, a contemporary look, or a charmingly vintage take. Choose a complementary paint colour for the remaining walls and suddenly, you've got a boutique hotel vibe at home. Southside Paint and Wallpaper in Milton has an exceptional selection of wallpapers to choose from. Ask their design team for recommendations — they're always happy to help!
Reclaimed Wood
Looking for a feature wall option that's warm, inviting, maintenance-free, and extremely durable? We've got you covered. "Reclaimed wood has a ton of character," explains the team at Loft Doors in Burlington. "Each piece is unique and full of rich history." 
While they're commonly installed in living rooms and other common areas, a reclaimed wood accent wall works in any part of the house — even on the ceiling! "It's sure to be a conversation piece," Loft Doors asserts. Plus, it's a great way to repurpose those beautiful old planks of wood.
Stone or Tile
From natural stone to beautifully patterned porcelain tiles, just about anything you can use as flooring can be turned into a feature wall. The team at Inspired Flooring in Burlington suggests coming into their showroom to see what's available and get expert advice for your project. It helps to touch and feel your options and get a good look at the materials in person. Spanish tile is a popular product but you could also use contemporary geometric tiles, sleek glass tiles, or a gorgeous piece of marble. Some clients like a herringbone or chevron tile pattern while others prefer traditional lines. And if you have a fireplace to work around? Even better!
Panels, shiplap, or wainscotting
Wainscotting is ideal in a home with a classic or transitional aesthetic, and shiplap is perfect if you love a beachy or farmhouse design. You may also consider adding some custom paneling to your home for a luxurious, timeless take on an accent wall. Think of it as a low-key coffered ceiling for your walls — it's an elegant way to add visual interest while maintaining a monochromatic look. A local contractor or millworker should be able to provide recommendations and a quote for this type of design element.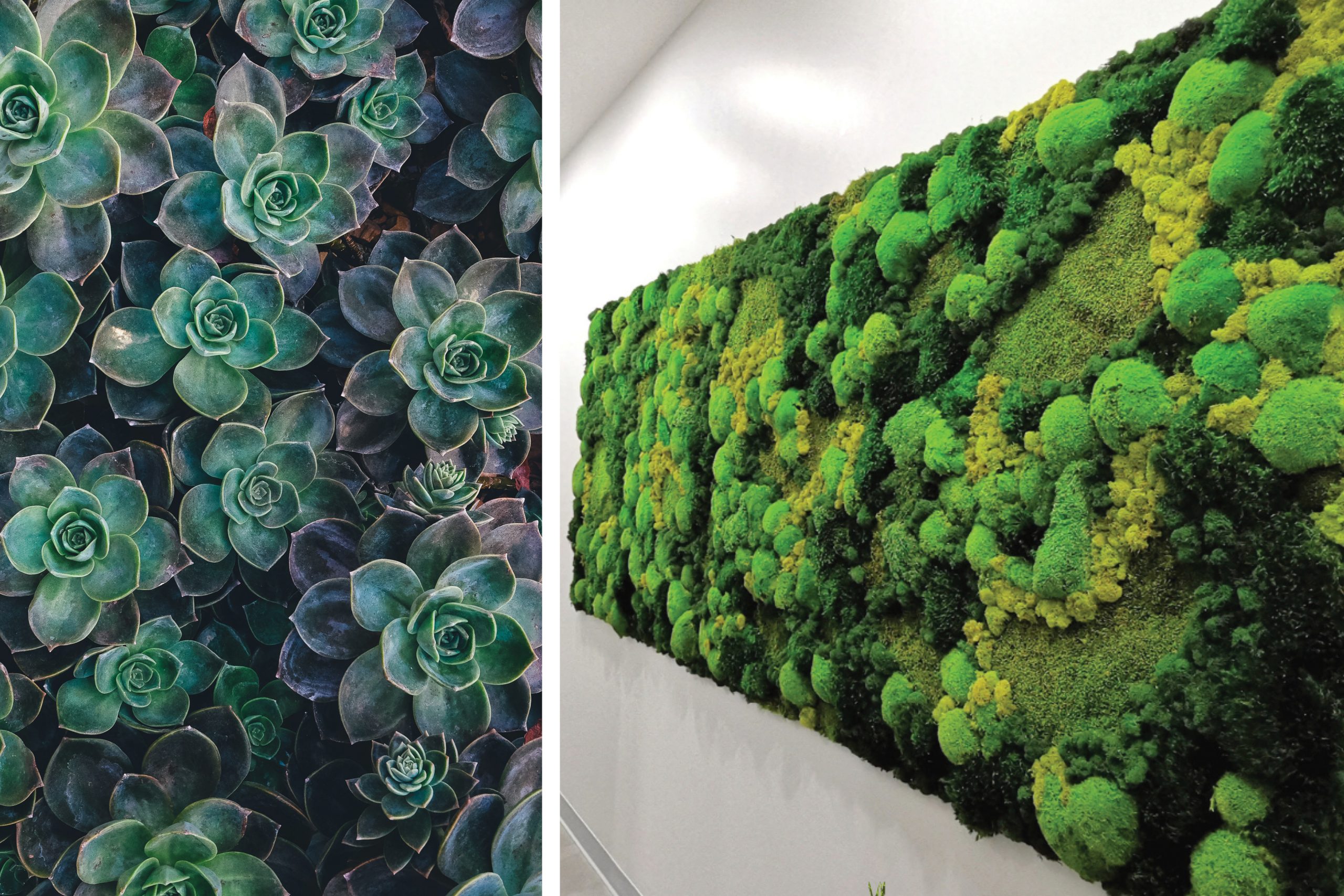 Living Walls
A living wall is an extraordinary design element that makes any space pop. This feature involves adding greenery to the wall itself, creating a lush look and feel that's truly unique. There are two common design options, says Hasmig Royan of Green Garden Succulents. Most clients choose to go with a preserved moss wall as it looks amazing and requires zero maintenance. "There are all sorts of different designs, colours, and textures you can work with," Royan explains. "It's very versatile." Because the moss is preserved, it doesn't require sunlight, water, or caretaking — and it looks spectacular.
A second option is a true living wall featuring a variety of succulents, ferns, and other tropical plants. This type of wall requires both sunlight and water (it really is alive!) so it's not nearly as low maintenance. But if you're up for the task of tending to it, a living wall makes an unforgettable statement piece! 
Local Links:
Southside Paint and Wallpaper
Loft Doors
Inspired Flooring 
Green Garden Succulents