There's a land – not too, too far from here – draped in fluffy white snow. It's a place no one has ever seen before. At least not outside of the movies. The reason? It's absolutely pure magic.
This whimsical wintery land is home to the man who makes Christmas dreams come true. With the help of his elves and his seven reindeer, children around the world innocently allow their imaginations to take flight with the excitement of Santa Claus.
This year, the elves have been busy preparing toys – but what you may not know is that Santa has called upon the local shops of our community to help fulfill Christmas wishes. Whether you're shopping for a local charity or someone special on your list, our local toy stores have unique gifts that come Santa-approved. Check them out! 
Simply Green Baby
67 Bronte Road, Oakville || Simplygreenbaby.com
A local favourite, Simply Green Baby is a one-of-a-kind shop in our area. With a wide selection for babies, toddlers, and even bigger kids, they have everything from apparel, toys, books, and bath needs. Simply Green Baby makes shopping green easy and affordable. They follow a strict set of criteria when choosing products for their store, including the materials and packing, as well as the history and background of the manufacturers. Not only are their products adorable and durable, but they're something you can feel good about purchasing, too.

Chickadee Kids Co.
2178 Mountain Grove Avenue, Burlington || Chickadeekidsco.com
This family-owned toy and bookstore is the perfect place to find gifts for kids ages 0-6. Founded by Lisa Evans after she pivoted her play café during the pandemic, this unique children's store specializes in toys with a purpose. If you're looking for a great non-candy advent calendar, this is the place to find it. Chickadee is the only store in Burlington with the Haba wooden advent calendar, filled with beautiful wooden farm animals – truly something to be cherished. Lisa carefully selects all of her toys, inspired by her two children ages 1 and 6. Chickadee offers shipping across Canada, and complimentary gift wrapping.

The Learning Tree
1450 Headon Road, Burlington || Learningtreecanada.com
Owned and operated by passionate local educator, Joni Bowman, The Learning Tree carries high-quality educational toys, puzzles, games, resources, and books. Every employee at The Learning Tree is a certified teacher which really sets their staff apart from the rest. They have a wonderful selection of materials for teachers, special needs resources, and developmental toys and games for all ages. At The Learning Tree, you can be sure that you're finding a gift that is not only fun but is also educational. 
Teachers Supply Outlet
461 North Service Road West, Oakville || Teacherssupplyoutlet.ca
Family-owned, Teachers Supply Outlet has been a community favourite since 1993. Their Oakville location is over 6,000 square feet and supplies over 50,000 toys, books, and educational resources – and owner Ali Shallwani knows the ins and outs of every single one. Looking for the perfect teacher gift? Check out their teaching resources, classroom decorations, or flashcards. They also have a wonderful selection of educational games, puzzles, workbooks, arts and crafts, and building toys for the future engineer in your family.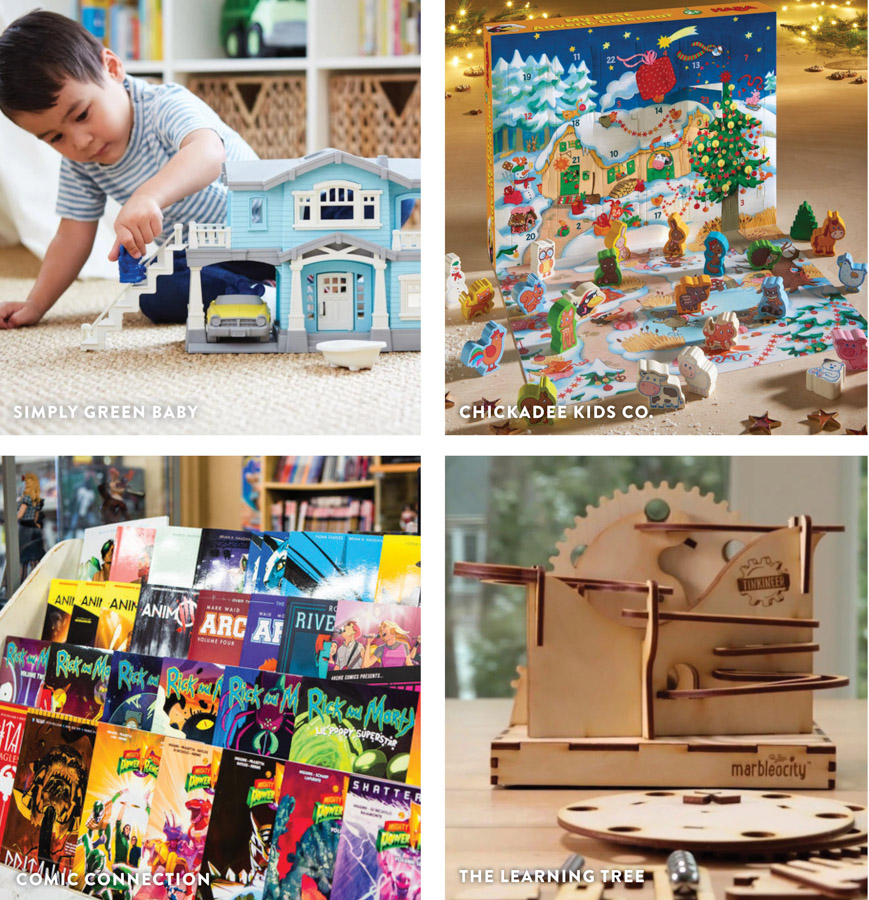 Comic Connection
490 Speers Road, Oakville  || Comicconnectionoakville.com
Serving Oakville for over 20 years, Comic Connection has become the leading spot for comic books, trade paperbacks, hardcovers, and graphic novels in Southern Ontario. With over 100,000 comic book issues available, there is no doubt you'll be able to find exactly what you're looking for – and if you don't, Comic Connection will find it for you. Not only a comic hot-spot, Comic Connection also carries a wide selection of CCG gaming cards including Pokemon, Yu-Gi-Oh! and Magic The Gathering – with boxes, packs, and singles from many sets available. While you're shopping for the comic-lover in your family, you'll also find plenty of toys and action figures for someone else on your list.