The original fondue – Swiss cheese fondue – was said to have originated in 18th century Switzerland by farmers in mid-winter.  They needed to stretch their food supplies over the cold season and so developed the dish of fondue which deliciously used up any stale bread, with leftover cheese and a splash of liquor. 
Modern-day cheese fondue, made traditionally, is very simple and does not really differ much from the original: simply begin by rubbing a clove of raw garlic on the inside of a medium-sized cast-iron casserole. Combine grated Emmentaler cheese and Gruyere with white wine, a squeeze of lemon juice, and a touch of cornstarch, and heat until it is melted.  Finish off with a dash of Kirsch (cherry brandy) and a grind of pepper, and your fondue is ready to serve.  A perfect romantic dinner for two or a rowdy crowd-pleaser, it is that easy.  For dipping options, the list is endless.  Classic accompaniments could be; grilled or toasted bread chunks, or even just fresh crusty bread, pulled apart at the table. Tortilla chips and crackers work well for a lighter option.  Boiled or roasted baby potatoes or any other vegetables are delicious.  Raw or blanched cauliflower or broccoli are great, or raw mushrooms are also an option. If you like a heavier meaty option, meatballs or chunks of seared tenderloin would be delicious, or even some poached shrimp.  For a sweeter variation, pear or apple chunks are a great alternative.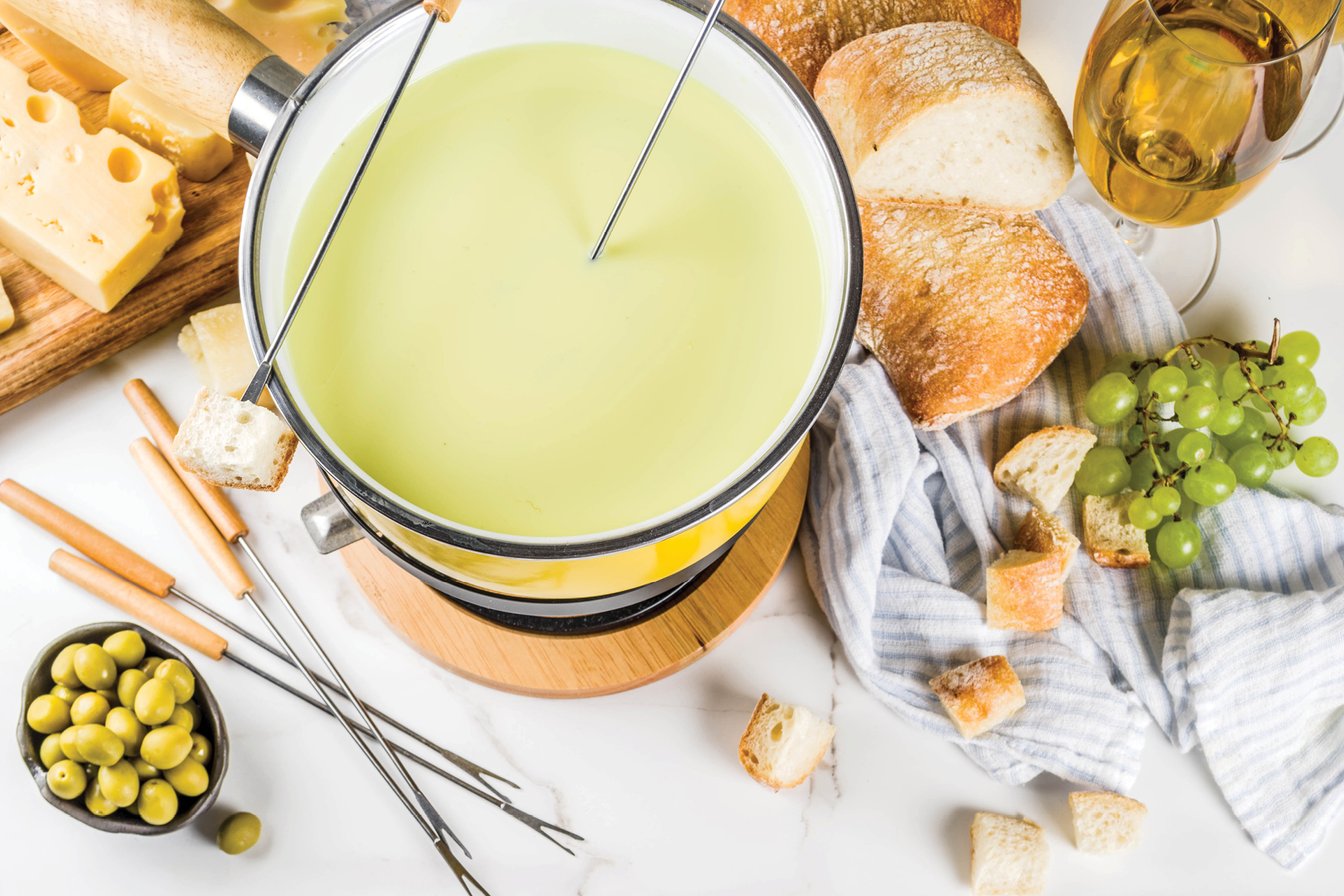 Fondue Bourguignon is another popular style of fondue.  It does not hail from Burgundy as the name would suggest.  It is said that it was brought to the US by the Swiss-born restaurateur Konrad Egli, owner of Swiss Chalet in the 1950's.  Apparently, the dish originated in Switzerland with farmworkers cooking their lunch in the fields in the winter, bringing a pot of oil to cook their meat over a fire.  Since then, through Egli and embellishments of his version, there are so many ways to enjoy this simple meal. 
Rule number one is to make sure your pot is very stable as the spilling of hot oil could be a very painful way to end a party.  Traditionally beef tenderloin was used for this style of fondue, but things have now progressed to all sorts of protein including chicken, lamb, duck, seafood, or tofu.  The sauces are what make the fondue really fun, and they are often served on a swiveling Lazy Susan, so that guests can easily reach each sauce. Bearnaise sauce (a sauce of butter and eggs flavoured with tarragon and shallot) is always a classic. Other popular choices are sour cream mustard, horseradish cream, herb butter dipping sauce, or barbecue. For a healthier version of this fondue, one can substitute the oil with broth.  Any type of broth can be used and it can be flavoured with garlic and herbs or just served plain.
To finish off a meal, chocolate fondue is a real treat. Any type of chocolate is mixed with cream and then melted.  A flavoured liqueur can be added for a different spin.  Amaretto or Bailey's work well or you can try some peppermint schnapps for a candy cane twist.  The dipping options are as decadent as you would like. Biscotti, marshmallows, fruit, pretzels, cookies, Rice Crispy squares, and pieces of pound cake are all very popular.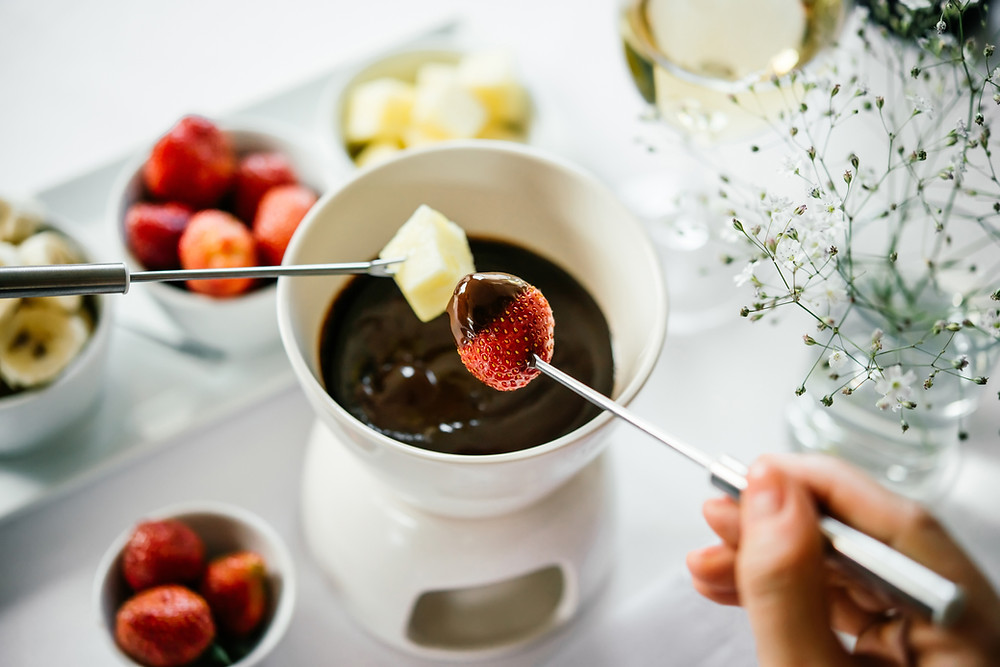 Of course, consideration should be given to what wine pairs well with fondue.  In the cold winter months, Icewine is on our minds and it is the perfect match for both cheese and chocolate fondue. Icewine is made by leaving the grapes on the vine for the winter so that the water in the grapes freezes.  The frozen grapes are quickly picked and pressed so that the frozen water in the grapes remains behind and the concentrated juice that does flow, is very high in sugar.  This is then made into a sweet and luscious wine.  Try these decadent sticky gems, served well chilled.
Trius Vidal Ice Wine ($64.95) has flavours of tropical fruit with a tangy citrus finish.
Inniskillin Vidal Ice Wine ($44.95) put Canada on the Icewine map by winning the 1989 Grand Prix D'Honneur at Vinexpo. It has floral aromas and hints of mango.
Cave Spring Riesling Icewine ($39.95) from the Riesling experts, is exceptional with notes of apple, minerality, and peach pie.
Henry of Pelham Red Icewine ($39.95) is an unusual blend of red grape (Cabernet Franc) and white grape (Vidal) and has delicious flavours of strawberry and raspberry.
Southbrook Organic Icewine ($37.25) offers notes of toffee, honey, and mango.
With these delicious wines on hand, and a fondue pot at the ready, your celebration is sure to be a great success.