Picture this – your loved ones are coming over for dinner. It could be a special occasion. Maybe a birthday or a celebration. Your brother got engaged. Your best friend landed her dream job. Maybe they're coming over simply to huddle around good company and even better food. Whatever the reason, you pull out your best. You drape the table with a crisp white cloth, lay place settings, and add an arrangement of soft pink roses. You're set on making your Nonna's famous ravioli (which pairs perfectly with your marinara).
With everything prepped, you wait for your guests to arrive.
This encapsulates the love, mission, and mandate – the heart – of local restaurateurs. Each owner has carefully crafted their menu, often inspired by flavours from their childhood. Then they package it together with atmosphere, music, linens, and staff to bring you a unique experience. An extension of their home.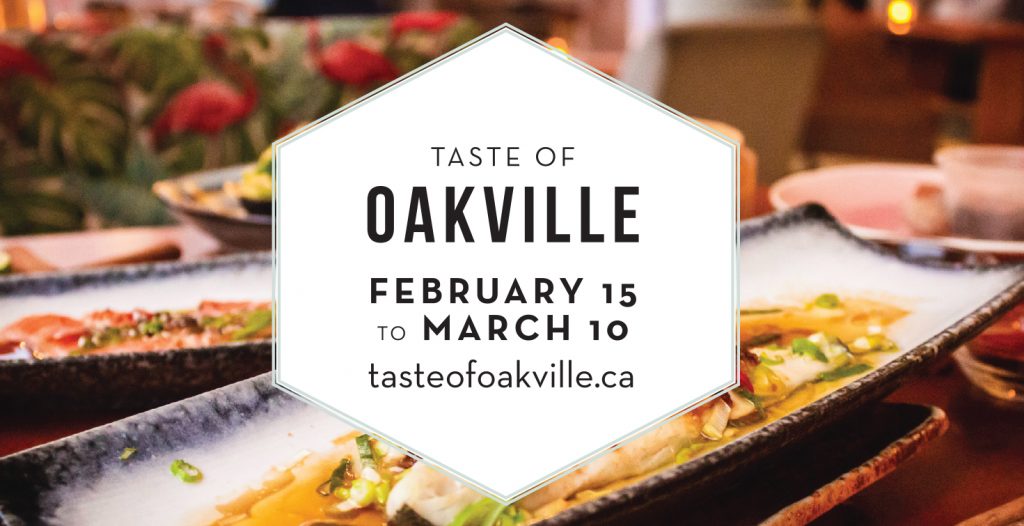 This February (and again in the fall), select restaurants in Oakville and Burlington are taking part in a culinary event you don't want to miss. Local restaurants will offer Prix-fixe lunch and dinner menus featuring unique or popular items. Prix-fixe menu is a collection of predetermined menu items presented as a multi-course meal at a set price, offering value and/or specialty dishes apart from the traditional menu.
We all know the pandemic has been hard on local businesses, especially the restaurant industry. But after the roar of the holidays, the months leading up to patio season can be fairly tough, too. The Taste programs are a great way to support your local hospitality sector and enjoy delicious meals at an exclusive price point. There's no better time to try a Taste of Oakville, a Taste of Burlington, and a taste of something new.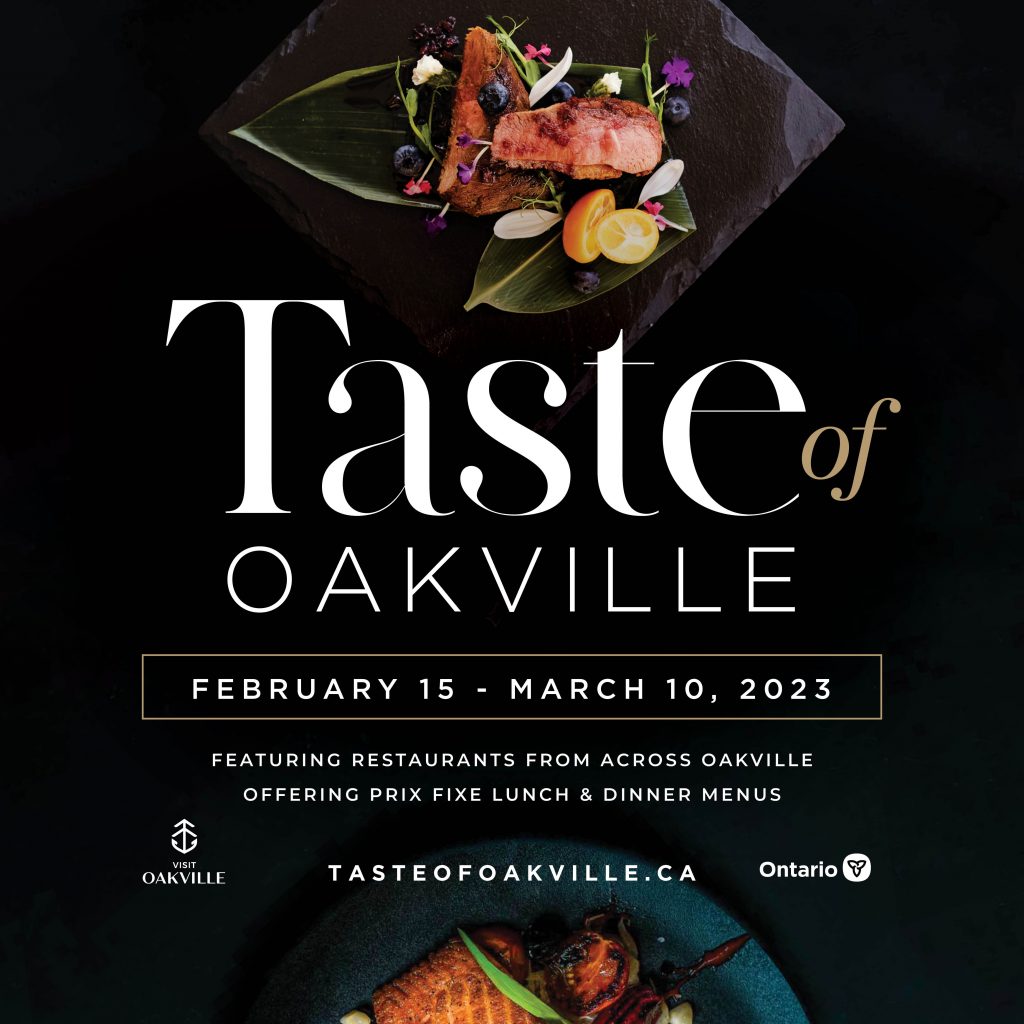 Taste of Oakville has expanded in recent years, thanks to funding from the Ministry of Tourism, Culture, and Sport. Visit Oakville is now running the program and this has enabled restaurants from all parts of town to participate. In 2022, Taste of Oakville partnered with 35 beloved local restaurants. With new restaurant openings and the growth of the program, 2023 is expected to be one of the largest Taste events Oakville has seen.
Kicking off on February 15th, the event will take place over three weeks in Bronte, Downtown, Kerr, and across Oakville. Popular restaurants like Piano Piano, Paradiso, Jac's Bistro, and The Mermaid will offer exclusive prix-fixe lunch and dinner menus for dine-in and take-out. But you'll also find a fun mix of pubs (like The King's Arms), bakeries (such as Sugar Suite Cakes), Pizzerias (Dough Box, The Boot Social Pizzeria), family restaurants, ethnic restaurants, and even gluten and vegan options (Boon Burger, Community Restaurant). There is something for everyone: family night, date night, and even lunch on-the-go.
New this year is live music! Taste of Oakville has partnered with ten local musicians to perform in restaurants every Tuesday during the event. A full list of live music events and each restaurant's Prix-fix menu will be posted on the Taste of Oakville website as the event draws near. We can't wait to see what's on the menu for this year!
Find out more at www.tasteofoakville.ca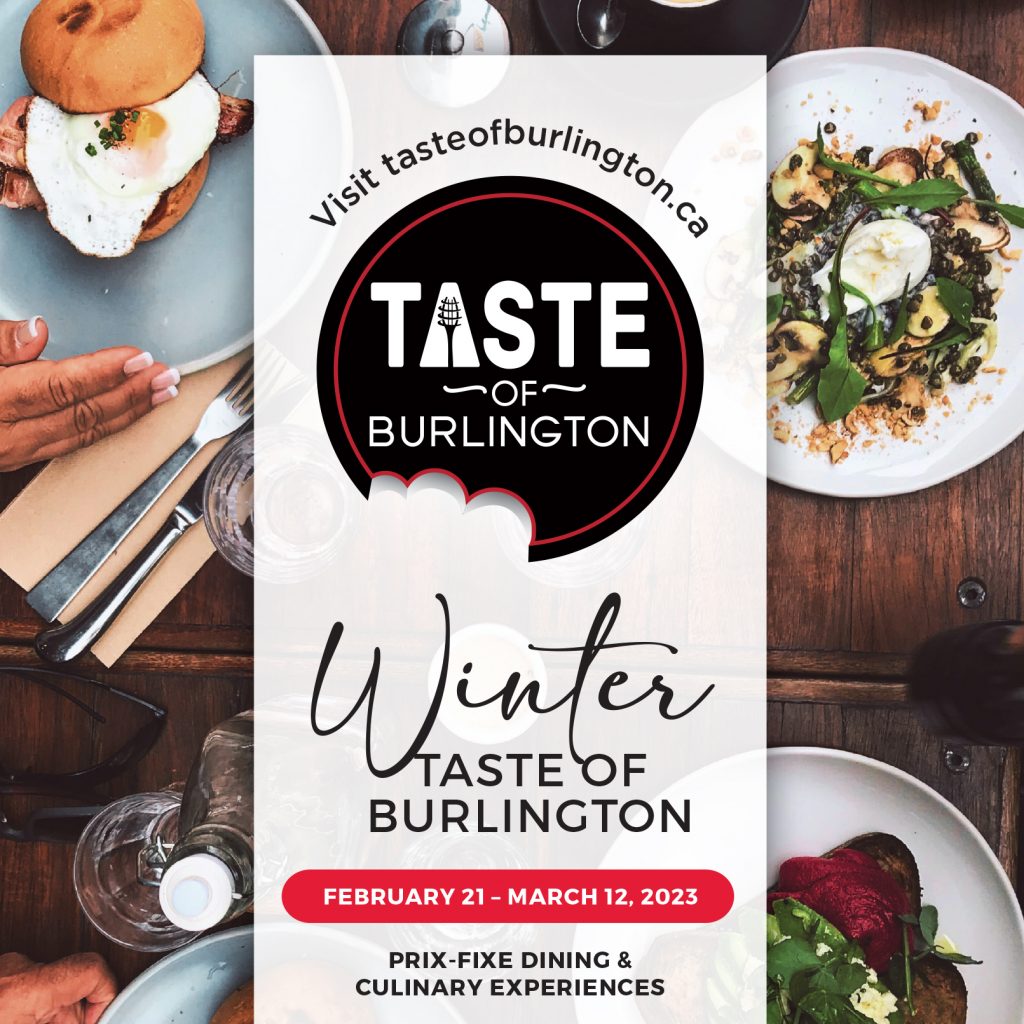 In March 2008, Tourism Burlington invited local restaurants to meet with representatives from Tourism Burlington, and the Burlington Downtown and Aldershot Business Communities to discuss ways to increase awareness of Burlington as a dining and culinary destination.
From that initial meeting, it was suggested that a committee be struck up to look into the feasibility of a Prix fixe dining program. Committee members came together from Tourism Burlington, Aldershot Village BIA, Burlington Downtown Business Association, and local restaurants to develop and design the program. Now revving up for its 15th year, Taste of Burlington launches its two-and-a-half-week program on February 21st.
Burlington is quickly becoming known as a culinary destination, and Taste is a great way to showcase all it has to offer. From restaurants and pubs to cafes, Taste of Burlington has tremendous support from local restaurants and the community, and after the ups and downs of the pandemic the last few years, we are expecting the 2023 event to be bigger and beter than ever.
Taste of Burlington runs twice each year in February/March and again in the fall, with restaurants across the city offering a Prix-fixe dining menu for lunch and dinner. However, the rest of the year they promote culinary programs and events in and around Burlington, such as Burlington Food Tours, E-A-T, Lakeside a la Carte, and more!
Find out more at www.tasteofburlington.ca
by Anneliese Lawton
Local Links
Taste of Oakville
February 15 – March 10, 2023
www.tasteofoakville.ca
Taste of Burlington
February 21 – March 12, 2023
www.tasteofburlington.ca