Collingwood has built its reputation as a ski destination but there are many other things to see and do year round in this quaint town on the shores of Georgian Bay.
The area is one of Ontario's most popular tourist spots and is close to the Blue Mountain Resort, Cranberry Resort and many well-known private ski clubs. Its popularity is well earned as the town and surrounding areas are filled with historic homes, great shops and lots of parks and trails, not to mention a feast of restaurants and cafes.
If it's family fun you're after, the Blue Mountain Ridge Runner roller coaster should be top of the list. The coaster blasts you down the side of the mountain as it twists and turns through varied terrain. Riders can control their own speeds but, if you're feeling brave, the coaster can get up to 42 kms per hour.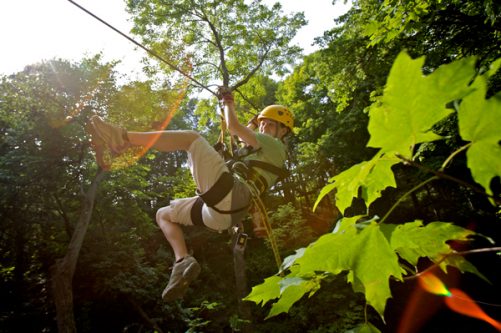 The Wind Rider Triple Zips offer an even faster ride through the hills. You can fly down a 112-metre long zip line at up to 50 kms per hour while soaring 15 meters above the ground. For those who prefer a more sedate way of seeing the sights, you can tour the winding trails on a two-wheeled Segway, on Mountaintop Segway Tours (owned and operated by Blue Mountain Resort).
The tour company has an adventure outing that will have you riding a Segway along a scenic off-road trek across the top of the Niagara Escarpment. You can take in the views of Blue Mountain Village and Georgian Bay and don't worry – there's half an hour of training before you head out so you'll know how to navigate your new set of wheels.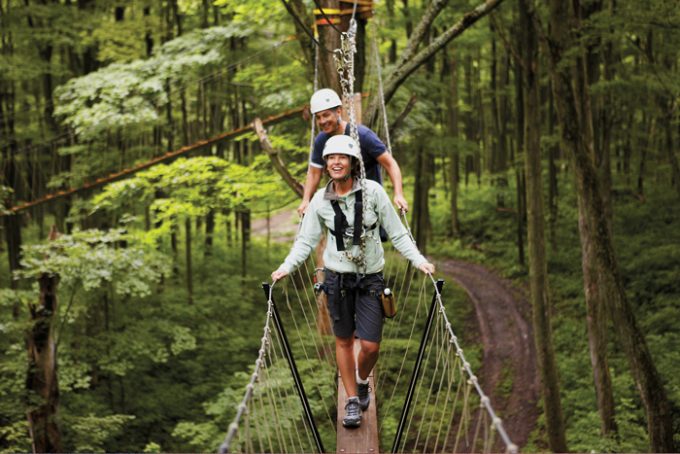 Of course, the simplest way to see the sights is by putting your runners on and hiking the trails, and Collingwood has lots of them. More than 60 kms of trails wind through the hills leading to every major point of interest in town, including the beaches of Sunset Point.
Once you've worked up an appetite, simply take your pick Collingwood, from the Firehall Pizza Co. (at Blue Mountain Resort) to Azzurra Trattoria or The Iron Skillet. Or you can head to the Orchard where you'll find Blue Mountain's Yeti Cheese food truck, famous for its gooey grilled cheese sandwiches as well as its chocolate and candy. During the summer, the truck will be located at the top of the mountain next to the Gondola.
Speaking of candy, The Candy Factory is a one-of-a-kind store in Collingwood that includes a viewing room where visitors can watch chocolatiers and candy connoisseurs create sweets and chocolate the old fashioned way.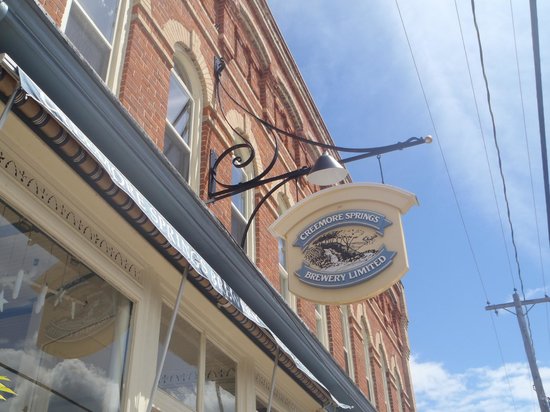 About 20 minutes south of Collingwood is the charming village of Creemore, where you can step back in time and relax. It's home to the renowned Creemore Springs Brewery, which offers regular brewery tours. You can watch them fire brew their beer in authentic copper kettles and even enjoy some samples, if you're of age, of course.
While in town, you can stay at the Creemore House Inn, a luxury boutique inn on the quiet main street. The village of Creemore itself is a collection of historic buildings with many dating back to the 1890's. The main street includes Curiosity House Books and Gallery and The Mad and Noisy Gallery, named after two of the town's rivers.
And for a slice of Viva Las Vegas without the plane ticket this summer, the Collingwood Elvis Festival has been going strong for more than 20 years and draws upwards of 30,000 people. Whether you're an Elvis fan or not, it's hard to resist the lure of seeing hundreds of lip-curling, hip-swerving Elvis look-a-likes. This year's festival will be held from July 20 to 24.
By Denise Davy
Local Links:
Town of Collingwood
collingwood.ca
Collingwood Elvis Festival
collingwoodelvisfestival.com
Blue Mountain Resort
bluemountain.ca
Town of Creemore
experiencecreemore.com
Downtown Collingwood BIA
collingwooddowntown.com
LL note: Errors were made in the print edition of this article, which appeared in our April issue. The zipline company name, Segway information, Firehall Pizza Co. location and food truck references have been corrected in this online version. We sincerely apologize and regret any inconvenience.