At one time, the dining room was a place that nobody dared tread through unless you were attending the most formal of family events or hosting an elite night of entertainment. Today's dining room is more relaxed.
Furniture store retailers, like Jim Hobbs and Joe Levine, owners of Joshua Creek Furniture in Oakville, will tell you that casual dining is what's trending. "We're seeing tables that suit a casual environment for every day, then you can dress them up and make them look elegant," says Levine. Tabletop bling can easily be added to the transitional look with special dinnerware, silverware and gorgeous centrepieces.  Pam Chisholm, owner of InHouse Etc in Burlington, agrees, stating that the look is "casual chic, functional surfaces, not fine furniture."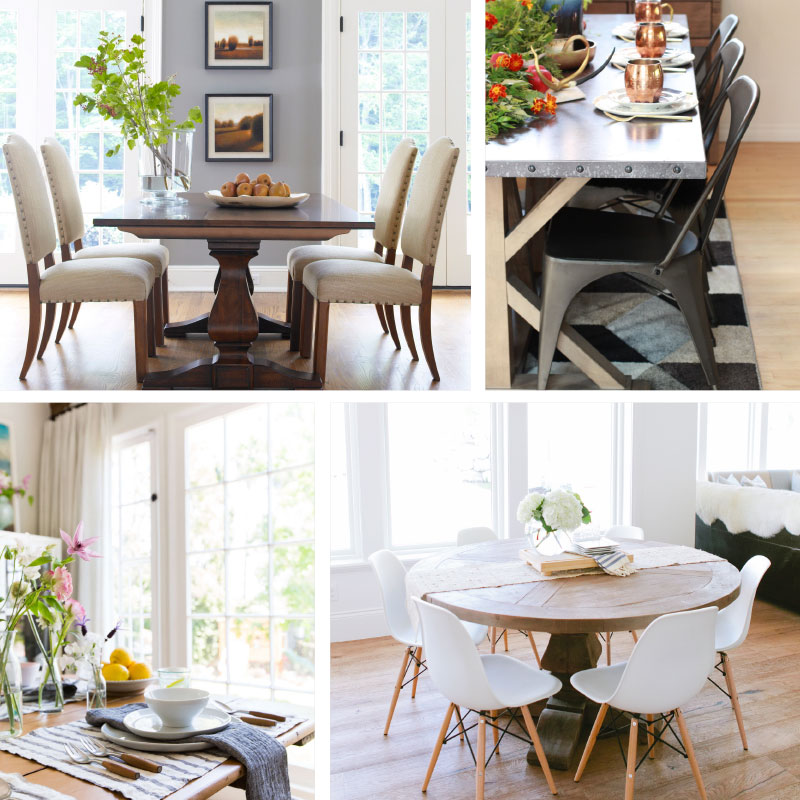 Most tabletops continue to be round or rectangular, although varying in size, but there are several new finishes and styles.  "We're seeing a lot of different finishes, like hand-planed solid maple, and we're getting into some brushed finishes like wire brushed or hand brushed," explains Levine. "It gives a real unique look to a table. It's a little bit more durable and a bit more contemporary looking."
In addition to the cool neutral gray that concrete tabletops offer, Levine says clients are going mostly for neutral grays and some lighter mid-tone browns. Dark brown espresso is still selling, but Hobbs interjects that the lighter stains are most popular. Chisholm notes that her tabletops are mostly wood and very little glass. "Concrete is also popular," she adds.
Levine says that the table legs most requested are wood, although they do sell some with metal legs. In terms of leg style, pedestal and trestle tables are more in demand.  There are various leg styles available at InHouse, including wood, metal, stainless steel, gold or bronze. "Gold is very trendy right now," says Chisholm.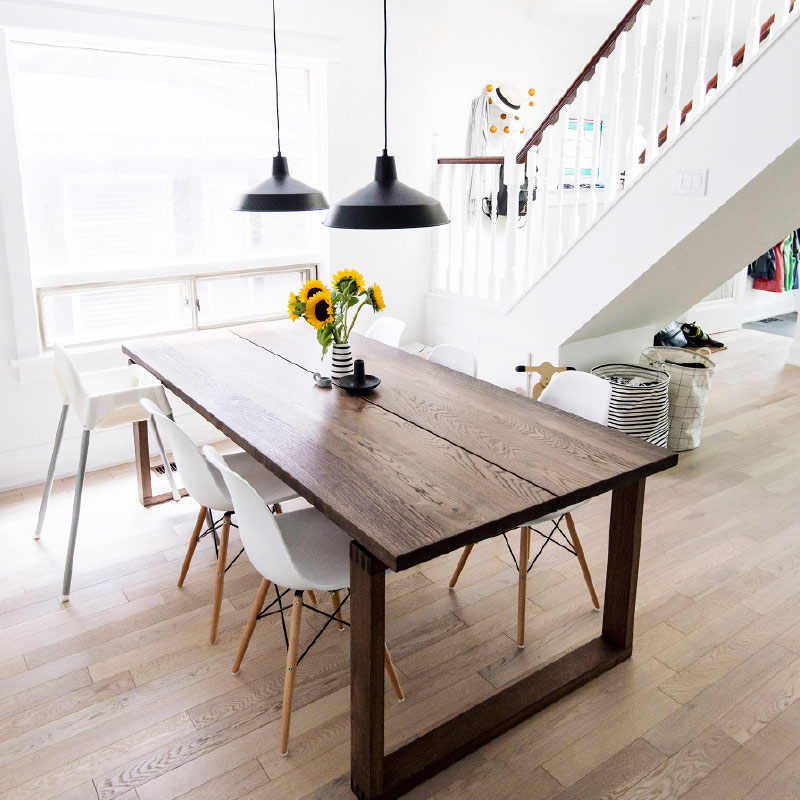 There are a myriad of casual chair styles that pair well with these designs, including Parson chairs, leather, wood, metal, and a mix of both. Bench seating is also a great way to seat a crowd and you can tuck them away when not in use.
On its way out, perhaps, is the live edge look. Levine says that although they have sold many live edge tables, he thinks the trend is dissipating. "You're starting to see that style at lower price points, and that typically signifies the end of a trend," he says.
Before you buy a table style that catches your eye, think about the role it will play and the room it will be placed in. Hobbs suggests you determine how many people you will want to seat at the table, and whether or not you'll want extensions or leaves or just a solid top. In order to get a balanced layout, he says to start at a centre point in the room, whether it's a pot light or a ceiling fixture. "We want to make sure the table fits the space," says Levine. "Once they find a table they like, we can go to their house and make sure they're buying the right piece."
Other factors to consider, says Chisholm, are whether there are kids who will also be using the space and how much entertaining you do. "A round table works well in small rooms," she explains. "Remember to leave about two and a half feet on all sides so you can pull out the chairs and access them comfortably." As for a gold standard in size: if you can accommodate it in the room, she suggests a 42" x 84" table, with or without leaves or extensions.
Once you've designed the space that reflects your needs, dinner can focus more on the company than the fuss of formality. Enjoying the food and the mood created around the table is what's most important.
Local Links
Anderson's Carpet & Home
andersoncarpetandhome.com
Joshua Creek Furniture, Oakville
joshuacreekfurniture.com
In House, Burlington
inhouseetc.com
House Warmings, Oakville
housewarmings.ca
Up Country, Burlington
upcountry.com
Swiss Interiors, Oakville
swissinteriors.com