Eating outdoors is the quintessential warm weather activity, right along with gardening, trips to the beach and long evening strolls. Whether it's lunching on your favourite patio or eating an ice cream by the lake, enjoying meals outside is one of the best parts of the summer season. Take it one step further and create an entire kitchen setting outdoors. It's a growing trend that allows you, your family and friends to share all your meals in the comfort and privacy of your own backyard.
"They're definitely growing in popularity," says Tiffany Gillespie, marketing manager for Barbecues Galore. "People may decide to build them instead of taking holiday trips or maybe having a cottage, choosing to invest their money into making their backyard outdoor living space more beautiful instead."
An outdoor kitchen is a designated space outside of the house designed for cooking and preparing meals, complete with a heating element like a stove, cooktop, grill, or maybe even a pizza oven. And there are plenty of stylistic choices to consider, including a covered or uncovered area, seating options, natural stone or granite countertops, or maybe even a bar. But outdoor kitchens can also mean stunning patio furniture, patio heaters, smokers and fire pits — whatever fits your personal preferences. 
There are tons of practical benefits to an outdoor kitchen as well, including eliminating indoor cooking odors and saving on cranking up costly AC. Grilling your food on a regular basis is also a healthier option, it's tastier, less greasy and gives you the option of including plenty of fresh veggies. And outdoor kitchens are a great economic venture, offering a high rate of return on investment compared with other outdoor home improvement projects.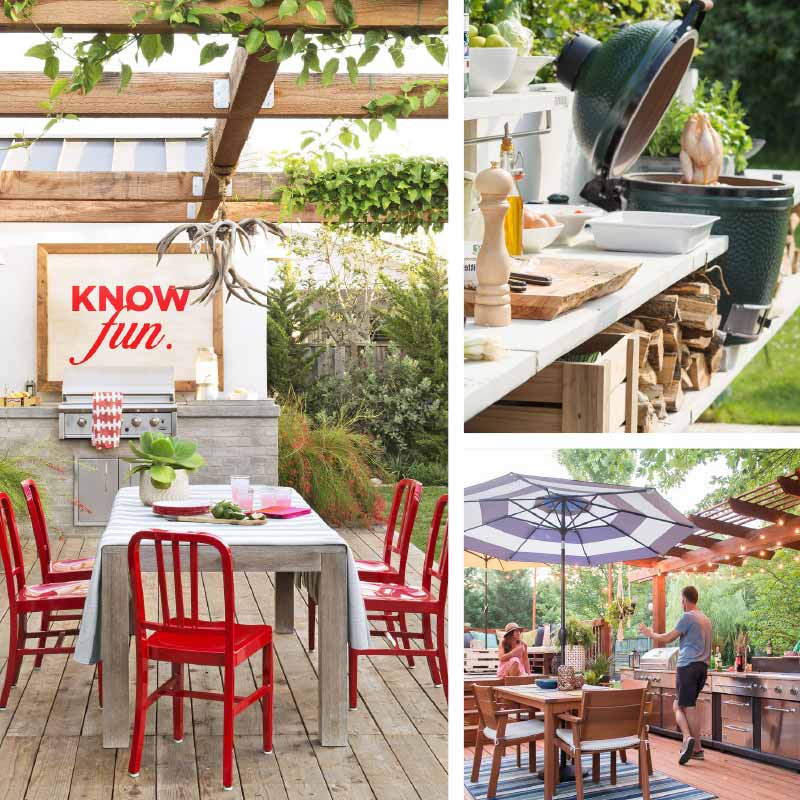 Along with raising the value of your home, outdoor kitchens provide a place to relax and entertain, with a variety of styles available, from DIY to professionally designed and executed. They're also perfectly located: pick veggies from the garden and bring them right over to the cooking area to grill. Smokers and built-in fire pits are popular, natural gathering places in the backyard.
If your outdoor kitchen is composed of quality materials, it will provide a lifetime of enjoyment. Most barbecue grills and outdoor appliances are made with stainless steel and designed to withstand tough Canadian weather environments.
Phil Zylstra at Growing Gardens in Waterdown says although stonework can be expensive, he does have clients looking for outdoor kitchen design on a fairly regular basis. "Clients look for countertops, and a straightforward, functional space." He also agrees that smokers are prevalent and gaining in popularity. 
There are a few important considerations when designing your own outdoor kitchen. Do you want high-end accessories that will last, or maybe something a little more affordable? Another aspect to consider is making sure to put things in relation to one another and deciding on how functional you want the kitchen, and where everything should be placed. Hanging storage is very popular, but might only work if you plan to bring the pots and pans inside when you are finished so they're not exposed to the elements. If they're staying outside, stainless steel is a great, tough option.
In the end, though, the only thing that matters is that you enjoy your outdoor living space during the very fleeting summer months that are ours to enjoy. Design it to your specifications and desires and you'll spend every minute you can with friends and family, making the most of summer
by Allison Dempsey
Local Links
Barbecues Galore, Burlington
barbecuesgalore.ca
Cedar Springs Landscaping, Oakville
cedarsprings.net
Earthworks Landscaping, Burlington
earthworks-landscaping.ca
Growing Gardens, Waterdown
growinggardens.ca
Proscape Land Design, Oakville
proscape.net