Hot chocolate in a mitted hand, rosy cheeks beneath scarves and puffy coats, maybe a flake or two drifting slowly from the sky – they all pair beautifully with twinkling lights on a cold winters' night. Seeing homes that dazzle in greens and reds are a holiday tradition for many, and whether you're touring from the car or sight-seeing on foot, there isn't a shortage of holiday light displays.
While most people decorate their homes with a few simple strands of twinkling lights, there are a select few who put Clark Griswold to shame. If you're looking for a house that stands out from the rest, we have your guide to the most remarkable holiday displays in Oakville and Burlington.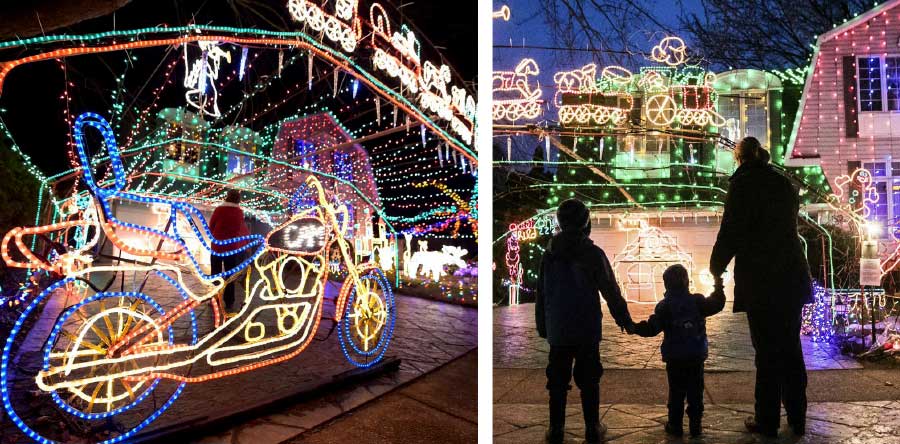 Musson Christmas Light Display

3360 Spruce Avenue, Burlington
Christmasdisplay.ca
The Musson Christmas Light Display has been a famous family favourite for the last 30 years. Families travel from as far away as the Niagara Region to catch a glimpse of this beautifully decorated home. Doug Musson was the mastermind behind this display and sadly passed away last December. His family will be keeping his memory alive and will be lighting up their home once again this year. Donations are welcome.

Jackson Family Lights

133 McCraney Street West, Oakville
Jacksonlights.ca
Don Jackson, a Christmas light enthusiast, has been decorating his home with Christmas lights since he was a kid. From helping his Dad to now lighting his own home, Don's passion has grown. His home features approximately 100,000 lights which are all programed to music. You can "Listen to the Lights" by tuning your car radio to 90.5 FM. Each year, the Jackson's collect food donations for Kerr Street Mission but this year they will also be accepting donations for The Kelly Shires Foundation (kellyshiresfoundation.org), a foundation that aids patients fighting cancer.  Don't miss a visit from Santa on Christmas Eve (and rumour has it, his sleigh may be there too this year).

Bonenfant Christmas Spectacular

306 Leacock Avenue, Oakville
Sites.google.com/view/b-christmas-spectacular
This light display is located in Oakville's River Oaks neighbourhood, just off Towne Boulevard. The Bonenfant's decorate their home from tip-to-toe, setting their strands to favourite holiday carols. To listen, just tune your car radio to 92.3 FM. The lights turn on December 1st and run through to January 5th. Donations will be accepted for Kerry's Place Autism (kerrysplace.org).

Santa's Village

2266 Munns Avenue, Oakville
You don't have to go to the North Pole to find Santa's Village, Oakville has their very own located at the corner of Munns and Sixth Line. Jason Edwards is the mastermind behind this marvelous display. With lights, reindeer, snowmen, Santa's Workshop, a Christmas train, and classic holiday movies playing on an outdoor screen – this Santa's Village is the real deal.
by  Anneliese Lawton